Eurodragster.com for the latest European drag racing news
General
Home Page
Add a web site
Jeff Bull Swap Meet
Send a News Item
Site Search by Hauser Racing
2019 FIA/FIM Championships schedule
News, Coverage, Features
Latest News
John Woolfe Racing Event Coverage
OCS Paint Points Standings
Features, Interviews, Tributes
Racer Blogs Lex 01/03
WRE/Nimbus Webcam
LA Racing Parts Links
Racers' web sites
Associations, Clubs
Race calendars
Results, Reports, Info
Pictures, Video
Performance Parts, Merchandise
Sponsors
Tracks, Shows
Information
Timing Data
European and UK Bests
Champions' Champions
Editor's Diary archive


Autosport International 2001
NEC (Birmingham)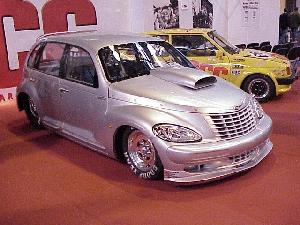 We attended Autosport International on the first public day. The NEC was very busy with hordes of motor racing fans thronging the several halls, and the drag racing contingent was attracting a lot of interest. On the Cars and Car Conversions stand, Paul Marston's eagerly-awaited and just-unveiled PT Cruiser was surrounded by a large number of visitors throughout the day.

The Cruiser is a very nice piece of work, which is of course not unexpected from the workshops of Hauser Race Cars. The car is low-slung, with clean lines, and has all of the original exterior trim such as door handles. The hood scoop almost looks like an original item which speaks volumes for the quality of builder Jon Webster's work. Eurodragster's reporters were very quick to notice that the Cruiser contains a passenger seat, which assures our presence at every Press Day in 2001!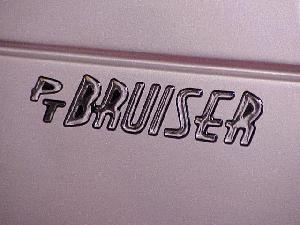 "The Bruiser was received extremely well and has had a constant stream of admirers", Paul told us on Thursday evening. "Most of these being industry peers who have had nothing but compliments and congratulations for putting together such a ground breaking new race car. We had a noticably permanent crowd around The Bruiser all day whilst other race cars on display were, it seemed, receiving little attention at all."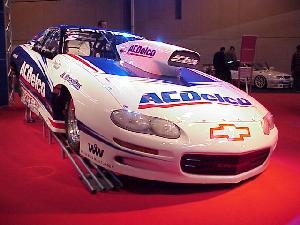 Michael Malmgren's six-second Camaro Pro Stock looked exquisite on the AC Delco stand, and the Show's organisers must have agreed with us since AC Delco were awarded a trophy for Best Automotive Product Stand. They are relaunching their range of spark plugs, batteries, filters, disc brakes and other performance parts. "AC Delco are so professional", crew member Magnus Cato told us. "They know how to make the best of us. They know what they want, and they are prepared to put the money up - they have put in the effort, if you're going to do it, then do it flat out!"

The six-second engine, which the team have named 'Viper' was on display on the stand. "It's the real six-second engine - not a Formula One mock-up!", said Magnus. Michael Malmgren was being kept busy talking to visitors and autographing hero cards, but we managed to drag him away from his public duties for a moment to talk about this season's prospects. "We think that we will be running low 6.9s this year", he said. "You have to run a flat one-second sixty foot time to go into the 6.8s and the tracks in Europe won't take it."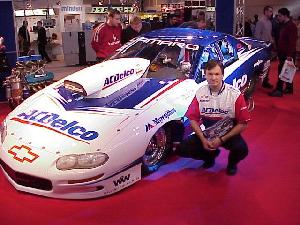 Michael also ruled out a 200 mph pass in 2001. "We will probably go above 198 this year", he said. "To go really fast you need a weather combination which is really hard to find. But the potential is there for some more records - we haven't dared to test any different set-ups in our new car yet!"

With Michael back on duty, we turned again to Magnus to talk about this weekend's appearance and plans for 2001. "It's been a lot of work to get here, but it has been a lot of fun", he said. "We came over on the freighter with the car, and we spent twenty three hours mostly in one tiny room on the boat. It took a lot of planning, but it was worth it". We asked Magnus when we would first see the team in action this year. "We plan to attend the test weekend at Santa Pod before the Main Event", he said, "and we can use the Press Day as another test day. You can learn so much from testing. Last season we found a clutch problem during testing before the Main Event. We changed the discs and zoom!"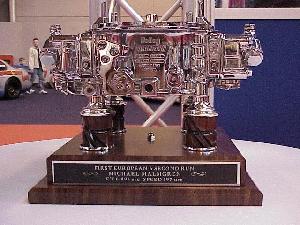 Magnus told us that AC Delco have had some great promotional ideas. "They are excited about our maybe going to race in Malta", he said, "they could make it part of a larger promotional tour in Europe. We will have the car at Le Mans again this year and we have been persuading them to use their influence to arrange for us to pull a burnout down the main straight a couple of hours before the race, when all the fans are in place!"

Michael's Holley six-second trophy was on display on the stand, an item of which the team are justifiably proud. The car is now also carrying a Holley Six-Second Club decal on its hood scoop. "I get the shivers every time I watch the video of the six-second run", said Magnus. With the AC Delco stand showing the video on a frequent basis, Magnus was doing a lot of shivering. We were also pleased to note that the 'lucky' Eurodragster decals, put on the car during Main Event weekend last season, were still on the car. "No, they're not coming off", said Magnus.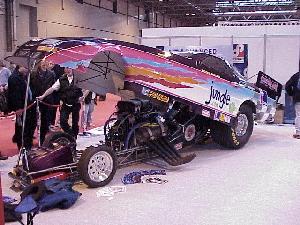 Right next to the AC Delco stand was Tony Betts' Jungle.com-sponsored Fuel Funny Car. One of Tony's crew was on hand to tell us about the latest additions to the sponsorship roll. "Advanced Digital Imaging have just come on board", he said. "Also the CSMA, who have arranged a number of dates for us. We will be at the Brentwood Show next weekend, then at Brooklands in February. In June we will be racing an F16 jet at Duxford, and we are also lining up an appearance at Rockingham with Chris Rea". Tony's crew member also warned us about the in-house catering. "Don't buy a burger", he said ominously.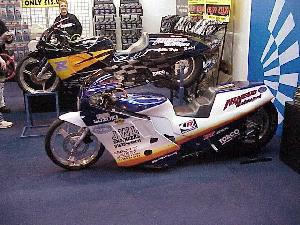 We found the two-wheeled contingent represented by Chris Hope and Dave Beck's Pro Stock Bikes on the Nimbus Motorsports stand, and Ade Woollams' Comp Bike on the 76 Fuels stand. The Pro Stock Bikes were denuded of their wheelie bars which made them look odd to the expert eye, but they made an impressive showing. With more space on the 76 stand, Ade Woollams' Comp Bike was in full racing trim and looked very neat and clean. Unfortunately we didn't manage to track down any of the racers to find out what they have in store for 2001.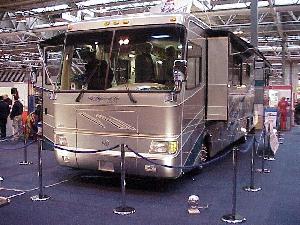 One vehicle which made a very big impression on the Eurodragster team was this magnificent motorhome. We think that it would be perfectly reasonable for us to have one each.

We took several more photographs at Autosport International, click here to see the complete set.


---
Eurodragster.com aims to bring you links to all the best European Drag Racing web sites. To add your site to Eurodragster's listings, simply email links@eurodragster.com with your URL and a little information about your site and we'll do the rest. When you update your site, drop us a line at news@eurodragster.com and we'll feature your site in our "What's New" section.
Eurodragster.com is a non-profit-making organisation run by a small group of Drag Racing enthusiasts for the sole purpose of promoting European Drag Racing. If you can help us to meet the modest cost of hosting this web site by advertising here, please email webmaster@eurodragster.com. We're sure you'll find our rates extremely competitive.