General
Home Page
Add a web site
Jeff Bull Swap Meet
Send a News Item
Site Search by Hauser Racing
2019 FIA/FIM Championships schedule
News, Coverage, Features
Latest News
John Woolfe Racing Event Coverage
OCS Paint Points Standings
Features, Interviews, Tributes
Racer Blogs Lex 01/03
WRE/Nimbus Webcam
LA Racing Parts Links
Racers' web sites
Associations, Clubs
Race calendars
Results, Reports, Info
Pictures, Video
Performance Parts, Merchandise
Sponsors
Tracks, Shows
Information
Timing Data
European and UK Bests
Champions' Champions
Editor's Diary archive




The Eurodragster Chronicles



There have been a number of milestones in the history of Eurodragster since a group of webmasters got together at Santa Pod Raceway in 1997. Sharkman and Tog have put their heads together to write the definitive history of Eurodragster.com over the last five years. If you want to know how it all started, why it started, how it grew, where we've been and what we've done, then read on.

We would like to say a huge Thank You to everyone who has supported us this far be they sponsors, racers, promoters, track or club officials, fellow web sites, fans or any other of our three thousand visitors a day. Without you, this site would not be success it has become.


September 1997: The concept of Eurodragster is conceived at a meeting of webmasters in the VIP Suite at the 1997 FIA European Finals at Santa Pod Raceway. Tony B's idea of a European Links resource is taken up and Eurodragster.com is registered and set up. Ian King, Dave Alexander, and Fay and Paul Fischer all offer assistance and advice in the earliest days of the project. Tony B and Tog take the web site forward.

February 1998: Eurodragster's first news item, about Andy Carter's progress in the USA, is posted on 26th.

March 1998: The first full month of news consists of eight items; nowadays it is not unknown to have eight items in one day!

Easter 1998: Santa Pod Raceway accredit Eurodragster staffer Tog as press, signalling acceptance of the relatively new medium of the Internet as serious media.

August 1998: The first sponsor logo appears on the site as Speedflow joins as the Home and News page sponsor.

November 1998: The first of many Eurodragster interviews is conducted, with FIA European Top Fuel Dragster Champion Barry Sheavills.

November 1998: The first experiment in live event coverage is tried at the the Flame and Thunder Show at Santa Pod Raceway.

January 1999: The 'Pitside Cafe' discussion forum is launched, and goes the way of most forums, rapidly threatening to make the headlines rather than discuss them. Eurodragster admit that it was a mistake and withdraw it shortly afterwards.

January 1999: Eurodragster's other major decision in January 1999 turns out somewhat better than the Pitside Cafe. Sharkman is invited to join the staff, an opportunity which Shark jumps at.

February 1999: The Swap Meet, the free classified advertisement service, is launched on 17th.

March 1999: A Run What You Brung at Santa Pod Raceway on the 14th is used as a dress rehearsal for live event coverage which is due to commence at the Easter Thunderball.

April 1999: Eurodragster's first full-blown event coverage from the Easter Thunderball at Santa Pod Raceway.

April 1999: Hauser Race Cars step up to sponsor the rapidly expanding Swap Meet.

May 1999: Santa Pod Raceway track manager Kjell Pettersson invites Eurodragster to cover the first pre-FIA Main Event private test day.

June 1999: An ongoing series of server problems disrupts both the regular news page and prevents live coverage of Super Series 2 at Shakespeare County Raceway.

July 1999: Eurodragster.com's first overseas visit as reporter Tog attends the inaugural round of the Swedish Top Fuel Tour at Piteå as the guest of Peter Lantz Racing. On his first day at a track outside the UK, Tog is told off by a track official for standing too far down the guardrail.

August 1999: Eurodragster posts its first prize money in the form of our "Moment of the Meeting" at Super Series 4 at Shakespeare County Raceway.

September 1999: Eurodragster are invited to a private test session to cover the on-track début of Wayne Saunders' turbocharged four-cylinder Ford Focus, which was destined to take on the Americans later that year at Pomona.

September 1999: Eurodragster and Svensk Dragracing, already firm friends, work together for the first time on live event coverage, from the FIA European Finals at Santa Pod Raceway.

January 2000: Eurodragster report from Autosport International show for the first time.

February 2000: The first of the now annual "Drag Racing Unplugged" pages is posted.

March 2000: Eurodragster's first event coverage sponsors come on board as E-manumit.com and Horsepower Heaven sign up for the 2000 season.

April 2000: A cunning April Fool is sprung as UK Super Comp racer Zane Llewellyn pens us an excellent, convincing article about Y2K bugs in throttle stops!

May 2000: Manty Bugeja, driving Joe Carabott's Top Methanol Dragster, runs the first five-second pass by a Maltese racer at the Main Event Press Day at Santa Pod Raceway. Joe and Manty's mobile phones start to ring within minutes of Eurodragster posting the news on that day's event coverage.

July 2000: Sharkman makes his first overseas trip, this being to the inaugural round of the (sadly no longer in existence) European Superstreet Bike series at Drachten as the guest of Graham Dance.

July 2000: The makers of TV programme Scrapheap Challenge order media-accredited Sharkman to leave the startline whilst filming at Shakespeare County Raceway. Never a web site to bear a grudge, Eurodragster publish the outcome of the programme a few days later, some months before the programme is broadcast....

August 2000: Eurodragster's first contest offers readers the chance to spend a day working on the crew of Michael Malmgren's AC Delco Pro Stock. The prize is won by Björn Jansson of Stockholm.

August 2000: The first Eurodragster Perfect Light Award is posted at Super Series 4 at Shakespeare County Raceway.

September 2000: Dave Billadeau becomes the first racer to pocket the Perfect Light money after it went unclaimed at Super Series 4 and the FIA European Finals. Dave took home £70 for a 0.500 in Super Street.

November 2000: At the Super Series Dinner Dance, Eurodragster receive a special award in recognition of services to drag racing.

January 2001: Our inaugural sponsors stand down. Thanks again to Speedflow (Home and News pages), E-manumit.com (Event Coverage) and Hauser Race Cars (Swap Meet) for helping the site develop into what it is today.

February 2001: Stephen Talbot is inducted as an honourary member of the Eurodragster staff in recognition of his continued assistance (which continues to this day, thanks again Stephen).

March 2001: Tony B, joint founder of Eurodragster, takes the decision to leave the Eurodragster staff due to health problems.

March 2001: A new set of sponsors joins Eurodragster as ICE Automotive and UKRacer.com - a joint undertaking between a number of race-related companies - take over the Home/News page sponsorship, and Jeff Bull Race Engines take over the slot on the Swap Meet. Both ICE Automotive and Jeff Bull are still on board today - thanks guys.

April 2001: This year's April Fool replaced the regular Home Page pictures with a selection from Sharkman's School of Excellence.

June 2001: Eurodragster staffer Tog attends the FHRA Nitro Nationals at Alastaro, Finland, as the guest of Dave Wilson and the Nemesis Top Methanol Dragster team, and repays a number of favours owed to Svensk Dragracing by assisting with their live coverage of the event - after working out the Swedish versions of Windows commands.

December 2001: Eurodragster comes third in the Competition Plus "Best News Site" poll, beating out both NHRA and IHRA's official web sites amongst others.

December 2001: The UK's Team Rat Rage become the first team to go under the spotlight of our occasional "Team Feature" series.

February 2002: Eurodragster are delighted to be awarded the Alex Brachtvogel Memorial Trophy at the Santa Pod Racers Club Dinner Dance. The award, named for the late Chief Marshal of Santa Pod Raceway, recognises outstanding service to drag racing.

March 2002: American Car Imports joins the list of Eurodragster sponsors, picking up the event coverage slot, whilst Motorgraphic take over the second Home/News page slot which has been vacated by UKRacer.com. ICE Automotive and Jeff Bull Race Engines continue their backing of the Home/News pages and the Swap Meet.

March 2002: The first major redesign of Eurodragster since its launch takes place, the idea being to try to keep the same general look and ease of use but to bring a more professional look to the site.

April 2002: No April Fool as Eurodragster are busy at the Santa Pod Raceway covering the Easter Thunderball!

May 2002: The Eurodragster/Scorpion Racing award is launched. The winners of two Sportsman classes (one car, one bike, drawn from a hat before eliminations start) receive a TRS harness or sixteen litres of Rock Oil, courtesy of Scorpion Racing.

May 2002: Eurodragster team up with Sheshirts.com to market the Eurodragster range of T-Shirts.

July 2002: Sharkman and Tog attend the Sko Uno Drag Festival at Sweden's Mantorp Park as guests of Erik Zettervall and Svensk Dragracing. A feature in a local paper in Linköping includes the words "I have two Englishmen staying in my house" although Erik will not reveal whether or not the rest of the sentence reads "frightening my children and drinking all my beer".

July 2002: Eurodragster join the ever-growing list of sponsors of Custom Car Street Eliminator.

August 2002: Eurodragster assist Santa Pod's International Race Director Darren Prentice to promote a Charity Auction to be held at the FIA European Finals. Generous donations come in from racers all over the world, including John Force, and the Auction is a huge success generating thousands of pounds for the baby unit which cared for Darren and Nicola's son Owen after his early arrival.

August 2002: The news update for 21st August contains no less than fifteen items - the most ever for a Eurodragster update.

October 2002: Motographic decide to withdraw from their Home/News page sponsorship deal. Anthony Cohen of American Car Imports quickly steps in to add the Home/News page sponsorship to ACI's Event Coverage backing, and then takes out an option to sponsor the same pages until February 2004.

December 2002: Eurodragster go one better in the Competition Plus poll by taking runner-up spot in the Web Site of the Year category, again beating out NHRA and IHRA's web sites.

January 2003: Eurodragster's Links pages gain LA Racing Parts as their first ever sponsor.

February 2003: Eurodragster records 4898 separate visitors in one day on Monday 10th - and it's still the off-season.

26th February 2003: Eurodragster celebrate five years of bringing the latest news and race reports from all over Europe as quickly and professionally as possible with a massive Give-Away, made possible by the generosity of the racers, tracks, officials and companies who donated prizes.


The legendary Punning Headlines

Over the past five years we have brought you many headlines, some of which we hope have raised a smile. Here are our favourites:

Bonin drives Sheavills spare. (May 1999)
Elephant's leg warmer makes headlines. (June 1999)
Anyone seen a Chicken? (September 1999)
Smax Mainlines on Nitro (January 2000)
Have you seen Stardust's bottom? (February 2000)
Deuchar seeks head. (April 2000)
Webster handles Pat's seat (June 2000)
Kågered sells body. (November 2000)
Phil shows us his Willys (February 2001)
Help wanted with Heavy Breathin' (March 2001)
Tie me down, says Goring. (March 2001)
Davies accepts big Mac offer (June 2001)
Averstedt back in A Fueller. (August 2001)
Hal Far and away for AJ (October 2001)
Adam to twang his tiddler. (November 2001)
Mystery girl helps Harry with blow (November 2001)
Official: Andréasson a Big Boy (November 2001)
Cancel that sex change (January 2002)
King needs naked pictures (February 2002)
Toy almost ready to play (March 2002)
Big Bang for Botch. (April 2002)
When we said cut a light... (April 2002)
Page's two-race one-off (July 2002)
Booze Moose meets ET. (July 2002)
Get shafted by Smax. (July 2002)
60 foots and sensible heads. (September 2002)
My old man's a fair-weather racer (September 2002)
Wells wants wind to break (September 2002)
Premature Ejection ends Paul's weekend. (October 2002)


Picture this...

Eurodragster's Event Coverage has developed into an integral part of the site since its launch. Here are our two favourite pictures from the live reports:

Sharkman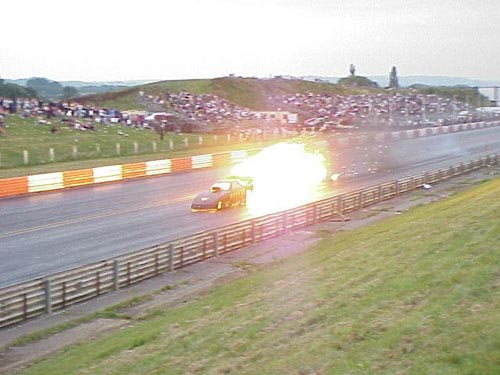 Tog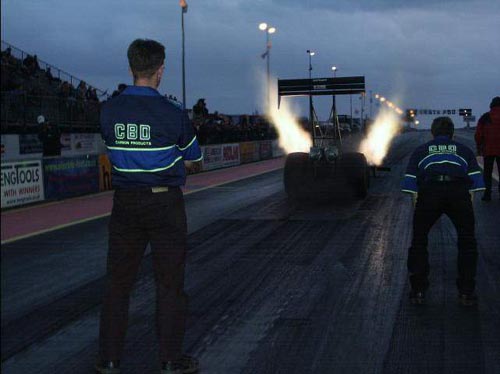 Trivia

Finally, some miscellaneous facts:
In the five years in which Eurodragster has been publishing news, almost 5000 news items have been posted.


The Perfect Light Award has paid out £820 to twelve different winners since its launch.


The smallest news file (in terms of file size) was the first, February 1998, which was just 5k.


The largest news file (in terms of file size) was August 2002, which was a whopping 272k.


Eurodragster's 'Longest Day' was on the Saturday of the 2001 European Finals. Sharkman and Tog started work at 7:00 am Saturday, finished uploading the day's report and pictures at midnight, walked the pits, typed up the resulting pit notes, and finally turned in at 2:00 am on Sunday - surfacing again at 7:00 am Sunday to continue the coverage.


Eurodragster currently has 693 links spread across eight links pages.
---
Back to News page
---
Eurodragster.com aims to bring you links to all the best European Drag Racing web sites. To add your site to Eurodragster's listings, simply email links@eurodragster.com with your URL and a little information about your site and we'll do the rest. When you update your site, drop us a line at news@eurodragster.com and we'll feature your site in our "What's New" section.
Eurodragster.com is a non-profit-making organisation run by a small group of Drag Racing enthusiasts for the sole purpose of promoting European Drag Racing. If you can help us to meet the modest cost of hosting this web site by advertising here, please email webmaster@eurodragster.com. We're sure you'll find our rates extremely competitive.