Click on any picture for a larger image. Full gallery at foot of page.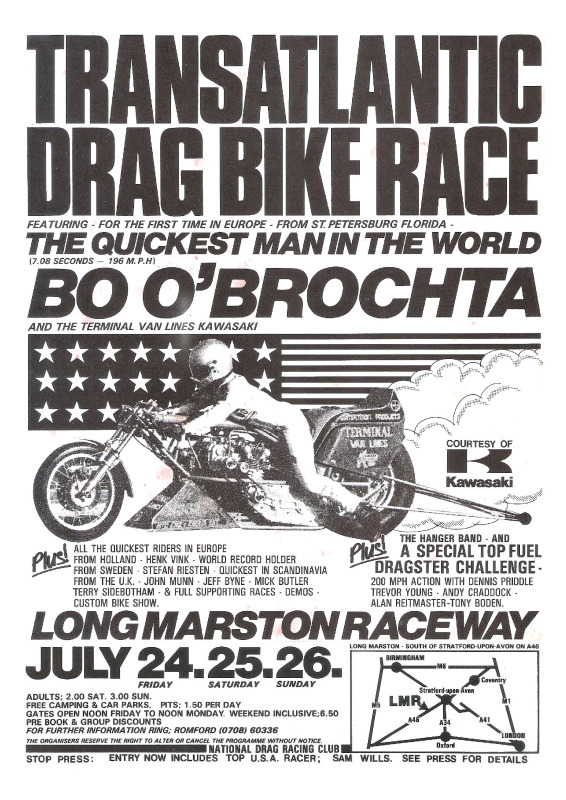 Event poster
Back in 1981, Long Marston Raceway had only just had its first season of racing after being upgraded in the winter of 1979/80. Events held during 1980 were fairly low-key and so the National Drag Racing Club wanted to raise the venue's profile to compete with Santa Pod Raceway.
The event devised was a large bike race to be held on 24-26 July and headlining it was the quickest Top Fuel Bike in the world, ridden by Bo O'Brochta from St Petersburg, Florida. O'Brochta had run an otherworldly 7.080/196 at NHRA Ontario CA Finals 1980 to be the first rider to go quicker than Russ Collin's 7.300 at 199.55 recorded three years earlier.
The NDRC team, noting how popular Top Fuel Bike racing had become across Europe, invited the quickest bikes to compete, including Henk Vink from Holland and all of the British Top Bike competitors including Jonny Munn, Jeff Byne, Mick Butler and Terry Sidebottom. Another US rider, Sam Wills was a late entry but did not feature.

Aerial view of Long Marston Raceway
Brian E Clark photo


Aerial view of Long Marston Raceway
Brian E Clark photo
In addition to this, and one of the few times in drag racing history where they didn't have top billing, a Top Fuel Dragster challenge was announced with Dennis Priddle, Trevor Young, Andy Craddock, Alan Ritmeister and Tony Boden. Dennis didn't make this event.
Bo O'Brochta was undoubtedly a star attraction. Julian Ryder of 'The Biker' said 'It may have cost them a few bob to get Bo over here but he sure gave them good value. Mr O'Brochta is as pleasant a guy as you could hope to meet, he had some time and a word for everybody'. He also noted Bo's philosophy on engine preparation for his Terminal Van Lines sponsored Kawasaki engine, running a welded stock crank and stock rods: 'All you really need to win a meet is four runs…and it's easy to make a stock crank last that long. Throwing away a stock crank every four runs is a lot cheaper than rebuilding a special item after every run…We stay between 80 and 87 per cent nitro because the additional horsepower you make on runs with 95%, on these runs, the motor self-destructs'.
The field assembled was the largest ever in terms of bikes, with 74 entries, plus several that entered late. A crowd of 6,000 turned up to watch the competition, and overall the meeting was a great success as the thank you letter from Bo O'Brochta testifies.
Super Bike
Qualifying
Bo O'Brochta (US, Terminal Van Lines Kawasaki Z900 1200cc) 8.27/128
Nigel Patrick (UK, Drag Specialities Kawasaki turbo) 8.39/161
Brian Chapman (UK, Super Mouse Vincent 1100cc) 8.54
Henk Vink (NL, Big Spender II Kawasaki 1200cc) 8.56
Jeff Byne (UK, Hurricane Morgo JBS 1614cc) 8.60
John Clift (UK, The Co-Respondent Puma Triumph 844cc) 8.83
Jos Smit (NL, Bulldog Kawasaki 1200cc) 8.86
Cees van Dongen (NL, Honda 1400cc) 8.90

Bo O'Brochta (Super Bike)
Jerry Cookson collection


Bo O'Brochta (Super Bike)
Jerry Cookson collection
Eliminations
Round 1
Bo O'Brochta 7.83/158 def. Jeff Byne 9.42/130 DQ late staging
Brian Chapman 8.58 def. Jos Smit, DNS
Nigel Patrick 8.99/160 def. John Clift, broke off line
Henk Vink 8.34/155 def. Cees van Dongen
Semi-finals
Bo O'Brochta 8.10/124 def. Brian Chapman
Henk Vink 8.52/133 def. Nigel Patrick, broke off line
Final
Henk Vink 8.60/142 def. Brian Chapman 9.01/124 (returned under break rule)
Bo O'Brochta suffered cylinder head damage in qualifying and the same problem in the semi-final caused him to drop out of competition. Bo blamed a faulty cylinder head casting. His 7.83 was the quickest bike ET yet seen in the UK.

Brian Chapman (Super Bike)
Jerry Cookson collection


Henk Vink (Super Bike)
Jerry Cookson collection
---
Pro Stock Bike (1)
Qualifying
Brian Johnson (UK, Imperial Wizard Kawasaki 1265cc) 9.30
Paul Andrews (UK, Crusader Mk II Kawasaki 1197cc) 9.42
Jos Smit (NL, Bulldog Suzuki 1230cc) 9.55
Rob Janssen (NL, Nimag Suzuki 1176cc) 9.59
Erik Bauer (NL, Kawasaki 1196cc) 9.63
Steve Wilkinson (UK, Liddle Topper Suzuki 1198cc) 9.67
Leo Hoff (NL, Pacemaker Suzuki 1176cc) 9.67
Pip Higham (UK, The Deuce Suzuki 1198cc) 9.76
Eliminations (extracts)
Round 1
Brian Johnson def. Erik Bauer
Semi-finals
Paul Andrews 9.50/141 def. Pip Higham 9.64/138
Brian Johnson def. Jos Smit
Final
Brian Johnson 9.70/144 def. Paul Andrews 9.73/139
The first round match between Brian Johnson and Erik Bauer had been needed to be re-run due to a glitch in the timing system. However Erik conceded that BJ had got to the finish line first.

Brian Johnson (Pro Stock Bike 1)
Jerry Cookson collection


Brian Johnson (Pro Stock Bike 1)
Jerry Cookson collection


Pip Higham (Pro Stock Bike 1)
Jerry Cookson collection


Rob Janssen (Pro Stock Bike 1)
Jerry Cookson collection
---
Pro Stock Bike (2)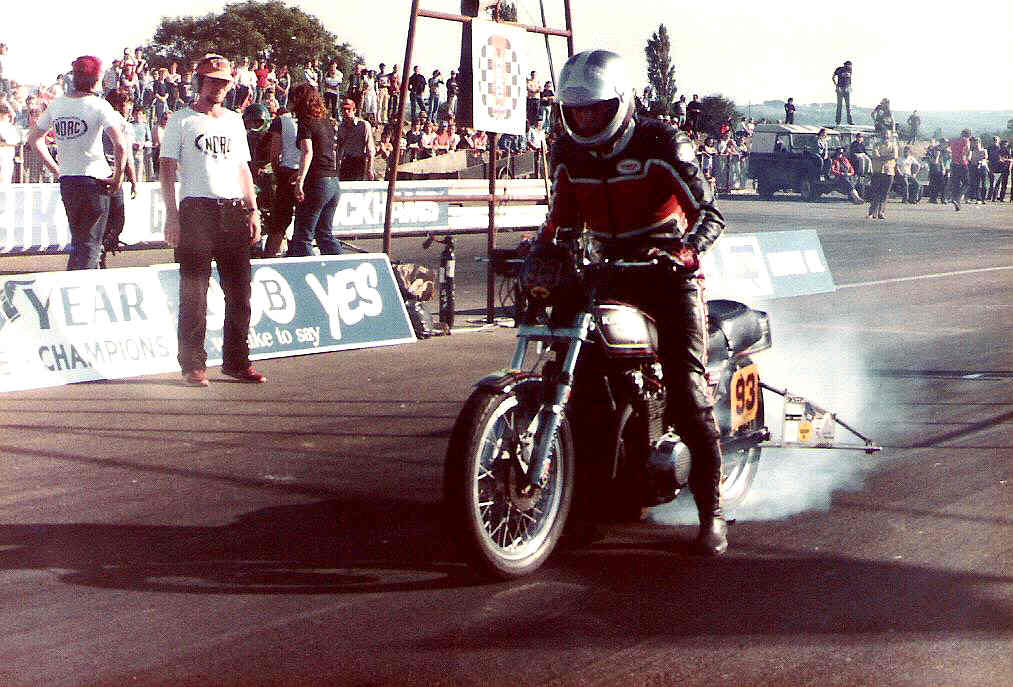 Rob van Ginneken
Jerry Cookson collection
Qualifying
Bert Voorthuis (NL, Vapotherm Kawasaki 1200cc) 9.78
Steve Tong (UK, Orient Express Suzuki) 9.87
Rob van Ginneken (NL, Pro-Jeck Kawasaki 1200cc) 9.94
Graham Nash (UK, Suzuki 1230cc) 10.32
Alan Thompson (UK, Tarantula Suzuki 1200cc) 10.60
Norman Hyde (UK, Triumph) 10.62
Roger Upperton (UK, Suzuki) 11.06
Eliminations (extracts)
Round 1
Rob van Ginneken 10.00/138 def. Norman Hyde 10.91/126
Semi-finals
Rob van Ginneken 10.04/137 def. Bert Voorthuis 13.13/55
Final
Rob van Ginneken 9.89/138 def. Graham Nash 10.02/133
There were so many entries into Pro Stock Bike organisers decided to split qualifiers into two eliminations based on qualifying ETs. Rob van Ginneken's 9.89 in the final was a personal best ET. In 2017, Rob Janssen's later Benelli-engined Pro Stock bike appeared at Santa Pod Raceway at Dragstalgia and was ridden by compatriot and co-rider back in the day, Erik Bauer.
---
Top Bike
Qualifying
Jan Jansen (NL, Janton Kawasaki 1200cc) 8.92
Phil Brachtvogel (UK, Quarter Scorcher Kawasaki 1170cc) 9.07
Ton Pels (NL, Double Dutch Kawasaki 1700cc) 9.15
Terry Sidebottom (UK, The Phantom Morgo/Triumph 751cc) 9.26
John Charlton (UK, Silver Machine Volkswagen 1900cc) 9.30
Steve Tong (UK, Orient Express Kawasaki 1200cc) 9.40
Phil Whiteley (UK The Candidate Triumph 650cc) 9.43
Pip Higham (UK, Suzuperbike Suzuki 1190cc) 9.47

Jan Jansen (Top Bike)
Jerry Cookson collection


Ton Pels (Top Bike)
George Jalowiecki photo

John Charlton (Top Bike)
Jerry Cookson collection


Steve Woollatt
Jerry Cookson collection
Eliminations (extracts)
Round 1
Jan Janssen 9.17/125 def. John Charlton 15.26/52
Terry Sidebottom def. Pip Higham
Semi-finals
Terry Sidebottom def. Phil Brachtvogel
Final
Jan Jansen 9.10/148 def. Terry Sidebottom 9.30/146
---
Senior Bike
Rod Pallant (Heavy Metal Buick 3500cc) qualified 5th with 9.73. Eamon Hurley (Concorde HME Wankel 1980cc) qualified 10th with 10.35 and defeated Keith Porter (Stalin's Organ Morgo/Puma 800cc) in round one.
Semi-finals
Rod Pallant 8.90 def. Paul Rose (Hissing Sid Suzuki)
Eamon Hurley def David Emmerson (Moonlighter Triumph 750cc)
Final
Eamon Hurley 8.91/156 def. Rod Pallant 9.22/144
Rod Pallant's 8.90 in the semi-final was his first eight second clocking

Eamon Hurley, Senior Bike
Jerry Cookson collection


Rod Pallant, Senior Bike
Jerry Cookson collection
---
Middle Bike
Tom Vivian (UK, Tomfoolery Triumph 740cc) defeated Nigel Tee (UK, Frontiersman Yamaha 347cc), Pete Field (UK, Saabrina SAAB 850cc) and Jim Challenger (UK, Poltergeist Kawasaki 748cc) in the first three rounds of racing.
Final
Tom Vivian 10.99/125 def. Brian Simpson (Enginuity Kawasaki 1100cc) 12.59/86 red-light

Robbie Dobbie, Middle Bike
George Jalowiecki photo


Terry Sidebottom, Middle Bike
Jerry Cookson collection
---
Junior Bike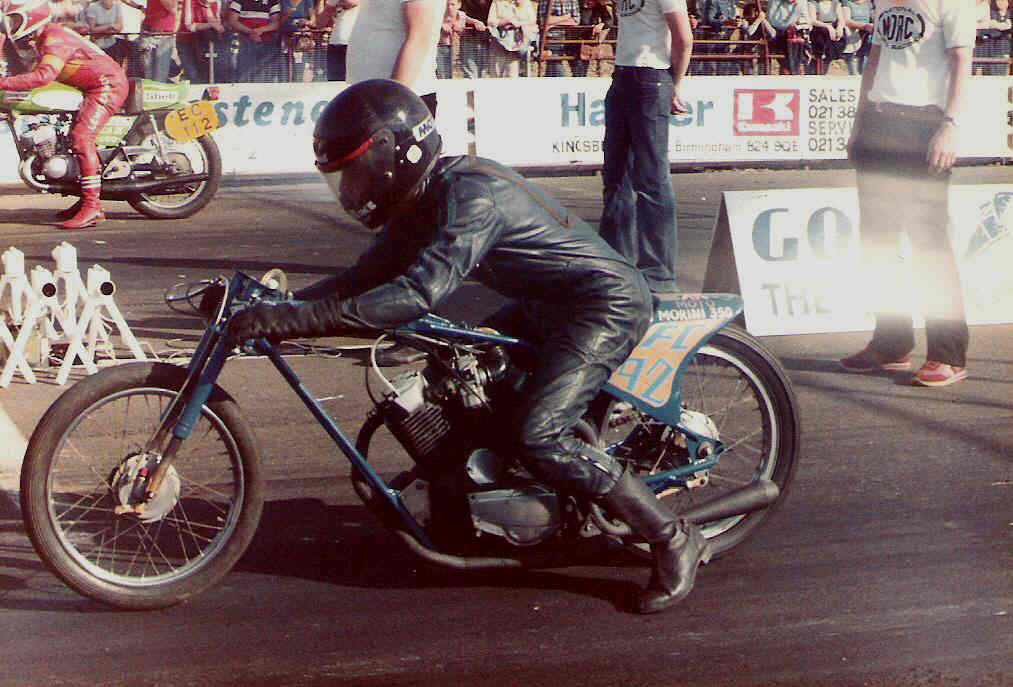 Vincent Cheeseman, Junior Bike
Jerry Cookson collection
Eliminations (extracts)
Round 1
Peter Birch (Green Light Kawasaki 500cc) bye
Round 2
Peter Birch 12.47/104 def. Tony Wynne-Jones (UK, The Snowdonian Suzuki 771cc) 14.65/76
Semi-final
Peter Birch 15.75/91 def. Alan Ing (UK, Masterblaster Jawa) 13.89/88 (broke)
Final
Peter Birch def. Vincent Cheeseman (UK, Invinceble II Morini 344cc) broke
---
Street Bike
No.1 qualifier was Jack Valentine (UK, Vengeance Suzuki) with a 11.02 followed by Peter Morrison (UK, Kawasaki 1200cc) with a 11.15.
Eliminations (extracts)
Round 1
Peter Morrison def. Alan Hughes (UK, Nice Time Kawasaki 1015cc)
Round 2
Peter Morrison def. Paul Smith (UK, Honda 570cc)
Final
Peter Morrison 10.83/127 def. Tony Huck (UK, Rickman Kawasaki 1197cc) 11.49/115
---
Top Fuel Dragster
Qualifying
Trevor Young (Competition Products Donovan 471ci) 7.04
Ronnie Picardo (Blue Samurai Nissan ZX Funny Car) 7.26
Andy Craddock (Frontline Video Donovan 471ci) 7.36
Tony Boden (Hitman Keith Black 471ci) 7.46
Jim Read (Le Patron Donovan 428ci) 7.80
Alan Ritmeister (Backfire Donovan 471ci) N/T
Eliminations
Semi Finals
Tony Boden 7.14/202 def. Ronnie Picardo
Trevor Young 6.59 def. Andy Craddock 7.26/211
Final
Tony Boden 9.28/201 red def. Trevor Young 8.01/168 crossed centre line
Dave Knight described the final: "As Boden went into stage, flames started to belch profusely from Young's motor and despite attempts to douse the blaze the flames refused to be extinguished. Against the directions given by the startline crew Young insisted on continuing with the run and eventually staged alongside a very hot 'Hitman'. On the green, Young's car launched hard to the right narrowly missing the christmas tree. This unexpected change of direction was ably corrected but at half-track, the slicks lit up and the car veered over the centre-line. Again the commendable driving skills of Young brought the rail back under control and the rest of the quarter mile was completed without further trouble".

Trevor Young, Top Fuel
Mike Farmer photo


Ronnie Picardo, Top Fuel
Jerry Cookson collection


Andy Craddock, Top Fuel
Dojo Andrews photo


Alan Ritmeister, Top Fuel
Dojo Andrews photo
---

We thank drag racing historian and British Drag Racing Hall of Fame director Jerry Cookson who has kindly provided copies of the material used in this feature.

Event programme (4 Mb pdf file)
Thank you letter from Terminal Van Lines
Super 8 movie footage by Jerry Cookson, Steve Clifton & Dave Derry
Video of interview with Bo O'Brochta
Video of Bo O'Brochta's head torching runs with subsequent pit action
Features and Interviews index
Back to News page
---