2006 Auto Club NHRA Finals and NHRA Championship Awards
Click on any picture for a large version
The Auto Club Raceway at Pomona, California resounded to the last roar of Drag Racing for the 2006 season in early November as the Auto Club NHRA Finals concluded in warm Californian sunshine in front of a packed house. Only one NHRA POWERade Championship had been decided in Pro Stock prior to the final event but the other three professional classes had still to be resolved in what turned out to be close, nail-biting finishes, especially Top Fuel in particular that gave one of the most unbelievable climaxes in memory, a run that will feature high in the history books as 'The Run'.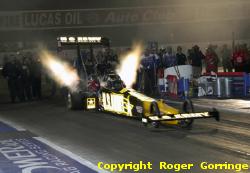 Top Fuel qualifying took no prisoners, there were five runs in the 4.4 zone with Doug Kalitta topping the pile with a 4.452 at 328 mph and if you were slower than Alan Bradshaw's 4.585 at 320 mph you were not in the sixteen-car field! There were another six unlucky drivers than just did not make the cut.
Round one opened with two contenders for the Rookie of the Year award, Hillary Will versus J.R. Todd and it was Todd out of the hole first and with a 4.534/325, beat Will by a half car length in the lights, her 4.553/325 losing. A close leave between Rod Fuller and Doug Herbert had the latter go up in smoke to record a losing 10.318/97 as Fuller powered to a 4.544/327 win. Larry Dixon got another round win with a 4.535/323 winning on a holeshot that delivered a half car lead over Cory McClenathan's close 4.543/331 charge. It was instant tyre smoke that despatched Dave Grubnic's 7.625/115 as despite a small fire in the lights Morgan Lucas took the light with a 4.685/272. Melanie Troxel got a better leave than Steve Torrence and it paid off with a 4.553/323 win to the 4.622/294 lose. Mike Strasburg was up against it alongside Brandon Bernstein and red lit away his chances slowing to a 7.645/115 as Bernstein clinched the 4.508/330 win light. Doug Kalitta worked his magic with a 4.482/331 win over the 9.095/81 given up try from Alan Bradshaw. Last pairing in the round was Tony Schumacher against David Baca and the latter lost power just after the launch leaving Schumacher to pick up the 4.489/328 win.
The Championship was brewing well with the top contenders Kalitta and Schumacher still in with a chance to add to the spice of round two. Morgan Lucas gave it his all against Melanie Troxel but the lady had more power, her 4.521/329 with a holeshot beat the 4.616/305. In the last race for Miller Light, Larry Dixon went into instant tyre smoke slowing to a 10.812/94 and seeing Brandon Bernstein race away to the win with a 4.496/330. Rod Fuller started losing pistons at the thousand foot mark slowing him to a losing 4.953/210 as Tony Schumacher whacked out a fine winning 4.475/328. The luck of J.R. Todd went literally up in smoke in the last pairing at sixty feet out retarding his time to an 11.829/84 as Doug Kalitta managed to win with a 4.580/330 pass.
This was the round that solid teamwork succeeded as Troxel cut a 0.026 light and coupled with the 4.502/330 beat point leader Kalitta's better 4.500/330 try giving Schumacher another chance if he got through his pairing. Bernstein cut the better light but was just plain outrun by Schumacher's 4.482/329 to the losing 4.511/332.
Tony Schumacher had not only to win the event but had to card a national record pass as well if he was to beat Kalitta for the Championship – so no pressure then! He would also have to deal with teammate Melanie Troxel in the Skull Shine/Torco Racing Fuels fueller. There seemed to be no team orders as Troxel shot off first on a 0.085 light and with her 4.585/308 ran hard but the U.S. ARMY machine of Tony Schumacher just swept past to record the win in a record time of 4.428 at 327mph. 'The Sarge' had done the seemingly impossible, won the event and got a national record that gave him the 2006 NHRA POWERade Top Fuel Championship. A disappointed Doug Kalitta was shown on the big screen with just an emotionless blank expression!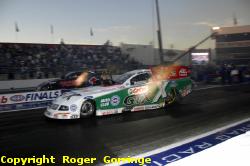 Funny Car had a scary moment on Friday qualifying when top qualifier Del Worsham's engine banged in the lights which buckled the body, the car hit the wall and with no chutes went into the sand trap to go end over end a couple of times. The car was wrecked and the crash gave Del a sore back but he emerged under his own steam. Top qualifier though ended up in the hands of new standout Jack Beckman who replaced Whit Bazemore in the Matco Tools Dodge Charger who ran a track record and fastest Funny Car speed in history, a 4.671 at 333.66 mph.
It was Tommy Johnson Jr. who opened round two with a 5 dead at 279 mph victory as Gary Scelzi blazed the slicks at one hundred feet out slowing to a 7.419/116 lose. Del Worsham after a busy repair made it to about one hundred feet then went up in smoke then powering on again to a 6.366/280 allowing Gary Densham to just win the pedalfest as he also went into smoke and got crossed up at the 330 foot mark reducing his time down to a 6.345/196. In a battle of black cars Jack Beckman got the better of Scott Kalitta, Beckman carding a 4.715/332 to the up in smoke 7.548/111. John Force was on for the Championship and pressed home a 4.801/284 win as Jim Head came off the throttle at three quarter track. Bob Gilbertson limped off the line with problems recording a losing 14.577/79 as Robert Hight stormed to a great 4.706/324 win. The remaining team Force member Eric Medlen suffered tyre smoke at the two hundred and fifty foot mark decelerating to an 8.127/105 as Phil Burkart Jr. recorded a fine 4.789/326 win. The following pair of Ron Capps and Tim Wilkerson gave a great race as Wilkerson was first out of the hole rapidly followed by Capps but Capps nipped past in the lights with a 4.755/330 to the real close 4.774 identical speed. Mike Ashley not only red lit away his chances but crossed the centre line, over corrected and grazed the wall on his 4.82/283 pass leaving Tony Pedregon to pick up the win with a 4.71/259.
Round two started with Gary Densham going into tyre smoke then getting sideways reducing his times to a 7.291/121 lose as Phil Burkart Jr. also slowed but took the win with a 5.186/283 ticket. The following pairing were the point leaders and it was here that John Force obtained his fourteenth Championship the NHRA POWERade Funny Car title as he beat Ron Capps with a holeshot 4.742/326 as Capps got a little crossed up down track slowing to a 5.262/204. It was good to see Force consoling Capps on the big screen after the run. Jack Beckman continued to make his mark with an all over the track 5.060/232 win to defeat the cylinder losing Tony Pedregon's 5.223/210 try. Tommy Johnson Jr. managed to make it to the four hundred foot mark before he went into tyre smoke slowing to a 6.896/135 as Robert Hight thundered to a 4.758/328 victory.
The semi finals saw Burkart suffer a small fire in the lights on his 4.917/312 only to have Jack Beckman come from behind to record the win with a 4.743/323. A Team Force battle ensued as boss John Force took on his son-in-law Robert Hight, veteran reactions won as Force beat the youngster out of the traps going on to get a 4.834/265 win as Hight got out of the groove and hit a timing cone disqualifying his 4.88/261 try.
With the Championship safely in his pocket John Force in the Castrol GTX Ford Mustang could have taken it easy, Force does not know the word easy and again beat the younger driver Jack Beckman off the lights. It turned out to be the quickest Funny Car race in history as Force numbered up a 4.697/319 victory as Beckman's Matco Tools Charger followed with a fabulous 4.662/329 runner up.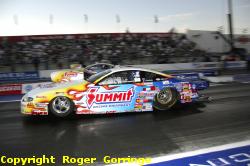 Pro Stock had Jason Line who had clinched the NHRA POWERade Pro Stock Championship in Las Vegas sitting in pole position with a 6.663/207 timing and with the bump spot of sixteen places going to Jim Yates' 6.714/206. Crowds witnessed some red lights in round one with Greg Stanfield to Dave Connolly's 6.684/207, Tom Martino to Mike Edwards 6.701/208 and Bob Panella Jr. to Greg Anderson's 6.641/208 all seeing the cherry. Also going down in one were a breaking Jeg Coughlin to Ron Krisher 6.693/206, Kurt Johnson whose 6.692/207 was beaten by the holeshot 6.711/206 from Dave Northrop, Erica Enders who was not quick enough, recording a losing 6.713/206 as Allen Johnson ran the winning 6.676/206, Jim Yates went down with a 6.725/206 as Jason Line took the win light with a 6.634/208 from behind and Tommy Lee who carded a 6.698/206 but was trounced on the tree by a 0.002 leave from V. Gaines along with a 6.698/207 to end the first round.
Into the second round and V. Gaines again got a good light, not as good as round one but it got him the win with a 6.701/206 as Dave Northrop followed with a 6.704/207. Mike Edwards went down to Allen Johnson's 6.675/207, the 6.703/208 not being good enough. In identical leaves from the tree it was the power from Greg Anderson's machine that got the win light with a 6.640/208 as Ron Krisher followed with a losing 6.701/206. Jason Line continued his dominance, catching and passing the leave by Dave Connolly, the 6.641/208 being the top numbers to the 6.684/207 to end the round.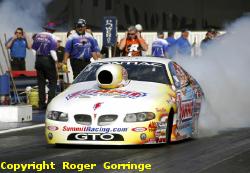 Line once more came from behind in his semi final bout with Gaines and the 6.653/208 beat the 6.676/207 in a close battle. Another close encounter was between Anderson and Johnson with the former getting the light on a 6.643/207 as Johnson lost with his 6.680/207 timing.
The final pitted the two teammates of new Champion Jason Line and old Champion Greg Anderson in their Summit Racing Equipment 2006 Pontiac GTOs, once more identical startline reactions had them leave together on great 0.005 lights but at the end of the race it was Greg Anderson that took the event trophy with a fine 6.652/208 as Jason Line runner upped with a 6.691/208.
Pro Stock Motorcycle just fell short of the magic six-second runs that are occasionally witnessed as Andrew Hines in the heat of the day put down a 7.020/191 that stayed top of the pile all weekend. Sitting down in sixteenth place was Tom Bradford's 7.142/188 that left five unlucky non qualifiers after him.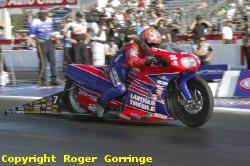 In the first round Geno Scali laid down a 7.123/188 that ousted the 7.136/185 from Michael Phillips. Ryan Schnitz got too anxious carding a red light 7.057/187 and allowing Antron Brown through with a 7.152/184. Matt Guidera pushed his machine to a fine 7.048/186 win as Steve Johnson trailed with a 7.154/189 lose. Angelle Sampey was not quick enough as Matt Smith beat her off the line and held on for the win with a 7.103/182 to the 7.087/187 lose. Chip Ellis cursed as the red light came on in his lane wasting the 7.144/185 and seeing the win light in GT Tonglet's lane shine with a 7.104/186. Shawn Gann got the better leave and held on with a 7.097/185 as Mike Berry lost with his 7.150/187. A great light from Craig Treble coupled with his 7.036/191 put away Karen Stoffer's close but losing 7.068/187. Finally, Tom Bradford outgunned Andrew Hines pushing him into a red light and negating his 7.028/187 try as the win carded 7.075/188 numbers.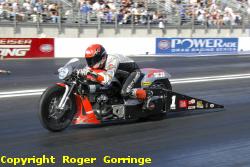 Andrew Hines had a long wait, out of competition but still in contention for the Championship as the second round continued with Matt Smith catching and passing GT Tonglet 7.111/184 to the losing 7.137/188. Geno Scali put a cherry on the tree squandering the 7.139/188 and allowing Tom Bradford to see the win light slowing to an easy 8.018/184. Shawn Gann also had a red glow in his lane frittering away his 7.030/190 and leaving the win open to Matt Guidera's 7.048/187. Antron Brown could have surged ahead in the points chase in his fight with Craig Treble but a tardy leave against Treble's 0.005 launch had Brown lose the race with a 7.149/184 to the winning 7.060/191. This loss gave Andrew Hines his third consecutive NHRA POWERade Pro Stock Motorcycle Championship.
The semi final onslaught continued with Treble getting the better of Smith in a 7.063/190 win to the 7.221/180 lose, Treble continuing with his high mph runs. Bradford in his turn ran the winning 7.112/185 as Guidera tried to catch up losing with a 7.076/186.
It was all set for the money run with Craig Treble on his Team Tigue '98 Suzuki GSX-R against Tom Bradford's Hal's Speed Shop/Flying Doc '06 Buell V-Twin and the Buell left first but could not seem to turn his usual numbers as a 7.301/182 gave Bradford the runner up place as Treble stormed by to gain the 7.072/190 win light for the event win.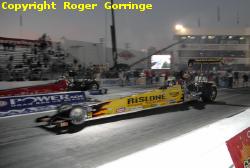 The Top Alcohol Dragster win went to Bill Reichert in his nitro injected Rislone Engine Treatment machine: he left on a 0.039 light chasing a red light from the Spencer Massey driven car who slowed to a losing 7.151/122 as Reichert zoomed past to record a 5.262/274 win.
Top Alcohol Funny Car driver Dave Ray must have drawn luck from me as in the semis a crewman pushed past in the staging lanes knocking off my new lens hood from my camera, it went under the right slick and was crushed much to the dismay of other crew members who envisaged a punctured slick – no way, he won the round and with no apology went on to take the event win! Ray's 'Follow A Dream' '06 Dodge left a tad behind opponent Roger Bateman but as Bateman got crossed up on a wild 6.374/167 ride Ray zipped through recording a 5.699/255 win. That'll be $16.50 plus tax Dave!
Competition Eliminator ended up in the hands of Jeff Taylor in his Jim Butner Auto Sales '05 Grand Am, his 8.903/124 beat the red lighting 7.129/145 from Alan Ellis' '23T.
The leaping Super Stock event title was wrapped up by Brad Plourd whose Lucas Oil/Jegs/Nitro Fish Ultimate Wear '91 Calais took the win with an easy 16.381/52 as he saw his win light due to the fact that opponent Gary Stinnett had run a red light time of 9.499/120.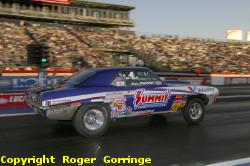 The Stock Eliminator win went to no stranger to the winner's circle Dan Fletcher, his Summit Racing Equipment '69 Camaro ran the winning 10.585/122 over Leo Glasbrenner's 10.949/120.
Super Comp saw Gary Stinnett's dragster take a good lead on the lights and run a perfect 8.900/178 to win as Larry Marshall runner upped with an 8.904/166.
Super Gas was wrapped up by Wayne Newman, his Wayne & Dave's Automotive '94 Lumina clinched the win with a 9.917/158 as Ray Sawyer came second with the same ET coupled with a 164 mph timing.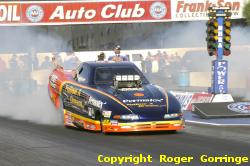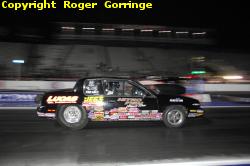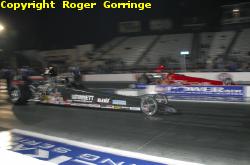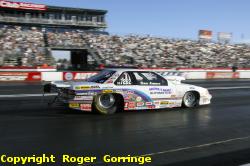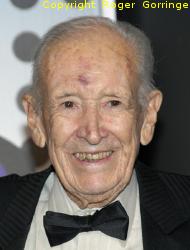 The plush Westin Mission Hills Resort, Rancho Mirage in the desert oasis jewel of Palm Springs was host to the NHRA POWERade Drag Racing Series Awards and a packed house resounded to rapturous applause from the assembled racers, guests and teams all hardly recognisable in smart tuxedos and ladies in evening and cocktail dresses. Announcer Bob Frey called the shots making everyone laugh with his wit and tall stories for each class. The 93 year old NHRA founder Wally Parks was also in attendance to congratulate each winner and pose for photographs.
Top Fuel was only just clinched in fine style by the U.S. ARMY team headed by Don Schumacher and son, driver Tony Schumacher. He told of how troops in war torn Iraq probably knew of his win before he did as a Blackhawk communications helicopter hovered waiting to receive the news broadcast from Pomona. He was quick to compliment second place Doug Kalitta on his try for the Championship and said that Doug would take the win one day.
Funny Car saw John Force take his fourteenth Championship and had the house in continuous fits of laughter as he made fun not only of himself but of other racers and officials and complimented his squad for being a great team of old and new generations.
Pro Stock had Jason Line take his first Championship title and he graciously thanked virtually everyone in the house as well as team owner Ken Black and teammate Greg Anderson for giving him a chance.
Pro Stock Motorcycle was another win for the Screamin' Eagle/Vance & Hines team of Andrew Hines who gave an emotional speech once again saying he was proud to be part of the NHRA family and was elated to share the stage with the likes of multi champions Tony Schumacher and John Force.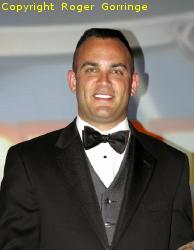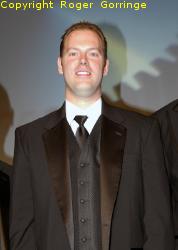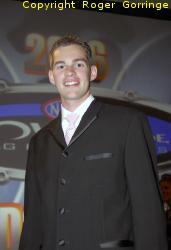 Report and pictures ©Roger Gorringe. Feature ©Eurodragster.com


---
Features index
Back to News page