2006 Goodguys Fuel and Gas Finals
Click on any picture for a large version
It was rumoured to be the last of the Goodguys races held at Bakersfield due to management changes at the famed facility, times change but the fabulous nostalgia Top Fuel, Funny Car, Altereds and Gassers will not be disappearing. It was once again another bright Californian weekend that witnessed some great times including a best ever in Top Fuel, a 5.703 from Los Angeles-based Adam Sorokin in eliminations.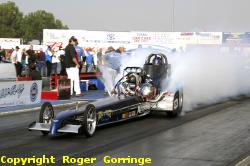 Top Fuel saw the front engined beasts qualify on Friday and Saturday with the former being run in record time but Saturday saw many oildowns giving the track crews a hard time. Top qualifier went to Adam Sorokin (son of the late Mike Sorokin of 'The Surfers' 1960s AA Fuel Dragster pilot) with a fine 5.762 at 247mph that led the sixteen car field and on bump spot was Bill Dunlap with a 6.213/223.
Sean Bellemeur and Rick McGee kicked off in round one with a classic race with Bellemeur getting the nod with his 5.944/243 against the losing 5.980/251, the race won on a holeshot. A close leave set Brett Harris against Dan Rusk and it was Harris that clinched the win despite popping the blower slowing him to a 6.350/165 but enough to see off the troubled 6.522/184. Adam Sorokin recorded the best ever ET on registering a stunning 5.703 at 250 mph in beating Bill Dunlap whose 6.124/213 was left for dead. Mendy Fry lit the tyres on her leave that allowed Jack Harris to win with a 6.190/193 to the losing 7.992/136. Denver Schutz managed a 5.902/250 win as Howard Haight trailed with a 6.058/236 lose. Last years Champ Rick White had a catch up job to do and succeeded in running down the leave from Jim Murphy, 5.864/243 win to the 5.986/250 lose. Scott Mason lost fire after his burnout giving an uncontested win to Shannon Stuart who took an easy 9.069/89 win. Last pairing pitted Brendan Murry against Brad Thompson but a pop after the burnout Thompson shut off and Murry took another easy 13.897/63 solo win.
Round two and Sean Bellemeur leapt first and with a 5.819/252 took the win as Brendan Murry used every inch of his lane in an attempt to catch up, failing with a slowing 7.222/128. Rick White stormed off after Brett Harris's leave and as Harris lifted with problems White went by to record a 5.891/247 win as Harris slowed to a 9.340/80. Adam Sorokin kept up his consistency running another 5.7, a 5.798/252 in defeating the 6.305/171 from Shannon Stuart. Denver Schutz suffered instant tyre smoke slowing his pedalling pass to a 6.578/249 as Jack Harris ran the winning 6.004/228 to end the quarter finals.
Rick White left with a good light and continued on to win with a neat 5.842/252 as Jack Harris got crossed up on his launch slowing him to a 13.473/64 lose. Adam Sorokin's great weekend came to an end when something went pop and slowed him to a 26.529/23 handing the win to Sean Bellemeur whose 5.880/242 got the easy light to end the semis.
The final gave an event winner and crowned a new Champion, Rick White the defending Champion had to play catch up to Sean Bellemeur on the leave but instant tyre smoke plagued Bellemeur slowing him to an 8.238/151 and seeing his Championship dreams go to Brett Harris by just a few points. Rick White however wrapped up the meetings win with a 5.873/248 win.
The Funny Car category has grown immensely with seventeen stunning vintage floppers competing for a place in an eight-car eliminator. Heading the cast was one of today's top pilots, Del Worsham shoeing the fabled 'Blue Max' replica 1977 Mustang his 5.934/247 was one of only two cars in the fives. Mike Savage just got into the eight with his 6.226/216. Another well-known name in a nostalgia car was Ron Capps driver of the Brut '06 Dodge Charger who sat in third place in the 'Hard Times' 1970 Dodge Challenger of Jeff Gaynor. A hard leave with no wheelie bars put the car almost vertical on a qualifier that had it crash down hard and cross lanes, damagine the chassis and bodywork, Capps emerged fine but a little embarrassed.
Opening the round was the '72 Cuda of Lee Jennings Jr. who managed to chase down the leave by Dan Horan's '66 Mustang, a 6.063/227 nipped past Horan's 6.200/227 in the lights. Kris Krabbill in the '77 Plymouth Arrow survived his tyre shake enough to trailer the equally shaking Del Worsham in a 6.341/323 to a 6.788/194 duel. Larry Pettit's Arrow put his holeshot to good use just obtaining the win with a 6.133/222 as opponent Mike Savage came second with a 6.192/224 try in the '70 Cuda. Stephen Romanazzi in a '79 Vega red lit away his 6.453/204 chances giving the win to Dennis La Charite's 6.137/239 who had come in as alternate to Ron Capps.
Kris Krabbill the 2006 Nostalgia Funny Car Champion took the win with a 6.241/234 despite tyre shake leaving Dennis La Charite to follow with an on/off 9.036/103 in the second round. Lee Jennings Jr. caught and passed the leave from Larry Pettit, a wining 5.995/222 beating the 6.172/235 to end the round.
It was all change for the final as Krabill could not return to face Jennings Jr. so La Charite was returned to run a two car final. As the sun set and the air cooled Dennis La Charite left on Lee Jennings Jr. but his 6.191/228 that oiled the track was not enough as Jennings Jr. overcame his late leave and zoomed to a 5.975/239 event win.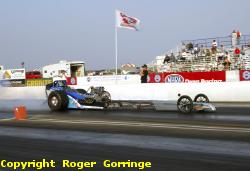 In the A/Fuel class Bill Wayne led qualifying with a 6.420/218 in the small field but he went out in round one to eventual finalist Darrell Waters. The final pitted Kin Bates against Darrell Waters and Waters was the better light but he then slowed to a troubled 7.902/117 allowing Bates to record the win with a 6.377/221.
Junior Fuel A was an all Scott Parks weekend as he sat in pole position with a 6.908/192 then went on to record a 6.938/192 win in the final over Jon Haire's close 6.958/191.
Junior Fuel B was dominated by John Rasmussen who led the pack with a 7.151/186 then went on to wrap up the event win with a 7.125/185 win as opponent Bud Hammer slowed to a runner up place with a problem plagued 20.273/42.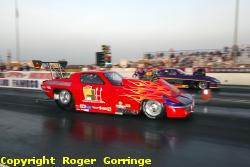 The AA/Gas wars continued with all the stunning machines competing with multi-coloured attitudes leaving Steve Woods to take all the honours, a 6.643/209 put him atop the twelve car class then in the final a 6.699/207 put his '63 Corvette into the winners circle as Chris Abbey's similar mount came second with a 6.725/208.
A/Gas saw Rich Facciano in his '32 Ford take the lead in qualifying, a 7.610/176 held top spot in the nineteen-car eliminator but his way was blocked in the semi final when he went down to Don Chemello. It was Chemello's '63 Chevy that got the event win with a 7.665/172 on a holeshot to beat the 8.162/180 try from Rob Patton's '63 Vette.
A twenty car field in B/Gas was led by Bones Balogh with an 8.601/156 from his '69 Chevy Camaro and his try lasted until the quarter finals when he went out to finalist Rafael Quiroga. Pat McDonald ran the '67 Chevy Nova to an 8.598/160 lesser breakout to the 8.565/155 lose from Quiroga in the money run.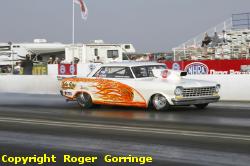 A mammoth thirty three car entry in C/Gas saw Tom Cwayna head the cast with a 9.603/122 from his '63 Tempest but it all went away from him in round one. The final came down to a run off between Tommy John and Mike Wortman and it was the '63 Falcon of John that took the trophy with a 9.568/140 to Wortman's runner up 9.568/142 in his '69 Mercury.

Allan Bohl running a '69 Camaro ran the lead numbers in D/Gas, a 10.604/112 headed the twenty seven car field but he was a round one casualty. The final went to Ed Carey who ran a winning 10.602/122 in his '71 Camaro as in the other lane Doug McDermott in his '72 Chevy ran a breakout 10.592/119.

Nostalgia Eliminator 1 was led by Tony Wimer with a 7.604/178 that headed the thirty eight car field until he was despatched in round two. The final went to Dan Schrokosch whose 7.608/173 got the better of Don Taros's breakout 7.589/171.

Nostalgia Eliminator 2 had Randy Winkle run an 8.608/146 to head the list but his luck vanished in round two. It was left to number thirteen qualifier Steve Olmsched in a '23 Ford to get the trophy with an 8.671/143 win over Dick Chesney's 8.712/132 lose.

Nostalgia Eliminator 3 saw John Eskelson take the lead with a 9.611/138 but then did not make the eliminations. Casey Dow ran a '48 Fiat to the overall class win with a 9.688/124 downing the breakout 9.576/125 from Bobby Lee's similar mount.

The huge Hot Rod class win went to Rocky Phillips in his '72 Mercury, an 11.949/87 beat the under index 11.377/116 from Diane Diedrich's '65 Chevy ll.


Report and pictures ©Roger Gorringe. Feature ©Eurodragster.com


---
Features index
Back to News page