2006 AC Delco NHRA Gatornationals
Report for Eurodragster.com by Roger Gorringe
Click on any picture for a large version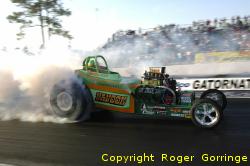 There was a certain amount of trepidation prior to the 37th annual event as all teams had to comply with the ruling of using the new Goodyear slick, some had tested with it others had not but after this event it had produced many effective results. The absolutely packed race set among the pine and low palm forests outside of Gainesville saw highlights and lows in qualifying as firstly Rick Hough on a demo pass in the only three event old Nanook Nostalgia AA/FA crashed spectacularly at the top end resulting in a complete wreck and a severely injured hand for the driver, TAD driver Don Fiorelli also took a wild ride in his own fluid ending up crossing the track and hitting the guard wall hard, he emerged just shaken.
Top Fuel
Top Fuel qualifying was led by Aussie Dave Grubnic to start with but then Tony Schumacher made the move to record a 4.515/325.96 for pole dropping Grubnic behind Larry Dixon's 4.544/327 with his earlier 4.555/323 and sitting on the bump spot was the 4.652/318 from Doug Herbert.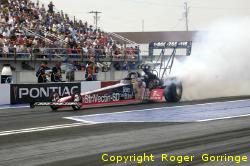 Kicking off round one was a duel between the winner of the Phoenix race Rod Fuller and Cory McClenathan and despite a better leave the David Powers Homes/Valvoline machine of Fuller was passed as Cory McClenathan scored a 4.548/327 victory to the 4.607/320. David Baca in the Mach 1 Air Services car, the number ten qualifier just couldn't match the power of Doug Kalitta the 4.557/327 beat the 4.634/323. Bob Vandergriff Jr. and Hillary Will fought a close battle with the KB Racing machine of Wills losing the spoils, a 4.588/323 lost against the 4.522/326. The right lane suddenly went away as Brandon Bernstein's Budweiser rail went up in smoke at around 400 feet out leaving the way clear for the Pomona winner Melanie Troxel to run a 4.501/329.54 for the round highest speed and the win. Current Champion Tony Schumacher in the U.S Army machine suffered the same smoking fate and his 5.578/174 gave the win to Doug Herbert's 4.614/323. Larry Dixon ran in the suspect lane but it all came good for him with a 4.596/322 win over Doug Foley's ride when the blower belt came off at 1000 feet slowing him to a 4.681/272 lose. Morgan Lucas wracked up a win when his 4.640/299 just beat the 4.685/323 from Scott Weis' Barrett Enterprises Inc. machine. Last in the round one encounter's was an all Australian battle as Dave Grubnic faced Andrew Cowin, it was Grubnic that overcame the holeshot running a 4.557/316 to the Serta backed 4.625/320 from Cowin.
Round two opened with Larry Dixon's Miller Light/Mac Tools/ Lucas Oil machine failing to catch the better leave of opponent Doug Kalitta, the slower figures along with a good weave at the top end of 4.594/302 won against the chasing 4.562/314. It was the turn of Cory McClenathan in the Carrier Boyz/Fram Boost 2 car to go up in smoke this time at the 200 foot mark slowing his charge to a lowly 11.410/79 as Doug Herbert pushed his entry to the 4.577/320 victory. The opposite lane then produced the next smoker as Bob Vandergriff lit them up instantly in the UPS sponsored car slowing to a 7.722/119 as Dave Grubnic pounded out a good 4.542/322 win. Once again the smoke devils hit in that lane as this time Morgan Lucas in the Lucas Oil dragster hit smoke at sixty feet out pulling his car down to a 7.223/112 lose as Melanie Troxel powered to the win with a 4.726 at just 243 as she got mightily close to the centre line at half track.
Melanie Troxel continued her onslaught with a 4.521/327 win over a pedalling Doug Herbert, the Snap-On Tools car hit tyre smoke at half track and tried to rescue it but the 6.057/154 told the tale. It was all over for the Mac Tools entry of Doug Kalitta despite a small holeshot, the 4.727/308 lost to the 4.566/320 from Dave Grubnic to end the semi finals.
The final gave the packed house the end result when Melanie Troxel in the Skull Gear/Torco Race Fuels machine faced the Strivectin-SD entry driven by Dave Grubnic. Troxel led out of the hole then overpowered the track as she hit tyre smoke just one hundred feet out slowing her to a 7.99/93 lose and allowing Grubnic to zip past to record the winning numbers of 4.943/317 to end a perfect finals day by late afternoon.
Funny Car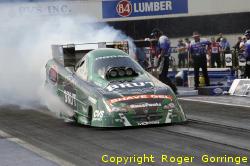 It was thirteen time Champion John Force that led qualifying all the way through with a 4.751/323.62 charge closely followed by Whit Bazemore with a 4.769/321. Bottom of the pile was Tony Pedregon with a 4.900/314.46 putting him number sixteenth.
The round one battles began with the defeat of Jeff Arend in his Erie Processing/VF Trucking/Craftsman '05 Monte Carlo his 4.938/291 was left behind Eric Medlen's 4.824/315 pass. Tony Bartone managed to overcome a great holeshot by Jim Head running the winning 4.813/324 as Head came in second with a 4.992/314. Tony Pedregon then took on his old boss John Force and it was the experience that told as Force pounded out a 4.775/319 to the losing 5.018/279 from the Q Power machine, brother Cruz Pedregon fared better as his 5.526/273 was pedalled more consistently than that of the equally up in smoke Whit Bazemore in the Matco Tools '06 Dodge Charger whose 5.706/262 lost. Tommy Johnson Jr. in the Skoal Racing Monte Carlo got a little loose at the top end eliminating his holeshot 4.829/325 as Robert Hight passed him to record a winning 4.764/323. A real close encounter followed with Gary Densham in the Racebricks machine scored a losing 4.828/320 as Phil Burkart Jr. with the slightly better light stayed ahead with the winning 4.874/322. You couldn't get much closer than the next pairing as both ran a 4.799 but it was Ron Capps lead that held as Mike Ashley in the Skull Racing Gear Monte Carlo lost with a 4.799/322. The 2005 Champion Gary Scelzi in the only other Dodge Charger backed by Mopar/Oakley was left at the lights by Del Worsham who ran the 4.858/323 win to the 4.842/322 lose to end round one.
Eric Medlen took the win against Cruz Pedregon to open round two a 4.829/321 beat the weaving 4.835/312 from the Advance Auto Parts Monte Carlo. Tony Bartone fouled away his chances as his Lucas Oil Products machine red lit to a slowed up 5.301/196 allowing Ron Capps to push his Stratus to the win with a 4.810/317. John Force managed to catch and pass the better leave from Del Worsham's Checker Schuck's Kragen backed Monte Carlo a 4.798/322 beat the 4.818/318 try. Ending round two was the winning 4.799/321 from Robert Hight who despatched the 4.915/319 from Phil Burkart Jr. in the other Checker Schuck's Kragen car.
Ron Capps capitalized on the bad luck of Eric Medlen in the Castrol Syntec/Ford as the car suffered a brief bang and small fire at around the 400 foot mark, Capps went on to record a fine 4.871/319. Team-mates, boss and son-in-law John Force and Robert Hight faced off and there was no give on either side, Hight left first and ran a 4.770/316 in the Auto Club of Southern California/Ford Mustang but experience came through as John Force nipped in to take the win with a 4.752/323.
The Funny Car final was left to Ron Capps in the Brut Dodge Stratus and John Force in the Castrol GTX/Ford Mustang and it was all over just off the start line as Force despite changing lanes shook and hopped up off the race track then went into tyre smoke getting crossed up and hitting one of the centre timing blocks negating any chances of a win, his 4.990/305 was incidental as Ron Capps pushed his Brut sponsored car to his first win against Force in eight years running a 4.860/316.
Pro Stock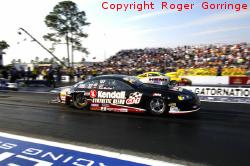 Current Champion Greg Anderson led qualifying starting with a 6.664/206 which was then changed to a 6.637/207.51 to end qualifying he was followed by team-mate Jason Line with a 6.648/207.51 and then Larry Morgan with 6.649/206. The precarious bump spot was held down by the 6.701/206 from Dave Howard.
Into round one and V Gaines pulled a red light in his Kendall Oil Stratus leaving the win to Greg Stanfield with a 6.677/205 to the wasted 6.698/205. Rickie Smith leapt from the line to record a win of 6.706/205 against the close 6.702/205 from Jim Yates in the Sea Ray Boats Pontiac GTO. In an equal leave both Tom Marino and Richie Stevens Jr slugged it out up track but it was the former with a 6.696/204 that clinched the deal as the Mopar/Valspar Stratus came in with a losing 6.715/205. Max Naylor hired a Larry Morgan car to replace his wrecked machine that ended up on its roof testing a short time before the event and it paid as a 6.715/204 beat the red lit time of Mike Edwards in the Young Life/Art car. Huge cheers went up for a rising star Erica Enders when she tripped the win light with a 6.716/205 and put out the quicker 6.674/205 from Jason Line's Summit Racing Equipment GTO. Warren Johnson winner at Phoenix went out when his GM Performance Parts/Pontiac ran the losing 6.683/206 as Larry Morgan pushed to the win with a 6.676/205. Greg Anderson started to dominate again a 6.664/206 defeated the 6.715/204 from Dave Howard. Finally in round one Ron Krisher got the ticket with his 6.725/205 as Allen Johnson in the J&J Racing /Mopar Stratus ran a red light lose of 13.135/63.
Round two erupted in more cheers as once again Erica Enders put away a big name, this time Rickie Smith in the Skull Gear '06 Cobalt, a 6.712/205 lost as the 0.032 r.t against the close 0.038 worked well for the young lady coupled with a 6.713/204. Tom Martino advanced another round with a 6.706/205 putting out Max Naylor's Jagermeister backed machine that lost with a 6.724/203. It was Larry Morgan's turn in the ZMax Dodge Stratus to take a loss with a 6.783/203 as Ron Krisher caught and passed the holeshot and ran a winning 6.684/205. The rounds biggest upset came when Greg Anderson was caught unawares as Greg Stanfield strapped a fine 0.012 leave on him and won with a 6.669/205 as Anderson followed in the wake with a 6.670/205.
Erica Enders delivered again to start the semi finals when she pushed Ron Krisher's Valvoline Cobalt into a red light wasted 6.711/204 to her winning 6.735/205. Tom Martino then put away the previous rounds giant killer Greg Stanfield in the Piranaz Racing GTO, a 6.700/204.35 with a 0.014 leave got the better of the 6.700/205.29 with a 0.017 light.
The hopes and dreams of Erica Enders and the Slammers Ultimate Milk '06 Cobalt were dashed in the final as she overpowered the track and got crossed up just off the startline slowing to a lowly 18.482/41 as Tom Martino in the Kendall Oil Dodge Stratus zoomed to the 6.677/205 win.
Pro Stock Motorcycle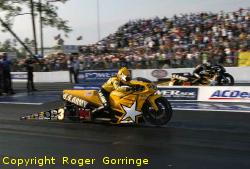 It was a wholesome battle of Buells, Suzukis and V-Rods in the two wheel class and it was in that order that the top three qualifiers are listed, Ryan Schnitz led the pack with a 7.012/188 then came Antron Brown with a 7.026/189 followed by Andrew Hines with a 7.056/189. The number sixteen-position went to Joe DeSantis with a 7.158/190 on a Suzuki.
In the opener Geno Scali put down a lone 7.177/184 as opponent Matt Smith broke on the run and failed to finish. Shawn Gann left with a good light and produced a 7.086/186 win as Tom Bradford got close with a 7.084/186 but just couldn't catch up. Karen Stoffer strapped a heck of a light (0.004) and coupled with the 7.139/185 put paid to the 7.114/187 from Craig Treble. Mike Berry misjudged the lights and saw the cherry wasting his 7.240/182 as Chip Ellis made good use of the freebie with a winning 7.090/179. A real close leave by both Andrew Hines and Steve Johnson saw the latter slow leaving Hines to take the win with a 7.092/185 against the troubled 8.212/115. Antron Brown just plain overpowered the great holeshot set by Wesley Wells and reeled him in winning with a 7.056/189 to the 7.162/180. Joe DeSantis didn't stand much of a chance as Ryan Schnitz powered ahead to record the win with a 7.082/186 against the 7.224/177. Lastly GT Tonglet ran a game 7.130/185 only to watch Angelle Sampey pass him to take the win with a 7.099/187.
The second round saw Karen Stoffer's Geico Motorcycle Suzuki card a big red light, her 7.222/180 to no avail as Andrew Hines ran the winner with a 7.239/179. Chip Ellis and the G2 Motorsport/S&S Cycle backed Buell V-Twin just couldn't catch the fast disappearing Angelle Sampey a 7.182/183 win to the 7.175/181 lose. The Gann's Custom Suzuki of Shawn Gann pulled a red light against Antron Brown's winning 7.109/185 and in the last pairing Geno Scali put away the hopes of Ryan Schnitz and the Team Muzzy Beull with a 7.142/184 to a 7.193/180 lose.
Come the semi finals there were three Suzuki's and one V-Rod and Angelle Sampey saw to it that there was one less Suzuki by eliminating Geno Scali's Performance Machine '03 Suzuki in a double red lighting duel that went Sampey's way, her 7.292/180 got the nod over the 7.286/178. Sampey's team-mate Antron Brown then pushed out the Screamin' Eagle/Vance & Hines V-Rod of Andrew Hines with a holeshot 7.202/185 to the losing 7.221/181.
Then there were two Suzuki's both '98 models both owned by Don Schumacher Racing and both with sponsorship from the U.S. Army, it was Brown that left first but way too early scoring a cherry and allowing Angelle Sampey to push her machine to the event win with a 7.138/187 to the disqualified 7.134/186.
Pro Mod had a massive twenty two cars vying for the sixteen car eliminator and it came down to a battle between the good looking '57 Chevy of Glen Kerunsky and Jay Payne in his '05 Stratus. It was another close run deal as Payne got there with a 6.15/231 and a half a cars lead on the 6.16/229 from Kerunsky.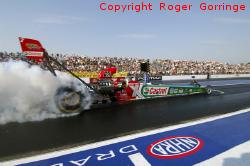 The Top Alcohol Dragster win went to Ashley Force in the Darien & Meadows Castrol injected nitro burner who saved the day for the Force Empire; she overcame the slight leave by Randy Meyer and drove him down recording a fine 5.387/263 as Meyer runner upped with a 5.629/249.
The Top Alcohol Funny Car event win was taken by David Ray and his 'Follow A Dream' '01 Dodge Avenger despite banging the blower in the top end, his 5.606/256 was well and truly good enough as Cy Chesterman in the Chippewa Spring Water backed '05 Monte Carlo had to be content with a 5.818/206 runner up.
The Super Stock win was taken by Peter Biondo and his leaping 'Hatari' '00 Firebird a10.203/126 was all that was required to see off the attempts by Bill Rowe Jr. who's 9.720/131 had to be content with second place.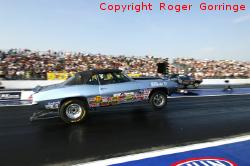 Stock Eliminator was wrapped up by Mickey Whaley and his '69 Camaro with an 11.063/115 that beat the 11.555/112 delivered by Brenda Grubbs in her similar mount.
Super Comp had Sherman Adcock Jr. run a winning 8.907/166 in defeating Jason Wood who ran an 8.911/175 to take runner up place.
Super Gas another of the massive fields of great Sportsman racers was wrapped up by Mike Fuqua in a '00 Corvette with a 9.908/159 as Alan Kenny in an '03 Corvette chased to a 9.952/147 runner up.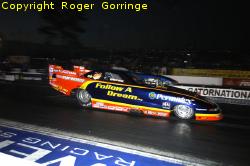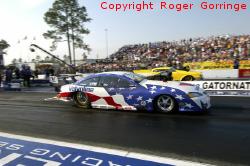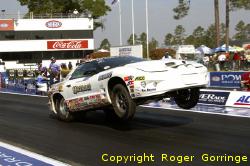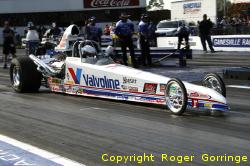 Report and pictures ©Roger Gorringe. Feature ©Eurodragster.com


---
Features index
Back to News page