2006 Checker Schuck's Kragen NHRA Nationals
Report for Eurodragster.com by Roger Gorringe
Click on any picture for a large version
There were no repeat winners at the second of the NHRA Powerade Drag Racing Series events held at the exotic desert facilities of Firebird Sports Park but even in the high dry heat and the one hundred and thirtieth day without rain, track records fell in both Top Fuel and Pro Stock. Tony Schumacher set the qualifying number in the heat of the day with a stunning 4.459, whilst Greg Anderson ran a 6.671 and Warren Johnson a 207.08mph in the Pro Stock ranks. The three day event attracted large crowds from across the US and was run under fine blue skies with temperatures in the mid to high eighties.
Top Fuel Dragster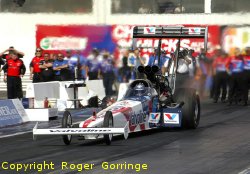 Tony Schumacher laid down the track ET record, 4.459 at 330.96 mph to set the pace in qualifying, not bettered even in the cool of the night time qualifier and the only machine in the 4.4s until eliminations. Once again round one produced some surprise upsets as racers like David Baca, Doug Kalitta, Brandon Bernstein, Bob Vandergriff Jr, Alan Bradshaw, Cory McClenathen, Doug Herbert and Doug Foley all fell by the wayside, none more astonishingly than Bernstein who didn't even launch allowing Hillary Will to get her first ever T/F round one win, then Vandergriff who got loose at the 900 foot mark and lost with a 4.61/322 to Melanie Troxel's huge fireballing 4.48/324, whilst in a close duel Rod Fuller's 4.54/325 beat the 4.56/322 of Doug Herbert.
In round two Fuller left first giving no quarter to Will's KB Racing LLC dragster 4.56/325 as he took the win with a 4.50/324. In an extremely close call Larry Dixon managed to hold on to a small leave connecting it with a 4.54/326 win as Morgan Lucas in the Lucas Oil machine lost with a 4.56//320. Dave Grubnic in the Strivectin-SD dragster slowed to a 5.42/186 as Troxel trashed another motor with just an oiling flash fire but a winning 4.57/329. The Werner Enterprises/Nitro Fish entry of Clay Millican trailed off at around three quarter track, 4.80/241 allowing Schumacher the win in a 4.48/328 contest.
The semi finals were a battle of attrition as both pairs fought for traction in the heat of the afternoon. The Don Schumacher owned fuellers had a handle on the heat all weekend but suddenly lost it as Troxel hazed the tyres at three hundred feet and had to pedal to a 5.35/243 win as Dixon's Miller Lite/Mac Tools car followed behind in even more difficulties. In an equal leave, both Schumacher and Fuller had problems, the US Army car losing with a troubled 15.79/84 as Fuller hopped up on one wheel but recovering enough to take the light with a 4.92/322.
All eyes were on Melanie Troxel in the Skull Gear/Torco Race Fuels machine for a back to back win but it as all won on the start line as Rod Fuller in the David Powers Homes/Valvoline digger put down a winning 4.56/321 against the losing 4.58/318 to end the day. It was Fuller's first win since last years Memphis event.
Funny Car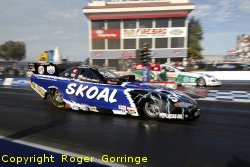 Twenty two Funny Cars were fighting for a place in the sixteen car eliminator and it was led briefly by Bob Gilbertson until Eric Medlen put a stranglehold on the others with a 4.70/321 top qualifier that stayed number one. A couple of mishaps caught out Frank Pedregon when he glanced off the wall, Mike Ashley suffered a fire but the bigger conflagration award went to Jim Head who had to revert to a new and unpainted body for further qualifying.
Some big names were once again dealt out in the opening round they included Medlen, Gary Scelzi, the 2005 Champion, Whit Bazemore (red lit), Gary Densham, Robert Hight, Tim Wilkerson, Mike Ashley and Bob Gilbertson, some suffering shake others to the up in smoke devils.
The majority of round two contests were good and close races with one exception as Scott Kalitta smoked the tyres at one hundred feet out giving the win to Phil Burkart Jr in the Checker Schuck's Kragen Monte Carlo, 4.90/313 to a 10.42/89. John Force took a 4.79/314 win overcoming a better leave by old adversary Cruz Pedregon whose 4.83/320 in the Advance Auto Parts Mote Carlo fell by the wayside. Tony Pedregon was the next to go his better leave in his Q Power car was caught and passed by Tommy Johnson Jr. with a 4.80/324 to the 4.84/324. Last in the round was Ron Capps whose 4.82/311 on a holeshot beat the 4.82/318 from Del Worsham's Checker Schuck's Kragen Monte Carlo.
In the semi finals it was a feat to behold as firstly Phil Burkart Jr left on Tommy Johnson Jr. and despite Johnson having a near brush with the centre line he overtook Burkart at the finish recording a fine 4.80/322 win to the 4.88/314. It was a wilder pair of rides in the second pairing as Capps left first then went into heavy tyre smoke quickly followed by Force. The pair pedalled three times apiece getting wildly out of shape and close to the centre line but it was Force who captured the light with a 6.63/181 as the Capp's Brut machine ran a 6.86/216 loser.
If the semi final was wild then the final bore a close resemblance as Tommy Johnson Jr in the Skoal Racing Monte Carlo left first and hit tyre smoke around half track, Force in his Castrol GTX Ford Mustang leapt after him and bounced into tyre smoke at one hundred feet out with the pair subjecting their rides to several stabbings of the throttle as they fought for supremacy. Tommy Johnson Jr. found his feet first scoring his first win of the year and the first for just over a year as Force followed behind, 5.22/249 to the 5.70/294.
Pro Stock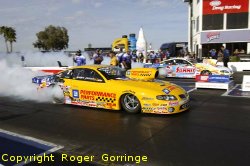 Erica Enders led on Friday with a great 6.679/206 but by Saturday Greg Anderson had wrestled back his prime position with a 6.671/206 to lead the pack of twenty two cars. The list of round one losers includes Larry Morgan, Ron Krisher, V Gaines, Dave Connolly, Kurt Johnson, Max Naylor Allen Johnson and Erica Enders.
Round two kicked off with Rickie Smith taking a good leave over the Young Life/Art Pontiac GTO of Mike Edwards and taking the win with 6.77/204 to the losing 6.75/204. Greg Stanfield managed to hold on to his lead with a 6.72/204 win against Ritchie Stevens Jr. in the Mopar/Valspar Cavalier, 6.77/204. Warren Johnson was back on form with a 6.74/200 win as the red light in the other lane told the tale for Jason Line. Greg Anderson captured a good light and never looked back lining up a 6.70/205 win as Jim Yates in the Sea Ray Grand Am followed with a 6.75/204 lose.
Rickie Smith in the Dart Engineering Chevrolet Cobalt had his luck run out when he faced a hard charging Warren Johnson in the semi finals, a 6.75/205 from W.J. took the win as Smith ran a losing 6.78/204. The other pairing had Anderson continue to dominate as his 6.69/205 got the better of Greg Stanfield's Piranaz Racing's 6.75/205 in a battle of the GTOs.
The final was not what was predicted as Greg Anderson suffered a breakage in his Summit Racing Equipment Pontiac GTO shortly after his leave that slowed him to a 13.88/61 but it allowed Warren Johnson in his GM Performance Parts/Pontiac to take the event win with a 6.77/206.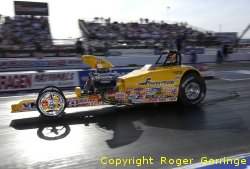 Comp Eliminator was won by Dave Rampy whose little Freedom Roads Bantam managed a fine 7.37/163 defeat of Doug Lambert's '05 Pontiac, 8.52.156.
Super Stock was wrapped up by Dan Fletcher whose leaping Summit Racing Equipment '69 Camaro ran the winning 9.96/121 as Dan Mason's '85 Camaro runner-upped with a 9.73/134.
Stock Eliminator went to David Rampy's '67 Camaro with an 11.35/108 over Steve Couch's 12.26/102 making Rampy a double event winner.
The Super Gas final was taken by Tim Landis in his '04 Corvette with a 9.901/152 to the breakout 9.886/148 from Mike Bonfield's '57 'Vette.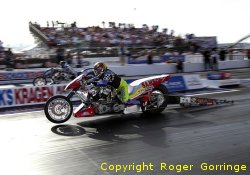 Super Street went to Keith Manogue with his '62 Nova running 10.88/131 to beat the 10.87/138 from Kamie Minor's '82 Corvette.

A demonstration field of four Nitro Harleys gave good account of themselves with Tommy Grimes running a fine 6.37/226 in qualifying then beating Doug Vancil in the money run, 6.40/211 to the slowed up 8.69/105.


Report and pictures ©Roger Gorringe. Feature ©Eurodragster.com


---
Features index
Back to News page