2007 AC Delco Las Vegas NHRA Nationals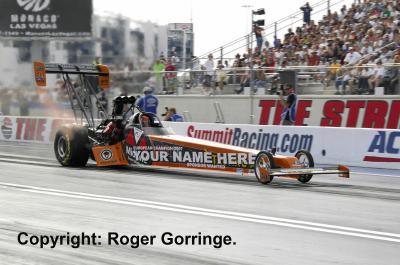 Click on any picture for large version
From The Strip in the gaming capital of the world came the penultimate event in the twenty-three race NHRA POWERade Drag Racing Series and the sometimes contentious Countdown to the Championship now entering the Countdown to One. This and the Pomona Finals would produce the first Champions under the new points system and the leaders in each class praised the excitement and interest it had generated, ably revealed in the packed venue over the long weekend. The weather was desert hot and dry but still produced a couple of track records as Dave Connolly ran 205.57 mph in Pro Stock and Chip Ellis rode to a 7.023 ET in Pro Stock Motorcycle. The event also featured a race within a race as the Technicoat Shootout had Rod Fuller pick up a cool $100,000 when he beat Melanie Troxel on a holeshot 4.527/329 win to the 4.526/326 lose. Troxel came in as alternate as Fuller should have raced Tony Schumacher but a disqualification put Schumacher on the trailer when he was directed past the mandatory weigh scales after his semi final win against Troxel. Once again the fabulous Pro Mods demonstrated they are a force to be reckoned with as twenty-two contested the last round of their AMS Championship.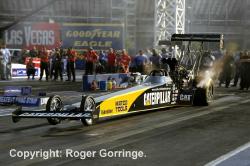 Top Fuel Dragster had an international flavour as the 2007 FIA European Top Fuel Champion, Swiss racer Urs Erbacher (above) had brought over his entire race operation to take on the best in the world. Erbacher did not disgrace as after a first up in smoke qualifier he then carded a personal best of 4.594 at 326 mph, one heck of a jump from his European best, it placed him in fifteenth place before eliminations. Heading the cast after the fourth qualifier was Tony Schumacher with the only 4.4, a 4.482/327. Sitting on the bump was Doug Foley with a 4.597/324 and unlucky DNQs included Hilary Will, Joe Hartley, Scotty Cannon, Alan Bradshaw, Mike Strasburg, Steve Chrisman and Rob Passey.
The top four in the Countdown to the Championship points chase were Rod Fuller (3,135), Larry Dixon (3,083), Brandon Bernstein (3,074) and Tony Schumacher (3,068). It had been mooted that Fuller would have already tied up the Championship on the old points system but he conceded that this added excitement to the race.
During round one some of the big names to go out included an up in smoke Bob Vandergriff Jr. to Morgan Lucas, JR Todd in smoke to Larry Dixon, Doug Herbert to Brandon Bernstein, a smoking Clay Millican to Melanie Troxel, a weaving Dave Grubnic to Rod Fuller, a fireballing Cory McClenathan to David Baca, an up in smoke Urs Erbacher to Doug Kalitta and an up in smoke Doug Foley to Tony Schumacher.
In the second round Larry Dixon lost by three quarters of a car length as his 4.583/317 could not catch the better leave that gave Doug Kalitta the 4.559/327 win. Melanie Troxel made her .094 a somewhat somnolent leave as Brandon Bernstein left on a .048 and coupling that with the 4.566/327 took the win as Troxel failed to make up ground with a 4.561/326 lose. David Baca in the seat recently vacated by Whit Bazemore and next year to be driven by former Pro Stock Motorcycle rider Antron Brown was off the throttle by half track as Rod Fuller advanced his points with a 4.557/327 win to the troubled 9.615/73. Another of the top four in the points, Tony Schumacher went out after going into tyre smoke at the halfway point and slowing to a 5.614/168 allowing Morgan Lucas to secure the win with a 4.576/321.
The semi finals saw another top four competitor go out as Brandon Bernstein blazed the tyres at half track allowing Doug Kalitta to pass and wrap up the win with a 4.536/329 to the losing 4.996/244. In the other pairing it was Morgan Lucas' turn to hit smoke at the halfway point slowing to a 5.540/176 handing the win to Rod Fuller whose 4.636 and slowing 284 mph gained entry to the final.
Rod Fuller in the David Powers Motorsports Caterpillar/Matco Tools entry needed this win to have an almost unbeatable points lead and his .040 light was just ahead of the .044 of opponent Doug Kalitta driving the Mac Tools car decked out in a one off black livery depicting the Long Way Down book and TV series of actor Ewan McGregor and Charley Boorman. It was Fuller's 4.531/327 that clinched the win bringing his total winnings to $190.000 as Kalitta came a close runner up with a 4.537/331.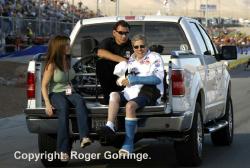 Funny Car saw a huge twenty-five strong entry that was led by Robert Hight with a 4.763/322 lap and sitting on the bump was Jim Head with a 4.835/323. There were some notables that sat in the trailer come race day and they included; Kenny Bernstein, Tony Bartone, Tommy Johnson Jr., Tim Wilkerson, Jon Capps, Bob Gilbertson, Terry Haddock, rookie James Day and Australian Peter Russo. John Force was on the property to cheer on his four car team and struggled between support vehicle and the guard wall on what can be described as a tall zimmer frame to the standing ovation and cheers from the vast crowds each time he appeared.
The top four in the Countdown to the Championship points chase were: Tony Pedregon (3,147), Gary Scelzi (3,056), Robert Hight (3,048) and Ron Capps with 3,034 points.
The first eliminations delivered some surprise winners and losers as firstly Jack Beckman broke on the line against Del Worsham, Mike Neff fireballed in one of the JFR Mustangs and lost against Jeff Arend, an up in smoke Ron Capps was beaten by Phil Burkart Jr. in the John Force car, Gary Densham blazed the slicks off the line and lost to Ashley Force, Robert Hight got loose at three quarter track and saw Jim Head get through, Jerry Toliver shook hard that allowed an on/off charge by Tony Pedregon the win, Gary Scelzi got loose past half track and gave the win to Cruz Pedregon and finally Mike Ashley beat an up in smoke Scott Kalitta.
The second round kicked off with Mike Ashley dropping cylinders and going into smoke whilst getting a little crossed up at half track slowing to a 7.775/108 lose as Jim Head pushed to a 4.889/318 win. A pedalfest ensued as Cruz Pedregon took on Phil Burkart Jr. and it was Pedregon that managed to get the better result with a 6.034/234 win to the 6.684/159. Jeff Arend redlit away his chances allowing Tony Pedregon the round win with an advised 7.499/110 and in the last pairing Ashley Force caught and passed Del Worsham and despite being on fire in the shutdown area took a popular win with her 4.858/308 against the 4.942/318.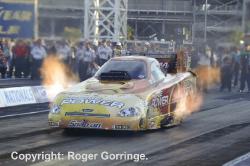 The two Pedregon brothers faced each other in the semi finals and as Cruz blazed the slicks at about the three hundred and fifty foot mark Tony went on to take the win in 4.912 seconds at 316 mph as Cruz limped in with an 8.481/106 putting Tony in a more commanding points lead. The fans went crazy as Ashley Force managed to get ahead of the lead put on by Jim Head and took the win with a 4.859/316 to the real close 4.889/316 that lost by a few feet.
History was created in the final round as the sun disappeared behind the immense grandstand bringing out the header flames of both cars as Ashley Force became the first female to make a Funny Car final round and face Tony Pedregon. The Q Horsepower backed Chevy Impala SS of Tony Pedregon left first as the Castrol GTX/Ford of Force chased but the Q car held on to secure the event title with a 4.871/318 as Force runner upped with a close 4.829/298 losing by around a half car length. It remained that Pedregon now needed just to qualify at Pomona in order to tie up the Championship.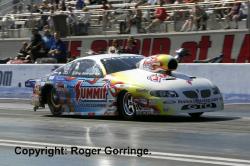 Pro Stock saw twenty-six factory hot rods do battle and this time it was led by Dave Connolly with a 6.725/205 clocking leaving Kenny Koretsky down in sixteenth place (6.773) with a gap of just 0.048 between the runners. Ten contestants were left out in the wilderness of DNQ including to name just a few, Mike Edwards, Bob Panella Jr. Gordie Rivera and Tom Hammonds.
Top four in the Countdown to the Championship were: Greg Anderson (3,136), Jeg Coughlin (3,102), Dave Connolly (3,088) and Allen Johnson on 3,033 points.
Getting through to the second round were Jeg Coughlin who downed Allen Johnson that advanced the formers points tally, Max Naylor against Kurt Johnson, Richie Stevens who beat Warren Johnson, Justin Humphreys who beat Larry Morgan, V Gaines beating Jason Line, Dave Connolly who took out Kenny Koretsky, Greg Anderson got the better of Jim Yates and Greg Stanfield beat Ron Krisher.
V Gaines opened up round two with a win over Max Naylor the 6.782/203 beating the holeshot 6.821/200. Justin Humphreys came a little close to the centre line on his pass but took a losing 6.866/202 against the winning lap from Greg Stanfield's 6.809/203. A battle between the second and third in the Countdown points ended with Jeg Coughlin taking the win with a 6.775/203 to the close but losing 6.773/204 from Dave Connolly, won by a great holeshot. Point leader Greg Anderson improved his total with another win this time over Richie Stevens Jr. 6.765/204 to the losing 6.813/202.
Jeg Coughlin cut another good light to open the semi finals and kept that lead winning with a 6.779/203 as Greg Stanfield followed with a losing 6.785/203. Another great light came from Greg Anderson's leave and he coupled that with a 6.764/204 to trailer the 6.768/203 from V Gaines.
It was Greg Anderson's Summit Racing Equipment Pontiac GTO that came from behind to catch and pass the Jegs.com Chevy Cobalt of Jeg Coughlin in the title run for the event win and the 6.731/205 took it for Anderson to the runner up 6.771/204.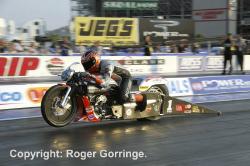 Pro Stock Motorcycle had Chip Ellis' '06 Buell lead the way in the twenty bike qualifier with a 7.023/189 and seated down in sixteenth spot was the 7.235/185 from Mike Phillips '98 Suzuki.
It was current Champion Andrew Hines that led the point totals in the Countdown to the Championship top four with 3,147 points, Chip Ellis was second with 3,108, Matt Smith was third with 3,096 and lady rider Peggy Llewellyn rounded out the four with 3,054 points.
Going out in round one was Karen Stoffer who did not stage in time to Angelle Sampey, Michael Phillips to Chip Ellis, Craig Treble to Chris Rivas, Eddie Krawiec red lit against Geno Scali, Antron Brown to Peggy Llewellyn, Shawn Gann to Andrew Hines, Hector Arana red lit against Matt Guidera and Steve Johnson to Matt Smith.
Round two saw Matt Guidera go the red light way wasting his 7.175/181 against the lesser red light time from Geno Scali who slowed to a 10.052/86 win. Angelle Sampey recorded another red light spoiling her 7.140/186 and allowing Chip Ellis to take the win with a 7.086/187. Matt Smith carded a great .012 light and it gave him the win with his 7.134/184 beating Peggy Llewellyn's 7.117/185 and finally in the last pairing Andrew Hines overcame the lead from Chris Rivas taking the win with a 7.085/187 to the losing 7.157/182.
The red light demon struck again in the semis as Geno Scali left early and lost with a 7.158/187 giving the win to Chip Ellis' 7.056/188. It was a really close thing in the other pairing as Andrew Hines left with a .039 light to the .044 from Matt Smith and at the stripe it was Hines' 7.086/186 that took the win to the losing 7.096/186.
The final delivered Andrew Hines Screamin' Eagle/Vance & Hines '07 HD V Rod against the Drag Specialties/S&S/G2 '06 Buell of Chip Ellis, Hines left first and stayed ahead with a 7.073/187 to take the event win as Ellis came in second with a 7.144/185.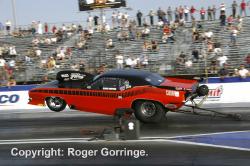 The AMS Staff Leasing Pro Mod Challenge presented by Tindle Enterprises Inc. ran its last round of ten at Las Vegas and had twenty-three cars trying to qualify for the sixteen car field and was headed by the '67 Mustang of Tim Tindle with a 6.023/236 charge. Last man in was Billy Harper with a 6.235/226 ticket.
Another race within a race occurred as the ProCare Rx Clash was run with an eight car battle coming out in favour of Tim Tindle with a 6.691/229 win in the final over the slowed up 8.887/109 from Jay Payne.
The first round in the national championship saw victories go to Harold Laird over John Russo, Tony Pontieri over Glen Kerunsky, Josh Hernandez fell to Kirk Kuhns, Danny Rowe beat Raymond Commisso, Kenny Lang defeated Rick Stivers, Billy Harper over Tim Tindle, Steve Engel over Mike Knowles and Jay Payne beat Roger Burgess.
Round two commenced with Kirk Kuhns smoking and slowing to a 7.796/123 lose as Tony Pontieri ran a winning 6.198/224 number. Billy Harper ran into problems with his track oiling 6.383/223 pass that was beaten by Harold Laird's 6.217/229. The holeshot by Steve Engel paid off with a 6.135/238 winner as Danny Rowe failed to catch up despite the better 6.070/236. Jay Payne pushed hard then caught and passed the leave by Kenny Lang, 6.076/237 win to the 6.150/233 lose.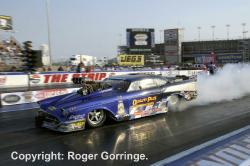 Into the semis and Harold Laird's ride red lit negating his 6.161/232 and permitting Steve Engel's '63 Corvette 6.159/237 to tie up the win. The other duo saw Jay Payne's '05 Stratus launch and get crossed up turning right and slowing to a 13.152/71 as Tony Pontieri ran a flawless 6.199/230 to take the road to the final.
The final had one Canadian versus one American and the '57 Chevy Bel Air of Toronto resident Tony Pontieri shaved a great light from the tree and held on to record his first win of the year with a 6.159/230 as Steve Engel's '63 'Vette chased hard to give a close call in the lights runner upping with a 6.119/237.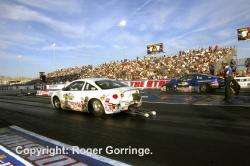 The Competition Eliminator class had a large entry that ran a first round of thirty-two cars. The event final came down to a race between two doorslammers both of which were '07 Chevy Cobalt's and it was the bigger motored machine that won the day as Bo Butner ran the winning 7.436/145 as opponent Jeff Taylor fouled away chances runner upping with a red light 9.251/116.
The huge Super Stock class was whittled down to a battle between another Cobalt that of Ryan McClanahan and the '01 Chevy S-10 truck of Brad Rounds. Rounds unfortunately red lit so dismissing his 9.583/139 and giving the win to McClanahan with a 9.502/109 leaping charge.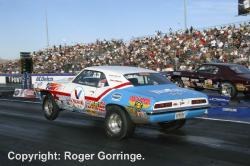 The Stock Eliminator battles featured another mammoth entry that fought it out to produce a final between Joe Sorensen in his '69 Camaro against the similar machine of Dan Fletcher. Fletcher seems to be a master of the lights and managed a .003 from the Valvoline sponsored Camaro and tripped the lights with a 10.941/114 to beat the green and flamed Camaro of Sorensen whose 10.712/118 was not enough.
The Super Gas class was another huge affair that boiled down to a run off between Kevin Moore in a '34 Chevy Roadster against the '27 Ford Roadster of Michael Miller. A close leave by both parties ended with the win being awarded to Kevin Moore with a 10.067/151 to the 10.167/144 lose from Miller.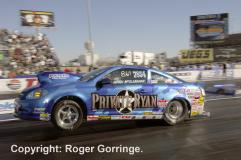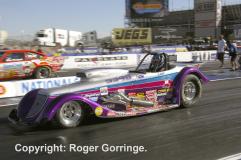 Feature ©Eurodragster.com.


---
Features and Interviews index
Back to News page
---