2007 AC Delco NHRA Gatornationals
Click on any picture for a large version or
click here
for extra photo gallery
The city of Gainesville, Florida might as well have hung up signs on its city limits 'Gone Drag Racing' as everyone in the know was at the packed race track over the long weekend in mid-March for the POWERade NHRA Drag Racing Series, the third in the Countdown to the Championship series. The weather gave some rain on Friday and cool temperatures for Saturday and Sunday that assisted the racers in capturing some phenomenal records over the four day period. Surprisingly, there was only a track record set in the fuel classes despite the conditions being comparable to a bright English spring day, it was Robert Hight that notched up the 4.686 and the 331.94 mph numbers in the last qualifier. However, Pro Stock, Pro Stock Motorcycle delivered national records and it was the quickest ever field on two wheels. The hugely popular and twenty three strong exhibition Pro Mod class managed to deliver its quickest ever witnessed times and speeds resulting in records going to Joshua Hernandez with a 5.927 and Troy Critchley took the speed record with an astounding 245.81 mph. TAFC had Frank Manzo record a 265.74 mph national record.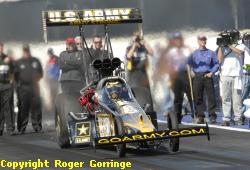 Top Fuel got underway on Friday with Dave Grubnic heading the field with a 4.596/328 only for Rod Fuller to beat that with his 4.535/323 before the 4.510/330 from Larry Dixon ended the last qualifying session as number one. Notable DNQs included Brandon Bernstein and Clay Millican and the 'Golden Greek' Chris Karamesines failed to enter from the nineteen strong fray with his engine damaging 4.930/272.
Into round one and some big names hit the road back home as Morgan Lucas went out to team-mate Bruce Litton, Bob Vandergriff to Dave Grubnic, Cory McClenathan to Doug Kalitta, Doug Herbert to Hillary Will, Melanie Troxel to Tony Schumacher, J.R. Todd to Rod Fuller whilst Michael Gunderson and Doug Foley fell to Whit Bazemore and Larry Dixon respectively.
The second session saw Whit Bazemore card a 4.609/317 win as Hillary Will got into a slight top end weave losing with a 4.710/303. Bruce Litton's days in the pack were ended when he went up in smoke at one hundred and fifty feet out handing the win to a troubled Larry Dixon with his 5.470/168. Dave Grubnic shook and slowed in his bout with Rod Fuller who turned in a 4.646/309 win. Ending the round was a close fought battle between last year's Championship titlists Tony Schumacher and Doug Kalitta but Schumacher held on to a car length lead at the top taking the 4.566/327 win over the 4.646/312 lose.
Whit Bazemore's hopes of an early Top Fuel career win were dashed when he went into smoke and got crossed up slowing to a 9.117/91 lose as Larry Dixon managed to record a win with a non pretty 5.165/193. Rod Fuller could not hold on to his luck of the Phoenix event and lost with a 4.879/324 as Tony Schumacher overcame the holeshot and raced to a 4.647/313 win.
The final came late afternoon and with the temperatures running into more normal Floridian springtime numbers as Larry Dixon in the SkyTel machine faced up to the US Army car of Tony Schumacher, both left well with Dixon getting the better leave but Schumacher just plain outran him getting to the stripe first with a 4.542/325 despite losing parts in the lights, Dixon managed a 4.589/321 losing by less than a car length.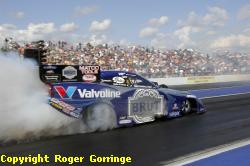 Funny Car was initially led by John Force with a 4.802/316 until Cruz Pedregon made everyone sit up with his 4.792 at just 295 that number lasted until the fourth qualifier when Robert Hight blistered the track with his track record setting 4.686/331.94 pass. Out of the twenty three runners the high profilers that did not make the cut included Mike Ashley, Tim Wilkerson, Scott Kalitta, Gary Densham and Jack Beckman.
The opening pair of round one astounded everyone as John Force was beaten by team-mate Eric Medlen in a close fought battle 4.777/319 to the lose of 4.797/302. Other big names also fell, Tommy Johnson Jr to Tony Pedregon, Del Worsham to Robert Hight, Gary Scelzi to a resurgent Kenny Bernstein who finally found power with new crew chief Jimmy Walsh, Cruz Pedregon to Jim Head whilst Tony Bartone lost to Ron Capps and Bob Gilbertson to Phil Burkart now out in a Paul Smith tuned car and Ashley Force brought the house to its feet when she got through her first round with a defeat of Jeff Arend.
The next round was a stormer as firstly Jim Head ran a winning 4.805/316 to see off the up in smoke at the one hundred foot mark try from Robert Hight. Eric Medlen was disqualified when he hit smoke around four hundred feet out then clipped the wall negating his 6.34/140 time as Kenny Bernstein trundled through unable to believe his luck with a slowed up 5.338/198. Ashley Force went into smoke at half track then did what team-mate Medlen did and banged the wall in her lane as she got out of the groove spoiling her 5.72/180 and giving the win to a first into smoke and troubled Phil Burkart who won with a 9.111/91. Tony Pedregon also went up in smoke at the halfway point but kept in his lane but losing with a 5.360/202 as Ron Capps stormed off to the win with a 4.885/322 timing.
Bernstein's luck ended in round three with a close to the wall losing pass of 5.325/208 as Ron Capps ran another flawless 4.857/322 to take him to the final. The other pairing in the semis was the two surprise candidates Jim Head and Phil Burkart but it was the latter who triumphed with a winning 4.915/318 to the slowed up 5.476/184 from Head's unpainted machine.
In the final it was the Don Schumacher owned Brut Revolution Dodge Charger of Ron Capps that faced Phil Burkart in the Kia FX Caprara Chevy Monte Carlo, Burkart recently found his ride after being relieved of duty from the Worsham CSK team. The race was worth waiting for as Burkart left first but his 4.876/316 was not quite enough as Capps strode past at the top end taking a back to back Gatornationals win with a 4.773/323.
Pro Stock was a barnstormer of a race with a new national record of 211.69 mph from Jason Line and a track record of 6.566 from who else – Greg Anderson in round three of qualifying before targeting a 6.538 national record. Number one in the first qualifier was Dave Connolly with a 6.662/207 then Jeg Coughlin with a 6.632/207, it was in round four that all the big speeds started to appear. Among the non qualifiers were Sweden's Michael Malmgren and Jimmy Ålund who with newly aquired machines apiece recorded their best ever timings, 6.748/204 and 6.749/204 respectively. Big names who also failed to get into the stellar field included Jim Yates, Kurt Johnson, Tom Martino, Kenny Koretsky, Richie Stevens Ron Krisher and Tony Rizzo.
The first round dealt out some heavy hitters, none more so than Jason Line who red lit to Erica Enders. Allen Johnson fell to Jeg Coughlin, Rodger Brogen to Dave Connolly, Warren Johnson to new upstart Matt Scranton, Greg Stanfield out against Mike Edward, Tom Hammond to Larry Morgan, Justin Humphreys to Greg Anderson and finally Max Naylor to V Gaines.
Matt Scranton continued his lucky streak with a 6.627/209 win against Erica Enders whose 6.626/207 charge failed to catch him. Larry Morgan managed to pass Dave Connolly's leave when his 6.615/209 beat the quicker leaving 6.648/208. V Gaines slowed with problems after one hundred and fifty feet allowing Mike Edwards to get the win with a 6.630/209 and in the last pairing Jeg Coughlin's sturdy 6.589/209 was no match despite a holeshot for Jason Line's 6.563 at a whopping 211.49 mph.
Round three and Mike Edwards took a beating when his quicker leave coupled with a 6.686/208 was soundly trounced by Larry Morgan's catch up and pass with a 6.646/209. Matt Scranton's début in Pro Stock came to a magnificent end in the semis when he was beaten by The Master, Greg Anderson, a 6.569/210 was all Anderson needed but Scranton tried his best losing with a 6.651/208.
The Summit Racing Equipment colours were once again flying in the final as Greg Anderson's Pontiac GTO faced the Lucas Oil Dodge Stratus of Larry Morgan and it was Morgan that left first but shook and slowed leaving Anderson to charge to a 6.577/211 win to the 8.076/118 lose.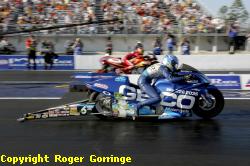 Pro Stock Motorcycle had sixes if you wanted them and there were lots to impress the riders and fans alike and they started from the off, three in qualifying round one from Chip Ellis 6.956/192, Matt Smith 6.969/190 and Antron Brown 6.987/191. Angelle Sampey joined them in round two, a 6.960/191 and in round three there were eleven in total including Sampey's national ET record setting 6.919 at 191 mph but that was not enough she delivered a 6.911 record to again top the pile in round four making this the quickest ever Pro Stock Motorcycle field in history.
In round one seven of the six second riders and some top names were sent home, they were Andrew Hines to Shawn Gann, Paul Gast to Eddie Krawlec, Geno Scali to Matt Smith, Antron Brown to Tom Bradford, Chip Ellis to Steve Johnson, Craig Treble to Matt Guidera, Angelle Sampey to Karen Stoffer and lastly Peggy Llewellyn out to Chris Rivas.
By round two there were only four of the original six second qualifiers left and that was whittled down further as Eddie Krawlec ran the winning 7.243/175 as Matt Guidera's 7.620/140 proved no match for the better leave. Steve Johnson overcame the holeshot from Chris Rivas the winning times were 7.039/191 to the close but losing 7.088/183. Karen Stoffer was knocking on the door of the sixes all weekend and her winning 7.021/190 just failed again but did beat the 7.047/189 from Shaw Gann. Matt Smith managed a fine holeshot and carried it through with a win of 7.019/187 to the losing 7.080/187 from Tom Bradford to end the round.
The semis had Karen Stoffer run a 7.080/188 and her better leave had her stay ahead of Steve Johnson's 7.069/191 effort. Despite a better reaction time on the lights Eddie Krawlec could not hang on to the lead and lost to the powering and only six outside of round one of elimination from Matt Smith, 6.921/190 win to the 7.058/187 lose.
The final was male against female, Matt Smith on his Torco/Skull Gear '05 Buell against the Geico Motorcycle '03 Suzuki of Karen Stoffer. It was a much better leave by Stoffer coupled with a 7.075/186 that took the event win as Smith came in second with a slightly better but losing 7.069/187.
Pro Modified and the AMS Staff Leasing Pro Mod Challenge had twenty three of the popular doorslammers from afar a field as Canada and Puerto Rico performing some amazing passes with 6.0s or 5s in every round. Qualifying was headed by John Russo's 6.019/240 in qualifier number one, then Joshua Hernandez took it down to a 6.015/240 in two and in their third and final qualifier Hernandez went 5.951/243 but was edged into second by Troy Critchley's storming 5.946 at a stunning 245.27mph to sit in pole position.
Going straight into round two went Joshua Hernandez' '68 Camaro whose record shattering 5.927/243 beat the 6.017/238 from Danny Rowe's '63 Corvette. Troy Critchley only had to put down a 6.403/234 in his '70 Barracuda as opponent Steve Engel's '63 Corvette red lit away a 6.021/239 chance. The '67 Camaro of Raymond Commisso managed a good holeshot and held onto the lead in a tight finish with the '57 Bel Air of Tony Pontieri, a 6.060/241 beat the 6.038/236 in an all Canadian battle. Lastly the '07 Mustang of Paul Bell managed to overcome the slight lead from Mike Janis' '06 Cobalt, 6.064/235 win to the 6.171/229 lose.
The semis and Hernandez continued the five second pace, placing a 5.932/ 243 win on the board as Commisso chased him, failing to get his 5.991/241 past the line first. Bell chased Critchley and got a little close to the centre line in his endeavours losing with a slowed up 7.322/109 to the successful 5.989/243 win.
In the money run went the two top performers Troy Critchley and his AMS Staff Leasing 1970 Barracuda and the Dr. Moons RAGE 1968 Camaro of Joshua Hernandez and as they both left with Hernandez out first Critchley faultered and slowed just yards of the start line slowing to a losing 9.775/105 allowing Hernandez to storm to a great 5.938/244 win.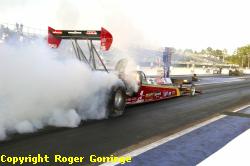 The Top Alcohol Dragster wars came down to a semi final battle between Bill Reichert and Lindsey Wood with the win going to Reichert with a 5.224/277 as Wood's holeshot and 5.629/241 was overcome. Dave Hirata wasted his chance when he red lit against winner Randy Meyer a 5.174/263 beat the fouled 5.358/257.
The final was set with Randy Meyer leaving first making it a win with the 5.222/257 against Bill Reichert's Rislone backed machine whose 5.205/274 just could not catch up.
In Top Alcohol Funny Car and into the semis again Michael Ferro's '02 Camaro notched up a fine 5.539/260 win as Frank Manzo's Monte Carlo shook and failed to catch up with the close 5.572/263. Mark Billington's '01 Avenger trailed in the wake of Paul Gill's similar mount and it was a 5.498/259 win to the 5.642//257 lose that ended the round.
Michael Ferro in the Ryco Hydraulics '02 Camaro cut a good light in the final and managed to stay ahead to take the trophy with a 5.557/256 as opponent Paul Gill in the ModuLine '01 Avenger runner upped with a 5.529/258.
The many Competition Eliminator machines were boiled down to a run off between Arnie Martel's '06 GTO and the '91 Calais of Kevin Houghtailing and it was Martel's 7.983/167 that took the win as the 8.882/153 failed to catch up.
Super Stock had a plethora of cars but it was the Nitroplate '94 Achieva of Mike Fuqua that gained the final round win with a 9.536/138 as Ron Morehead's Morehead Racing/MT/VP '82 Camaro runner upped with a 9.88/130.
The Stock Eliminator class came down to a run off between Peter Biondo's Biondo Racing Products leaping '69 Camaro and Bill Hawk's Velde Ford/Hawk & Bailey Racing '67 Shelby and it went to Biondo with a 10.436/122 to the 10.217/126 from Hawk.
By far the largest class was Super Gas and the final was contested between Jim Morrison's little Performance Auto World '70 Opel and Steve Cohen's Right Trailers/Speedco '04 Grand Am and it was the little Opel that ran the winning ticket with an almost perfect 9.902 at 153mph to the 9.913/161.


Sportsman winners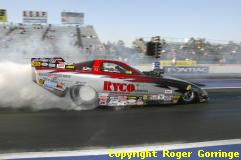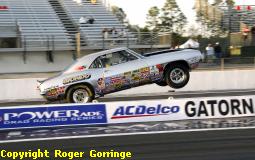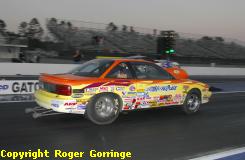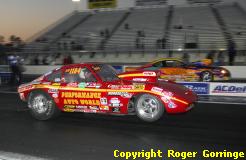 New cars for Jimmy Ålund and Michael Malmgren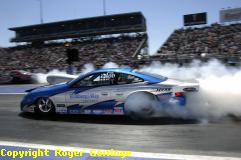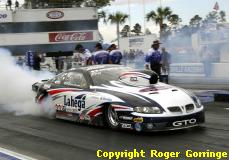 Report and pictures ©Roger Gorringe. Feature ©Eurodragster.com


---
Features index
Back to News page