2007 Checker Shuck's Kragen NHRA Nationals


Click on any picture for a large version, on any link for a picture, or click here for extra photo gallery


The desert venue dealt some stunning numbers as it changed its weather from a cool showery Friday to a bright, warm Saturday and Sunday at the second in the NHRA POWERade Drag Racing Series and the new Countdown to the Championship points system. Track records were set in all three professional categories and a national ET record was logged in Funny Car. Tony Schumacher in the US ARMY Top Fuel machine carded a great 4.430 in round two of qualifying on Friday benefiting from the evenings cool air, also taking advantage of the atmospheric conditions was Robert Hight in the Automobile Club of Southern California/Ford Funny Car who recorded the quickest ever number in that class, a stunning 4.636 whilst Tommy Johnson Jr. upped the track record mph to 330.88 and in Pro Stock the Summit Racing Pontiacs of Greg Anderson and Jason Line traded track records, a 6.667/208.39 was replaced by Line's 6.642/208.84 then a 6.635/209.33, Anderson took another swipe with the 209.49 mph on Saturday.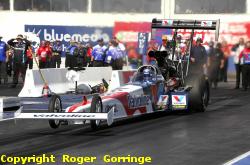 Top Fuel was initially led Rod Fuller who carded a fine 4.471/331.61 until the second session on Friday when Tony Schumacher almost matched his national record set at last years finals, a 4.430 at 328.22 topped the pile and stayed that way.
Round one held some surprises as some big upsets occurred beginning with the immediate up in smoke effort by Larry Dixon, his 9.998/92 eclipsed by Cory McClenathan's 4.528/322 win. Winternationals winner JR Todd also succumbed to the tyre smoke demons as he blazed the slicks and pedalled twice to a 9.715/96 as Bob Vandergriff ran a 4.853/323 winner. Whit Bazemore continued to do well wringing out a 4.513/326 to down Hillary Will's solid effort 4.589/321 beating her by a car length. Likeable Clay Millican was losing parts at the top end but clicked on the win light with a 4.802/247 as opponent Doug Foley had a multi pedalling job to get to the stripe with a losing 5.353/178. Dave Grubnic went into almost immediate tyre smoke slowing to a 9.553/79 as Rod Fuller maintained his efforts with a winning 4.466/329. Tony Schumacher and Doug Herbert left almost together but it was Schumacher's call as he posted a 4.498/328 win to Herbert's on-off the throttle 6.879/118 lose. Surprisingly Doug Kalitta who only made it into the lower half of the field went out in round one with a pedalled 4.595/326 to Brandon Bernstein's winning 4.457/329 and to end the round Melanie Troxel caught and passed a tyre smoking Morgan Lucas, a 4.492/330 taking out the troubled 7.576/105.
Clay Millican almost managed to hold on to his recent luck but it deserted him at the top end when he seemed to lose power and Whit Bazemore streaked past, the 4.582/321 beating the holeshot 4.650/253. The parachute deployed at half track on Cory McClenatan's ride slowing him to a 5.223/164 as Tony Schumacher scorched past on a 4.461/324 winner. Bob Vandergriff left a trail of oil after some cylinders went away giving him a troubled 5.253/194 lose as Rod Fuller ran a consistent 4.476/328 winner. The final pair in the round gave everyone a real pedal-fest as both Melanie Troxel and Brandon Bernstein fought to regain control in their crossed up multi pedalling efforts it was Troxel who got there first with a 6.712/172 and Bernstein lost with a 6.815/115 try. "It wasn't pretty but we'll take it" Troxel said afterwards.
Bazemore and Fuller both out of the David Powers Homes stable slugged it out in the semis but the new boy to the class dropped cylinders and hazed the slicks at half track slowing him to a 4.808/246 and allowed Fuller to keep ahead on his holeshot to record the 4.525/326 win. Former team mates Troxel and Schumacher faced off and in a stunner of a lap Troxel held her own as Schumacher lost some cylinders at half track, a 4.539/328 beat the 4.660/292.
The conclusion would be a repeat of last years Phoenix final, Melanie Troxel now in the Evan Knoll's Torco Race Fuels/Lucas Oils Welcome Home War Veterans machine launched after Rod Fuller in the Valvoline/Matco Tools rail but her 4.536/325 was not enough as Fuller kept the pace winning with a 4.490/327.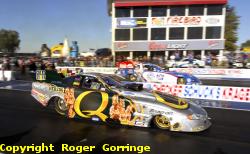 Funny Car contained some of the same drama from team Force that had occurred at the Winternationals, John Force failed to get into the field until the last qualifier but daughter Ashley made it in to top six. Kenny Bernstein again struggled in his new Monster Energy Drink '07 Dodge Charger despite a marathon test session and once again failed to get into the top sixteen. Other big names that did not make the cut were Del Worsham and Cruz Pedregon who suffered a huge kaboom and fire on Saturday that took him across into the other lane and on the inside of opponent Jack Beckman and the wall in a real close call. Robert Hight held onto the top spot with the 4.636/327 quickest ever Funny Car pass but it was Tony Pedregon that captured the new Funny Car ET record with his 4.659 pass.
The first round kicked off with Ashley Force getting crossed up at three quarter track and crossing the centre line kicking out the reflector blocks and clicking on Bob Gilbertson's lights giving him the win. Mike Ashley could not select reverse after the burnout and motored through allowing Tim Wilkerson an easy solo win 5.013/260. Scott Kalitta went up in smoke at four hundred feet out and lost with a 7.767/106 as Tony Pedregon ran a 4.701/326 winner. Jeff Arend managed a troubled 5.506/214 as Robert Hight got crossed up but lit the win light with a 5.104 221. Another smoking battle took place when Gary Densham beat an equally plagued Gary Scelzi the winning numbers of 5.737/231 went to Densham a Scelzi followed with a 5.760/215. John Force was left popping and banging from the three quarter mark and his 4.862/303 was beaten by Ron Capps' 4.837/305. A big defeat went to Jim Head as he out powered Tommy Johnson Jr who suffered tyre shake and tried to pedal his way out of it, Head ran the winning 4.777/326 to the 7.514/118. The last pair in the round saw another pedalfest between Jack Beckman and Eric Medlen and it was the latter that was victorious with a winning 5.814/207 beating the 6.866/136.
Round two had Gary Densham on a roll as he zoomed to a 4.890/288 victory as Bob Gilbertson shook and was off the throttle by half track, his 9.622/87 going nowhere. Team mates Robert Hight and Eric Medlen were the next pair to face off with Hight still hoping to back up his qualifier class best but he was throwing out cylinders at three quarter track slowing him to a 4.908/310 win as Medlen suddenly hooked right just off the startline and realising he was done idled to a 12.008/77 lose. Ron Capps took just 4.766 seconds at 318 to complete his lap as Tim Wilkerson shook and pedalled to a 5.247/222 lose. Tony Pedregon managed a 4.924/254 complete with a small fire that singed his lower firesuit but despite the problems he won as Jim Head followed through with a troubled 5.729//168 to end the round.
It was a narrow squeak for Pedregon in his bout with Densham as Densham went up in smoke at one hundred feet out, Pedregon came close to losing as he came dangerously close to the centreline but managed to stay his side of the track to gain a 5.077/233 win as Densham slowed to a 9.650/96 lose. Hight managed to get some revenge for team Force as he despatched the boss' nemesis Ron Capps with a 4.783/233 as Capps pulled a red light 5.292/192.
It was all left to Robert Hight in the Automobile Club of California/Ford to secure a record ET and take the win in the final but it all went away as he shook, went into tyre smoke and got crossed up as Tony Pedregon in the Q Racing Chevy Monte Carlo hammered out a 4.803/326 winner, his first since St Louis last year.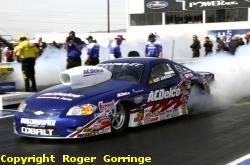 Pro Stock held its own track record swap meet as Greg Anderson and Jason Line traded places but at the end of qualifying it was Line's 6.635/209 that held pole position with Anderson down in fourth as Richie Stevens and Erica Enders held two and three with 6.640/207 and 6.648/207 respectively. Surprise members of the DNQ fraternity included Larry Morgan, Allen Johnson, Ron Krisher and Gordie Rivera to name just a few.
The opening round started with a marathon burn down as Kenny Koretsky and Dave Connolly both sat waiting to click on the final bulb when it happened Connolly was out of the hole like a shot and ran the winning 6.668/207 as Koretsky's 6.736/205 failed to catch up. After that it was all pretty clinically clean, Kurt Johnson ran a 6.676/206 to down Jeg Coughlin's 7.048/202, Erica Enders outclassed new guy Rodger Blogdon 6.668/206 to 6.675/207 whilst Tom Martino red lit then slowed to a 12.928/66 as Greg Anderson whacked out a 6.640/208. V Gaines went out with a 6.683/207 as Richie Stevens carded a perfect light and win with a 6.671/206. A holeshot from Jim Yates coupled with a 6.692/206 got him past Warren Johnson's 6.659/207. Jason Line managed a 6.634/208 to defeat the red light 6.713/206 from Max Naylor and to end the round Mike Edwards ran a 6.694/206 to oust Greg Stanfield's 6.693/207.
Kurt Johnson ran a 6.688/206 as Richie Stevens shook violently and shut off to a 13.886/61 lose. Erica Enders carried on her good fortune with a win over Mike Edwards a 6.677/206 beat the holeshot 6.706/206. It all went wrong for Greg Anderson in the next pairing as he was shut off after his burnout with an oil leak giving the win to Jim Yates' 6.705/206. Ending the round was a perfectly matched leave from both Jason Line and Dave Connolly but the latter came off the power at the one hundred foot mark allowing Line to run the winning 6.701/207.
Jim Yates' luck went away in his bout with Jason Line as Line overcame the holeshot and ran a winning 6.699/207 to the losing 6.723/205 and Erica Enders fortunes deserted her as her 6.687/205 failed to catch the fleeing Kurt Johnson, a 6.698/206 won.
For the final it was the Summit Racing Equipment '06 Pontiac GTO of Champion Jason Line up against Kurt Johnson's AC Delco Chevy Cobalt. Johnson was hot again on the lights and with the 6.694/206 beat the better 6.676/207 from Line.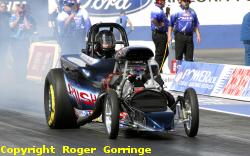 Competition Eliminator was wrapped up by Alan Ellis in his Western Quality Concrete backed A/AA'23T, his 6.710/199 beat the 7.094/187 from Wayne Ramay's dragster.
A huge field of Super Stock cars was whittled down to a run off between Brad Plourd in his '91 Calais whose 9.241/140 beat the just under index 10.949/119 from Jody Lang's '81 Malibu.
Super Comp produced a mammoth field of machines but it all came down to a best of double breakouts going in favour of Shawn Langdon, his Lucas Oil/CSS Drywall backed dragster ran an 8.892/165 as opponent Rock Haas lost with his worst 8.871/161.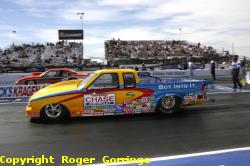 The Super Gas class was finally taken by Matt Constant in his '02 S-10 Chase Chevrolet/Panella Motorsports machine his 9.902/157 was legal but the 9.888/152 was a breakout from Kevin Kleineweber's '01 Corvette.
In the Super Street category it was another double breakout with the lesser and win going to Jeff Jackson's '68 Mustang, 10.892/148 against the worst of 10.862/138 from Alan Percival.


Super Comp and Super Stock winners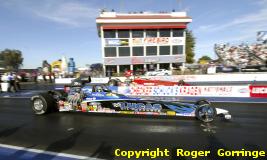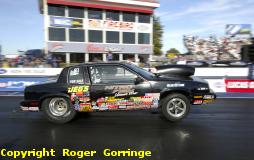 New cars for Ashley Force, Kenny Bernstein and Larry Dixon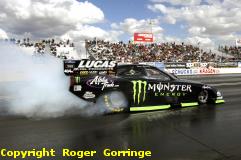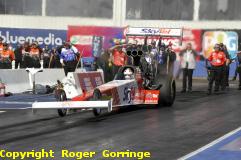 Report and pictures ©Roger Gorringe. Feature ©Eurodragster.com


---
Features index
Back to News page