General
Home Page
Add a web site
Jeff Bull Swap Meet
Send a News Item
Site Search by Hauser Racing
2019 FIA/FIM Championships schedule
News, Coverage, Features
Latest News
John Woolfe Racing Event Coverage
OCS Paint Points Standings
Features, Interviews, Tributes
Racer Blogs Lex 01/03
WRE/Nimbus Webcam
LA Racing Parts Links
Racers' web sites
Associations, Clubs
Race calendars
Results, Reports, Info
Pictures, Video
Performance Parts, Merchandise
Sponsors
Tracks, Shows
Information
Timing Data
European and UK Bests
Champions' Champions
Editor's Diary archive



2007 NHRA Powerade Awards Banquet
It was Cheers and Tears during the star-studded award banquet held at the Westin Bonaventure Hotel situated in Downtown Los Angeles on Monday evening, the day after the Auto Club NHRA Finals were successfully concluded in early November. It was a black tie event and with the ladies in posh frocks and cocktail dresses it all added to the overall glitter. After a stunning meal consisting of filet mignon, Asian prawn, pancetta wrapped herb incrusted halibut, wild mushrooms, custard potatoes and asparagus. Bob Frey entertained with the introductions to each Champion and award winner. There were moving video tributes to both Wally Parks, the founder of the NHRA who died in late September and to Eric Medlen who died as a result of injuries sustained in a Funny Car testing accident after the Gatornationals in March of this year.
The 2007 NHRA POWERade Champions were Tony Schumacher in Top Fuel, Tony Pedregon in Funny Car, Jeg Coughlin in Pro Stock and Matt Smith in Pro Stock Motorcycle.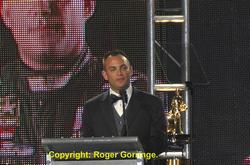 Tony Schumacher gained the Top Fuel Championship with six event wins this year and made it his fourth consecutive title. "I am truly blessed to represent my family and the U.S. Army" he stated of his wife, kids and sponsor. "I was up against a guy (Bob Vandergriff Jr.) who has been to nine or ten finals and not won – this would have been a bad time for him to figure it out", Schumacher added talking of how he had just managed to wrap up the Championship, beating Rod Fuller to the award on the last run of the last race of the series.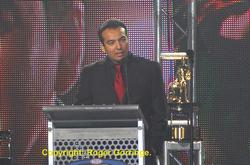 Tony Pedregon made an emotional speech and invited his whole Q Horsepower crew on stage with him to share the limelight. He thanked John Medlen (former Crew Chief) for being the best person he had ever known. He told the tale of when he licensed in a TAD and forgot to tighten the chin strap on his helmet and had to hold it on at the top end to keep it on! "I am proud to compete against the great guys in this Funny Car class" he said making mention of the fact he is an owner/driver now up against multi-car teams. He won four events this season and this was his second Championship but his first as a privateer.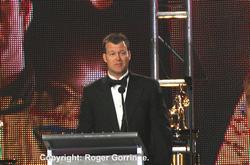 Jeg Coughlin driver of the Jegs.com Chevy Cobalt made it his third Championship with four season wins taking the title with a from behind charge. Jeg thanked a multitude of people including his Dad, Jeg Snr. and said "To pull off a Championship it takes a lot of friends, family and associates".
Matt Smith took the Pro Stock Motorcycle title on the Torco Racing Fuels Buell on the last run of the last race of the year he had a total of four wins during the sixteen event series. "I thought it was over for us coming into the last two events but when Andrew (Hines) lost the door was open for us" he stated of his last minute charge through the finals.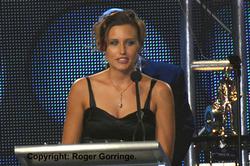 It didn't come as too much of a surprise when Ashley Force deservedly won the Automobile Club of Southern California Road To The Future Award, an accolade that recognised her as the NHRA top rookie. "I wouldn't be up here without a lot of help" she acknowledged, "to the Crew Chiefs, I thank you for putting up with me. All the Funny Car drivers, thank you for taking me in" she added. Then, there was probably not a dry eye in the house, including Ashley herself, certainly for those with no tears a big lump in the throat as she talked about the late Eric Medlen and what he had meant to not just her but the whole team, the race fraternity and the racing world. "Sorry, I'm being a girl" she said, gently trying recompose herself. She ended by saying, "Thanks to Dad for giving me a chance to do something I love". She had the complete house standing ovation.

The NHRA Lucas Oil Sportsman Champions had earlier been presented with their awards and they were Bill Reichert (Top Alcohol Dragster), Frank Manzo (Top Alcohol Funny Car), Frank Aragona Jr. (Comp), Darren Smith (Super Stock), Michael Iacono (Stock), Shawn Langdon (Super Comp) and in Super Gas Sherman Adcock. The evening then went on to party the night away.

Feature ©Eurodragster.com.


---
Features and Interviews index
Back to News page
---