2007 Primm Valley Resort Fall Nats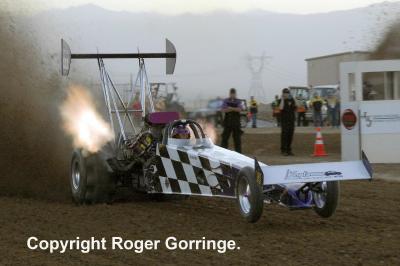 Click on any picture for large version
When you're used to being engulfed by burnout smoke and rained upon by sticky Goodyear freckles from slicks on the concrete or asphalt quarter-mile tracks it came as rather a shock to being occasionally pelted by clumps of earth and small rocks from the paddled tyres as the sand drag racers stormed down the desert venue – but hey, it was still drag racing! I was however made very welcome by both officials and racers at the NSDA Fall Nationals held in early November – my first sand drag race. The race was the penultimate in the NSDA calendar and attracted a colossal four hundred entrants that ran over the long weekend with race day suffering strong and cold winds.
The track is a three hundred foot long race surface of either sand or in this case desert earth, it is graded, levelled, harrowed, raked, rolled to break any major clumps by a series of tractors towing the grading equipment and occasionally watered after every few runs and takes around five minutes. The race vehicles stage two at a time and launch on the green just as in quarter mile drag racing. There are many classes including Top Fuel, Alcohol and many great looking jeeps and off-road based machines all throwing up huge rooster tails of dirt all the way down the track. Many of the top machines in Top Fuel and Alcohol are modified cars from the asphalt tracks with the most obvious modifications being the paddled rear tyres, wider front wheels and wheelie bar wheels or skids, filtered air intakes and heavily angled wings.
The race report is not comprehensive as results had to be downloaded days after the event and unfortunately they and associated web sites lacked the essential information necessary to identify a lot of the race vehicles, which in turn did not always feature a visible race number anyhow. Nevertheless thanks to US photojournalist Tim Marshall who helped identify a few of the top runners.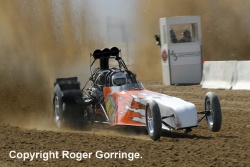 The Top Fuel bracket had ten cars in attendance and they were led in qualifying by Scott Whipple in the Candae Pet Foods machine on a 2.342 at a speed of 158 mph. Whipple was followed by Charlie Brown Jr. 2.417/151, Dennis Rieck 2.418/158, Jeff Janoe 2.474/162, Shane Switzer 2.494/149, Terri Blair 2.570/143, Rick Stewart 2.686/122 and John Cadzow on a 2.783/127 leaving Matt Ludlow and Rick Cameron sitting out eliminations as they did not qualify.
Round one saw the demise of Jeff Janoe in the ex Morgan Lucas quarter-miler as he threw a blower belt that allowed Shane Switzer the win, 2.414/144 to the losing 3.627/51. Scott Whipple had the motor refuse to start and the team could not replace the bullet in time handing the solo win to John Cadzow on an eased up 2.848/127. Rick Stewart fireballed his motor at half track slowing him to a 2.940/83 as Charlie Brown Jr. capitalised with a 2.424/117 winner. The last pairing saw stunning figures from Dennis Rieck in a small block Chevy powered fueller when he trounced Terri Blair's 2.644/139 with a 2.353/165.
Dennis Rieck continued with his great passes delivering a 2.378/no speed to take out the 2.426/151 from Charlie Brown Jr's. rail. John Cadzow's 2.752/no speed was beaten by the 2.421/143 from the Shane Switzer car.
The final produced a duo that featured the small block Chevy of Dennis Rieck against the class rookie Shane Switzer as the desert went into low light just before sunset. It was all over in 2.327 seconds as Rieck ran the winning 145 mph speed leaving Switzer to runner up with a 2.650/102. The time that Rieck recorded together with an earlier number that backed it up became the NSDA world record.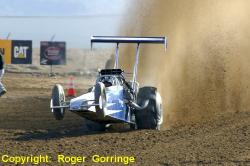 Top Alcohol was all dragsters that was headed by the 2.534/134 time of Dan Allen leaving David Morton with a 2.731/131 on the last place of the eight car eliminator out of twelve cars that tried to qualify. Winner of the event was Shane Sanford with a 2.594/132 as he saw off the close 2.590/136 from Dan Allen.
Top Eliminator had a large entry which was eventually won by Jeff Marner with a 2.932 that beat the 2.914 from D.L. King.
The Pro 1 win went to George Amos in his dragster beating Dave Marcroft. The Pro 2 win was taken by Don Boespflug against Donnie Burns and in Pro 3 Tom Hartman's Chevy Blazer beat Grant Fraysier's Hummer. MC Pro 1 win went to Ian Brown and in MC Pro 2 the win was wrapped up by Jake Russell.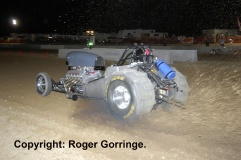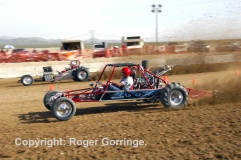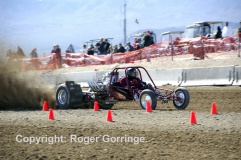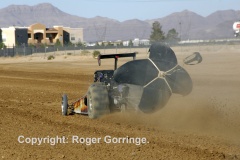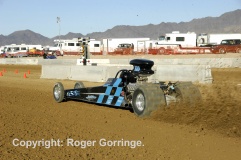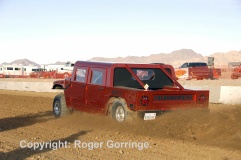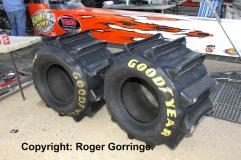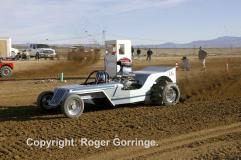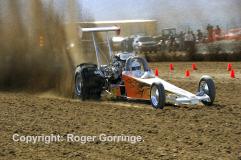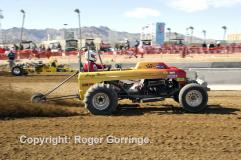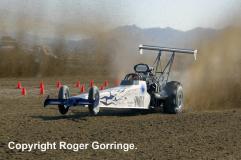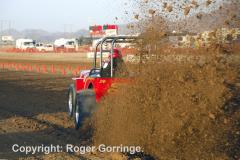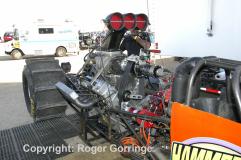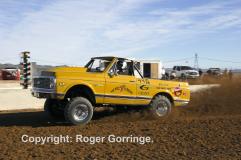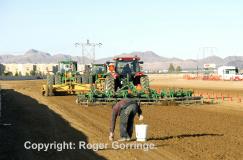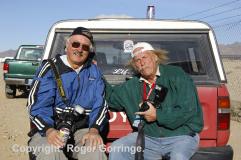 Feature ©Eurodragster.com.


---
Features and Interviews index
Back to News page
---