2009 Performance Racing Industry Show
Report and pictures by US Correspondent Ed O'Connell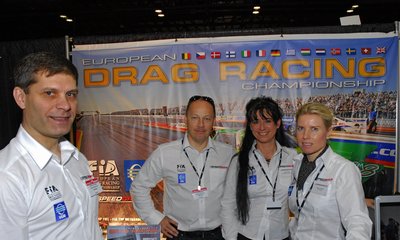 Click on any picture for large version, and scroll down for additional photographs
The PRI Show is held in the huge-beyond-imagination Orlando Convention Center. The first thing one sees upon entering any one of the hundreds of entrances is a large sign saying No cameras or video equipment allowed in the hall. As someone who has always felt that everything that moves and most stationary objects must be photographed to the best of our ability, this was a very disturbing message. Not because of what it prohibited, but because I had only brought my very obvious and large Nikon with protruding Speedlight and had left the stealth equipment at home. I knew I would have no trouble getting a few required photos before being tossed out into the Florida heat; after all, Eurodragster.com got me started on my life of crime with my run-in with the Swedish Police in 2008.
Armed with a floor plan and observing the well marked aisle system, I easily found the well-designed Speedgroup booth and sat down with CEO Michael Gullqvist.
"Speedgroup is here at the PRI Show for the first time to promote European drag racing, and make the US market more aware of the quality of European events, and hopefully to increase participation in the contingency programme among the many manufactures and suppliers attending the show", said Michael.
"The first year running the FIA and UEM Championship series was very rewarding for us, with record crowds at each event, great weather, and excellent record breaking performances on the track. I was pleased to see how strong the Top Methanol Dragster class was this year and the interest that the two combinations generate, also the strength of the Pro Mod class, with thirty three different drivers competing and the most diversity in terms of the number of countries represented. The effort required to run the Championship was pretty much as I expected although the time consumed by 'soft' off track duties - arranging TV production, web site maintenance, arranging the awards gala etc - was a bit surprising.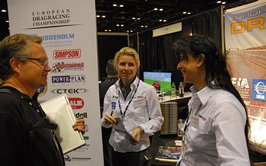 "Speedgroup would definitely like to see additional race dates added to the FIA/UEM circuit, but none are planned for the 2010 season. We would like to see at least one additional race date in the near future but we are well aware that all of the drivers and crews have day jobs and lengthening the schedule too much might cause problems in terms of drivers and crew getting time off work, but ideally additional races and hopefully additional tracks will be added to the schedule. Since we have a little more time to prepare than last year, we are looking to provide a stronger video/TV package with more TV outlets offering coverage, and we also plan to take the web site up a notch with more racer and vehicle information.
"Speedgroup's efforts have been well-received by track owners and promoters since we help deliver great racing and attract large crowds of spectators. We will continue working to co-ordinate with track and safety crews as we feel that the racers appreciate knowing that the crews are familiar and consistent from race to race."
I asked Michael about the surge of drag racing in the Middle East. "I have heard of efforts to arrange a 'True World Champion' Pro Mod event including US, European, and Middle Eastern entries, but nothing definite is in place at this time", he said. "The cost of bringing European entries to the Middle East would certainly be a factor."
Next I spoke to Speedgroup Administrator Åsa Kinnemar who told me "The effort required to administer Speedgroup came as no surprise to me because I has been active in management roles on professional race teams for many years". Contingency Programme Co-ordinator Gittli Koller said "Working for Speedgroup administering the contingency programme is a logical extension of my many years involved with the management of a professional racing team."
I often stopped by the Speedgroup booth to find the staff in discussion with show visitors. As you can see from the photos the booth was well-designed and very visually appealing with a large Stefan Boman photo of Mats Eriksson's Pro Mod, a graphic banner of the sponsors with their logos, and a video monitor showing the highlights of the 2009 Championship season.
My next stop was at the booth of Eurodragster.com News sponsor Leanders Clutch which was also very busy. Ulf was busy in discussion with a customer, but I managed to talk briefly to Jörgen Leanders. "There has been much interest and it has been very busy", he said. "Our race car is now in the USA and we hope to compete at the Gatornationals in Gainesville. It will be interesting to tune the car for the unique conditions of that very smooth and level track". On display at the booth was their new seven-inch four-disc clutch which was generating much interest from the large crowd at the show.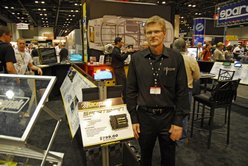 Tim Anderson of MSD/Racepak has made several trips to European events and shares my enthusiasm for European drag racing. He explained the features of their new Sportsman Data Logger. "It would be an excellent choice for the Sportsman who is using and older data system, often modified with differing components", said Tim. "Racers often tell me they are unhappy with the system that came with a race car they have purchased and want to know if the data system can be modified and upgraded. I tell them that it's best to put the old system on ebay and get a real data logging system."
At the booth of Eurodragster.com News sponsor RaceAmerica I met with Dennis Laczny and Ron Capp who showed me their new solid state LED Christmas Tree design and wireless T-Link timing equipment. "The availability of incandescent lights for drag trees will become an issue as within two years they will no longer be manufactured", said Ron. "The wireless timing set-up would be ideal for multi-purpose facilities where the drag strip is assembled and disassembled for each event."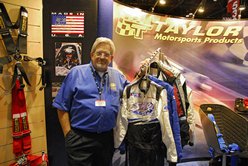 Gittli Koller introduced me to Dennis Taylor of Taylor Motorsports, because she had been very impressed by the quality of a firesuit provided by Dennis to her former team. Dennis drives a Top Alcohol Funny Car in the US and heads a company which, as he says, "Provides all drag racing safety equipment with the exception of helmets. We have provided safety equipment to quite a few European teams directly and through Gary Burgin". Dennis explained how he became involved in the manufacture of safety kit. "We were a dealer for Phoenix firesuits when they decided to close their doors and they suggested we get in the business of manufacturing firesuits ourselves. We have been making custom-fitted firesuits in-house at our Southern California plant using a CAD/CAM type of pattern making tool to assure proper adjustments and fit.
"I have had discussions with Andy Robinson about the possibility of coming to Europe with the SFI Team rather than having items shipped back to our shop, but the difficulty would be that unlike a components which can be inspected and tagged our equipment, blower restraints for example, would need to be fitted with new straps which requires machinery back at the shop. We are continuing discussions on ways to streamline the process."
As I arrived at Dennis Taylor's booth, Top Alcohol tuner and Eurodragster.com Blogger Will Hanna was just rushing off to a meeting. I asked about next season and he replied "I will defiantly be working with Fred Hanssen for the entire season in 2010". I had hoped to talk with Will again, but never ran into to him in the next two day which is an indication of just how vast this event is.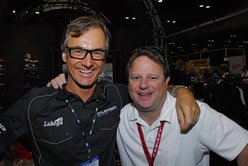 Pro Stock racer Michael Malmgren introduced me to Todd Hayes, Head of Oakley's Racing Division. "Oakley are very happy with their association with Michael Malmgren's Pro Stock programme as he demonstrates a passion for the sport that represents Oakley's philosophy", said Todd. About Oakley's safety kit Todd said "Oakley is in its third year providing SFI-5 firesuits and associated undergarments, boots and gloves. In the future Oakley may expand their racing products, but is proceeding cautiously to assure the high level of quality for which they are known."
At the suggestion of B&H Automotive/LA Racing Parts Street Eliminator Champion Colin Lazenby suggestion I stopped by the booth of RPM magazine where after mentioning that I was a friend of Colin I was treated as visiting royalty. I am embarrassed to say that I was unaware of this publication but after reading the issues they gave me, including an issue with Colin's Chevy on the cover, I will definitely be a subscriber.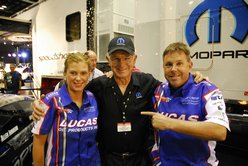 2009 FIA European Top Fuel Dragster Champion Andy Carter and wife Sarah had a busy schedule but we managed to stop them long enough to picture them with 2009 NHRA Pro Stock Bike Champion Hector Arana and Big Daddy Don Garlits, whose Drag Racing Museum will be backing Andy when he contests the 2010 NHRA Gatornationals at Gainesville, a race for which Andy said he cannot wait. Eurodragster.com will be posting an interview with Don Garlits in the not-too-distant future so stay tuned for that.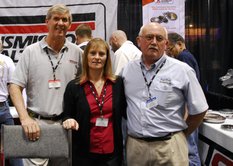 I also enjoyed a discussion of racing with Eurodragster.com Swap Meet sponsors Jeff and Belinda Bull, and spoke briefly with UK National Super Modified Champion Nigel Payne. We planned to get together later but were never made it which gives an indication of how large the facility and Show are, and how quickly the three days go by.
In summary it was a great event. There was an amazing variety of race-related products and services with many countries represented including a strong Japanese and Middle East presence, unbelievable race simulators as elaborate as NASA flight simulators, and some pretty decent food.


---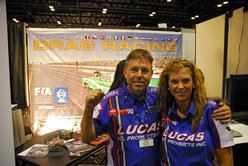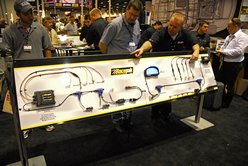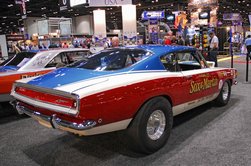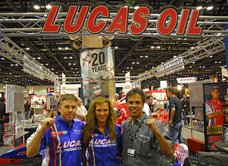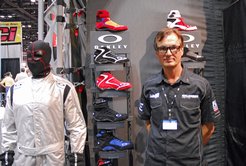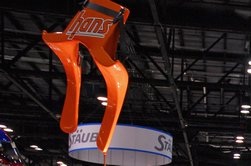 Text and photographs are ©Ed O'Connell and ©Eurodragster.com and must not be taken, copied or used in any way without written permission. Unauthorised use may result in legal action. To enquire about purchasing photographs please see the Eurodragster.com FAQ or E-Mail photography@eurodragster.com.


---
Features and Interviews index
Back to News page
---