2010 NHRA Arizona Nationals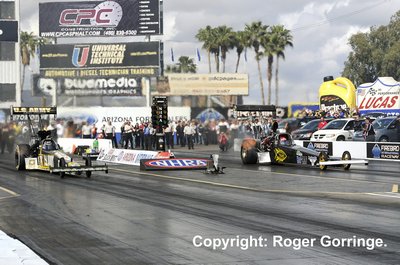 The second race of the NHRA Full Throttle Drag Racing Series was held in the Valley of the Sun desert venue near Phoenix though you would be forgiven for thinking the race was being held over a dismal weekend in England. The event was hampered the whole weekend by weather systems coming in from a cold, rainy California that brought some vivid colours to the surrounding desert scrub. Despite the weather that included dust storms there were some healthy amounts of race fans filling the bleachers. The track, though, proved difficult for some racers leading to several incidents that had two Pro Stockers on their respective roofs in separate crashes and a number of oildowns had the hard working track crews earning their money. In the end the event only saw two finals run on the Monday during a brief dry spell. It was proposed to run the Sportsman classes at the following weekend's Divisional event and the three remaining rounds of Pro Stock at the Gatornationals in March.
Click on any picture for large version, and scroll down for additional photographs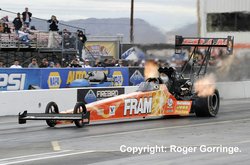 FIA European Top Fuel Champion, England's Andy Carter, came to the event after a disastrous first outing at Pomona where problems had him DNQ. Parts for the car finally arrived in Phoenix allowing him to make a last ditch qualifier that put him in the sixteenth place with an 8.687/72. Qualifying over the one thousand feet was led initially by Larry Dixon, 3.837 with a track record speed of 317.57 mph, the ET was then bettered by Doug Kalitta on a 3.825/317 but the third and final qualifier was current Champion Tony Schumacher who set Low ET speed with a 3.818 on a 317mph pass. There would have been a fourth session but for the rain and worsening track conditions in the cold and damp.
Round one started after midday on Sunday as heavy rain plagued the racetrack and was opened with the win going to Steve Torrence as Terry McMillen went up in smoke almost at the hit, 3.905/307 to the losing 10.518/75. Dave Grubnic managed a slight lead out of the traps holding on for the 3.843/313 to Brandon Bernstein's close 3.896/309. Morgan Lucas had a lucky escape as Shawn Langdon hit tyre smoke at two-hundred feet and despite pedalling ran a losing 6.425/101 as Lucas recorded the 3.843/315 win. Tragedy struck in the next pairing as Troy Buff recorded the 3.999/292 win as Antron Brown bizarrely lost the left wheel sending him across track into the guard wall in a huge fireball, he emerged without injury but a fatal spectator injury was widely reported on national TV. A big surprise occurred as Larry Dixon stuttered the tyres slowing him to a 4.210/305 leaving a clear path for Steve Chrisman to take the 4.110/288 win. After many long, hard hours Andy Carter's team delivered the goods as he gave Tony Schumacher a run for his money, the two current Champions faced off with Carter getting the holeshot but the sheer power of 'The Sarge' came through as his 3.824/317 took the win light to Carter's 3.947/301. The octogenarian Chris Karamesines was losing cylinders then the blower belt came off on his 4.559/179 try allowing Doug Kalitta a 3.996/313 win. Mike Strasburg ran a 4.008/306 but it was not good enough as Cory McClenathan charged to a 3.843/315 win to end the round.
Round two was again interrupted by spits and spots of rain but started with Doug Kalitta getting the nod with a 3.986/290 over a pedalling and cylinder losing Dave Grubnic. Steve Chrisman shook and was off the power by one hundred and fifty feet leaving Morgan Lucas to wrap up the win with a 3.881/303 to the losing 8.596/69. Troy Buff seemed to get a little loose on his losing 3.937/295 pass as Cory McClenathan got the win with a 3.829/315. A major upset was the final pairing as Tony Schumacher was left on by Steve Torrence and a 3.841/315 win to the 3.837/316 lose told the tale.
The semis would be the last runs of the weekend in this class as the track got colder and more unpredictable. Morgan Lucas in the Geico Powersports/Lucas Oil machine ran into tyre smoke and had to pedal in vain to a losing 6.352/116 only to see the win light come up in Doug Kalitta's lane as he powered to a 3.983/295 place in the final. The other duo had Steve Torrence go into severe tyre shake just off the line that had the safety system deploy the chutes stopping him at half track in the SIMple Mobile/Tuttle Motorsports car leaving an on song Cory McClenathan an easy 3.812/311 win.
The final was run on the Monday afternoon as more heavy rain curtailed the finalising of the cut short event. Doug Kalitta made his second final in as many events; his Technicoat backed dragster left first but shook the tyres slowing him to a 4.736/219, that left the way clear for Cory McClenathan to push his good looking FRAM sponsored car to a 3.813/316 win.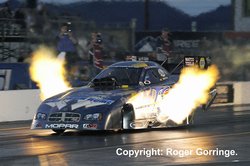 Eighteen Fuel Funny Cars fought for supremacy over the cold damp weekend with only three of the scheduled qualifiers being run; the first two headed by Matt Hagan in the DieHard Batteries machine with firstly a 4.135/292 then bettered with a 4.068/311 but then the resurgent John Force fresh from his Pomona win ran a Low ET 4.063 together with a 308mph to set the one thousand foot pace.
Round one opened with a win for popular Jack Beckman who overcame the leave by Bob Tasca III, a 4.132/307 got the nod against the 4.196/299. Next up, an all female bout with Ashley Force Hood getting the win with a 4.104/306 as Melanie Troxel sashayed her ride from half track losing with a 4.426/207. John Force came up against Cruz Pedregon with the latter getting a much better light but Force reeled him in winning with a 4.142/305 to a 4.0201/290. Del Worsham was a little late in leaving and paid for it as Tony Pedregon took the win with a 4.198/300 to the losing 4.181/304. Paul Lee shook and got crossed up, his 7.147/92 being no match for the 4.307/216 from a blower banging Matt Hagan. Robert Hight the current Champion came from behind to win his round against Tim Wilkerson a 4.075/308 to a 4.113/295 told the story. It was the holeshot by Ron Capps that held onto the lead getting him the win over Gary Densham, 4.097/307 to a 4.250/249. The last pairing saw Jim Head stay ahead of Jeff Arend, a 4.170/304 got the light against the losing 4.346/229.
John Force continued to dominate a 4.044/309 stayed ahead of the pedalling and early shut off 8.927/79 from Jim Head opening round two. Ron Capps' day was ended by Tony Pedregon as Capps had to pedal losing with a 4.911/216 to the winning 4.195/304. Jack Beckman managed a 4.136/303 win as Matt Hagan hit tyre smoke at sixty foot then tried to pedal his way up track losing with a 6.968/126. A great and close race ended the round as teammates Ashley Force Hood and Robert Hight jousted, Force Hood left on a good light but her 4.144/295 was not good enough as Hight powered past in the final stages of the lap to record a 4.107/302 win.
The semis were run in the gathering dusk and the Nitro Fish Apparel car of Tony Pedregon got a little crossed up on the leave getting him close to the wall and slowing him to a losing 9.335/91 as Jack Beckman pedalled his way to the 5.023/262 win. Another team battle saw John Force leave first and hold on to the win with a 4.080/309 as Robert Hight in the Auto Club of Southern California Mustang suffered a blower bang that automatically deployed the parachutes slowing him to a 20.952/36.
Once again the final of this class had to be run on the Monday as the cold and rain took its toll on the cars and track on Sunday. The race was run in the afternoon after more rain had finally cleared. John Force in the Castrol GTX High Mileage Mustang faced Jack Beckman in the Valvoline/MTS Dodge Charger. Force got the slightly better light but his 6.316/106 was the result of tyre shake giving the win to Beckman's 4.121/301.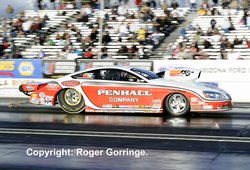 A 6.609/209 put reigning Champion Mike Edwards into the pole position in Pro Stock the Penhall/K&N/Interstate GPX, the numbers run from the start and never bettered. Gordie Rivera Jr. suffered a crash on a solo pass on Friday, the back end unloaded casing the brand new GPX to flip and cross lanes into the guard wall. In an unprecedented occurrence on Saturday a virtual carbon copy happened to Vinnie Deceglie's '10 Avenger; both drivers emerged unscathed.
In what was rumoured to be an unwillingness to run any more eliminations in this class they opted to finalise their event at next month's Gatornationals in Florida. Winners of round one were; Greg Anderson's 6.646/207 beat an off power Ronnie Humphrey. Greg Stanfield put a 6.656/206 on the board beating Jeg Coughlin's 6.649/201, won on a holeshot. Bob Yonke ran a winning 6.675/205 as Rickie Jones shook and slowed. Kurt Johnson lost with a 6.909/183 and despite severe tyre shake Jason Line took the 6.777/207 win. Larry Morgan was disappointingly shut off on the line allowing Allen Johnson a solo win. Rodger Brogdon ran a solo6.652/208 win as Deceglie was unable to return after his crash. Ron Krisher and Shane Gray had a close race with Krisher getting the nod 6.619/208 to a 6.697/205. Ending the round was Mike Edwards, a 6.617/209 putting Warren Johnson in his trailer.


---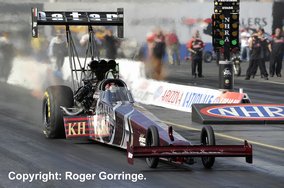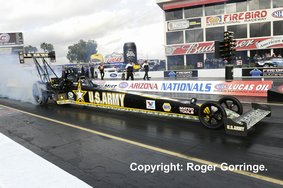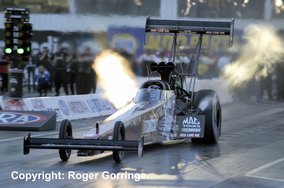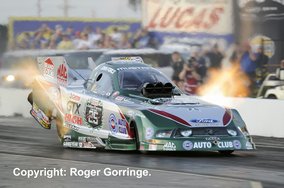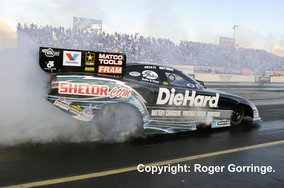 Text and photographs are ©Roger Gorringe, Eurodragster.com and must not be taken, copied or used in any way without written permission. Unauthorised use may result in legal action. To enquire about purchasing photographs please see the Eurodragster.com FAQ or E-Mail photography@eurodragster.com.


---
Features and Interviews index
Back to News page
---