2010 NHRA Auto Club Finals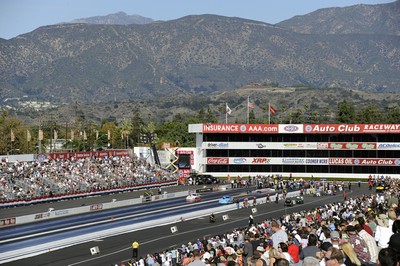 The culmination of a year's competition in the NHRA Full Throttle Drag Racing Series was brought to a succession of dramatic bouts in the Countdown to the Championship in this the season wrapper. There was jubilation and heartbreak in equal amounts as point chases became closer, leads lost and Champions crowned. The calm, clear, mid seventy degree Fahrenheit conditions gave a comfortable environment for race teams and the multitudes of fans. Like the Las Vegas NHRA Nationals in October, it turned out to be an international affair with teams from three continents competing.
Click on any picture for large version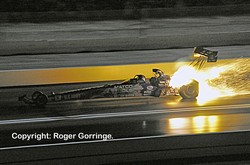 Top Fuel included again Mark Mariani in the Santo Rapisarda Uplift Cranes fueller from Australia, Denmark's Stig Neergaard in his Tribune-Udlejning.dk car, Sweden's Jöran Persåker driving the Todd Paton car duly decaled with Persåkers Speed Shop colours and a surprise, first time on track in a year, Netherland's Lex Joon in his 334 Racing machine teaming up with US tuner Kevin Poynter. Each team performed as best they could, suffering complications and in the case of Lex and Stig big fiery kabooms and Jöran a wild cone hitter which negated those passes. Mariani ran a best of 4.057/286, Neergaard a 4.253/224, Persåker a 4.113/225 and Joon a 4.120/293 but with a final sometimes mystifying qualifying position shuffle ended up numbers twenty-one, twenty-three, twenty-four and twenty-fifth respectively. It was Countdown point leader Larry Dixon who led the qualifiers for the first three sessions with a 3.813/318 one-thousand footer until, that is, defending Champion Tony Schumacher in the Don Schumacher Racing US ARMY car pointed out he still had a chance with a stunning night time 3.794/322.88, the speed, a track record, setting tongues wagging about a repeated charge from the rear Championship.
Round one casualties included Steve Torrence who hazed the slick against Antron Brown, Terry McMillen who went into tyre smoke at sixty feet against a pedalling Brandon Bernstein. A close race saw Shawn Langdon clinch the light as Ron August Jr. Followed, Bob Vandergriff lost to Morgan Lucas's holeshot but gave him a good race. Vegas runner-up Dominick Lagana got crossed up and into tyre smoke as Tony Schumacher charged to the win. The NHRA Full Throttle Champion was crowned in this round when Mike Strasburg lost to Larry Dixon's 3.854/318 giving the Al-Anabi team the prestigious trophy to defend in 2011. Doug Kalitta suffered a big fire in the lights but took the win casting out teammate Dave Grubnic and TJ Zizzo was beaten by Cory McClenathan.
A repaired Doug Kalitta opened round two with a loss to Shawn Langdon, a 3.901/311 beat the troubled 9.354/76. Cory McClenathan who is surprisingly being let go by team DSR and Honeywell (FRAM) at the age of 47 as he no longer fits the age profile lost with a bang that deployed the chutes just off the line allowing Morgan Lucas to win with a 4.003/299, perhaps only the older generation purchase FRAM! New Champ, Larry Dixon held onto his holeshot and clicked the win light with a 3.881/306 as Brandon Bernstein chased, failing with a close 3.893/311. Tony Schumacher was beaten by half a car length by teammate Antron Brown with a 3.858/318 to a 3.878/303 to end the round.
The semis provided more excitement when Shawn Langdon left first and held onto the lead whilst defeating the 2010 Champion Larry Dixon with a 3.860/312 to a 3.856/319 from the Al-Anabi race car. Morgan Lucas driving the Geico Powersports/Lucas Oil machine left a might too early putting on the red light in his lane and allowing Antron Brown a path to the final, 3.863/317 to a realised 5.435/139.
The drama didn't end on the money run round as Shawn Langdon in the Lucas Oil/Speedco machine left a tad before Antron Brown but Brown hauled him in and despite a huge fire in the lights put on the winning 3.840/311 light as Langdon slowed to a 4.185/306 lose.
Funny Car was going to be a battle and a half with Matt Hagan leading the charge on points and John Force behind with a chance to overtake. "The challenge with Hagan is great", Force said after Vegas. "I have a second chance after the accident and I tell my kids to fight to be the best. I had to change my lifestyle, I used to drink and eat burgers, now I train and don't party. I have a lot of respect for Hagan, it's like staring down a bull – that kid his knees don't shake" he added later. It was 'that kid' who initially led the qualifying with a 4.139/293 but then along came Ashley Force Hood in the Castrol GTX Ford Mustang in round two that set the pace for the remainder of qualifying, her 4.076/309 led the way. At the end of qualifying Hagan sat in fourth place behind Robert Hight, John Force and Ashley Force Hood.
Losers in round one of eliminations had many big names among them, defending Champion Robert Hight went into tyre smoke at two hundred feet then got loose allowing Melanie Troxel a 4.260/287 win despite banging the blower. Ron Capps was run down by Del Worsham who took the light by half a car length. A battle of brothers had Tony Pedregon just nip in with a 4.230/289 as Cruz Pedregon lost by mere inches with a close 4.221/292. Jim Head had some cylinder go losing him his bout with Ashley Force Hood. It all fell apart for Matt Hagan in the DieHard Dodge Charger and almost sealed his Championship hopes as Bob Tasca III beat him across the line. Hagan was inconsolable and finally made the comment "We definitely got beat out there". A surprise win for Bob Bode put Jack Beckman in the trailer and Jeff Arend soloed to a win as Paul Lee went bang and put the chutes out on the start line. Gary Densham hazed the slicks at two hundred feet and watched old boss John Force take the light.
In round two, Melanie Troxel notched up another win as her 4.307/240 cylinder losing pass beat Del Worsham who struck the tyres early and coasted to a 5.783/192 lose. Jeff Arend poured on the power to take the win with a 4.186/299 as Ashley Force Hood's luck ended failing to catch his lead and slowing to a 4.642/215. The next pair concluded the Funny Car Full Throttle Championship as Bob Bode saw only the tail end of John Force's Mustang, Force taking the title and his fifteenth Championship with a 4.162/304 win as Bode lost with a 4.225/295. Tony Pedregon left first but was overtaken and beaten by Bob Tasca III, a 4.189/301 scoring the win against a 4.268/288 to end the round.
The semis started with a close race as Jeff Arend held onto his lead and put a 4.183/299 win on the boards leaving Bob Tasca III in his Motorcraft/Quick Lane Ford Mustang a 4.186/299 lose. The new Champion John Force was on a roll and once again his reaction time beat a younger driver, this time Melanie Troxel in the In-N-Out Burger Dodge RT who went up in smoke losing with a 7.096/122 as Force zoomed to a 4.138/306 win.
The final was no less a race, this time Force was beaten off the line, Jeff Arend in the DHL '08 Toyota left first but finished second as Force in the Castrol GTX High Mileage Ford Mustang ran him down with a 4.085/310 win to the losing 4.109/307.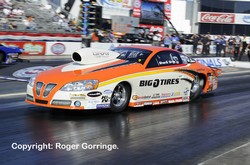 Pro Stock started out with Jason Line ruling the roost for qualifying sessions one and two, a 6.561/211 just ahead of team-mate Greg Anderson's 6.563/211. V. Gaines then took over in the third bout with a 6.551/210 only to be bounced down to second place by Allen Johnson's 6.551/211 which put Anderson and Line in third and fourth place out of the twenty one runners. Once the qualifying was over the Pro Stock Full Throttle Champion was given to Greg Anderson and the Summit Racing Equipment '09 GXP
In round one wins went to Greg Stanfield over Ron Krisher, Ronnie Humphrey against a red lighting Vinnie Deceglie, Rodger Brogdon beating a crossed up launch from last year's Champ, Mike Edwards, V. Gaines beat Warren Johnson. The new Champ though was surprisingly beaten by inches by Jeg Coughlin Jr. and Allen Johnson took the win against a red light from Bob Yonke. Kurt Johnson got past a holeshotting Jason Line and Shane Gray overcame Dave Connolly.
Round two opened with Shane Gray just beating Kurt Johnson in a 6.608/208 win to a 6.622/208 lose. Ronnie Humphrey failed to chase down the lead from V. Gaines, a 6.558/210 beating the 6.633/209. Allen Johnson won by about a half car length as his 6.592/210 got the light leaving Greg Stanfield a losing 6.589/209. The final pair had Jeg Coughlin Jr. score a 6.588/209 win putting Rodger Brogdon back in his trailer as his 6.578/209 was not quite enough.
A retiring Jeg Coughlin Jr. ended his time in Pro Stock with a finals placing as opponent Allen Johnson in the Mopar/J&J Racing Avenger redlit away his chances, a winning 6.622/209 against a fouling 6.632/210. A real close race between Shane Gray and V. Gaines occurred to end the round, Gray's holeshot coupled with a 6.603/209 won by inches at the stripe as the quicker and faster 6.582/210 failed to get the Kendall Oil '10 Avenger past.
The final saw Shane Gray's Big O Tires '10 GXP storm off the line with a 0.010 light against the 0.046 from Jeg Coughlin Jr.'s Jegs.Com Cobalt, it was all over in 6.566 seconds at 209mph as Gray notched up his first win leaving Coughlin Jr. a 6.568/210 runner up.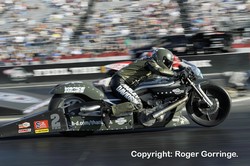 Pro Stock Motorcycle had defending Champion Hector Arana lead in session one of qualifying with a 6.870/194, the ET being a new track record but then along came Eddie Krawiec to not only take number one spot but to rewrite the track record with a 6.865/194, then in session four bettering both with pole position and both ends of the track record, 6.847 at 197.36 mph.
The opening round saw a few surprises as Craig Treble was beaten by Michael Phillips, Angie Smith saw off her husband Matt Smith and Eddie Krawiec trounced Freddie Camarena. Jim Underdahl beat Shawn Gann whilst Andrew Hines wasted his try with a red light against Steve Johnson. Matt Guidera was taken out by LE Tonglet and Karen Stoffer beat off the red lighting Bailey Whitaker and David Hope lost to Hector Arana to end the round.
The quarter finals saw Jim Underdahl's holeshot take the win with a 6.950/193 beating the 6.923/191 from Karen Stoffer. Eddie Krawiec managed to easily overcome the holshot from Michael Phillips, a 6.881/195 beating the 6.971/189. The Pro Stock Motorcycle Full Throttle Championship was settled in this round when young LE Tonglet put down a 6.860/192 win to see off Steve Johnson's 7.018/178. Angie Smith's luck ran out when she ran a losing 20.335/30 as Hector Arana put down a 6.821/192 win in his lane.
The new Champion on his Nitro Fish/GT Motorsports '98 Suzuki GSXR spoilt his day when a red light 6.861/193 disqualified LE Tonglet's run and giving the win to Eddie Krawiec's 6.921/192. Hector Arana ran a 6.856/192 to defeat the 6.936/192 from Jim Underdahl's Suzuki Extended Protection backed '02 Suzuki.
The final pitted two past Champions, and it was Eddie Krawiec riding the Screamin Eagle Vance & Hines '10 HD V-Rod decked out in military combat green that took the light with a national record setting 6.811 at 196mph as Hector Arana redlit his way to runner up on his Lucas Oil Products '07 Buell.
Top Alcohol Dragster had a win for Eurodragster.com sponsors, ex-pat Brit Mike Manners who admits to an up and down year but a fourth qualifier had him up among the big names. Manners made his way to the final by beating Brandon Pierce in round one, a 5.330/270 chased down the 5.643/256. Next up was a 5.358/267 win against the mighty Bill Reichert's 5.447/251 and 2010 Lucas Oil TAD Champion and then a 5.350/267 put Monroe Guest's 5.540/252 back in his trailer. The final was a run-off between Mike Manners in his Aquygen/Cosmo/Anglia A/Fueller and Canadian Shawn Cowie's Mundies Towing blown machine, Manners gained a great holeshot in the gathering dusk and managed to hold on recording a 5.347/270 win to the losing 5.333/263.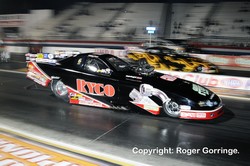 Top Alcohol Funny Car had Tony Bartone lead the pack but his luck went away in round two to Steve Gasparrelli. Frank Manzo took the Lucas Oil TAFC Championship. The final was a race between Mickey Ferro in his Ryco Hydraulics '10 Monte Carlo and Mark Woznichak in his Color By Woz/Direct Transport-backed '02 Camaro. Ferro had seen off Brian Hough in round one, then a 5.569/257 despatched the 5.650/257 from Alexis De Joria before a 5.572/256 beat the troubled Sean O'Bannon. Woznichak managed wins over Doug Gordon then a 5.654/250 beat the slowing 7.317/129 from Keeter Ray and the semi final a 5.692/255 saw off Gasparrelli's 6.115/212. A holeshot 5.522/257 was all that was needed by Mickey Ferro to see off the 6.055/171 from Woznichak.
Competition Eliminator came down to a run-off between Dan Fletcher in his K&N/MT/R&B/Panella-backed '08 Cobalt an Vinney Barone in his Barone/Bertozzi/Biondo '33 Chevy and it was a stunning light from Fletcher coupled with a 7.713/171 that took the win light as Barone followed through with a runner-up 7.727/171 that ended the Sunday Sportsman eliminations due to the strict 18:00 hour local curfew. The Lucas Oil Competition Eliminator Champion turned out to be Al Ackerman.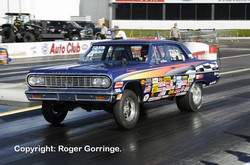 It was early Monday morning with the Californian sun still shining warmly that the small remainder of Sportsman eliminations were run and in the Super Stock category the final came down to a bout between sixty-eighth qualifier Brett Brown in his '64 Chevelle and sixty-third qualifier Jody Lang in his '81 Malibu. A nice light from Brown along with an 11.424/115 beat the 10.764/117 from Lang. Ryan McClanahan won the Lucas Oil Super Stock Championship. The Stock Eliminator was another massive entry and featured Jody Lang again in his '81 Malibu Wagon the number eighty-seven qualifier and Dallas Glenn in a '96 Corvette. Lang saw a winning 12.308/104 come up on his scoreboard as Glenn followed with a 10.634/127 runner-up. The Lucas Oil Stock Championship was sewn up by Brad Burton. Super Comp was whittled down to a run-off between number nineteen qualifier, Matt Constant and sixteenth on the list Bart Hiatt, it was all over on the start line for Hiatt as he red lit and broke out, giving the 8.921/168 win to Matt Constant. Gary Stinnett wrapped up the Super Comp Lucas Oil Championship. Super Gas, the last on the programme and the number twenty-one qualifier Randy Balough in his '63 Corvette clinched the win with a 9.937/158 as Chris Newman in his '08 Cobalt broke out with a 9.880/169. David Tatum III took the Super Gas Lucas Oil Championship.


---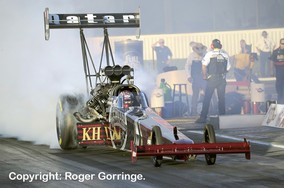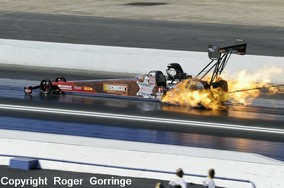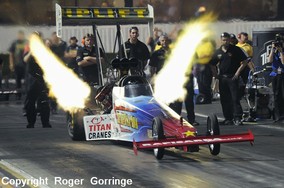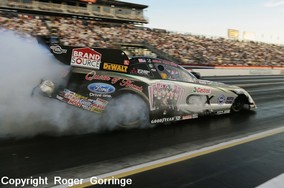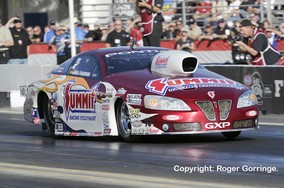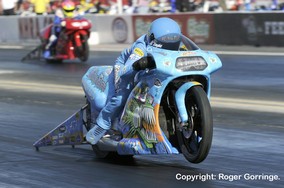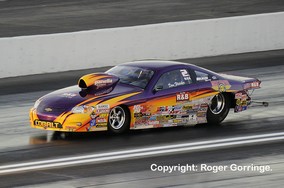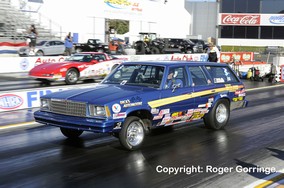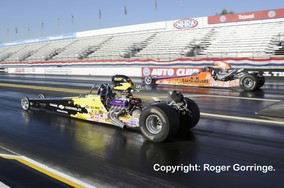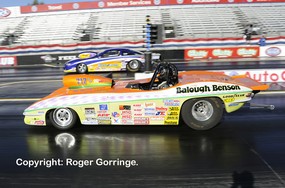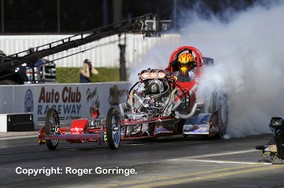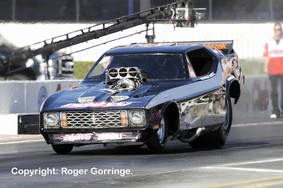 ---
Features and Interviews index
Back to News page
---