2011 Auto Plus NHRA Nationals
Report and pictures by David Knight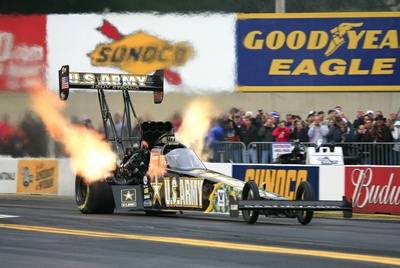 Click on any picture for large version

I didn't know quite what to expect of Maple Grove. Sure, it's a mature facility - the track is celebrating its fiftieth anniversary in 2012, after all – so the last thing I was expecting to find was another 'Z-Max' or 'Motorplex' look-alike. But neither was I prepared for a place quite so charming. Sitting right at the heart of Amish country, the 'Grove lies nestled in the rolling green hills of rural Pennsylvania – Brecknock Township, to be precise. And perhaps taking its cue from the Amish themselves, the facility has managed to achieve what appears to be the perfect balance. Sure, there's been an acceptance that things need to be improved – there's been racing on this very site since the late forties and over the years there have been may changes – new grandstands, enlarged and resurfaced pit areas and so on – in fact the control tower and hospitality facilities (added in the early part of the new century) are right up there with the best – but at Maple Grove, they've managed to retain the natural 'feel' of the place, taking full advantage of what these improvements can deliver, but resolutely refusing to sacrificing its character. Yep, life at the 'Grove seems just like it used to be, but better.
Anyway, enough of the history – almost. As is the norm these days, great effort has been made to ensure that a healthy dose of nostalgia is on hand and with along with being able to claim the first ever all-concrete startline (laid way back in 1957 would you believe?), Maple Grove owns another piece of history – as host to the sport's first ever side-by-side four-second Top Fuel race – between Shirley Muldowney and one of the Keystone State's favourite sons, Joe Amato, both of whom were here signing autographs throughout the weekend and joining fans on Sunday's track walk. They were joined by Who's Who of drag racing legends including Big Daddy Don Garlits, winner of over 140 National Event titles, 85-time Pro Stock winner, Bod Glidden and famed Pro Stock engine tuner and racer, Bill 'Grumpy' Jenkins, another local legend - now 82 - and still chewin' on those unfeasibly fat trademark cigars.
In the run-up to the weekend the track received a daily rain-lashing courtesy of some very wet early fall weather patterns so Friday's pleasant and warm sunshine was overdue – and a relief to Yours Truly, having flown in the previous evening to a chorus of over-excitable TV weather pundits warning of 'an unseasonably cold' weekend to come. But not before some great qualifying action for this, the third of six races involved in the NHRA's Countdown to the Championship.
At the close of Friday's second session, Matt Hagan, Antron Brown, Mike Edwards and Eddie Krawiec were all on top of their respective piles.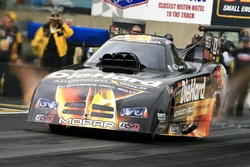 Hagan - who set the current national record at the same event last year, steered his Diehard Dodge Charger to a magnificent 4.012/316.67 to tie the points chase with 5th place qualifier Mike Neff whose 4.085 was also non-too-shabby in the Pennsylvania darkness. Hagan is still the only driver to have recorded a sub four-second pass in Funny Car, in all competitions.
Johnny Gray and Ron Capps occupied second and third spots respectively, with John Force hard on their heels.
Antron Brown's Matco Tools dragster managed a 3.797/324.44 to take provisional pole in Top Fuel overhauling Larry Dixon's dominant Al-Anabi rail by the finest of margins, the current Champ having to settle for second spot as we headed into Saturday.
The beautiful red and white liveried Penhall Pontiac of Mike Edwards topped a lightning-quick Pro Stock field, ahead of the Summit Racing 'twins', Greg Anderson and Jason Line whose continued consistency netted the pair second and third place respectively.
And on two wheels, Eddie Krawiec's Vance & Hines V-Rod Harley Davidson led the pack with an impressive 6.826/197.97. Krawiec's team-mate and three-time Champion Andrew Hines was in third place with California-based Hector Arana, separating the two.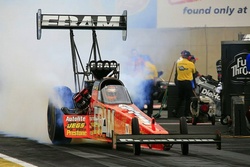 Saturday came cold and grey as promised but with only two very minor interruptions we got to the end of Q4 without the threatened weather break. Antron Brown wheeled his Don Schumacher Racing Matco Tools Top Fuel entry to number one spot just seconds after seeing two-time Maple Grove winner Larry Dixon reset the national record with a 3.769 second blast into the fading light. Brown's 3.765/325.3 was the second quickest pass in history. With just twelve hundredths of a second separating the sixteen qualifiers this would be anybody's race. Other notable qualifying performances included current points leader Spencer Massey in third, separating Larry Dixon in fourth and six-time 2011 National Event winner Del Worsham, both out of the Al Anabi Racing stable.
Funny Car was dominated by one man. Almost. John Force didn't run slower than 4.096 all weekend improving to a Personal Best 4.011 by the third session. His disastrous 5.48 in the final session however allowed Johnny Gray – sporting a new livery this weekend in support of 'Alex's Lemonade Stand' (a charitable foundation in aid of children with cancer) – allowed Gray his first Funny Car pole in over 170 National Events - by just one thousandth of a second. He's had it coming!
Matt Hagan and Tim Wilkerson in their Charger-bodies entries rounded out the top four spots with things set up beautifully for Sunday's eliminations.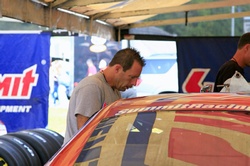 With three drivers rounding out Friday's sessions on 6.541/211 (it's getting close out there!) a tentative Pro Stock pecking order was established in KB Racing, late Saturday, with current points leader Jason Line opening up a clear hundredth at the top, while team-mate Greg Anderson had to settle for fourth spot, somewhat nonplussed as to why his own, Summit Racing Pontiac GXP was running "dog-slow".
Pro Stock Bike delivered another two characteristically frantic sessions before California-based rookie Hector Arana Jr. wheeled his Lucas Oil-backed Buell to an unexpected number one spot. 6.824/195.48 were the numbers required – and in winter-like temperatures – and he's now the proud owner of the tenth quickest run in class history. Hector Snr. finished the session in third, separating the Screamin' Eagle Harleys of Krawiec and Hines in second and fourth.
I won't lie to you. Getting up on Sunday morning to see a flooded car park wasn't what I had in mind after last year's Maple Grove barn burner but hey, you gotta take the rough with the smooth. I guess taking 'the rough' isn't what John Force had in mind either, but a quick exit in round one to Dale Creasy Jr. for the second year in a row saw the Castrol GTX Mustang trailered and ready for the long haul to Phoenix for Round 4 of the Countdown in two weeks' time. JFR team-mates Robert Hight (def. Capps) and Mike Neff (def. Head) had better luck, both claiming second round places (with a pair of handy four zeros), along with Jeff Arend, Bob Tasca III, Cruz Pedregon and top qualifier Johnny Gray. Meanwhile record-holding Matt Hagan piloting the Tommy Delago-tuned Charger-bodied Diehard Batteries entry overcame newcomer Blake Alexander, but a 4.058/313.80 handed lane choice to Hight's AAA Mustang in round two. Semi-final losses for Bob Tasca III in the Motorcraft Mustang and Jeff Arend's DHL-backed Toyota-bodied entry saw number one qualifier Johnny Gray and JFR's Robert Hight face off for the money-run. In a somewhat anti-climactic race, Hight claimed his fifth win of the season with a fine 4.065/302.62 over Gray's up-in-smoke'9.836/73.910.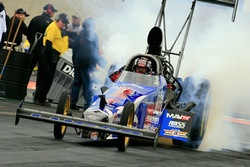 Following yesterday's final session excitement, Top Fuel was a shaping up to be a real story. And we didn't have long to wait for it to unfold. By the time KKR's David Grubnic pairing with 2011 Winternationals Champ, Morgan Lucas hit the racing surface in round one, the air temperature had climbed to a lofty 53 degrees and the story started to unfold. Despite a slight start line advantage the Lucas' Geico-backed dragster started to lose traction around the hundred foot mark and the Aussie steamed into round two with a head gasket-blowing 3.828 pass. In the next pairing, Dallas winner Bob Vandergriff made the best of a great start, taking the win with a career best 3.813/317.05 to Doug Kallita's lose-out 3.830/314.97. Over in the Copart camp, Brandon Bernstein's team had worked through the night to prepare their spare car after the previous day's unscheduled contact with the wall, but struck the tyres on the hit, leaving opponent Tony Schumacher (in need of some point here to stay in touch with the leading pack) to sail home with the session's first of three 3.77 second runs at 323.25. Del Worsham is having a great season. With a better than 77% round win record and six National Event crowns so far the Al Anabi entry was perfectly set up for the track conditions and it took just 3.760 seconds for the Chino, California resident to snatch away Antron Brown's day-old 3.760 national record. Speaking of Antron, a wild, slalom-style 3.77 was enough to claim entry into round two over Shawn Langdon. In round two, points chase leader Spencer Massey (3.773/311.85) took care of business in the FRAM entry with an arrow-straight 3.778/324.90 to eliminate team-mate Schumacher, whose quest for an eighth Championship title hopes are now all but over for this season. Of course for Team DSR, hopes are clearly still high with Massey and Brown (Top Fuel) and Hagan (Funny Car) still very much in the hunt. 3.77 wins for Worsham and Massey in the semis pre-empted a final round pairing of historic proportions. In the quickest and fastest side by side race in history, it was Massey in the FRAM Filters entry who took the crown over a quicker and the faster Worsham, driving the Al-Anabi rail.
No Pro Mods this weekend, but with almost forty teams represented across the two alcohol classes, plenty of non-nitro action was guaranteed.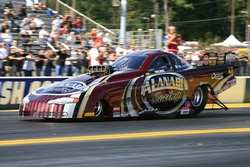 Veteran racer Frank 'Ace' Manzo headed up the Top Alcohol Funny Car field, propelled to number spot by the (apparently) bottomless pockets of Sheik Khalid bin Hamad Al-Thani of Qatar who continues to pile millions annually into the highly successful Alan Johnson Al-Anabi Racing team. His fine 5.491 effort at 263.46 in the new Chevy Monte Carlo laid down a great marker off the trailer and remained unmatched by any of the substantial twenty two-team entry, save for Manzo's own semi-final 5.411/264.44 and final round effort of 5.419/264.66. Victory at the 'Grove gave Manzo a new National Record and his seventh NHRA Top Alcohol Funny Car Championship title - with three points-earning races to spare.
A 5.232 at 269.24 was good enough to send Bill Reichert to the top of the field in his beautifully turned out - and super-consistent - Rislone-backed A-Fuel Top Alcohol Dragster. A slightly faster 5.235/272.28 blast in his first round match-up against number sixteen qualifier Doug Foley 5.259/271.73 hinted at a second Alcohol-class whitewash. A semi-final pairing with number four qualifier Joey Severance deliver a fine 5.266/271.30 hole-shot win (0.001 light), and an unexpected exit for Reichert who was unable to make up the difference despite a significantly quicker 5.248/271.02 effort. In the final, Severance lined up against Mike Kosky's American Flyer. Despite another great light from the Woodburn, Oregon resident it wasn't quite enough to catch local Pennsylvania racer Kosky's slightly quicker and title-winning 5.285 second dash for the Wally.
So what did we see this this weekend – and where does it leave the Championship?
We saw National Records tumble and tumble in Top Fuel and Pro Stock. Three drivers took temporary custody of the ET record in Top Fuel, with Worsham heading to the next round in Phoenix as the new holder.
We witnessed the quickest side-by-side race in NHRA history as Del Worsham's Al-Anabi Racing dragster charged to a losing 3.735/323.81 against Spencer Massey's Wally-winning hole-shot 3.770/323.12 in the final of Top Fuel.
The Pro Stock National ET Record was broken twice over the weekend, Jason Line reducing the mark to 6.483 in round one of competition and then again, in round two, to 6.477 seconds.
As we head to Arizona, Massey leads in Top Fuel with Antron Brown – his DMR tem-mate just 65 points behind, with Del Worsham and Larry Dixon in third and fourth respectively for Al-Anabi Racing.
In Funny Car Matt Hagan still leads – by just two points – from JFR's Mike Neff in his Castrol GTX Mustang, while third place man Cruz Pedregon (Snap On Toyota Solara) is just ahead of Maple Grove winner Robert Hight in fourth.
Jason Line opened up a 181 point advantage over team-mate Greg Anderson in Pro Stock.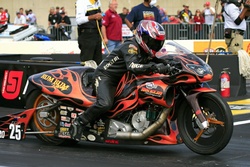 In Pro Stock Motorcycle, Eddie Crawiek maintains his class leading position; Hector Arana improved his position moving into number two spot, with Matt Smith, Geico's Karen Stoffer and Crawiek's Screamin' Eagle stable-mate, Greg Hines fighting it out for the next three spots, respectively.
And in the end, one day later than planned, we saw Maple Grove deliver - again. A great event and one for your diary if you're lucky enough to be heading down Pennsylvania way on the last weekend of September 2012.


---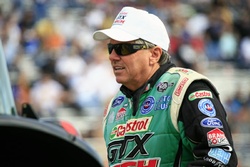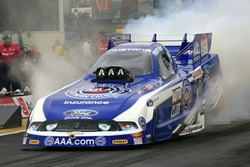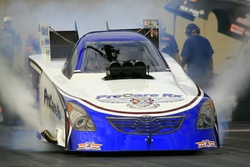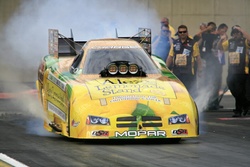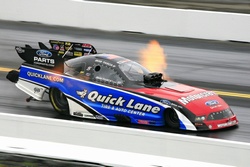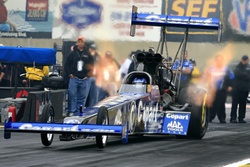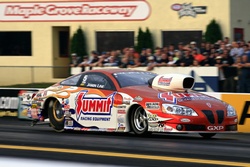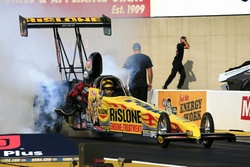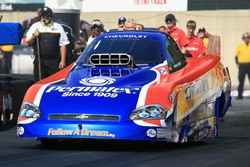 ---
Features and Interviews index
Back to News page
---