General
Home Page
Add a web site
Jeff Bull Swap Meet
Send a News Item
Site Search by Hauser Racing
2019 FIA/FIM Championships schedule
News, Coverage, Features
Latest News
John Woolfe Racing Event Coverage
OCS Paint Points Standings
Features, Interviews, Tributes
Racer Blogs Lex 01/03
WRE/Nimbus Webcam
LA Racing Parts Links
Racers' web sites
Associations, Clubs
Race calendars
Results, Reports, Info
Pictures, Video
Performance Parts, Merchandise
Sponsors
Tracks, Shows
Information
Timing Data
European and UK Bests
Champions' Champions
Editor's Diary archive



2011 March Meet
Report and pictures by David Knight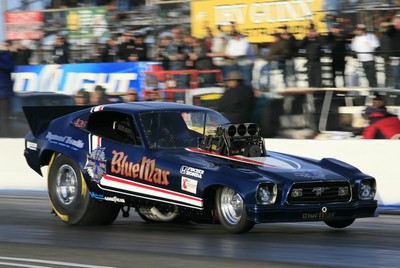 Click on any picture for large version

At the 53rd running of the famed March Meet, held at Bakersfield's hallowed Auto Club Famoso Raceway, this most iconic of drag races revealed an unexpected secret to this first-time visitor. The population of this town and its environs is pretty adept when it comes to shivering.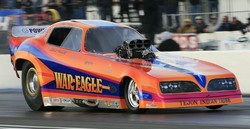 Yep, we all know they produce and run some great cars, but when it comes to the art of shivering, I was sure we Europeans would have had the top spots pretty much sewn up. Wrong! Californians are truly world class shiverers, and to see those bleachers chock-full of tanned, unreasonably healthy-looking race fans with a Bud in one hand and a corn dog in the other – coping with the chill so professionally, was almost worth the trip in itself.
Still, we were here to see some racing and the 400-odd cars that made the trip were looking good, nose-to-tail in the staging lanes well before the scheduled start of the first of three qualifying sessions.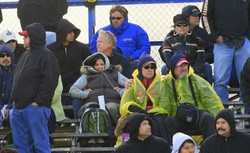 Given the less than scorching weather over the last couple of years and the rain delay experienced in 2010, Blake Bowser, Vice President and General Manager of the Kern County Racing Association, and his team took full advantage a 'gap' in the race calendar to move the race back by one whole week to be absolutely sure of avoiding the wet – or the windy. Bad decision! Following last week's spring scorcher, both the wet and the windy - not to mention the snowy - all ensued, in buckets, but not before some of America's leading nostalgia racers had laid down three of the most entertaining qualifying sessions I've ever seen – and before the weather got really ugly, a gripping first round of Funny Car. There's little doubt that without the untimely intervention of mother nature, the 53rd running of the Annual Bakersfield March Meet could have delivered a record-breaking weekend of racing- but as the brighter amongst our readership will no doubt have gathered, not least from the tear stains dotted around your screen, it didn't. The California Winter Storm of 2011 came and went, and with it, my chance to witness 'race day'.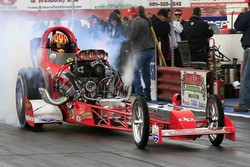 Top Fuel – of the front-motored variety of course – and Funny Car are the key classes in this series, supported at the 'grass-roots' level by a healthy cast of Gassers, owned and run by lifelong racers, whose entire reason for traveling (in some cases for several days each way) to Bakersfield, is two-fold; a) they can't not go to Bakersfield - it's in their blood, and b) they can't not race at the weekend.
Thirty Nostalgia Funny Cars and around sixteen Top Fuel entries on show at Bakersfield – an entry which incidentally compares very well with NHRA's Full Throttle National Event series races - proved once and for all that Nostalgia is definitely back – and it's bigger and better than ever.
As qualifying drew to a close, courtesy of all of that cool air and one of the best-prepared racing surfaces "Anytime, anywhere" (according to at least one current NHRA Top Fuel luminary) we had all of the ingredients required for the 2011 March Meet to go down in history as a record-breaking event.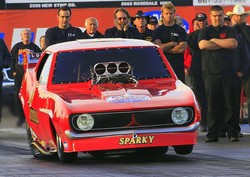 Top of the Funny Car pile with a 5.693/249.26 mph, Jason Rupert shoed the Camaro-bodied Mert Littlefield tribute car to a healthy 5.82 in testing on Thursday and then in Friday's first qualifying session, skipped the whole of the 5.70 range to land top spot. A bye into Round 2 saw Jason's run of good fortune continue. Ron Capps, taking time off from his NHRA campaign took over the driving seat in the gorgeous Blue Max replica car for the weekend and hit 5.768/248.11 to secure number two slot, with Jeff Arend (also on 'holiday' - from his day job piloting the Kalitta Motorsports/DHL funny car) to take fourth spot in the War Eagle Pontiac Firebird of veteran racer, Dale Pulde. Tim Boychuk's excellent 5.796/246.54 was enough to secure third – these top four qualifiers all progressing to Sunday's second round show.
Capps' journey however was not entirely trouble-free. A banged blower at around the three-quarter mark saw the body of the Mustang launched skyward, and whilst Capps and his opponent Dennis Swearingen, on bump in the Nitro Cowboy Mustang, both stayed on track amidst the drama, a lengthy – but entirely necessary – clean-up ensued. Mike Savage, Kris Krabill, Mike Halstead in the Bomb Squad Plymouth Duster, and Mark Sanders overcame their respective opposition to join Capps and Co. in the second round. Speaking of Mr Capps, his passage was assured courtesy of the body from their spare car sitting on the trailer 'just in case'. This is clearly a big-bucks operation and probably uniquely placed in terms of their access to this level of contingency.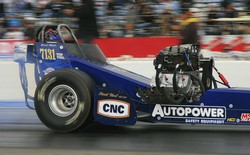 On to Top Fuel. Comprised exclusively of the spectacular if rather 'risky' front-motored design, Rick White's stunning first session 5.66 qualifier - which stood as the quickest of the weekend - got a bye into Round 2, requiring him simply to cross the finish line. In no mood for such compromise, a strong 5.67/254.09 was unleashed, the San Diego-based outfit stamping its authority on the field, and underlining the consistency the team is capable of delivering – and which will likely be required to take the title in 2011. Previous winner Brett Harris was also having a great weekend, qualifying in No2 spot at 5.74 in session 1, then bettered with a superb 5.69/262.08. Jim Murphy qualified 3rd with a 5.74/254.23, while Tony Bartone, previously No 5 overhauled Denver Schutz in a thrilling side-by-side run to claim No 4 spot.
With the race now scheduled to take place on Saturday 26th March – and great weather forecast - the highly-knowledgeable and committed West Coast punters will certainly be back with their thirst unquenched for Bakersfield's heady mix of nitro, history and sunshine and its unique brand of sensational, unremitting, hard core 'Fuel and Gas' racing.


---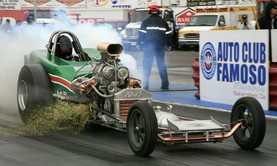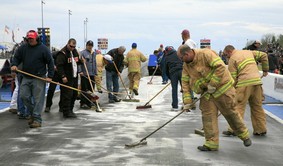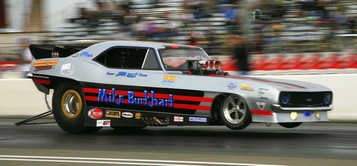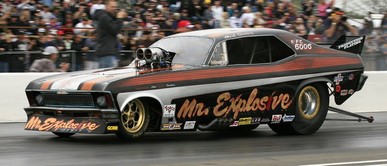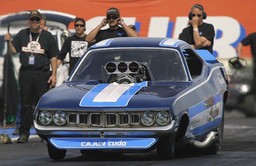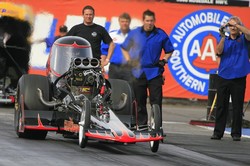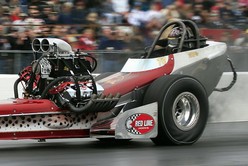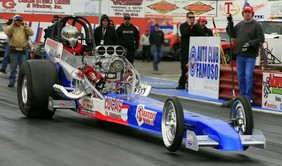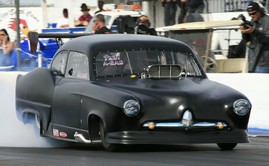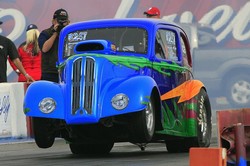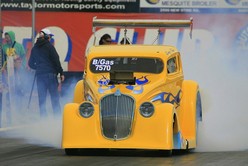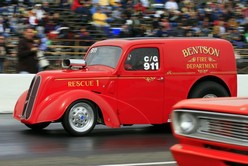 ---
Features and Interviews index
Back to News page
---