2011 NHRA Arizona Nationals
Click on any picture for large version

If you like warm weather Phoenix was the place to be as it was an above seasonal average of 100° Fahrenheit on each day of the races giving everyone from race teams to fans a good toasting. The third race from the end of the NHRA Full Throttle Drag Racing Series and the final charge to the Countdown to the Championship battled with brutal heat with track temperatures peaking around 140° F. Surprisingly enough there were track records set in both Pro Stock and Pro Stock Motorcycle proving that the high temperatures could be handled by some.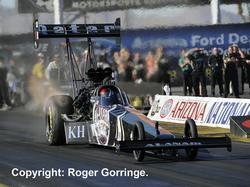 Top Fuel was initially led by Tony Schumacher in the Don Schumacher Racing US ARMY car with a 3.919/303.48 clocking but Larry Dixon beat that in round two of qualifying with a 3.919/303.84 one thousand foot pole position.
Round one saw no great surprises with winners being Steve Torrence over and instant smoker from Troy Buff, Shawn Langdon beating Rod Fuller, Antron Brown taking out an up in smoke and red lighting Dave Grubnic, Larry Dixon took the win as Terry McMillen redlit. Tony Schumacher got the light over an off power at three quarters Mike Strasburg, Del Worsham beat Dominick Lagana, Brandon Bernstein beat Cory McClenathan driving the Aussie Santo Rapisarda machine and the only real eyebrow raiser was when Bob Vandergriff took out Doug Kalitta.
The second round was in the real heat of the day and the first pairing had Brandon Bernstein go into instant tyre smoke slowing to a 7.892/96 lose as Steve Torrence took the win with a 3.983/297. Bob Vandergriff suffered the same luck as Bernstein in the same lane; a 9.926/71 was no contest for the 3.998/293 from Larry Dixon. Tony Schumacher managed to charge down the holeshot from Shawn Langdon and beat him with a 3.980/300 to a losing 4.030/298.The last pair saw Antron Brown card a 4.018/296 win as the tyre hazing 4.294/260 from Del Worsham lost.
Steve Torrence in the Capco Contractors Inc machine gave it all he had in the semis including a holeshot but his 4.076/296 was reeled in and beaten by the close 4.066/276 from Larry Dixon. A team race saw Antron Brown get the lead and his 3.985/298 beat the 3.970/299 from Tony Schumacher.
The final pitted Larry Dixon in the Al-Anabi machine against the Mac Tools car of Antron Brown, Brown left first and notched up a 3.967/302 but it was pipped to the post by the 3.955/307 from Dixon. This left Brown a few points ahead of Dixon in the Countdown to the Championship.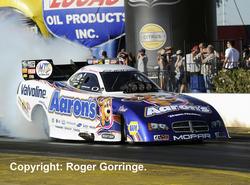 Funny Car saw Johnny Gray take the lead with a first qualifying round 4.310/277 from his Service Central Dodge Charger but this was surpassed with a 4.215/296 courtesy of Cruz Pedregon in the Snap On Solara, again over the one thousand foot distance.
The opening round in this round did see some upsets, Jim Head took the win as Jeff Diehl red lit, Johnny Gray took out the close try of Melanie Troxel, Jeff Arend beat an up in smoke top qualifier Cruz Pedregon and in a close race Jack Beckman took the light against John Force. Matt Hagan took a win over an up in smoke Canadian, Todd Lesenko who normally runs in the Nostalgia Funny Car ranks, Paul Lee managed to keep his car off the wall taking the win light as Tim Wilkerson smoked the tyres at half track. A Team Force race saw Robert Hight get the better of a loose and close to the wall Mike Neff and finally, Bob Tasca III got the nod despite a close encounter with the wall, trailering Alexis DeJoria.
Round two action saw Paul Lee double step off the startline carding himself a red light and allowing Jim Head to take the 4.811/252 win. A close race followed as Jeff Arend took a slight lead over Bob Tasca III and held on to record a 4.459/278 as Tasca came second with a 4.449/275. Another startline double step saw the end of Robert Hight's day as the red light glowed leaving Jack Beckman to notch up the 4.344/281 win. The last pair of the round had Johnny Gray take and hold the lead putting a 4.277/283 win on the boards as Matt Hagan lost with a 4.369/268.
Entering the semis were Jack Beckman and Jeff Arend in the DHL backed Toyota with the latter leaving a tardy light on the board and watching Beckman zoom ahead to take the light, 4.299/286 to a 4.416/277. The Head Racing Solara of Jim Head managed to leave first but the 4.453/277 was not good enough as despite hazing the slicks at half track Johnny Gray managed to click on the win light with a 4.448/278 to end the round.
On the money run it was the Aaron's/Valvoline Dodge Charger of Jack Beckman that ruled with a better reaction time coupled with a winning 4.354/278 as Johnny Gray's Service Central car lost with a tyre smoking at half track 5.870/120. Jack Beckman leads the points now.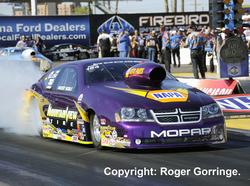 Pro Stock had eighteen cars and was led in the first session by Ron Krisher in the Valvoline Pontiac with a 6.658/207 but then in round two Mike Edwards running his Penhall/K&N/Interstate GXP put down a 6.617/210.28 that set the track speed record. The opening round witnessed a few notable exits including Greg Anderson who was shut off on the startline with a massive fuel leak, Ron Krisher out to Steve Kent, and a loose Jason Line out to Shane Gray.
Round two opened with Rodger Brogdon carding a 6.714/207 win as Shane Gray slowed to a 7.004/204, then Erica Enders managed a neat 6.683/207 to end Steve Kent's day. V. Gaines got loose off the line and slowed to a 10.677/83 allowing Allen Johnson to record a 6.664/209 win and the last pair of the round was a bout between number one qualifier Mike Edwards and Vince Nobile and a stout start from the young Nobile netted him the win light, a 6.696/207 as Edwards charged to a 6.768/208 lose.
Vincent Nobile took on Erica Enders in the ZaZa Energy Chevrolet and just beat her off the line in a couple of good lights but Enders found less traction in her lane getting loose and slowing to a 14.023/60 loose as Nobile pounded out a 6.684/208 for the win. The other pairing saw Rodger Brogdon's The Edge GXP leave first but he was run down and passed by Allen Johnson, 6.662/209 win to the 6.700/206 lose.
The final pitted youth against veteran, Vincent Nobile in the Mountain View Tire backed Dodge against the Mopar/J&J Racing sponsored Avenger of Allen Johnson with Nobile cutting a great light leaving Johnson to chase hard but the win light came on in Vincent Nobile's lane, a 6.678/208 against the runner up 6.655/209 from Johnson. Jason Line leads the points chase.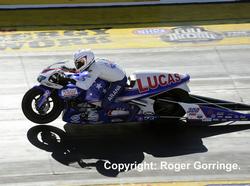 Pro Stock Motorcycle had Hector Arana III changing pole position with Eddie Krawiec but Arana ended up with a final qualifier of 6.889/194 the ET being a track record. Big names going out in the first round included Andrew Hines to LE Tonglet, Steve Johnson to Mike Berry and Matt Guidera to Hector Arana Sr.
Round two started with Eddie Krawiec taking a 6.932/194 win over the 7.025/189 from Mike Berry whilst Matt Smith managed to put out Karen Stoffer with a 6.974/191 win to a 7.066/189. Hector Arana Sr. got the win as Gerald Savoie red lit away his chances and young Hector Arana laid down a 6.936/193 win over 2010 Champion LE Tonglet's 7.051/189.
Hector Arana Jr opened the semis with a win over Matt Smith, a 6.937/194 beating the 7.025/188 and in the other pairing, Eddie Krawiec saw off the much better leave from Hector Arana Sr. by delivering a 6.959/193 to the slightly off pace 7.020/191.
Come the final round and Hector Arana III on his Lucas Oil Products Buell got revenge over Eddie Krawiec who put out Arana Sr. in the prior round, a perfect light gave Arana Jr a great lead and that coupled with a 6.884/194 beat the chasing 6.944/194 from the Sreamin' Eagle Vance & Hines HD V-Rod. Eddie Krawiec managed to stay a few points ahead of Arana Jr. In the chase.


---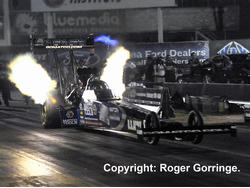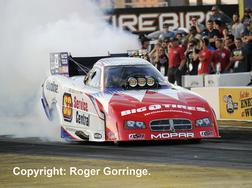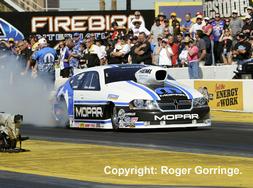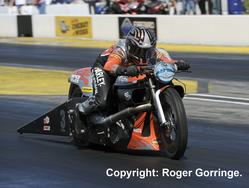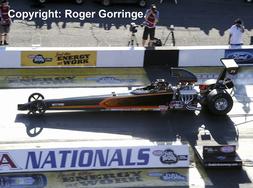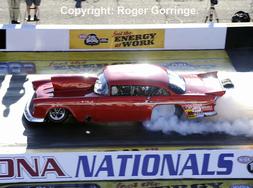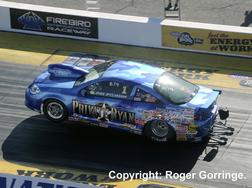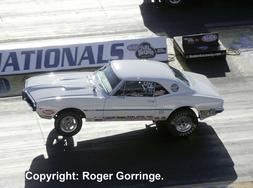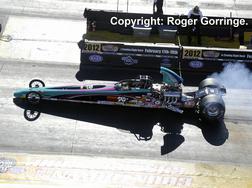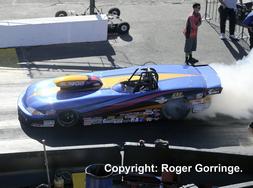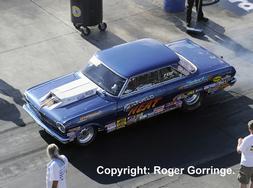 ---
Features and Interviews index
Back to News page
---