2011 NHRA Auto Club Finals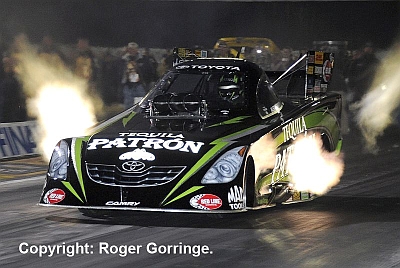 Click on any picture for large version

The chase for three out of four Pro Championships continued well into the cool, showery weekend of the Automobile Club of Southern California NHRA Finals, the last in this year's heady Full Throttle Drag Racing Series together with the Lucas Oil Sportsman battles. Rain effected part of Saturdays qualifying, Pro Stock and Pro Stock Motorcycle managed to get their fourth one in but after around half a dozen pairs of Funny Car getting a fourth pass each, down came the damp stuff leaving a lot of the remaining floppers and the whole of the Top Fuel machines frustrated that their number four round was cancelled mixing up some permutations in the fields. It seems NHRA has always allowed this, differing from the FIA strategy of the round being null and void if left unfinished by rain or similar. There were a stunning number of fuel cars on the premises, a whopping fifty entertained the international crowd and on the subject of international, both Norway and Finland had contestants entered along with Australia and a bevy of Canadian machines. The rain affected the eliminations to produce a packed Sunday that had to be extended into Monday morning to finalise some of the last Sportsman rounds. Long time Chief Starter Rick Stewart clicked the starter button for the last time as he is retiring.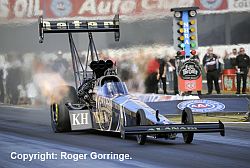 Top Fuel had Tony Schumacher out of the Don Schumacher Racing stable lay down a 3.827/321 for pole and it lasted for two rounds but in the third and final session Del Worsham let everyone know that he was serious by turning in a 3.773/320 ticket for top place advancing his two points behind Massey total, he was followed by teammate Larry Dixon with the only other 3.7, a 3.791/321 putting Schumacher into third spot. Down on the bump was Mike Ashley whose 3.956/178 marked his return to racing. The Andersen Racing team from Denmark and driven by Norway's Thomas Nataas had to be content with a frustrating eighteenth spot, their best being a 3.932/303.
Round one witnessed Dave Grubnic beat teammate Doug Kalitta in a 3.846/313 win to a 3.863/308 close lose to open the day. Antron Brown managed to keep a nose ahead of Bob Vandergriff in another tight race. Morgan Lucas suffered a small flash fuel fire in the lights but lit his win light as Troy Buff limped in with the lose. Tony 'The Sarge' Schumacher took the win as Clay Millican went up in smoke off the line. Larry Dixon had a neat break when his machine shut down and popped the chutes at one hundred feet out but still winning as rookie racer Keith Murt red lit away his chances. Del Worsham made short work of Mike Ashley, a holeshot 3.865 took out the 3.904 try. Spencer Massey kept his title hopes alive with a 3.824/324 win against Cory McClenathan's 3.908/282 and finally Brandon Bernstein lost pistons and had TJ Zizzo nip past him only to then take back the lead for the all important win.
The next round started with Del Worsham taking the lead off the line and never looking back, as 3.850/316 took the light as Dave Grubnic's close 3.880/304 lost. Antron Brown saw his chances go away as Larry Dixon won by inches in a 3.828/320 to a 3.837/316 bout. Spencer Massey beat point's outsider Morgan Lucas whose 4.206/225 suffered a small flash fire at eight hundred feet but it was Massey's winning 3.846/316 that oiled the track. The last pair had Branden Bernstein make possibly his last pass as he parks his ride due to lack of sponsors for next year, it was a disappointing up in smoke 6.644/98 as Tony Schumacher charged off to a 3.826/322 win.
It was a round of big team battles as the Don Schumacher Racing guys took on the Alan Johnson Al-Anabi boys, it ended with one apiece. Tony Schumacher notched up a 3.823/322 holeshot win as Larry Dixon chased but failed to catch with his 3.828/313 timing. The other pairing saw the Full Throttle NHRA Top Fuel Championship going to Del Worsham as the 3.800/322 caught the small lead produced by Spencer Massey in the FRAM machine, a 3.808/322 came second by just inches.
The final dealt the two big teams their hands and the new Champion Del Worsham was not content with the title, his quicker R/T coupled with a 3.796/318 got him the event win in the Al-Anabi car as the U.S. ARMY machine of Tony Schumacher became runner up with a close 3.799/321.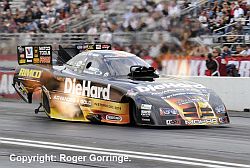 Funny Car like Top Fuel had only three qualifiers for most teams due to the persistent showers that dogged the late Saturday afternoon. Robert Hight led the pack in sessions one and two with a 4.084/312 but then along came Matt Hagan pounding out a 4.033/315.27 (track speed record) to take the top qualifier. It was the turn of Bob Bode to sit on the bubble with a 4.199/293 clocking.
Round one saw a few surprises as firstly defending Champion John Force went out to Johnny Gray, Force left first then floundered slightly running a losing 4.271/290 as Gray charged by with a 4.090/313 win. Cruz Pedregon who sat in third spot in the point chase caught and passed Bob Tasca III, a 4.141/313 beating a 4.199/308. Melanie Troxel took the win light with a 4.151/303 from behind as Tony Pedregon lost power at four hundred feet slowing to a 5.022/162. Robert Hight met Gary Densham and beat him out of the hole staying ahead to win on a 4.149/309 to a 4.269/266. Point leader Matt Hagan managed to catch and get by a quicker leaving Jon Capps, a 4.092/309 won to the 4.602/236 lost. Alexis DeJoria got a tad too quick and red lit away her chances allowing Mike Neff a 4.150/311 win. Ron Capps and Jeff Arend carded identical R/Ts but the 4.110/311 from Capps got the nod over the 4.140/299 lose. Jack Beckman who came into the event one point behind Hagan took a grateful win of 4.522/280 as opponent Tim Wilkerson went up in smoke one hundred and fifty feet out.
Johnny Gray managed to get rid of another Force machine as the holeshot 4.105/313 took out the 4.155/308 from Mike Neff kicking off the second round. Robert Hight kept one of the Force cars in contention by beating Las Vegas winner, Ron Capps 4.091/311 to a 4.114/311. Jack Beckman's championship point hopes were dashed when he met leader Matt Hagan, a 4.107/307 from behind beat Beckman's 4.142/310. Cruz Pedregon kept his title hopes alive when he advanced past Melanie Troxel, 4.079/312 to a 4.154/308 and in a bizarre incident Troxel's In-N-Out Buger car re-fired in the turn off area sending her through an inflatable advertising, a fence and into a trailer, she was shaken but ok.
The semis saw revenge for Team Force as Robert Hight caught and passed Johnny Gray in the Service Central Dodge Charger a 4.079/315 beat the up in smoke off the line 7.473/83. Matt Hagan made sure he stayed well ahead of point chaser Cruz Pedregon in the Snap-On/Wix Filters Toyota with a decent R/T coupled with a 4.096/309 beating the 4.113/311 this secured Matt Hagan the 2011 NHRA Full Throttle Funny Car Championship.
As in the Top Fuel category the event win went deservedly to the new Champion but not without a fight, Matt Hagan in the Advanced Gold DieHard Charger left another good light on the tree and stayed ahead all the way recording a stunning 4.009/317 to take the win as Robert Hight in the Automobile Club of Southern California Mustang became event runner up with a 4.031/318.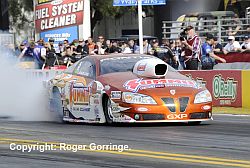 Pro Stock managed the full quota of four separate qualifiers and was led by Mike Edwards all the way with a fine 6.520/211 this was just ahead of former Champion Greg Anderson's 6.537/211 and new NHRA Full Throttle Pro Stock Champion, Jason Line on a 6.538/211. Sitting on the bump spot was Buddy Perkinson with a 6.598/209 leaving four DNDs in the field.
Opening round one was a red light from Vincent Nobile handing the win to Allen Johnson with a 'seen it' 12.493/71 time. Kurt Johnson managed a 6.611/209 win as Shane Gray red lit. Greg Stanfield put down a 6.595/209 to take the win against Larry Morgan's 6.587/210 whilst Rodger Brogdon ran a 6.572/210 as Ron Krisher lost with a slowing 7.203/140. Champion Jason Line carded a 6.569/210 win to see off the 6.612/209 from Steve Kent. Another red light appeared when Buddy Perkinson bulbed against Mike Edwards winning 6.546/210. Greg Anderson had a holeshot and kept ahead of the challenge from Warren Johnson's 6.955/158, a 6.565/211 won. Ronnie Humphrey won in a close race with Erica Enders, a 6.556/210 beat the 6.572/210.
Greg Stanfield managed a neat holeshot and stayed ahead of Rodger Brogdon, a 6.605/209 beat the quicker 6.587/209. Greg Anderson failed to catch the great leave by Kurt Johnson whose 6.595/209 beat the 6.581/210. Jason Line managed a 6.552/210 win as Ronnie Humphrey's 6.580/209 was not quite enough. Mike Edwards was the next to suffer a red light against Allen Johnson, Johnson's 6.603/210 getting the nod.
Greg Stanfield continued his march through the ranks with another good leave getting the better of Allen Johnson's Mopar/J&J Racing '10 Avenger, 6.609/209 to a 6.737/177 and Champion Jason Line's Summit Racing Equipment '09 GXP finally went out to the 6.606/208 from Kurt Johnson.
The final saw two great lights but it was the.009 from Greg Stanfield's Coffman Tank Trucks '09 GXP together with a 6.597/209 that clinched the event win as Kurt Johnson in the Mark Christopher Auto Center '10 Pontiac runner upped with a slowed up 19.886/44.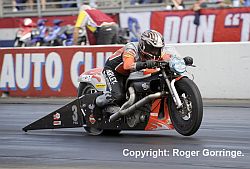 Pro Stock Motorcycle saw Andrew Hines dominate qualifying with an off the trailer 6.820/197 just ahead of Hector Arana Jr. on a 6.832/195 then Eddie Krawiec on a 6.850 and a track speed record of 198.12mph. Michael Phillips sat on the bubble with a 6.955/193 making it an all six second field. Finland's Fredrik Fredlund made Europe's first ever six but the 6.995/191 was only good for a nineteenth place.
Round one opened with Angie Smith getting around Michael Ray a 6.961/191 beating the 6.997/191 winning by about a bikes length whilst husband Matt Smith chased down and won the race with Chip Ellis, 6.944/191 to the losing 6.967/191. Outgoing Champion LE Tonglet managed the win with a 6.942/191 over Gerald Savoie's better leaving 7.076/175. Andrew Hines took out number sixteen qualifier Michael Phillips with a 6.865/196 to a 6.999/192. Young Hector Arana Jr. ran a 6.836/195 to beat the losing 7.044/192 from Justin Finley. Point leader Eddie Krawiec put a 6.873/169 on the win board beating Karen Stoffer's 6.993/191. Hector Arana Sr. ran a 6.905/193 to see off Jim Underdahl's 7.060/189 and the final pairing had Steve Johnson take the win despite not finishing as Shawn Gann red lit.
The action continued into round two starting with the defeat of Steve Johnson, his seven dead at 192mph was ably taken care of by the holeshot and a 6.876/193 from Hector Arana Sr. Angie Smith's day ended when her 6.955/191 was beaten by the better leave and 6.854/196 from Andrew Hines. With the ousting of LE Tonglet on a holeshot 6.937/191 to a winning 6.853/196 Eddie Krawiec became the 2011 NHRA Full Throttle Pro Stock Motorcycle Champion. The last pair in the round was a battle between Matt Smith and young Hector Arana with the latter getting the better leave coupled with a 6.847/196 win to the losing 7.357/142.
Both Arana's were taken out in the semi finals by teammates Hines and Krawiec. Hector Arana Sr. on his Lucas Oil Products '10 Buell failed to keep up with the leave by Andrew Hines, a 6.880/195 beating the close 6.894/193 after a staging duel. Hector Arana Jr. carded a great light on his Lucas Oil Products '11 Buell but that and the 6.863/190 were no match for the charging 6.831/195 from Eddie Krawiec.
The finals was a team effort, the newly crowned Champion Eddie Krawiec and Andrew Hines both on their Screamin' Eagle Vance & Hines '11 HD V-Rods faced off for the money run but Krawiec blew his chances of an event win to put icing on the cake when he red lit away a 6.819/197 to a winning 6.814/196 from Hines.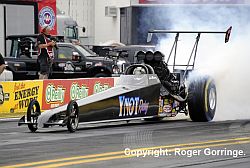 Top Alcohol Dragster saw Duane Shields take the NHRA Lucas Oil Drag Racing Series TAD Championship when his injected nitro Shortline Express Market dragster lost to Ray Martin in the semis, a 5.461/251 beating the close 5.469/262. Mark Tallaferro III driving the Markco Machine Works car lost his bout with Jim Whitely in the other semi pairing, a 5.315/269 against a troubled chute out at half track pass. The final saw Jim Whiteley in his J&A Services/Rator Ind. A/Fueller overcome the holeshot from Ray Martin's blown machine, Whiteley taking the win with a 5.300/269 to the losing 5.422/265.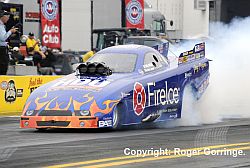 Top Alcohol Funny Car already had multi-time Champion Frank Manzo have the title wrapped up and not racing at this event. The semis saw Sean Bellemeur take out John Lombardo Jr. in the NAPA/Pro Series/Lucas Oil '10 Monte Carlo with a 5.681/255 as Lombardo suffered a pop slowing to a 7.863/118. Keeter Ray's slightly better leave in his KRR/Luxury Overload Mustang was chased down and beaten by Jay Payne, a 5.606/260 getting the nod to the losing 5.712/252. The final had Jay Payne in the FireIce Ford chase down Sean Bellemeur in the MasterCam/Lucus Oil/Victory '04 Camaro, a 5.575/259 beating the 5.676/255.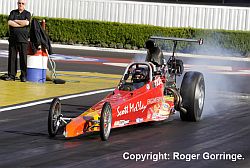 Competition saw a win go to Scott McClay in his Scott McClay Engineering dragster, a 7.306 beating the 8.369 from Doug Lambeck's '06 Pontiac. The Championship was taken by Lou Ficco Jr. in his '09 GXP. The Super Stock win went to Jody Lang in his Dave Barcelons Truck Town '81 Malibu; an 11.474 took out Abe Loewen's Queen City Perf. '98 Grand Am who red lit. The Super Stock Champion was Jackie Alley in her BigOTires.com '69 Camaro. Stock win went to Michael Iacono as he and opponent Brad Plourd both broke out, the Champion was Joe Santangelo. The Super Comp event win was taken by Val Torres against Craig Anderson in an 8.903 to an 8.949 battle and the Champion was Gary Stinnet and finally the Super Gas class event win and Championship went to Peter Biondo, a 9.915 getting the nod by two feet at the stripe as Dana Keniry's 9.914 got second place.


---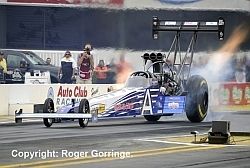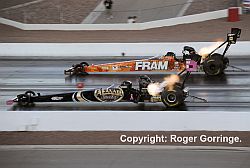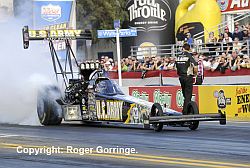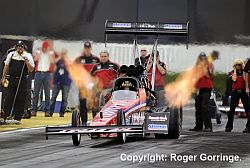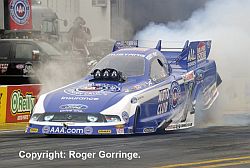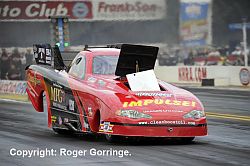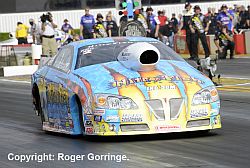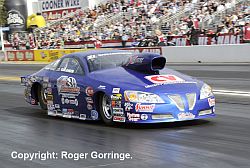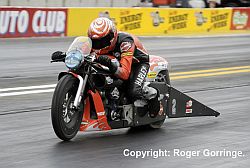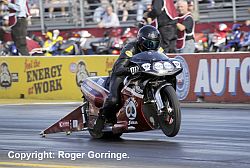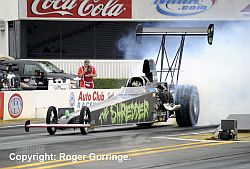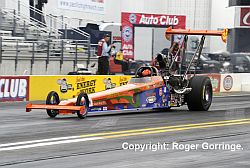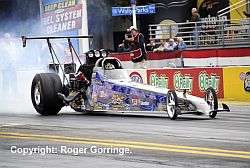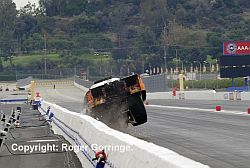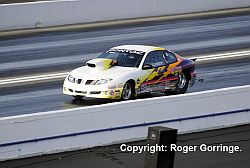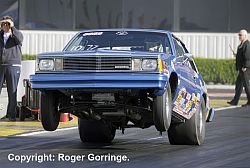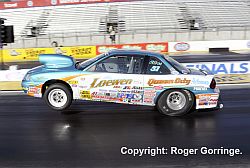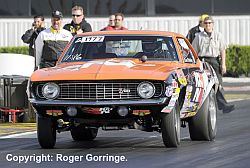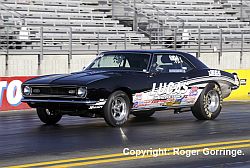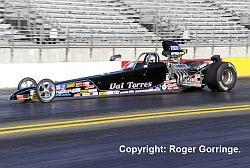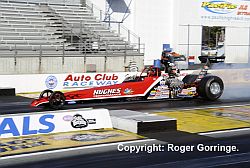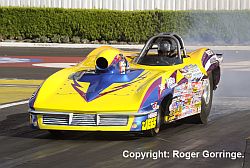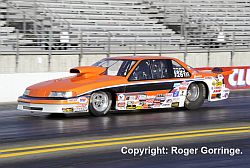 ---

Report and pictures ©Roger Gorringe. Feature ©Eurodragster.com
Features and Interviews index
Back to News page


---