2011 NHRA Las Vegas Nationals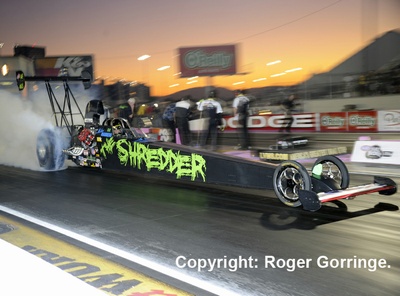 Click on any picture for large version

The penultimate race in the twenty-two round Full Throttle Drag Racing Series was held at the high desert venue of The Strip at the Las Vegas Motor Speedway and it produced first 2011 Champion leaving the remainder having to slug it out down to the wire at Pomona in a couple of weeks. There was maximum fan attendance on Saturday and Sunday as everyone basked in temperatures of mid seventies to mid eighties during the weekend, a far cry from the gruelling heat of Phoenix a couple of weeks before. The race suffered a few kabooms, fireballs and oil-downs and two accidents as firstly Pro Mod driver Scott Ray got crossed up and hit the wall and Pro Stock Motorcycle rider Joe Desantis came off after a 179 mph pass, thankfully no serious injury is understood to have occurred.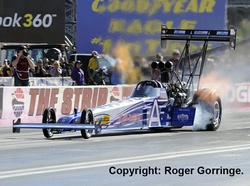 Top Fuel had a pair of drivers swapping places in qualifying, Del Worsham opened the frame with a 3.879/316 only to be pipped to the post as Brandon Bernstein dealt a 3.833/321 that was good for rounds two and three however, in the final session, Worsham took back the baton running a great 3.796/322. Thomas Nataas in the Andersen Racing car was 0.021 off qualifying finishing in nineteenth spot.
Sunday's eliminations suffered a few surprises in round one as big names the likes of Tony Schumacher went out to teammate Antron Brown, Doug Kalitta to Rod Fuller, Clay Millican to Bob Vandergriff to name just a few. The second round however no-one was let off lightly either as Dave Grubnic went into tyre smoke just past half track slowing to a 7.285/80 as Del Worsham won compliments of a 3.860/319. The pairing between Larry Dixon and Brandon Bernstein saw Dixon hit tyre smoke around the seven hundred foot mark of the one thousand foot race track slowing him to a 4.231/240 as Bernstein took the win light with a 3.970/302. Bob Vandergriff hazed the slicks around the same place as had Grubnic and Dixon losing him the race as Antron Brown recorded a 3.878/313 fire-balling an engine in the lights and causing an oil down. The right lane that had been causing the smokers suddenly came right as both Spencer Massey the number two qualifier and Rod Fuller put down flawless runs with Massey getting the nod, a holeshot 3.895/320 beat the 3.903/322.
Round three saw Bernstein's luck run out as the Copart backed dragster blatantly red lit, the 4.171/291 counting for nothing as Spencer Massey's 3.890/318 secured the route to the final. It was a repeat fixture as Antron Brown in the Matco Tools machine carded a -.032 red light and slowed to a 4.556/168 allowing Del Worsham's 3.878/314 the win.
The final was set as the twilight came pushing the huge grandstand shadows all across both lanes and with the air cooling Del Worsham in the Al-Anabi Racing dragster chased down and beat the slightly better leave from Spencer Massey's Fram car, it was a winning 3.823/318 that took the win for Worsham as the close 3.834/323 became runner-up.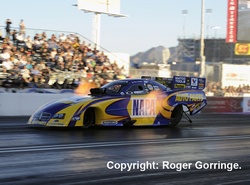 Funny Car had three drivers take turns in sitting on pole starting out with Matt Hagan on a 4.142/301 then in rounds two and three it was the turn of Robert Hight on a 4.085/311 ticket but on the final push Ron Capps surprised everyone after his DNQ two weeks earlier with a stunning 4.080/315. There were massive upsets in round one as the whole of Team Force exited, Robert Hight to Tony Pedregon, Mike Neff to Paul Lee and John Force to Jack Beckman. Other heavy hitters not making round two included Melanie Troxel to Johnny Gray and Tim Wilkerson to Matt Hagan. The quarter finals started with Johnny Gray catching and passing Paul Lee and taking the win on a 4.147/312 as Lee hit tyre smoke around half track. A close race ensued with Ron Capps taking the win by a car length and a 4.187/305 to Jack Beckman's 4.208/303 try. Cruz Pedregon perhaps had a lucky break as Matt Hagan suffered a bang just off the line that deployed the 'chutes allowing Pedregon the 4.167/306 win and the final pairing of the round was Bob Tasca III against Tony Pedregon, Tasca caught and went by Pedregon recording a winning 4.205/306 to the slowing 4.509/223.
Into the semis and Ron Capps gained a better light than Cruz Pedregon and held on the take the win with a 4.125/309 as the Snap-On car of Pedregon lost with a close 4.196/304. Bob Tasca III saw his day end when the Motorcraft/Quick Lane Mustang went up in smoke just off the start line allowing Johnny Gray to take the win with a 4.123/311.
Onto the money round and Ron Capps driving the NAPA Auto Parts Dodge Charger left on Johnny Gray's Service Central Charger then carded a 4.109/311 win to the losing 4.203/295.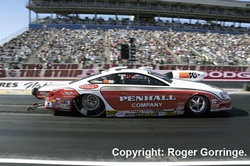 Pro Stock saw two drivers take pole starting with Jason Line on a 6.624/207 for sessions one and two, then along came Mike Edwards to secure the final third and fourth qualifiers on a 6.594/208 both being track records. In round one there were names going out that included Erica Enders to Ronnie Humphreys, Phoenix winner Vincent Nobile to Larry Morgan, V Gaines to Jason Line and Greg Stanfield to Allen Johnson. Round two had Allen Johnson take out Larry Morgan's 6.716/206 with a 6.680/207, then, a 6.667/207 from Greg Anderson put away the 6.696/206 from Kurt Johnson. A red lighting Ron Krisher gave the next win to Jason Line and finally, the 6.717/206 from Ronnie Humphrey was not good enough as Mike Edwards 6.652/208 beat him.
Onto the semi final round and it saw two team members go out, firstly Jason Line red lit away his chances as Allen Johnson's 6.674/207 got the nod, it was not all disappointment for Jason Line though as it delivered the first Full Throttle NHRA Championship win of the year to the driver of the Summit Racing Equipment '09 GXP. The next pairing had Mike Edwards cut a .001 light and coupled with a 6.663/208 taking the win leaving Greg Anderson in the other Summit Racing Equipment '09 GXP to come second with a 6.646/207.
The final faced Mike Edwards in his Penhall/K&N/Interstate '09 GXP with the Mopar/J&J Racing '11 Avenger of Allen Johnson and it was a clean, close race as Edwards left first and stayed ahead to take the event win on a 6.641/208 as Johnson runner upped with a 6.668/208.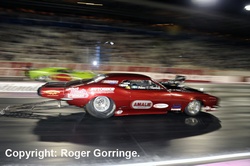 Pro Modified under the Get Screened America banner held its last round of the 2011 series and had twenty-one of the ultimate doorslammers trying to make the sixteen car field. In the first qualifying session Leah Pruett marked her card with a fine 5.906/252 then bumped up the tension with a 5.855/252 pass in the second session but the third and final qualifier was led by Brad Personett, his 5.848/256 was the one that led the class. Round one dealt out the likes of Troy Coughlin to Jay Payne, Rickie Smith by way of Don Martin, Kenny Lang to Pete Faber, Dennis Radford to Danny Rowe and Sweden's Adam Flamholc courtesy of Brad Personett. Into the second round and Leah Pruett managed a 5.927/249 dealing out Pete Faber's 6.152/237. Jay Payne red lit away his chances and got close to the wall as Danny Rowe took the 5.960/243 win. A holeshot coupled with a 5.956/251 got Brad Personett around the now crowned NHRA Get Screened America Pro Mod Champion, Qatar resident Khalid Al Balooshi in the Speedtech '68 Camaro whose 6.007/241 was not enough. Finally, Melanie Troxel managed a 5.908/253 in defeating the 5.956/243 from Don Martin.
The semi finals saw Danny Rowe win his round as Brad Personett in his turbo '68 Camaro double stepped the start, the win went to the 5.977/243. Two teammates ran for victory against each other when Melanie Troxel in her Procare RX '53 Corvette chased after a quicker leaving Leah Pruett, it all went Pruett's way as the 5.897/251 beat Troxel's 5.892/253.
The final pitted Leah Pruett in the Procare RX '10 Mustang against the Sterling Bridge '68 Camaro of Danny Rowe, the pair left almost together but Pruett's turbo powered machine ran a 5.910/253 winner as the 5.940/243 from the blown car became runner up.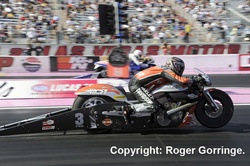 Pro Stock Motorcycle had Eddie Krawiec set the mark with a 6.952/193 in session one only to be bettered by Hector Arana with a 6.924/190 then along comes this kid in the shape of Hector Arana Jr. running a 6.879/194 in session three and staying on pole whilst putting his Dad down to third place! Among those not surviving round one were, Mike Berry to Angie Smith, Steve Johnson to LE Tonglet, Shawn Gann to Hector Arana, Matt Guidera to Hector Arana Jr. and Matt Smith to Jim Underdahl. Onto the second round of competition and LE Tonglet's day ended when he was beaten by Eddie Krawiec, 6.957/193 to a losing 7.075/187. Lil' Hector Arana as he's affectionately known was beaten off the line and across the stripe by Angie Smith, 7.046/189 win to the better but losing 6.975/191. Gerald Savoie's good leave was chased down by Hector Arana Sr. Who took the win with a 6.924/192 to the losing 7.010/190 and last pair of the round saw Jim Underdahl's day end with a losing 7.100/189 as Andrew Hines took the win with a 6.981/191.
Andrew Hines opened up the semi finals with a 6.977/192 win staying ahead of Angie Smith on her Coffman Tank Trucks '10 Buell whose 7.053/189 did not make the grade. Eddie Krawiec led the way in the other pairing and stayed ahead to take the win to the final, a 6.989/193 beat the 7.157/191 from Hector Arana Sr. on his Lucas Oil Products '10 Buell.
The money run saw teammates face each other, Eddie Krawiec and Andrew Hines both on their Screamin' Eagle Vance & Hines '11 HD V-Rods, Krawiec was the most alert and his light beat Hines off the line and a 6.936/194 delivered the win to Krawiec as Hines followed with a close 6.995/192.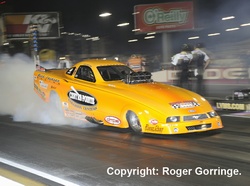 The Top Alcohol Dragster final came down to a run-off between ex-pat Brit and Eurodragster.com sponsor Mike Manners and Californian resident Chris Demke. It was blown car of Demke that gained a great leave and although Manners tried to catch up it was the Peen Rite/Clean Boost car that clinched the win with a 5.385/267 as the 5.390/270 from the Aquygen/Cosmo/Anglia A/Fueller of Manners came second. In the Top Alcohol Funny Car wars number one qualifier Tony Bartone made it to the winners' circle as his Centre Pointe '09 Mustang ran a winning 5.547/260 beating the 5.674/255 from the CP Pistons '06 Monte Carlo of Shane Westerfield.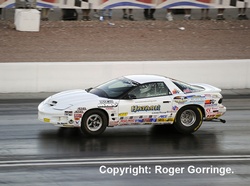 The Super Stock win was in the hands of Peter Biondo in his '00 Firebird, a 9.946/117 took the ticket as the 9.703 from Jackie Alley's '69 Camaro lost. The win in Stock Eliminator went to Jim Meador in his '67 Camaro, an 11.047 beat the breakout 9.693/139 from Andrew Durham's '11 Challenger. Finland's Markko Jarmanen, in a new car purchased from Jim Waldo, qualified sixty first but pulled a red in the first round of eliminations. The Super Comp trophy went to Bill Torrence, a double breakout 9.039/176 win over the 9.027/174 from Bill Dennis. Super Gas saw the '62 Corvette of Ed DeStaute take the win with a 10.057/148 as Michael Miller in his '27 Ford broke out with a 10.036/148.


---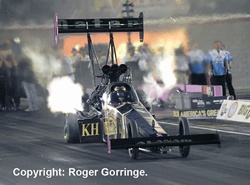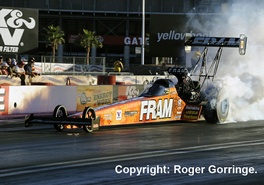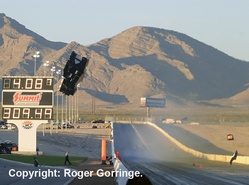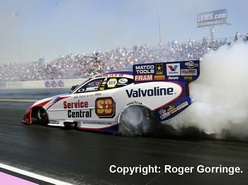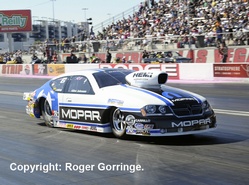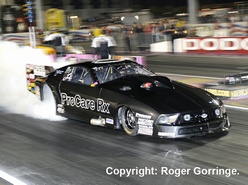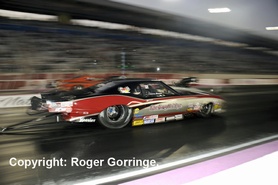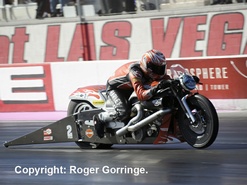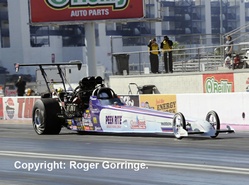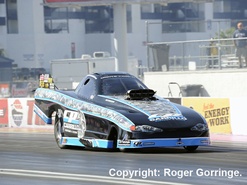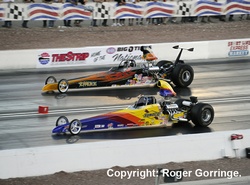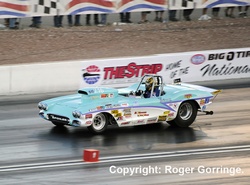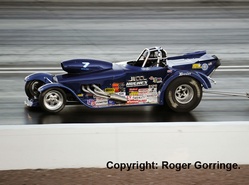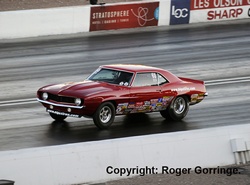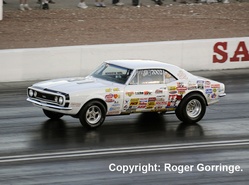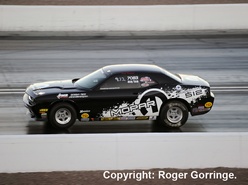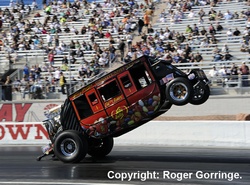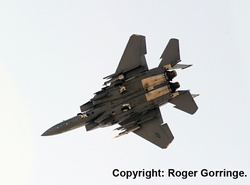 ---
Features and Interviews index
Back to News page
---