2012 NHRA Arizona Nationals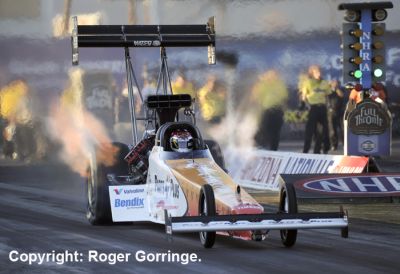 Click on any picture for large version

The second round of the NHRA Full Throttle Drag Racing Series and the NHRA Lucas Oil Drag Racing Series kicked off in the desert venue at Firebird International Raceway on a warm, dry weekend in front of a packed house. The early morning and late afternoon cool air provided some great figures and track records for two of the three Pro classes and a few surprises in all classes.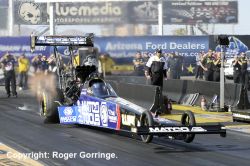 Top Fuel saw Shawn Langdon in his new ride with the Al-Anabi team put first round number one qualifier Tony Schumacher into second spot when a 3.754/323 topped the 3.845/319. Steve Torrence opened a few eyes when he gathered the third place with a fine 3.788/321keeping Spencer Massey in fourth spot on a 3.795/323 and Antron Brown at fifth with a 3.796/320. Number sixteen of the sixteen entries was Troy Buff on a 7.720/67 tryer.
Going out in the first round were Khalid alBalooshi to Morgan Lucas. Bob Vandergriff to Doug Kalitta, Terry McMillen courtesy of Antron Brown, Branden Bernstein to Steve Torrence, Troy Buff to Shawn Langdon, Mike Strasburg trailered by Tony Schumacher, a tyre hazing Cory McClenathan to Spencer Massey and a smoking Dave Grubnic to Clay Millican.
Round two saw multi IHRA Champion Clay Millican advance further with a 3.838/317 using his holeshot to secure the win over the 3.796/318 charge from Steve Torrence. Morgan Lucas suffered a huge fiery detonation at 330 feet out trailing oil all the way to a losing 4.508/174 as Shawn Langdon took the win on a 37.91/318 outing. Tony Schumacher managed to catch and pass a better leaving but weaving Doug Kalitta, 3.819.315 to a 3.856/307 lose. Ending the round was a team battle as Antron Brown and Spencer Massey both from the Don Schumacher stable fought it out with Massey hazing the slicks at half track, Brown notched up the win, 3.888/287 to 3.987/262.
Clay Millican's luck ran out in the semi final an up in smoke at two hundred feet slowed him to an 8.924/83 leaving Tony Schumacher to record the win with a 3.797/317. Shawn Langdon suffered the same fate as Millican, going up in smoke past the tree easing off to a 6.072/106 as Antron Brown ran the winning numbers, a 3.832/313.
The final was another all DSR battle as Antron Brown in the Matco Tools/US ARMY/Aarons machine faced teammate Tony Schumacher in the US ARMY car, there was little difference in the reaction times but Brown pulled ahead clinching the event trophy with a 3.793/319 as Schumacher followed for second place with a 3.813/318.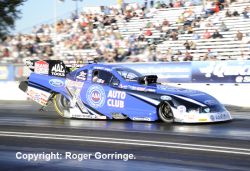 Funny Car had more surprises in the qualifying sessions initially led by Jim Head with a 4.107/297 but in the second stanza Johnny Gray took the lead, a 4.074/298 that had him on top after the fourth outing. Gray was followed by Mike Neff at number two with a 4.096/307, Jim Head with his 4.4.107 was third leaving Matt Hagan in fourth with a 4.110/305 and John Force made it into fifth with a 4.115/307 with Kiwi racer Grant Downing on the bubble, a 4.250/289 from the Chuck Worsham tuned Charger.
Round one had a few jaw droppers with Jim Head's stout qualifying for nought as he hazed the slicks at half track going out to Jeff Arend, Bob Bode went into tyre smoke at three hundred feet with the win going to Mike Neff. Grant Downing hazed the slicks and popped the blower with the win going to a crossed up after the finish line Johnny Gray, major upset of the round was the exit of Champion Matt Hagan who seemed to stumble at the tree, pedal and get crossed up giving the win to a delighted Canadian, Todd Lesenko. Courtney Force notched up another round win as her Dad, John shook and got almost sideways as cylinders went out at three hundred feet. Jack Beckman beat Tony Pedregon whilst brother Cruz was beaten in a real close race with Ron Capps who got quite close to the wall and finally Robert Hight got the win light over Bob Tasca III.
A pedalfest started the second round as Robert Hight smoked and pedalled twice to take the win with a 4.613/241 as top qualifier Johnny Gray smoked and set about exploring all of his lane tagging the wall in the process with a losing 5.246/165. Jack Beckman managed to catch a better leaving Jeff Arend passing him to take a 4.172/282 win to the 4.322/294 lose. It was Ron Capps turn to smoke the tyres at three hundred feet out then get crossed up slowing to a losing 7 dead as Mike Neff won with a hazing and weaving 4.264/246. Todd Lesenko's weekend was finished when he went into instant smoke against Courtney Force who notched up another round win with a 4.099/306 to a 7.073/93 to end the round.
Mike Neff managed a 4.099/306 to defeat Jack Beckman's 4.129/301 in the opening round of the semis. An all Team Force encounter between Courtney Force and Robert Hight was next up and it was Hight's holeshot that got the win, a 4.158/304 beating the 4.199/299.
Two of the John Force cars met in the final, the Automobile Club of Southern California Ford Mustang of Robert Hight managed to catch and pass the slight lead off the line by Mike Neff in the Castrol GTX; the winning numbers were 4.139/307 to a losing 4.168/309.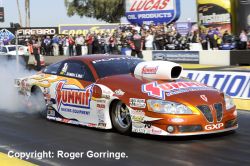 Pro Stock top qualifying was shared between current Champion Jason Line and Mike Edwards, Line made number one session with a 6.556/211 bettering it in round two with a 6.553/210 but then Edwards made a 6.536/210 pass (the ET being a track record and an earlier 211.53mph also a track record) in the third round that lasted as top qualifier keeping Line down in second place. In third was Ronnie Humphrey with a 6.543/211 and fourth was Vincent Nobile on a 6.549/210 leaving the fifth spot to Greg Anderson on a 6.556/210 with the bump spot going to Warren Johnson with a 6.626/207.
The winners of round one were Rodger Brogdon over Ron Krisher, Erica Enders trailering Steven Kent, Larry Morgan beating Allen Johnson; Vincent Nobile beating a waggling Shane Gray whilst Greg Stanfield got the better of Ronnie Humphrey. Mike Edwards put out WJ and Jason Line saw off a fish-tailing Jeg Coughlin and in the final pair Greg Anderson put down Kurt Johnson.
Round two kicked off with a win for Greg Stanfield, a 6.636/207 beating the off power at two-fifty feet Larry Morgan. Mike Edwards also suffered a power loss at two hundred feet as Rodger Brogdon won with a 6.640/208. A red light destroyed the weekend of Vince Nobile allowing Greg Anderson's 6.569/211 through to the next round. Jason Line put an end to Erica Enders day with a 6.561/211 win to a 6.610/209 lose to end the round.
A close race started the semis as Greg Anderson and Roger Brogdon left almost together but Anderson's power won the round with a 6.590/210 to the 6.632/208, in the other pairing Jason Line took the light as his 6.556/211 beat the 6.618/208 from Greg Stanfield.
In the money run it was another team final as the two Summit Racing Equipment GXP's of Jason Line and Greg Anderson faced off and with hardly a breath of difference in reaction times the pair chased for the lights with Line taking the win on a 6.558/211 as Anderson followed with a losing 6.570/211.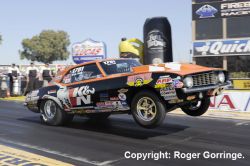 Super Stock was wrapped up by Dan Fletcher in his K&N Filters '69 Camaro, a 9.376/144 beat the 10.166/128 from Ken Etter's '93 Shadow. Stock Eliminator saw Leo Glasbrenner in his '68 Firebird take the trophy, a 10.571/116 saw off the 12.671/103 from Brad Hawk's '88 Mustang.
The Super Comp win went to Greg Boutte; his breakout 8.898/174 was Okayed as a red light shone in the lane of Steve Whitfield. Super Gas had Michael Miller in his '27 Ford punch the air in victory as he launched for the win after he saw opponent Ed De Staute in his '62 Corvette leave before the light. Super Street saw the win go to Ray Dew in his '70 Nova; a double breakout 10.874/128 beat the 10.867/132 from Ryan Herem's '69 Camaro.
Top Sportsman was a solo win for Wayne Silva on an easy 11.560/101 in his '04 Cavalier as opponent and top qualifier Red Carli broke on the burnout. Top Dragster had Tom Koenen take the trophy, a 7.090/189 beating the 6.824/196 from JR Lobner.


---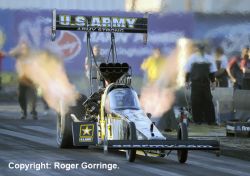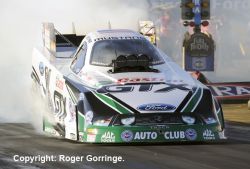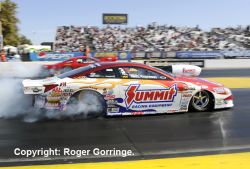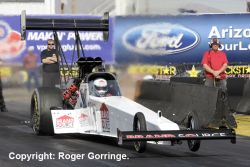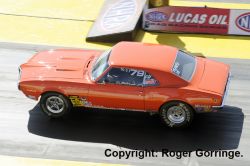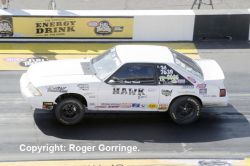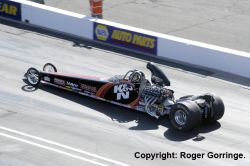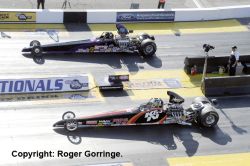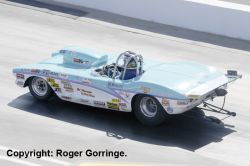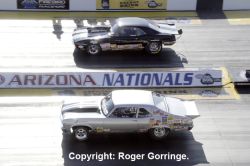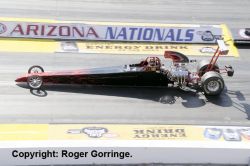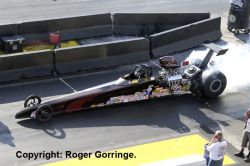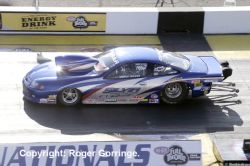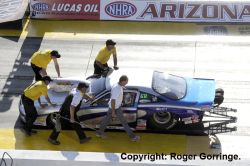 ---

Report and pictures ©Roger Gorringe. Feature ©Eurodragster.com

Features and Interviews index
Back to News page


---