Marking the twenty fifth anniversary of Allan Herridge's death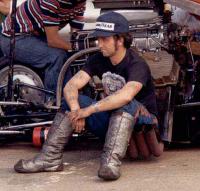 6th November 1983 was a significant day in the history of British Drag Racing. Stu Bradbury, Chairman of the Board of Selectors of the British Drag Racing Hall of Fame, writes:
This was the day upon which Allan 'Bootsie' Herridge made his last ever run on the famed Santa Pod quarter mile. Allan was débuting the brand new Jet Funny Car Midnight Cowboy which he had built himself. For reasons which have still have not been fully explained, the car made a hard left turn at the top end of the strip and headed straight into the crash barrier. Allan was killed instantly.
Bootsie was an original, an innovator, a hero to all of us, and a very sad loss to the world of drag racing. The British Drag Racing Hall of Fame pays tribute to Allan by having his image forever engraved inside the BDRHoF award trophy. We all miss his humour, his cameraderie, his willingness to help anyone and everyone and, most of all, his smile.
We have received the following tributes to Bootsie. If you would like to send your own tribute, please E-Mail tributes@eurodragster.com.
The most recently-received messages are at the top of the page.



---
It shows how much people thought of Allan, as new stories still emerge of how he helped people out, or inspired them to get involved in the sport he loved so much. Hard to believe that it is now thirty years since his sad passing; but so good that so many still remember him with affection.

-- Keith Lee, added on the thirtieth anniversary


---
Allan, your warmth, love and laughter live on in my heart. Lesley

-- Lesley Wright, added on the thirtieth anniversary


---
Allan was a good friend not only to me, but to everyone. Once you came into contact with him and his enthusiasm for drag racing you were hooked. November 6th 1983 lives and will live with me forever. Images of his demise will live with me forever. The guilt of not finding fault with his car on the start line and stopping him making that last run will live with me forever. But most of all, we will never see his smile again nor have his presence forever.

-- Stu Bradbury, added on the thirtieth anniversary


---
I knew Bootsie in the 1970s from before we started racing, but only as a nodding acquaintance. Once we were racing I got to know him a bit better. After my crash in 1977, which effectively stopped my racing for a few years, he gave me some valuable advice on roll cage design which I incorporated in the next chassis. His knowledge was worth way more than the rulebooks of the day. He was a real gent and is sorely missed. RIP Bootsie.

-- Dick Sharp, added on the thirtieth anniversary


---
I remember the funeral and so many people were there, a great mark of respect.
My brothers Bob and Brian and I got to know Allan in the late 1960s. He did a lot of machine work for us and he adapted the six carb manifold from Pulsation, his Cadillac dragster, to our Oldsmobile motor. He always greeted us "Hello lads!" and was so cheerful. We were lucky enough to see the final build stage of his Junior Fuel car which he described as his "coup de grace". I also remember going to the Pod in the late 1970s to buy a clutch disc for our flathead dragster, he let me choose one from a pile of them and only charged a tenner!
The front wheels, steering box and column and butterfly on my current dragster are Allan Herridge crafted and actually came from Pulsation, which I'm hugely proud of. It would be great to restore one of his early cars and a few more from that era.
It's great that his contribution is recognised, particularly in those very early days.

-- Mick Gleadow, added on the thirtieth anniversary


---
Bootsie often returns in my memory, usually with his laughter adding to the images in my mind's eye. This 1968 memory came to mind earlier and found me recalling much magic from that day while spending some time searching for these images to share, along with the memory of Bootsie's smile when film director Tim Pemberton asked him to make a full bore pass, the wrong way down the track as he wanted the sunset behind the car. No problem, except Tim wanted to capture that sunset with Bootsie popping the chute just before reaching the camera - which would be straddling the centre line!
"What if something goes wrong?" Bootsie asked. The director was smiling as he replied, "We'll get some great film I guess". "Yeah, you're right" said Bootsie, laughing and adding with a big grin, "but you'll probably never see it!". He was still laughing as he walked back to the car.
Although it was shot in black and white, the clip was pure magic, Motovation getting more than little sideways as it thundered towards us – powerful memories indeed. Sadly the commercial never made it - there was supposed to be a babe driving the car, but even with many newspapers stuffed down the front of 'her' huge aluminum firesuit we couldn't make boobs, so the TV ad stayed on the shelf.
Those of us lucky enough to have seen the finished product were totally blown away by Bootsie's run - and Tim and I were almost blown over by the still speeding dragster's power waves and its billowing chute!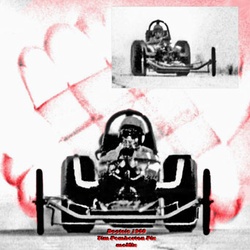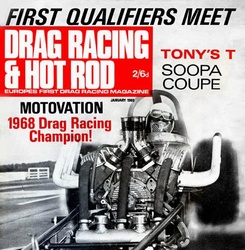 Hopefully these images, including my first front cover shot for Drag Rod. taken on that incredible afternoon in 1968 will add to your memories of a magical man who made friends everywhere he went. I'm proud to have been one of them. Thirty years gone perhaps, but never forgotten.

-- Mike Collins, added on the thirtieth anniversary


---
To me, Bootsie was the best dragster driver i have had the pleasure to meet. He was the little guy with the big heart. He always had time for everyone whether spectators, other racers or officials. He could drive just about anything from Top Fuel Dragsters to Rocket Cars. I will always remember one event when he rolled the Gladiator Funny Car, his comment after was "Never mind, we've still got the Alleygator Top Fuel car to run the next day". That was the sort of guy he was, nothing ever worried him. I always think of him at every Flame and Thunder meet, he will never be forgoten. RIP Bootsie, you were the best.

-- Pat Salt


---
I knew and respected Bootsie's abilities as both a driver and also a car builder, he would always help any racer overcome a problem if he could.
It is clear after all these years how much others still miss him. That is probably the best memorial anyone could ask.
I was privileged to drive two of Alan's rides: Firefly and Gladiator.

-- Peter Crane


---
I had seen Bootsie on a number of occasions in the pits at Santa Pod but he always seemed busy and as a kid I never had the courage to disturb him. A few years later I was stood with a mate looking at the Gladiator F/C which was on display at the National Drag Racing Show in Brighton. We were talking about the car when this bloke interrupted to explain something, yeah it was Bootsie. We immediately got him to sign our copy of the Haynes book which we had just bought. I don't think he fully understood why anyone would want his autograph but to us he was a hero. The thing that struck me most was that Bootsie was a true drag racing fan who was lucky enough to drive at the very peak of the sport. As far as I am concerned names like Herridge, Priddle, Skilton and Hills are up there with the Garlits, Prudhommes and Forces of the world.
He is missed.

-- Dave Jones


---
Firefly on two wheels, Stardust versus Houndog, Gladiator on its roof, Alleygator's fire burnout - in reverse! Too many memories to mention, none of them doing justice to the legend. I too was there that day in 1983, still missing Bootsie. RIP, small in stature - big in heart and character.

-- Pete Hollingworth


---
One of Allan's private sayings was that he was "At peace with the world". It gives me great comfort that he said it so often. When Allan died a person said to me they had memories of him that I would never know of. It kind of upset me then as I had know him for just a few years but I understand now that everyone who met him, even if only briefly, had a special story to tell. The factual history of his drag racing accomplishments is thankfully now abundant on the internet (a medium he never knew of), but what is also evident is his warmth and his conviction. I was so lucky to have been close to him, even if it was for a short time. If you have loved someone once you will love them for the rest of your life - whether they are here or not. Hope you are truly at peace with the world, Allan.

-- Lesley Wright


---
I well remember Allan - not just as a great racer and innovator, or as a really well grounded person with a great sense of humour - but as someone who oiled the wheels during some very difficult times. When I joined the committee of the BDR&HRA to help out John Dickson with public relations in the early 1970s I was already assistant commentator at Santa Pod. Alan Allard had just resigned as Chairman and Bootsie was acting as Vice Chairman but wasn't too keen to keep the role. The committee felt that I could fill the bill and so I became Chairman.
Politically things were quite difficult. The NDRC had just been formed and, during my time as Chairman, apart from the Treasurer Peter Bartlett there were three people who helped smooth the waters between the BDR&HRA and the management at Santa Pod – who had every right to mistrust clubs at that time. They were Allan Herridge, Dennis Stone and then later Jim Read. It became particularly important when Mike Startup and myself formed Taylor Startup and I was working as commentator at Santa Pod and produced programmes and commercials for Clive Skilton's European Dragways. We were making radio commercials for both and so needed both camps to be onboard. To a great extent it was these three who became the voices of our integrity and I will always be indebted to them. Without these supporters - especially Allan in the very early days - we would not have been able to get the products and/or projects off the ground. Not many people know Allan as a politician - but to me he was one of the best and always offered me good advice.

-- Brian Taylor


---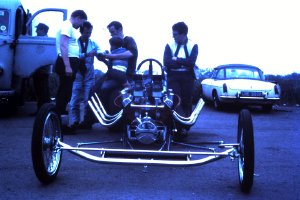 I and my drag racing friinds remember you would say hello to to him and he would always respond back. A true legend, let's not forget him.

-- Ken and friends


---
Allan Herridge was competing in the first drag race I ever saw at RAF Woodvale in the late 1960s, the first car I ever saw the first time I went to Santa Pod was Allan in Firefly in August 1972, when I started going to Santa Pod regularly in the mid 1970s he was a fixture driving the Stardust Funny Car, still one of my all time favourite cars. Subsiquently he drove several other Top Fuel and Fuel Funny cars plus for a time one of Sammy Miller's rocket cars and then later the jet cars in which he tragically lost his life.
As well as being the most experienced driver ever in the UK Allan was also a major force in constructing cars and can truly have been said to be a key figure in the development of UK and European drag racing. The sport had gone a long time without a really serious accident but during the 80s there were suddenly several fatalities of which Allan's was the most high profile and the effect was a major rethink of safety which has had benifits ever since.
I can't say I ever really knew Allan but I remember him as a short, cheerful presence in the pits with a firesuit that always looked a bit big for him! I wonder what his involvement in drag racing would be now if he was still alive.

-- Bill Martland


---
I met Bootsie a long time ago when I was crewing for Mick Beaumont in Superstreet Bike, as it was then. Something had broken on the bike and we were pointed in the direction of Bootsie. He took us round to his workshop where he welded our broken piece, and then proceeded to show us around his workshop and the V-twin engine he was making for a drag bike...he had chopped two cylinders off a Fuel motor!
I am honoured to have met him, a gentleman and a racer.

-- Paul Wing


---
Although I never knew Allan within the sport, his name appears in the conversations of everyone at race meetings, he was clearly an influential, special person, with a magical personality...something which is rare in drag racing. His cars were always quick, reliable and professional, and his mechanical skills and knowledge were unsurpassed throughout his many years involved in racing.
Watching him on various films I have Allan was a very brave, but natural driver of these nitro burning beasts, and a very worthy champion. Although no longer with us, his spirit is still with the drag racing community. Best wishes go to the Herridge family.

-- Pat


---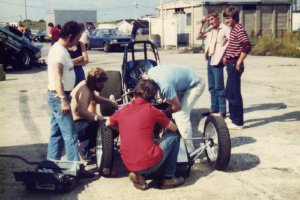 In 1977 I was fortunate enough to be part of the crew on Tim Claxtons Coyotee Jag altered. We basically disbanded the four man team at the end of that Year and took a break. In 1981, Tim had a new Wheeldon chassis altered constructed, quite a bit ahead of its time, it had the ex-Emerson Rowatt and Smith small block fitted, Powerglide transmission brake and Holburn fuel injection. During the setting up of the altered we visited two RWYB meetings, accompanied by Martin Rowatt, who instructed and assisted us with the setting up of the car.
It was during one of these RWYB sessions that we were joined by Bootsie, who stood by and observed, and then gave us valuable input, tips and explained the various systems on the car. The fact that he bothered to turn up at a RWYB, let alone help us, further enforces the contribution he made, thankfully someone was on hand with a camera to record the moment both Tim and myself will never forget.
The image shows myself at the front of the car kneeling, Tim Claxton in front of Bootsie, and Martin Rowatt leaning over the engine.

-- Roger Matthews


---
I was in the Barn at the time of the accident and saw it happen. It is a very vivid image to me. I remember the announcer saying that it wouldn't be a full pass. However I remember seeing the afterburner on for the full length of the strip. It was the first time I had witnessed death. I remember seeing Bootsie many times prior, as my father Harry and brother Bob used to drag race there since 1975. On that day I was thirteen years old. God bless you Allan.

-- David Haggas


---
Features and Interviews index
Back to News page
---