Andy Carter unveils his Lucas Oil sponsorship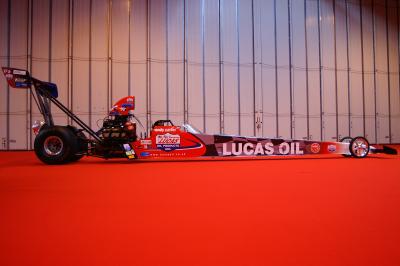 Twice FIA European Top Fuel dragster Champion Andy Carter returned to the fray in 2007 with major sponsorship from US company Lucas Oil. The new colours of the Carter Motorsport Top Fuel Dragster were unveiled at the 2007 Autosport International Show, but Andy kindly invited us down to his workshop on the preceding weekend to take a look at the car and to have a chat about the new sponsorship deal.
Click here for photo gallery, or click on any picture below for large version.
Eurodragster.com: How did the deal with Lucas Oil come about?
Andy Carter: Les Downey, Managing Director of Lucas Oil UK and Europe has sponsored me for four seasons - product for the first three years, product and financial backing for 2006 when they took some space on the rear wing. I have been involved in talks with Forrest Lucas, the owner of Lucas Oil in the USA, and their Head of Finance Tom Frederickson. I put my ideas to them and between Les, Forrest, Tom and myself we came up with something that is great for Lucas Oil and Carter Motorsport. We'll be promoting Lucas Oil UK and Europe, part of the package is to appear at ten shows - Autosport is the first show and Les and I are working on the others.
Eurodragster.com: Has the deal been long in the making?
Andy Carter: About two and a half years on and off. I first met Forrest Lucas in Las Vegas in 2004. I had an 'in' because of the sponsorship from Lucas Oil UK, Les let me know that they were aware of me and that they were pleased with me because of our professionalism and the fact that I made sure that I mentioned them in interviews. Forrest offered me hospitality at Las Vegas and it blossomed from there.
Eurodragster.com: How do you interest such a high-profile sponsor?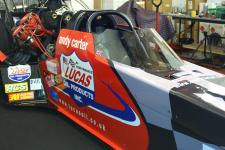 Andy Carter: There is only one way to attract sponsors and that is by hard work and perseverance. I always try to go for face-to-face meetings and build a relationship from there. Forrest and Les are straightforward men, so I had no trouble letting them know what Carter Motorsport could do for Lucas Oil and what we needed in return.
Eurodragster.com: Do you have any specific obligations?
Andy Carter: We have a contract with Lucas Oil, and Lucas Oil have a contract with us. My contract describes what we are offering them, for example that we will contest all of the FIA Championship rounds. Of course we will also have Lucas Oil product at the track and at shows.
Eurodragster.com: Clarify for us which car this is?
Andy Carter: It's my McKinney Chassis which had the accident in Norway in 2003. The car has been front-ended and back-ended by Webster Race Engineering, we have also new A-arms, steering rack, wheels, wing struts, in fact most of the dragster is new, so to all intents and purposes it's a new car and of course it's 2007 spec.
Eurodragster.com: When did you start to prepare the car for this season?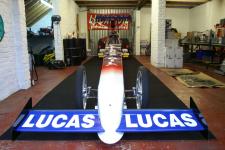 Andy Carter: I took a couple of months off after Mantorp Park last year to see how I felt about drag racing. Then we started on the car in September and the Lucas Oil deal was finalised in October. The car was almost done anyway but you know how it is - everything you look at isn't right and you end up going through it bolt by bolt. We hope to be ready to run at Easter, if not then we aim to test a couple of times before the Main Event. We have a budget for testing if we need it.
Eurodragster.com: Who designed the new look?
Andy Carter: Dan Welberry designed the new paint scheme. John Andrews has designed the new hero card and poster which we will have at Autosport next week. Andy Przbyl painted the nose cone, kickout panels, my crash helmet and cockpit shield. Richard Bruton did the front wings. The rest of it is vinyl.
Eurodragster.com: How do you see Top Fuel in 2007?
Andy Carter: I think it will be the same as last year, tough! The numbers may be down one or two from 2006 because of racers going to Fuel Funny Car. But that won't make much difference, Top Fuel is still the strongest class and there will be eight or nine at each race which is a good number, when you get as many as thirteen at a race it's great until you don't qualify!
Eurodragster.com: Do you have the same team this season?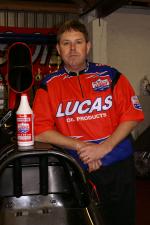 Andy Carter: I have two Crew Chiefs, as Eddie Corr has returned to work with Ben Allum. We have one new crew member, Richard Bruton, but the rest of the team is the same as last year.
Eurodragster.com: And presumably you still have an impressive list of associate sponsors?
Andy Carter: Yes, as of today my associate sponsors are:
Rainbow Conference Sets 01895 814800
I would also like to thank Paul Wright who does so much for me, all my associate sponsors, everyone else who supports me in any way and of course everyone at Lucas Oil.

Eurodragster.com: Thank you very much for your time Andy. We'll see you at the unveiling at Autosport, and good luck for the season.


Feature ©Eurodragster.com.



---
Carter Motorsport web site
Lucas Oil web site
Features and Interviews index
Back to News page
---