Fans' Q&A with Andy Carter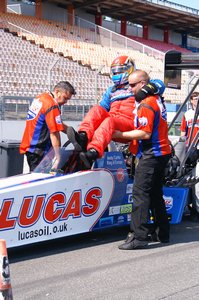 UK Top Fuel Dragster racer Andy Carter clinched the 2009 FIA European Top Fuel Dragster Championship, his fourth FIA Top Fuel title and second in succession, at the 2009 NitrOlympX at Hockenheim. In the run-in to the FIA European Finals Andy offered fans the chance to ask him anything they liked about Top Fuel.
The questions come under three headings - technical, on the run and personal - and were submitted by Magnus Cato, Neil Martin, Michael Till, Peter Crane, Richard Franklin, Anders Thomasson, and the Eurodragster.com staff.
Technical
How closely do the FIA car requirements follow the NHRA?
Andy Carter: We follow the NHRA rules, but one year behind. For instance the new rear chassis specs came out in NHRA competion in 2008, and we were required to implement them in FIA competition in 2009.   

When FIA car requirements change, how much work is involved for the team, and in terms of learning to drive the car again?
Andy Carter: It depends on how technical the FIA change is, but any change generates extra work for the team. For instance last year we were required to change the back half of the chassis, this involved stripping the dragster down to a bare chassis - which is done in the off season anyway - but then it had to be transported to Mats Eriksson's shop in Sweden, transported back and of course reassembled. We were also required to fit a moulded seat in the cockpit. In terms of learning to drive the car again, these two changes made the car feel totally different. It was so stiff compared to the chassis in 2007/08 and I was also slightly higher in the car which I don't like: I prefer to be right down as low as I can be and look through the bottom of the screen. It took about five runs and a few discussions with Per and Mats Erikkson before I got comfortable again. Now I'm more comfortable than ever before, in fact I will go as far as to say this Mats Erikkson chassis is the best Top Fuel Dragster I have ever driven.

With regards to scrutineering of a Top Fuel car, is any consideration given to X-raying of the chassis to detect cracks or weld defects?
Andy Carter: We are scrutineered before qualifying at every FIA race and this is a complete check over of the dragster, like an MoT. All the safety equipment such as seat belts, blower restraint, diaper, reverser blanket and race clothing are inspected for condition and the date stamp is checked to make sure it is in date, our rear wing angle is measured and marked up so that they can see if we move it. No X-raying is done by scrutineering although they do have a quick look at some welds; the team are continually looking at the chassis for defects though especially after a run in which we suffer tyre shake.      

How many runs do you get out of a pair of rear tyres?
Andy Carter: We get between two and four runs from rear tyres. If they make it to four runs they are replaced anyway.

When you get off and on the throttle for shake, what does that do to the clutch timing?
Andy Carter: When I push the throttle to the floor at the beginning of a run, it hits an air switch under the pedal which starts the cycle for the clutch timers, ignition system and fuel timers. If I have to pedal for shake or lift for whatever reason all systems continue running to the end of their cycle.

What sort of information do you get from the datalogger on the car?
Andy Carter: We get fuel volume, fuel pressure, fuel return flow, manifold boost pressure, exhaust gas temperatures, engine rpm, clutch position, clutch temperature, clutch pressure, output shaft speed, front wheel speed, throttle pedal position, ignition timing curve, oil pressure and G meter. This information is downloaded after a run by Per on to the PC in the trailer and then along with Karsten and Jim Brissette he analyses the information. I have  a briefing with Per after each run and give my feedback, this is added to the information from the datalogger and will help to decide on a tune up for the next run. One of the most important things that we get from this data is the fact that all the parts are working, by this I mean we can tell if a mag, coil or ignition box is down, the clutch release bearing is moving, we have good oil pressure everywhere on the run etc.

Having witnessed 4.6 second runs from yourself and Kim Reymond, when do you think it's likely we will see a 4.5 second run?
Andy Carter: The Lucas Oil Dragster has all the latest technology and is capable of running in the 50s given the right track and air conditions. We just haven't had a track with the right traction levels to hold a 4.5 since the 2007 FIA European Finals. This is mainly because we arrive at the tracks they have not had any 'big' cars down them since the year before and this is what we need, rubber and traction for the full length of the track. Another factor is that we have non concrete tracks in Europe and the traction compound that they spray on tracks adheres to and seems to work better on concrete.

Do the crew work on a voluntary basis or are they paid?
Andy Carter: All crew work on a voluntary basis.

What do you think about the possibility of extending the European rounds?
Andy Carter: For the good of the sport we need to get more rounds in the FIA European Championships. The trouble is that in this economy I think a lot of teams - including us - would struggle to make the extra rounds due to budget and crew. We are already using all the budget we have and the crew are using nearly all their holiday time from there 'normal' jobs to attend the five rounds we have. Motorsports such as F1, GP bike, Touring Car, must have gone through this just the same as we need to, it is up to us as teams to get more budget so that we can become fully professional and pay everyone on the team. It is also up to promoters to get sponsorship for their events so our prize money can be increased. In short we need more money all round to move the sport forward over this hurdle.
On the run
A racer once told me that the burnout and staging are the difficult parts and that the run itself is the easy bit. Is that true?
Andy Carter: Not at all. Like I always say in this sport there are licence holders and then there are the drivers. Most people could do a burnout, stage and drive a Top Fuel Dragster down the track, but to do the burnout and back up perfectly, stage the car exactly where you want it depending on the situation you are in, pull a good light, keep the car in the groove (on European tracks often narrow) and get it to the finish line under power is a totally different story. You often hear the myth that Top Fuel Dragsters are easy to drive yet there are so many things that you have to do right in a Top Fueller and to win you have to do them right time after time. You can ruin the chance of the car making the other end before you even get to stage it, for instance a bad driver could do damage to the clutch setting on the burn out and back up, a bad driver could over-rev the engine in the burnout even with the throttle stop on, a bad driver can turn the fuel pump on the high side too early or too late. Making even a small mistake in these procedures will ruin the chance of the car making it to the other end. Another fact is that if you smoke the tyres on a loose track it will over-rev within two tenths of a second. On a good track you have three tenths to catch it, if you don't catch it you will lose a crank or worse. To sum up they are easy to drive badly and most people won't even recognise the driver is making mistakes - they seem to think it's just part of Top Fuel - but you won't win a Championship unless you can drive them well and consistently well.  

How aware are you of the car in the other lane during the burnout, during staging and during the run?
Andy Carter: Very aware. At start up Karsten and I will make an adjustment to our procedure depending on whether my opponent is fast, slow or normal during the burnout procedure and I will then aim to be back to the start line at the same time as them. It's very important to not keep people waiting in Top Fuel. During staging you would not go on to the high side until yourself and your opponent have the top light on. Then on the run you can sometimes see your opponent or if you can't see them but they are alongside you can hear them. 

Can you tell a 300 mph run from a 290 mph run, and can you guess your ET before your crew tell you?
Andy Carter: Yes, I can feel small differences in speed and ET and usually know an ET within a tenth of a second.

When you go to the start line which driver do you want to see in the other lane?
Andy Carter: The number eight qualifier.

When you go to the start line which driver do you not want to see in the other lane?
Andy Carter: I fear no one in Top Fuel, so I don't really mind who's in the other lane
Personal
What's the story behind Thomas Nataas driving the car in the USA? I thought you were driving in America?
Andy Carter: Karsten, Per and I have talked and had meetings about our dream race as a team at a couple of races at the end of the European season since 2007. This year we got serious and said let's really try and make this happen, but to do this you of course need budget. In Sweden I called a meeting with Karsten and Per and let them know that I was struggling to get my side of the budget. I stated that I don't want to hold them or the team back from realising their dream and that if someone came up with a good budget I would stand aside. Shortly after this Thomas came up with the budget. Of course this hurt for a couple of days, but I'm genuinely pleased for the whole team and Thomas, I'm sure they will all have a great time in America and could surprise a few people. 

What's your personal opinion on racing a thousand feet compared to the original quarter mile? I think it sucks, but safety first.
Andy Carter: I was totally against it when they bought it in at Mantorp in 2008 - for some reason I was not included in the Top Fuel drivers' vote - but after racing over a thousand feet I thought "This is not so bad" and now I really like it. I hope it stays at a thousand feet and it's not because of safety: for me it is budget, you can't get over the fact that you are on the throttle less racing to a thousand feet ft and the less time you are on the throttle the less money it costs, simple economics. I also think it has tightened the field up in European Top Fuel which is great for qualifying and racing, there is also even less room for error by the driver.

Tell us your single favourite memory of your racing career?
Andy Carter: I have quite a few, but if I had to pick one it would proably be winning the Gary's Picnic Saturday night elimination in 1986. There were about twenty five of my mates there and the whole weekend was a great laugh. Racing for me was a lot of fun then, although I still took car preparation very seriously and had just the same huge hunger for chasing the win.

Of which of your achievements in drag racing are you most proud?
Andy Carter: I'm proud of all of them, but if I had to pick one it would be holding the European ET record every year, or at least part of the year, since 2002. Along the way I have reset it three times and it now stands at 4.703 which has stood since September 2007.

Have you any heroes?
Andy Carter: Yes, Jimmy Greaves and George Best, two great footballers whom I was lucky enough to see play many times. When I see old films of them playing it still makes the hair stand up on the back of my neck.

Tell us a fact about yourself which no one knows?
Andy Carter: I love Sports mopeds from the 1970s! I have four nut and bolt restored bikes, a Fantic Chopper, Fantic Super T, Agrati Garelli and Garelli Special. I'm often out on a run the weekend after racing, bombing along at 45 mph and have to laugh to myself that the weekend before I was going 300 mph!

Would Sarah consider drag racing?
Andy Carter: No, Sarah hasn't really got the temperament to be a race car driver. She's so gentle and doesn't really like going fast. Sarah has had a ride in the two seater and went 8.1 at about 160 mph which was a good experience and in the past we have talked about having a few lessons in one of Paul Marston's school cars but I can't really see it happening now - we are just to busy doing other stuff.

Can I have a go? (From Peter Crane…yes, the Peter Crane)
Andy Carter: Hi Peter, it would be great to see you back in a Top Fuel Dragster again. The easiest way back would be to contact a friend of mine, Rune Fjeld, also if I can help in any way please contact me.

What is your favourite cheese?
Andy Carter: That smelly French one.

You mean Brie or Camembert?
Andy Carter: Yes!
Feature ©Eurodragster.com.


---
Carter Motorsport web site
Andersen Racing web site
Features and Interviews index
Back to News page
---