Anita Mäkelä returns to Top Fuel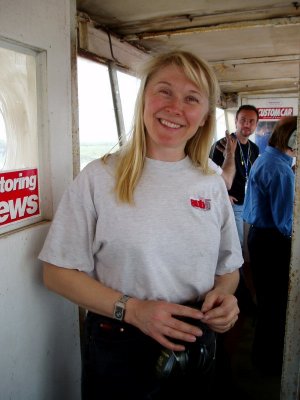 Finland's Anita Mäkelä started racing in Comp Eliminator in 1987 and quickly established her credentials, winning the Finnish Championship twice. She moved to Top Alcohol Dragster in 1990 and in association with Simo Patoharju won European Championships in 1994 and 1996.
Anita gained her Top Fuel Dragster licence in 1997 and contested her first FIA Top Fuel Dragster Championship in 1998 driving Peter Lantz's Top Fueller, finishing third in that season. After a year out in 1999 Anita won the FIA European Top Fuel Dragster Championship in 2000.
After running the first four-second pass in Finland Anita gave up driving in 2003 to look after children Hanna and Heikki and to manage her chicken farm in Vilppula. Her Personal Bests when she stopped racing were 4.892 seconds and 286.25 mph. Husband Tommi Haapanen drove the dragster and its replacement, a Mats Eriksson chassis which made its first outing in the summer of 2008.
Anita announced that she would be renewing her licence at the 2009 Auto Trader Easter Thunderball at Santa Pod Raceway. Eurodragster.com spoke to Anita just before the race to find out how she has missed racing, what she has been up to, and what her plans are for the 2009 season.
Click on any picture for large version
Eurodragster.com: What made you decide to stop driving?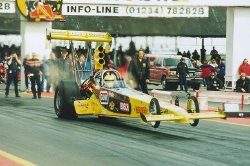 Anita Mäkelä: I didn't want to leave the kids at home, and I couldn't take them to races. A race weekend is on racing terms. But my kids were too young to understand that mum couldn't look after them every second. I couldn't focus one hundred per cent on racing with the kids around, so I chose to be at home with them.
During my time away we have made huge investments and expanded our chicken business, so that has kept me pretty busy as well.
Eurodragster.com: How much did you miss driving?
Anita Mäkelä: My heart was bleeding, but I survived! And it was my decision to concentrate on the kids. When Tommi went back to racing, it felt like fifty per cent of me was already back as well. I knew that running our business would allow Tommi to concentrate on the racing a lot better.
And we are all lucky to have Eurodragster! The lines have been red hot following the racing through Eurodragster. Tog, please type faster! Even in the race report every second counts!
Eurodragster.com: Was the plan always that you would come back, or did you wake up one morning and decide that you would like another go?
Anita Mäkelä: Last year after Mantorp and Hockenheim, I realised that the kids were old enough to take to the races. So little by little I started to wonder whether the time was right for my return.
Eurodragster.com: Tommi has obviously had a lot of fun driving. Did he willingly hand over the keys to you?
Anita Mäkelä: I've found the spare key!
I'm lucky to have Tommi as my husband. He is supportive in whatever I do. Tommi was planning to start this season with the Easter race, and I asked if I could drive the car. With a big smile he said "Why not?".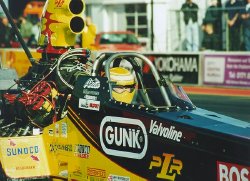 Eurodragster.com: What will you have to do at Easter to renew your licence?
Anita Mäkelä: Darren Prentice, the Race Director, has kindly agreed to observe my licence runs. I'll have a word with him about what he needs to see. But first we'll make a hard launch, then a half track run, and after those I should run under 5.4 seconds and over 415 kmh.
We have the best possible Crew Chief in Sami Lehtimäki, and I am fully confident that Sami will easily tune our car to run those numbers.
Eurodragster.com: Will you be driving the car for the whole FIA season?
Anita Mäkelä: I'm fully focused for the return at Easter. I have been following a hard training programme, which includes running between six and twelve kilometres three or four times a week. When I went for my medical I received very high points for my physical condition. I was cycling with heart sensors, and my age and size lady should get 100 points at best. I got 140. The doctor told me that such a result can usually only be expected from a professional athlete!
So physically I'm ready to step in, but I don't know whether I will enjoy myself and whether I will feel unbeatable in there. Only Easter will show. So Tommi and I will make the decision after Easter. However, I must appreciate all Tommi's work on this new car, and I must consider that he might want to enjoy himself by driving this nice, new Mats Eriksson Top Fueller of ours.
It would solve a few problems if Tommi lost his driving licence driving in traffic daily. So whenever he asks me "What is the speed limit here?", I tell him "120 kmh" even if it is only 60 kmh. And he does the same to me!
Eurodragster.com: Your children Hanna and Heikki have watched Tommi race, what do they think about you getting into the car?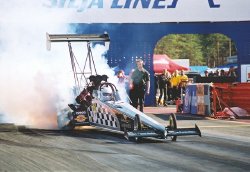 Anita Mäkelä: Hanna and Heikki aren't worried which one of us is racing, mum or dad. But from now on racing is our family hobby, so the whole family will be at each race. They are counting the days to go to Santa Pod.
Eurodragster.com: How about you personally, what are your feelings about getting back into a Top Fuel Dragster?
Anita Mäkelä: I'm excited and really looking forward to it. Drag racing used to be my life, and Santa Pod is my favourite track. It's like coming home. Even if some facilities are a bit more modern, Santa Pod beats every other place with its professional staff and great friendly atmosphere. I have really missed Santa Pod!
Eurodragster.com: We have really missed you! How do you think the Top Fuel class has progressed whilst you have been out of the driving seat?
Anita Mäkelä: There is progress every year, but nothing huge and different has happened.
Eurodragster.com: Is there anyone whom you are particularly looking forward to racing?
Anita Mäkelä: Yes, absolutely there is one driver above all: Micke Kågered! He isn't coming at Easter, but he is the one whose racing I always follow. It is all due to our long racing history since the early days of Top Alcohol, as it was called then. There were a lot of practical jokes. I was proud if I beat Micke, which didn't happen often enough, but I always share his happiness when he is doing well.
Eurodragster.com: We must ask: how are your chickens? How many of them do you have now?
Anita Mäkelä: The chickens are just fine! We hatch about nine million a year.
Eurodragster.com: Do you still watch Emmerdale?
Anita Mäkelä: Yes! I'm still watching Emmerdale! I would like to have a beer at the Woolpack.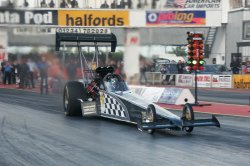 Eurodragster.com: Who are your team members this year?
Anita Mäkelä: The Crew Chief is Sami Lehtimäki, and the crew are Jarkko Leipälä, Jari Väinölä, Juha Sorariutta, Mikko Rastas, Jari Virtanen, Jukka Johansson, Juha Sulanko, Johannes Juvonen, and Kristiin and Janne Hakamäki.
Eurodragster.com: Maybe we should call you The J Team! Who is sponsoring you in 2009?
Anita Mäkelä: Our sponsors are R20+ Energy Drink, Auto-Haapanen, Trade Parts, Valvoline, Jettaset, Korrek, PPG Automaalit, Korihuolto Moksi, and Golden Crown/Levi iglut. Please visit our family's new business at www.levikeskus.fi/leviniglut.
Eurodragster.com: We have, and it looks fantastic. Book us all in! Thank you very much for your time Anita. We'll see you all at Easter. Good luck to you on your return and we'll know who to blame if we hear that Tommi has had his driving licence pulled!

Feature ©Eurodragster.com.


---
Features and Interviews index
Back to News page
---