CC Racing unveil their new Top Methanol FC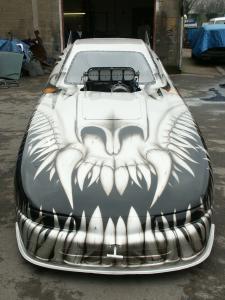 One of the most eagerly-awaited unveilings of a new race car in a long time was the debut of Doug Ripley's CC Racing Top Methanol Funny Car in March 2004. The car arrived at Doug's Northfleet workshop in October 2003 as a Fuel Funny Car and the CC Racing team spent the best part of six months changing the car beyond all recognition. Doug and Crew Chief Cliff Gould kept a long-standing promise when they kindly invited Eurodragster to take the first look at the CC Racing TMFC in March 2004.
The decision to acquire another car was taken in 2003 as Doug had had vision problems with his previous TMFC, a Ford Probe whose tiny front windscreen was blocked still further by the installation of a Whipple supercharger, the first to be used in UK TMFC. The original plan just to change the body quickly changed to the acquisition of a rolling chassis with Avenger body, which arrived last autumn.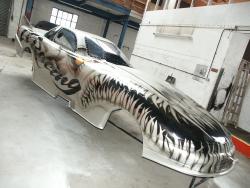 After we had taken our fill of photographs, we sat down with Cliff Gould and team member Andy Oliver who told us about the work undertaken on the car by the CC Racing team.
"After we got the car in October we bare-metalled the chassis", said Andy. "That took a couple of weeks. We adjusted the front suspension, we changed the fire extinguisher system, and we had a major job to change the rear axle. It's a Strange Engineering Toploader rear axle which came from the Showtime team. We had to convert from a 3.20 to a 4.30 rear end which involved machining the case. We had to call Strange Engineering several times whilst we did that!"
Cliff gave us the lowdown on the spectacular bodywork. "It's taken us from October until this week", he said. "We rubbed the body right down to the base, and made various repairs including dealing with oil which had seeped into the body. Doug then laid the primer and prepped the body. The base coat of silver was laid by John Sultana of BBR, who also did Rob Smallworth's car and Andy Oliver's Camaro. Alan Booker designed the artwork and then applied the design. The lettering was applied by 'Andy the Signwriter' who has done all of CC Racing's work. As you can see, it was a lot of hard work but the results were worth it."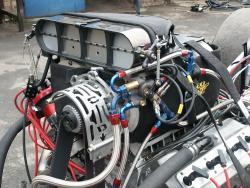 As well as contending with the preparation of a new car, the CC Racing team have also completely changed their tune-up this season. "We've got the added hassle of going PSI!", said Cliff. "We had a Whipple, and in fact were the first British TMFC team to run one and it's for sale if anyone wants it. But now we have a complete new set-up. When you get a new blower you don't just have to learn how to set that up: it has repercussions on the clutch set-up, the gear ratios, and the set-up of the fuel system. Roger at PSI has been brilliant, and the company have given us a baseline tune-up…"
"…although needless to say it's Cliff who has to get it down the track!", interjected Andy.
"…We will also have a datalogger this season", continued Cliff. "Ray White will be technical adviser on the data logger at the Easter Thunderball. Last year the big issues were the clutch, and Doug not being able to see where he was going, we have sorted out the vision and the datalogger should be a big help."
Doug Ripley took a few minutes out from what was obviously a very busy day to tell us about CC Racing. "I've been in the business for fifteen years", he said. "We fabricate and maintain race cars, street cars, hot rods, and anything American. Right now for example I've got a couple of tube-chassis cars in the Shop which are meant to compete in Custom Car Street Eliminator, and Laurie Craig has a Super Pro ET dragster coming in the Shop soon".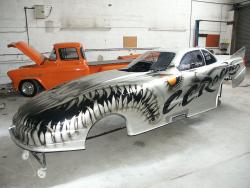 Doug's roots were always in altereds, but that changed when he bought a Keith Black engine which turned out to be too much for the chassis he then had. Since then, he said, "We have found out why there are so few Top Methanol cars in this country!". Doug said that he is grateful to all of the team for their financial input, and to David Taylor and John Price at Flint Insurance - the team's only sponsor. It came as no surprise to us that in a sport where everyone helps one another Doug has received a lot of assistance. "Winston Sewell has done a lot of work on the car", he said. "Dave Milam has been very helpful and he will be sorely missed this year. Ralph Craig sponsors our methanol, and I can't say enough about my wife Jane and Cliff. I really don't know how Jane hasn't thrown me out!".
You will be able to see the new CC Racing Top Methanol FC at all MSA British Drag Racing Championship rounds at Santa Pod and Shakespeare County Raceways, and at the FIA Main Event and FIA European Finals at Santa Pod Raceway. If you would like CC Racing to build or work on your race car then you can contact them on 01322 380980.
We took several pictures when we visited the CC Racing workshop, which you can view by clicking here.
We would like to thank Doug Ripley and Cliff Gould for the invitation to view the TMFC and for offering to give Eurodragster the first look at the car. Thanks also to Doug, Cliff, Andy Oliver and the whole CC Racing team for their time and hospitality when we visited the workshop.


Feature ©Eurodragster.com


---
Features index
Back to News page
---
Eurodragster.com aims to bring you links to all the best European Drag Racing web sites. To add your site to Eurodragster's listings, simply email links@eurodragster.com with your URL and a little information about your site and we'll do the rest. When you update your site, drop us a line at news@eurodragster.com and we'll feature your site in our "What's New" section.
Eurodragster.com is a non-profit-making organisation run by a small group of Drag Racing enthusiasts for the sole purpose of promoting European Drag Racing. If you can help us to meet the modest cost of hosting this web site by advertising here, please email webmaster@eurodragster.com. We're sure you'll find our rates extremely competitive.