Clive Mechaell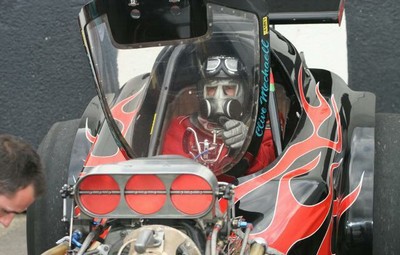 One of the undoubted headline attractions of Dragstalgia at Santa Pod Raceway in July 2011 was a rare outing, and an even more rare outing at Santa Pod, for UK Fuel Altered racer Clive Mechaell. Clive's Hot Rod From Hell is one of the longest-standing active race cars in the UK and has more than once held the record for quickest and fastest Fuel Altered in Europe.
Eurodragster.com spoke with Clive a few days before Dragstalgia to find out some more about the wild altered and also about Clive's career.

Eurodragster.com: How did you start drag racing?
Clive Mechaell: I started going to Run What You Brungs at Santa Pod Raceway when they started to hold them in 1974. I used to run a 1968 Corvette with 427.
As time went on I decided to build a tube chassis, and I took a mould off the 'Vette so that I could make my own bodies and build Corvette race cars. I went into Super Gas and won the 1984 Super Gas Championship. I was in the class for four years and then went to Modified. Acapulco Gold was the first British-built car to run an eight, that was at the 1986 Finals. Then I decided to run a Fuel Altered because those were the cars I liked to watch.
Eurodragster.com: When did you get the Fuel Altered?
Clive Mechaell: I got the original car in 1987. It was one of the last chassis built by Bootsie Herridge and was a copy of the 1970s Blue Max Funny Car chassis. The car had started off as the Raindance altered in Martin Maxwell's hands. In the end he ran a Big Block Chevy on alky. Then Charlie Draper bought it off him and ran it as Reckless Rat with an alcohol KB in it.
I bought the car in 1987, put in a KB and a two-speed Lenco and ran it on nitro from its first outing in 1988. In 1989 I set a new European record of 6.90/210.
Eurodragster.com: That car had various bodies didn't it?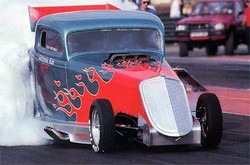 Clive Mechaell: That's right. There was an open T body on the car but I also ran a full '34 Coupe and a couple of Funny Car bodies, a Corvette and a Dodge Daytona. That was in about 1993 when they asked me why I didn't put a Funny Car body on it. But we always went back to the T body. It's a lot easier to work on, you keep hitting your head on Funny Car bodies.
The '34 Coupe body is now on Adam Gleadow's car without the nose. I like the idea that they looked at the car when they were younger and they're doing it now. Joe Bond is doing really well, all these young guns coming on! Jon Best had a go but if one of those things goes then you're in for a lot of money. The Chaos guys have spent a lot of money. It's addictive and there's no known cure.
Eurodragster.com: That original chassis is not your current chassis though, is it?
Clive Mechaell: No. That car went into the Armco in the 1990s - rods came out, oil got under the slicks, and it went into the rail. The crash did a lot of damage. All I had left was the rear part of the chassis. Geof Hauser front-halved the chassis McKinney style. I made another body for it which had an integral wing and I also put an enclosed cockpit on. I was fed-up with getting fuel and oil in my face.
Eurodragster.com: What is the motor?
Clive Mechaell: It's a 500 ci Keith Black with dual pumps, dual mags, two-speed Lenco and a nine-inch Ford rear end. I've gone from a single pump to a dual, single mag to a dual, and the 14-71 blower was good back in those days but it's the norm now. With all those changes it has certainly started to truck on down there! It has run a best of 6.2 at 220 mph.
Eurodragster.com: What percentage of nitro do you use?
Clive Mechaell: We start with 86% then it depends on track conditions and weather whether you go up on that. You can use it to tune the car. You don't want to overdo it because you could load it up and spend a lot of time not going anywhere.
The car's getting on a bit so this weekend we're going to run it on Nitro and Viagra – it'll stiffen the chassis a bit if nothing else.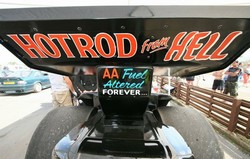 Eurodragster.com: We would love to see you at events with the NFAA or making demos at FIA or National events but unfortunately we don't, why is that?
Clive Mechaell: It's an old chassis and it won't meet SFI spec, but it's a totally safe car and I've had loads of fun with it. They were running fives with those chassis all those years ago. I'd have to spend ten grand on the car to make it legal. I think that's a bit over the top, we don't run every week like they do in America. I strap myself into it and that's because I think it is perfectly safe.
Eurodragster.com: It's a Fuel Altered so by definition you have had some wild moments with it. Does any single run stand out?
Clive Mechaell: Well, when you're going to hit the Armco at the eighth you probably know it's going to happen. But the run when I put the rods out and hit the Armco started off as a good pass. I was going over 200mph and the rods came out and I was sideways on the oil. I thought "I'm not going to get out of this one!" but I did. It was up on two wheels and it got hairy but I put the chute out and that straightened it out.
I've had oil over the screen a lot of times. Once at Shakespeare County Raceway I got to 1000 feet and it was like someone had put a brown paper bag over the screen. Luckily there is lots of room at that track. I had to use one hand to pull the brake, but to see where I was going I had to hold the cockpit canopy open - and when I was doing that I wasn't pulling the brake. I was blind at 200 mph thinking "Here we go again".
Eurodragster.com: Who crews on the car?
Clive Mechaell: My son Jake has lived with the car since he was born. The car's part of the family! About eight years ago all the crew fell ill and didn't turn up at Shakespeare County Raceway, so that was the first time he fired up the car for me. You have to do it correctly. I won the event, so I kept the prize money and I gave him the trophy! He's kind of my Crew Chief now, he double-checks everything.
Jake wants to drive the car but he can stick with the 9.50 Bike until I can't get in it any more.
Eurodragster.com: You don't have any sponsors but do you have anyone you would like to thank?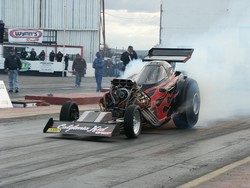 Clive Mechaell: I've done the Bulldog Bash for twenty two years and the HA look after me well so thanks to Dicko and Sarah.
I would also like to say a big Thank You to anyone who has been involved with the car up to the present day. They know who they are. I feel quite humbled that I'm still running the car and it's great to have known all those people through that time of my life.
Eurodragster.com: If you were handed the money tomorrow would you keep this car or do you have a dream ride?
Clive Mechaell: I almost did sell the car a few years ago; it almost went to Sweden. If I sold this car or if I had the money then I would build another exactly the same only with SFI chassis. It would have the same body and all the latest stuff but it would be the same thing.
Eurodragster.com: It has been a good few years since you ran at Santa Pod Raceway. How are you looking forward to it?
Clive Mechaell: I last ran at Santa Pod in 1996. The other night Jake and I were watching some videos from those days and you could see the edge of the asphalt and there was Armco and there was a rut in between them and if you got into it you were in trouble. Now the track's flat and there are nice slippery guardrails.
So much has changed now. The car is on later style slicks and, Santa Pod being what it is, it should truck on down there nice and straight, like a Cadillac...well, not too straight!
Eurodragster.com: We'll be there. We'll be behind the guardrail, but we'll be there. We look forward to seeing you at Dragstalgia, good luck Clive and stay safe.
---
Dragstalgia web site
Santa Pod Raceway web site
Features and Interviews index
Back to News page
---