Tributes to Ed O'Connell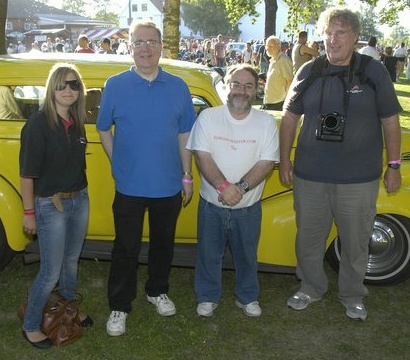 Eurodragster.com staff member Ed O'Connell died on Tuesday 1st July 2014. Ed had been unwell on and off since Easter but bore his illness in his characteristic cheerful and irreverent manner; for a guy who once strutted in front of the Viet Cong without a gun ill-health was a frustration and nothing more. But, having been allowed out of hospital after a heart procedure, Ed was taken ill at his New Hampshire home on Monday 30th June and passed away in hospital the following morning.
Ed, a drag racing fan since the early 1960s, and Eurodragster.com News Editor Tog became friends in 1996 as the result of a posting on a now-defunct message board. On his first visit to a European drag race, the FIA Main Event at Santa Pod Raceway in 1998, Ed rediscovered the spirit of drag racing which he felt had long been lost in the USA and from that moment he preferred drag racing on this side of the Pond. Ed was a strong proponent of European drag racing in his home land and was always delighted to have the chance to attend NHRA and IHRA races at which Europeans were racing, working long and hard every day of the race to send us reports, pictures and pit notes.
Ed was hugely popular amongst the European racing community and cut an unmistakable figure at trackside or in the pits. The racers loved him and would always show their appreciation for the effort he made to attend events. Ed was a regular at Santa Pod Raceway, Mantorp Park, Tierp Arena and Hockenheim where he made a huge contribution to Eurodragster.com's Event Coverage, had also visited Shakespeare County Raceway, and before he became ill was making plans to attend this year's NitrOlympX or FIA European Finals.
We have received the following tributes to Ed. To send your own tribute, E-Mail tributes@eurodragster.com.
The most recently-received tributes are at the top of the page.



---
I cannot begin to express how much this tribute page has meant to me during these last few days. Ed was the love of my life, and I am overwhelmed by the outpouring of love from every one of you toward him. I know how much he loved drag racing, especially European drag racing, for all the reasons stated by you all. I will miss him terribly. My thanks and love to Andy for making this something I will treasure always.

-- Kathy, Ed's wife


---
Thank you for such a wonderful tribute to my incredibly talented brother. He made my life joyful with his ever present laugh-out-loud attitude. I can't even express how much I miss him.The world is a much better place for all of us touched by the magic of Ed.

-- Annie, Ed's sister


---
Ed was always the gentleman's gentleman. And his dry sense of humor will never be forgotten. RIP my friend.

-- James Obrien


---
Ed always had a smile and time for a chat, such a lovely man. Thanks for everything you did for European drag racing Ed. You are missed.

-- Andy Carter


---
I was stunned and saddened to read about Ed's passing. It was always a pleasure talking to him. My condolences to his friends and family. He will be missed. RIP and Godspeed!

-- Will Hanna


---
Thanks what you did for the sport of drag racing, Ed. Although I never had the pleasure of meeting Ed it's clear from the many tributes he was very well liked. People like Ed do so much valuable work to publicise our sport. His contribution will be missed by us all. Condolences to his family and friends.

-- Stu Bradbury


---
So, so sad to hear about the loss of a fantastic man and friend. We took to each other from the very first minute we met, too few years ago. Thanks buddy for a bunch of fun memories and loads of quick comments and one-liners! BTW Ed, I had pizza today!

-- Christer Abrahamson


---
I was in shock when I heard of Ed's death. I met him some times trackside at Santa Pod and at Hockenheim and he will be in my mind as a very dedicated drag race fan and photographer and much more, and as a very calm and interested person. We from Der Beschleuniger magazine wish his wife and family all the strength they need now.

-- Markus Münch


---
I am deeply saddened by the loss of Ed and the sadness it has brought to Kathy.  I was fortunate to know Ed through Kathy, with whom I worked for twelve years.   After we all retired, my husband and I would occasionally meet with Ed and Kathy for lunch in Portsmouth.  I will always remember our times together at Latitudes where we not only shared great food, but also conversation and laughter. Our last lunch was at Shalimar where Bob tried Indian cuisine for the first time and realised he liked it.  We extend our sympathy to Kathy and Ed's family during this difficult time.  

-- Linda Hamilton


---
Ed was my dear friend.  He and I belonged to the YMCA in Portsmouth, NH and swam with the Rusty Hinges water aerobics class three days each week.  He was kind, gentle, caring and funny... a perfect pal and I will miss him.   I am thankful for both his and Kathy's friendship.  The beautifully written tribute to Ed on Eurodragster.com helped me deal with my sadness and loss and I'm thankful for that. 

-- Ray Grady


---
I am Ed's cousin Joe and I read your tribute to Ed with a huge smile. As you state Ed is a great friend and we each time together with him with we parted not only with a smile but an appreciation for his enjoyment for the true pleasures in life. Too funny: I am a retired Police Chief from New England and laughed out loud after reading how he was being hunted for his theft of gas! I am happy to report my brother officers have agreed to squash any record of wrong doing on his part and his record remains unblemished. You all have done well in identifying his outstanding personality which carried over into the surfing community as well. Finally Ed spoke of his adventures with your group often and with great joy. Thanks for doing Cuz Ed right.

-- Cuz Joe Ryan


---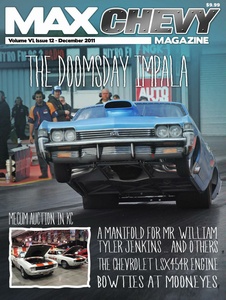 I can't confess to being a close friend of Ed, but I did write and E-Mail him many times. Ed took an iconic picture of our car doing a huge wheelstand, Dave almost flattened him in the process when the car went sideways. The photograph he took went round the internet like wild fire, to Ed's credit it's been in so many magazine, it seems for a while I was posting him and emailing him stuff regularly. They even used it in our local paper, this is in a small northern English town where the picture may as well have had the title "Aliens have landed", such is its impact. His infamy spread far and wide to Hot Rod Magazine in the USA, right to Extreme Magazine in Australia. The drag racing world has lost a true gent.

-- Andy Bennett


---
As stated in Cannon's tribute we all met Ed at Valdosta in 2012. A real nice guy, sympathy to Ed's wife and family.

-- Mike Vickers


---
Such an amazing tribute page for Ed. I knew Ed for many years and am not surprised he was so loved. He taught be by example that I could be a better person, even if he did constantly remind me I was still an EE. He was the most generous and honest person I ever knew. I was always thankful that he was not only my brother in law but a really great friend. It hasn't completely registered that he is gone , but I am missing him tremendously.

-- Dan Grigus, Ed's brother-in-law


---
I was lucky enough to be part of the Eurodragster.com team on a couple of occasions when Ed was one of his visits. No matter how bad of a day any of us were having he could come out with a story which would cheer us all up, it was impossible to be miserable on a day Ed was in town.  Ed was one of the first guys I confided in that I was going Pro Mod, we had spoken about how I was looking forward to the day he would be there to photograph me in person. I am deeply saddened that it never came to pass. I guarantee the first time I drive the Duster I will be thinking of you buddy. My thoughts go out to Kathy and to Ed's friends and family at this time. RIP Ed.

-- Spencer Tramm


---
Thanks for all you did for our sport. Godspeed Ed.

-- Ian King


---
So sorry to learn of Ed's passing. He was a truly great guy dedicated to our sport. On my last trip to the USA with the bike in November 2012 he was in constant contact to keep up to speed with Europeans travelling out to race so he had as much up to date info as he could get. He was dedicated at the track and even made me look good with his shots. A marvellous man I'm pleased to have met. RIP Ed.

-- Chris Hannam


---
Thanks for all the great laughs we shared while working trackside at different drag strips. RIP my friend!

-- Stefan Boman


---
I grew up with Ed in Cambridge, Massachusetts and have valued his friendship for 55+ years.  I remember cruising around with him in his beloved '57 Chevy Belair in the 1960s and his fascination with Hot Rod magazine back then, as well as his love of photography and surfing, and his ability to make these and his other interests coalesce.  He was a wonderfully honest and nice guy with a sense of humor like no one else's, and he was a loyal friend.  He will be greatly missed. My sincere condolences to his wife, Kathy, and the others in Ed's family. My appreciation  to Eurodragster.com for enabling this memorial page.

-- Henry Straube


---
We were very sorry to hear about Ed's passing. He was a fine person and always ready to help us with great photos. RIP.

-- Pasi Uponen, Bomber magazine


---
I had the pleasure of meeting Ed many times at the races in the UK and US and always thoroughly enjoyed his company and enthusiasm for the sport. We had several dinners together which were always highlighted by his very international sense of humour and European travel stories. His excellent photography and reporting always enhanced the race coverage on Eurodragster.com and he will be sorely missed. My condolences to Kathy and the rest of the family. Rest In Peace, Ed.

-- Andy Bissett


---
Very sorry to learn of Ed's passing. He was a gentleman and a genuinely nice guy, the race track will be a poorer place without him. Our deepest sympathy to his family and friends.

-- Santa Pod Raceway


---
That was sad news! I had really hoped to see Ed here in Europe at some race again. But I guess he will be at all of the races now at the same time and enjoy himself. So let's wave to him from Alastaro everyone. RIP.

-- Lena Perés


---
This is very sad news. I met Ed in Hockenheim and he was a very nice and outgoing guy. It was always a pleasure to spend time with him. I was looking forward to meeting him again in Hockenheim this year and I will only be one of many really missing him. 

-- Mathias Schneider


---
Ed to all of us was just one of the nicest examples of a human being that you could wish to meet. I can only talk from personal experience but when ever I spoke to him it was always a conversation where you came away richer from it. His knowledge and experience was deep, rich and comprehensive. He was a pleasure to know and it was always a privilege to spend time in his company. I can only begin to imagine the contribution that he has made to Eurodragster.com over the years. His sense of humor was just great and his timing for those one-liners was again spot on. Ed will be sorely missed by me for one and by the sound of it a great many others. God Speed my friend.

-- Paul Marston on behalf of Paul Marston Racing


---
I had the privilege of meeting and chatting with Ed on several occasions.  A genuinely decent man in a world of many fakes. 

-- Ian Hart


---
We are all deeply saddened at the passing of Ed. We all had the pleasure of meeting Ed on several occasions and we realise what a loss his passing will be, not only to Kathy but also the Eurodragster.com family and European drag racing. 

-- Andy Wheeler


---
What a shock, Ed was one of the nicest passionate people I have ever met. I always had a laugh with Ed and he was always a pleasure to be around. My thoughts are with his family and many friends. A very very sad day.

-- Gary Page


---
Saddened to hear of the passing of Ed. The only way I can sum him up is as a lovely, happy, ever smiling gentleman. It was always a pleasure to have his company in the Media Centre, albeit brief as he couldn't wait to get signed on and get out on the track, into the pits, or just generally out in the thick of the sport he loved. You'll be missed Ed. But you'll be in some great company up there. Sleep Well Ed.

-- SuZe


---
A very sad day for all those who had the pleasure of meeting Ed. He was one of our friends from across the Pond who truly 'got' European Drag Racing and realised it wasn't just about low ETs and corporate sponsors, it was about fun, diversity and enjoyment. I will miss the conversations I had with him, and his wit in general. The world, Eurodragster.com and racing in general has lost a true gentleman. Godspeed Ed.

-- Darryl Bradford


---
I sincerely regret that I did not have the chance to personally know Ed better. But I do know that he loved my sister Kathy very much and made her very happy. I'm sure he's looking down at her with much pride and pleasure remembering the comfort and fun they shared through the years. Thank you for that Ed and I know you will continue to watch over Kathy.

-- Ed's sister-in-law Judy


---
We didn't know Ed very well but when he spoke to us he was a friendly warm person and enthusiastic about the our sport, such a shame to leave so early.

-- Wayne and Brad Jackson


---
Sorry to hear about Ed. I can't say that I knew him very well but I did meet him several times at Santa Pod to talk about our projects and he was always a good listener. A true friend of European drag racing.

-- Brian Taylor


---
I always flinch when I read a name on Eurodragster.com news and am very sorry to read about Ed passing away. My condolences to his wife, family and friends. Ed was one of the good guys and it was always a pleasure to meet him, either trackside as a fellow lensman, in the "Eurodragster.com office" at Santa Pod or in the commentator's booth at Hockenheim, he contributed his part to the sport he loved. Ed had a great sense of humour even while he was working under stressful conditions so i conclude with: shouldn't there be a red light somewhere because you left way too early? I will miss you, big man.

-- Benni Voss


---
Deeply saddened by the news of Ed's passing, it seems the best guys go first... We had the fortune of knowing Ed and developed a deep respect and liking for him, his great sense of humour and his quick wit. He had a very good understanding of race car technology and hot rodding and it was a great pleasure to chat with him about Holley carbs and the "Holley Bible" he'd been using since 1972. His presence in our pit brightened up a few rainy days at the races in England and in Europe. Our deepest felt condolences go to his wife and his close friends. RIP Ed.

-- Carla and Rick McCann


---
I am both shocked and saddened to have learned the news of Ed's passing today. I was never lucky enough to get to know Ed properly, but we did meet a few times, and on those occasions I always got the impression that he couldn't be happier just wandering around the race track taking pictures of the cars and the people, and doing a fair bit of chatting along the way, he had a lot of friends at the track. I know he will be hugely missed by the Eurodragster.com team, one of whom considered Ed to be the very closest of friends, and by everyone else who knew him. My heartfelt thoughts are with Ed's family and friends.

-- Julian Hunt, Eurodragster.com


---
All of us are really sad to hear the loss of Ed, we not only had the pleasure of seeing Ed at Santa Pod and Hockenheim but also at Gainesville, lovely friendly man, our thoughts go out to his family and friends at this very sad time.

-- Jon Giles


---
Ed was a great guy , being in his company was excellent and I am so glad I knew him. Ed's laugh and character are something I will never forget. My thoughts are with his family and friends.

-- Lee Child


---
We were very saddened to read about Ed's passing and send our deepest sympathy to his wife Kathy and all his family. Sleep well Ed, you get to see all the tracks all at once where you are now.

-- Barry and Alison Bohannon


---
Really really sad to hear that Ed has passed away. Ed was a great photographer, I have been admiring and studying his pictures for years. Primarily thanks to my friends in The Beast Dragracing I had the opportunity to meet him. He gave me tips about photograpy which I will continue to use in his memory and honour.

-- Marcus Möller


---
So sad.

-- Jack Kwei


---
Ed's drag racing photography
Ed's surfing photography
Features and Interviews index
Back to News page
---