Gasser Circus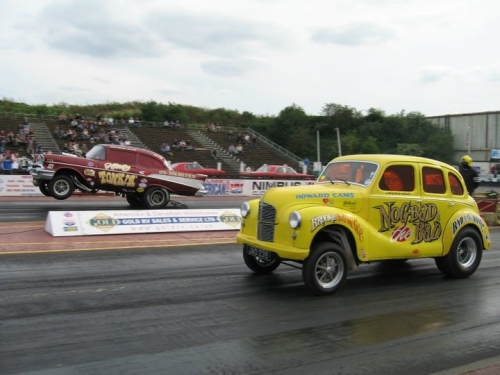 Click on any picture for large version. Additional pictures below interview
The Gasser Circus is a group of like minded racers, who gather together to celebrate and keep alive the traditions and most importantly the cars of the legendary Gasser Wars of the 1960s. Formed in 2003, year on year its membership has grown and for the first time in 2010 began its inaugural race series with the launch of the Gasser Circus Showdown. We interviewed the current administrator of the Circus 'Nervous' Nick who is publicising the class on the web (links below) and we are promised that T-Shirts will be available later in the year.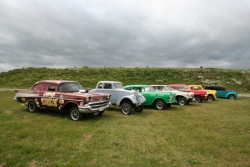 Eurodragster.com: When and how was the Gasser Circus formed?
Nick: Terry Howarth loved the appeal of the nose high, straight axle race cars that battled for supremacy during the 1960s and he had a dream to re-create that now infamous period, but to do this in the UK could be quite a challenge. In 2003 Terry along with his friend Chris Manning attended the NSRA Swap Meet at the Essex Arena. Terry had his Gasser 'Goldrush' and Chris his Gasser 'Hooligan' on display to generate interest in the newly-named and -formed Gasser Circus. It worked as by the time of the Nostalgia Drags at Shakespeare County Raceway Terry had gathered together eight Gasser-style street-driven and race-only cars. The Gasser Circus made its début!
From that point forward the Gasser Circus has grown in popularity and although competitors and cars have come and gone in the intervening period, including Terry and Chris, the foundations he laid were about to take a big step forward. The group of racers dedicated to campaigning cars which resemble and pay tribute to that era of racing continued to grow. So much so that following sixteen Gassers turning up to run at the NSRA Hot Rod Drags in 2010, the decision was taken to expand the Gasser Circus to a four-round National Championship and in 2011, with the support of the NSRA and Jerry at Shakespeare County Raceway, the race series hit the British drag scene.
Eurodragster.com: What cars from the US have influenced the Gasser Circus in particular?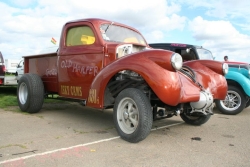 Nick: Virtually all Gassers from that period have influenced and inspired members of the Gasser Circus in one way or another. Famous racers like Stone Woods & Cooke, Big John Mazmanian, KS Pittman and Ohio George Montgomery being just four of the big hitters from that period that the Circus wishes to pay homage to. For some of us KS Pittman and Ohio George hold a special place in our hearts, as these two Gasser Wars competitors also raced on our tracks, visiting and competing in the British Drag Racing Festival in 1964. This visit did so much to help establish British drag racing and the two Gassers played a critical part in this.
Eurodragster.com: How has the Circus grown over the years?
Nick: Since 2003, the Circus has had some highs and lows, with a hardcore which at times only included a few cars, but since 2008 the numbers of Gassers being built and imported has grown. There are well over thirty Gassers in the country, but a hardcore of twelve to fourteen Gassers regularly turn up to battle.
Eurodragster.com: What are the main rules behind the class?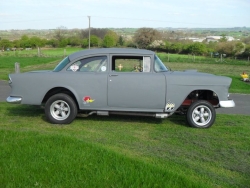 Nick: 2012 is our first full year where the rules come into play. In 2011 they were merely guidelines, as the series is about inclusion not exclusion. However, we felt the racing needed some form of regulation, so the guidelines have become rules. This has meant many of the cars required changes over the Winter, the most noticeable of these was that no programmable elements are allowed on the cars. One example is that electronic fuel injection has gone and the laptop is now for checking E-Mails!
Essentially we believe that when the crowds in the stand see any of our cars enter the fire-up road, they immediately recognise it as a Gasser. If we achieve that then we will be well satisfied.
Eurodragster.com: What racing format takes place?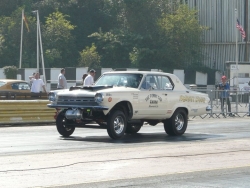 Nick: This year we are also going one stage further with the dial-in system we were running in 2011. This year with the support of the tracks we will be running the dial-in on the line (Pro Tree), which we hope will see some great top end racing as the faster car chases down the slower, with everyone no matter how much power they are making being in with a chance of winning.
Eurodragster.com: Who are the main sponsors of the series?
Nick: We are proud to say that the NSRA sponsored the series in 2011, and we are delighted to have retained them again in 2012. Other sponsorship options are available.
Eurodragster.com: What dates are there for 2012?
Nick: This year's calendar is as follows:

Yanks Weekend with Gary's Picnic – 25-27 May, Shakespeare County Raceway
Nostalgia Nats - 23-24 June, Shakespeare County Raceway
Dragstalgia - 14-15 July, Santa Pod Raceway
Hot Rod Drags - 14-16 September, Shakespeare County Raceway
Eurodragster.com: Tell us about some of the cars?
Nick: Here's a list of who will be running this year:


| | | |
| --- | --- | --- |
| Car Name | Car Type | Driver |
| Nogbad the Bad | 1948 Austin Devon | Nervous Nick |
| Louligan | 1957 Chevy Handyman | Lou Noble |
| Roarin Rat | 1957 Chevy Belair | Ken Brookes |
| Green Onions | 1955 Chevy 210 | Ray Turner |
| Crowd Pleaser | 1955 Chevy 210 | John Gibson |
| Identity Crisis | 1964 Dodge Comet AWB | Brian Gibson |
| Old Harper | 1941 Willys Coupe | Neil Harris |
| Honky Tonkin' 2 | 1964 Chevy Nova 2 | Jerry Denning & Lee Pike |
| Alchemist | 1934 Ford 5 Window Coupe | Carl Frith |
| Whiplash | 1933 Willys Coupe | Martyn Hallam |
| Horrid Henry | 1952 Henry J | Mick Allen |
| Falfas Revenge | 1955 Chevy 210 | Russ Price |
| Checkered Demon | 1952 Austin Devon | Phil Nelson |
| Boston Brawler | 1933 Willys Coupe | Steve Blomfield |
| Ain't Misbehavin' | 1947 Morris Van | Sean Milson |
| Manx | 1948 Plymouth | Rob Kilham |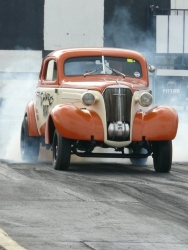 Eurodragster.com: What cars are you anticipating joining the series later in the year?
Nick: Over the last four years we have become accustomed to various people saying they want to race with the Circus, but have so far failed to attend any events. Therefore, it is never easy to identify who will be a Gasser Circus racer or turn out to be a no show. Having said that I know of six Gassers whose owners say they will be in the series later in the year. So let's hope they do turn up.
Eurodragster.com: Are there any varieties of car you would love to see in the Circus that are yet to appear?
Nick: The Gasser Wars were contested by a fairly wide selection of manufacturers and models of cars, wishing to recreate that period, there are some models the Circus would like to see and they are:-

Ford Pop
Austin Dorset
Ford 5 Window Coupe
Ford 3 Window Coupe
Any Pre '68 Gasser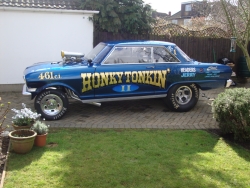 Eurodragster.com: Now that Honky Tonkin' 2 has made its début, will we be seeing the original Honky Tonkin' again?
Nick: Mike Noble owns Honky Tonkin', but he is thrashing away trying to get his wife's car built in time for the series in 2012. His wife Lou now owns Chris Manning's old Chevy 'Hooligan'. This has been completely rebuilt with a new chassis engine and box. The car should be out at Gary's Picnic and may possibly be called Louligan! Therefore Honky Tonkin' may not be out this year, but knowing Mike I wouldn't bet against it!
Eurodragster.com: Where can we read the latest news on the Gasser Circus?
Nick: On the NSRA Gasser Circus forum, on our Facebook page www.facebook.com/GasserCircus, and in Street Gasser Magazine.
Eurodragster.com: Thank you very much for your time Nick and we look forward to seeing the Gasser Circus in action.
---
Gasser Circus competitors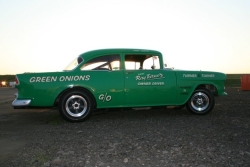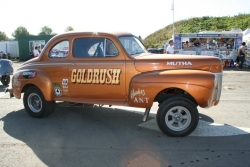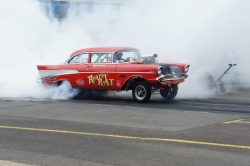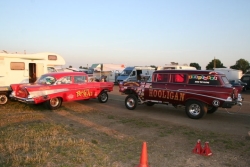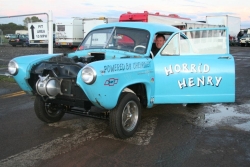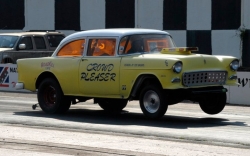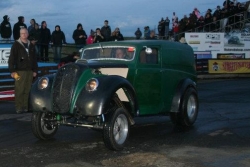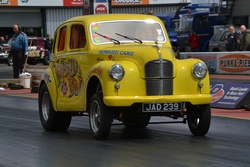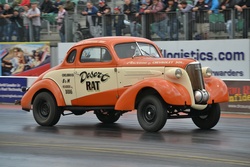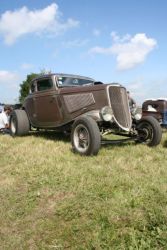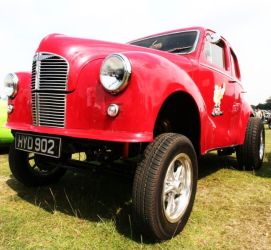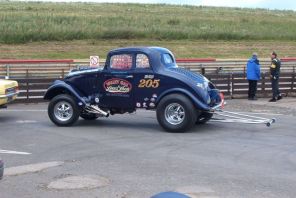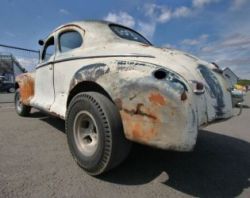 ---
Gasser Circus Facebook page
NSRA Gasser Circus forum
The late Byron Stack's definitive Gasser Madness web site
Features and Interviews index
Back to News page
---