General
Home Page
Add a web site
Jeff Bull Swap Meet
Send a News Item
Site Search by Hauser Racing
2019 FIA/FIM Championships schedule
News, Coverage, Features
Latest News
John Woolfe Racing Event Coverage
OCS Paint Points Standings
Features, Interviews, Tributes
Racer Blogs Lex 01/03
WRE/Nimbus Webcam
LA Racing Parts Links
Racers' web sites
Associations, Clubs
Race calendars
Results, Reports, Info
Pictures, Video
Performance Parts, Merchandise
Sponsors
Tracks, Shows
Information
Timing Data
European and UK Bests
Champions' Champions
Editor's Diary archive


Exclusive Feature on Grasshead Racing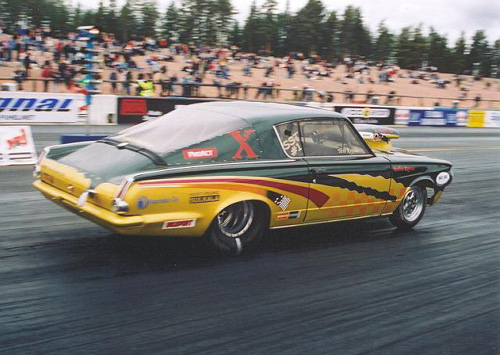 For this feature we have headed (via email anyway!) to the Northern most reaches of the European Drag Racing scene, Finland, where we caught up with Tero Rojola of Grasshead Racing. Tero races a 65 Barracuda in the competitive Super Street Class. Past honours include SST Finnish National Champ 1999, SST Nordic Drag Racing Champ 2000 and SST Finnish National Runner 2000. 2001 saw a new car for the team and the traditional problems that come with a new car slowed them last year, but look for them to bounce back stronger than ever this coming season. Tero's website can be found at http://www.paalupaikka.com/racevaliant.htm

Thanks to Tero for taking part in this feature and providing a great set of detailed and sometimes humorous answers for us. Luckily for us Tero's English is a lot better than our Finnish so we didn't have any language problems!


Eurodragster: Tell us a little about yourself away from the track?

Tero: I'm 33 year old living in Oulu, Northern Finland with my fiancee Johanna in an old wooden house that our bank owns *grin*. We have no kids so far but seems to me that it may change in a near future...
I work for an tiny company called Nokia as an investment buyer. I've been doing that almost 7 years now and they still haven't kicked me out!
On my spare time off racing I play badminton twice a week, some downhill skiing and certainly some boozing to survive through the tough Finnish winter. I have to admit that during last few years other sports have played a minor part compared to car building and racing, there's unfortunately only 24 hours in a day here!


Eurodragster: When did you first go to a drag race?

Tero: In 1982, the Midnight Sun Internationals in Piteå, Sweden.


Eurodragster: When did you first take part in a drag race?

Tero:In 1993, an 1/8th mile in Rovaniemi. I finished third and the spark was there....
My first car was a Mopar too, a '65 2door Valiant with 360 cubic inch motor, 727 and an 9" rear. I tore it apart and rebuilt it several times and in the last mode it went 12.7 sec on a quartermile. It was a pure streetcar though. Then I made a decision to quit racing and start cruising because of the lack of money.
I switched the Valiant to an '63 Impala 2 door Hardtop with 327 engine, and was pleased for its ride for several...hmmm... weeks. Pretty soon it was parted out and painted and fixed and I was figuring to race again. I bought my second '65 Valiant, a 2door Hardtop Signet this time and decided to build it up for a class Street C which here is the toughest for streetcars. Sadly the Impala had to be sold at this point so my cruiser era lasted only few months!
I had to go forward with baby steps since my financial background wasn't too solid.> Over the years I completely rebuild the car and went through several engines, trannys etc. Despite of my efforts the top guys were always an second ahead. I just couldn't buy the winning parts. I still loved to race man against man and something needed to be done. Losing in the first round was definitely not my goal.
So in 1998 I started to collect names in the pits to start racing Super Street in Finland, the idea being that it would limit the budget to some point and put every racer in the same line. Guys took it well and in the season opening 1999 this new class was first raced with 6 participants. So I practically started an class where even I can win *grin*. I won 4 out of the 5 National races that summer, my turquoise A-body was a true winning combo. After 5 years with Signet I wanted to update to an real tube chassis race car and faster ET's. Well looking back to my history it couldn't be anything else than a '65 Mopar, a Barracuda this time. Am I boring or what...!


Eurodragster: What is your current car?

Tero: 1965 Plymouth Barracuda.


Eurodragster: When did you acquire your current car?

Tero: January 2001, it arrived from Sweden as a rolling chassis.


Eurodragster: Who built the car originally?

Tero: I'm not sure, but the truly nice paintjob was done by Thomas Mogren in Mariestad.


Eurodragster: What is the powerplant and who built it?

Tero: Today it's 509 cubic inch BBCH and the last update and build up was done by me. Just installed it back to the car yesterday!


Eurodragster: Approximate BHP?

Tero: Hasn't been dyno'ed, but by the ET's and mph around 700-750 bhp.


Eurodragster: What drivetrain does the car employ?

Tero: Powerglide with transbrake and 8 ¾ inch rear with Strange 35-splines axles and spool.


Eurodragster: What is the car's race weight?

Tero: 2800 lbs with me in it


Eurodragster: How the car has developed since you first got it?

Tero: All the technical work eg. Engine, tranny and rear case and naturally all the stuff around these components. With it being a relatively new car to us there is still lot of learning to be done with fourlinks, throttlestops etc, which I didn't have in my previous car.


Eurodragster: Best elapsed time / terminal speed?

Tero: I got just few test rounds in last summer so the car is yet to run to its full potential. I started with a Mopar Small Block but blowed it to the skys at the FIA event in a Alastaro. I then purchased this engine from a Supergas Nova which weights exactly same as my Cuda. It's gone 9.1 / 238 kmh (147 mph) in that car. My best was 10.03 / 220 kmh (136mph) but not nearly with full throttle…


Eurodragster: Who is your current crew?

Tero: Well it varies, we live so far up north that race trips tend to get long and for some reason people need to go to work *grin*. But mostly Harri Puheloinen, Mika Myllykangas has helped a lot and of course my dear Johanna.


Eurodragster: What plans do you have for the future?

Tero: Moving up to Supergas from Superstreet where I currently race. I was able to win the Finnish National Champ 1999, Nordic Series Championship in 2000 and also a National Runner up that year in Superstreet. Season 2001 was horrible with so many troubles with the new car that I can't even remember. Hopefully that's all gone now.........


Eurodragster: What is your favourite story/moment involving the car?

Tero: Don't know about the favourite, but the one I'll surely remember is the FIA Event 2001 at Alastaro. On our 600 km (372 mile) way to Alastaro the truck broke at night and it took us 21 hours to get there. In the race I first exploded the tranny which we were able to rebuild and change at the track. Well the engine exploded next day so only thing that was left unbroken was my trailer. Pretty rough weekend one may say. That also smoked my hopes to defend the Champ titles since I didn't have a spare engine waiting and I had to skip few races before this new one was done. But hey that's racing, "I'll be back!"


Eurodragster: What is your favourite story from the pits?

Tero: This s a tough one, there's way too many funny stories out there.


Eurodragster: What do like most about the sport?

Tero: Speed, excitement, sounds, atmosphere, its just got everything included!


Eurodragster: If you could award a medal to someone in Drag Racing, who would it be and why?

Tero: Oh I'd need a pile of those medals, I just can't name one person. So many are doing such a wonderful job, both behind and in front of the curtains keeping our sport alive here. Let's just say that in my mind everybody involved in the sport this earns a medal. It doesn't mean a thing to me if he/she is a sportsman driver or a pro, photographer or a track official, mechanic or spectator. Everyone's important in achieving the Drag Racing Family Spirit!


Eurodragster: Any people you would like to thank?

Tero: All the sponsors who actually make this possible. You can take a look on my webpages at http://www.paalupaikka.com/racevaliant for more detailed info.








Feature ©Eurodragster.com
---
Feature index
Back to News page
---
Eurodragster.com aims to bring you links to all the best European Drag Racing web sites. To add your site to Eurodragster's listings, simply email links@eurodragster.com with your URL and a little information about your site and we'll do the rest. When you update your site, drop us a line at news@eurodragster.com and we'll feature your site in our "What's New" section.
Eurodragster.com is a non-profit-making organisation run by a small group of Drag Racing enthusiasts for the sole purpose of promoting European Drag Racing. If you can help us to meet the modest cost of hosting this web site by advertising here, please email webmaster@eurodragster.com. We're sure you'll find our rates extremely competitive.