Heaven and Hell Racing
Husband and wife Carla Pittau and Rick McCann are one of UK Sportsman racing's most successful teams. Carla and Rick have raced their Heaven and Hell Camaro, which started life as Carla's daily drive, since 1993 and in their long racing career have won three National Championships, four Club Championships and have finished in the Top Three of the UK National Championships since 2001.
We caught up with Carla and Rick in March 2007 as they prepared Heaven and Hell for the UK National Pro ET Championship which was due to start a couple of weeks later.

Eurodragster.com: Did you meet through drag racing? If not, who introduced whom to the sport and how did they get into it?
Carla Pittau: We met through friends, and we both were interested in cars at the time. Rick loved American cars and had several projects on the go, although he finished none of those. We went to car shows and especially loved 1960s and 1970s muscle cars. Drag racing was a natural part of the American car scene and I guess we had to get involved with it sooner or later. Some time in the late 1980s Rick then took me to the then-Long Marston to watch my first drag race and I was hooked.
Eurodragster.com: How long was it before you decided that you had to have a go yourselves and what was that first go?
Rick McCann: That was at Santa Pod 1991, during the Back to the '50s weekend. We went in our Pontiac Catalina to just enjoy the scene and admire American cars and dream, and then we heard that you could actually have a go in your own car, all you needed was your driver licence. I thought "Great, I'll have a go. No wait, I haven't got my licence with me!"
Carla Pittau: So Rick said "You'll have to take it to the track for me!" and of course I was kind of hesitant. I hadn't even driven the car on the street before, and I confess I didn't know how to drive an automatic. Rick didn't want to hear any of that. He said "It's easy, sit here, put your left foot on the brake, let some revs build up...OK, now let go of the brake and stand on the gas pedal...that's all you need to know!". So I apprehensively took the car to the start line, lit up the bulbs, let go of the brake when the green lit - it must have been a great Reaction Time! - and floored it. Wow. I still remember this huge grin on my face. The Catalina ran a 17.3 and I won that "race", Rick was walking back to where we pitched our tent, and I drove straight past him and queued up to have another go. I won three races out of five and I knew that there is no going back: Pandora's Box had been opened. I now had to race.
Eurodragster.com: What was your first race car and in which class did you race it?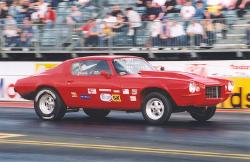 Carla Pittau: Well, after that episode, I had to get me a Yank to drive, so I bought myself a bright red 1970 Camaro RS as my daily driver. I had an eighteen-month-old Fiat which I had to keep in a lock-up waiting to sell it to pay off the HP while I was paying for the second loan for the Camaro. The daily driver thing was just so that I could have a part-time race car. The Camaro had a well-built 350 ci with a TH350 transmission and 3.09 gears, and it ran high fourteens to low fifteens.
In 1992 I entered my first race, in what was at the time Street ET, at the World Finals at Santa Pod, and I smashed up the car the week before the event. We fixed the car and did the full season in 1993, when I was awarded Best Newcomer by Santa Pod Racers Club, came second in the SPRC Championship and third in the National, which at that time included York Raceway.
Rick McCann: The Camaro is our first, current and only race car. In 1994 Carla won the National Championship in Street ET but by then the car was too quick for the class and Carla did not like the brake pedal, so we didn't get to run the ST1 number - we went up a class. We got cocky with the little 350 and played with several things, improving our ET over the years. We finally ran nitrous on it and ended up running 10.82 best in the then-Mod ET class.
In 1995 Carla made the mistake of saying that I should also have a go. It was so much fun but that was one of her biggest mistakes, as I discovered how much I also love driving, despite having been quite happy with tinkering with the car and being Crew Chief. I have to say that it was always the two of us that worked on the car, Carla was always 100% involved with all aspects of maintenance and improvements. So it was fair to share the driving too! Initially I did the Divisional meetings and Carla did the Nationals, then we just took turns.
Eurodragster.com: What have you done to the Camaro since you acquired it?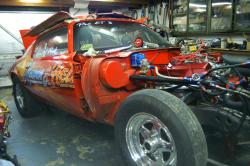 Rick McCann: She was Carla's daily driver. It came with a well-built 350ci Small Block which produced an estimated 400 HP, and easily withstood the considerable amounts of laughing gas we threw down its throat...it had forged pistons and a very good set of heads with large valves. The car weighed 3600 lbs and was stock in all other respects.
Carla Pittau: The first modification we did was a B & M shift kit which Rick bought me for Christmas. He gave me his gift and said - as he always does - "It's easy, look, it's got full instructions on how to do it, you can do it by yourself". He always tricks me with things like that, I then have to do it or be stupid. So I end up having to live up to his expectations! Many more modifications were done over the years, and several people have been a great help, doing work for us but especially in teaching us about things. Dave Pollen was our first mentor and his trust in us and his willingness to share his knowledge was a great encouragement in the early years.
The chassis of the current version is mainly stock, with the exception of welded frame connectors which were added by Bob Doyle in 1996 when he adapted the roll cage we bought in the States (which Art Morrison allegedly designed to fit a 1970 Camaro!) after I crashed at Santa Pod. It still sports leaf springs, albeit mono leaf to go with the Caltracks, and has no tubs, so we are limited to nine-inch slicks. The car came with a ten-bolt rear and we stuck with that, upgrading the axle by welding the tubes to the casing and going from a stock open axle to a positraction, then finally to a spool. The rear ratio is now 4.56.
The 383 Small Block that served us so well for five seasons - and as an emergency swap again last year - was built for the 2001 season, with help and advice from John Gianoli of Gianoli Motorsports in San Francisco, and Kenny Coleman gave us invaluable help when dynoing it and also over the years.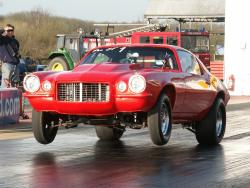 Rick McCann: We always wanted to launch with the front wheels in the air. We decided we needed more power, so we again went to John Gianoli for advice, and came back with all the bits to build the current engine, a 434 ci Small Block, which produced over 600 HP and so far has given us a best ET of 9.72 and best mph of 138. The transmission is still a TH350, which we also built and maintain ourselves.
Eurodragster.com: How do you decide who drives at which event?
Rick McCann: That's easy, Carla decides, although she asks me what I think, then ignores it!
Eurodragster.com: How do you go about deciding a dial-in before a run?
Carla Pittau: We have no secrets - we simply consult a weather station into which we input data from previous runs to predict current performance. All weather stations work in a similar way: garbage in - garbage out. Ours will monitor barometric pressure, temperature, relative humidity and oxygen content. From this data it will calculate what the "density altitude" is and will express this figure in feet. A fairly good weather station will be able to predict performance with some degree of accuracy after inputting three runs and the more data you input the better it will get at predicting.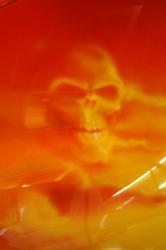 However the prediction would be absolutely exact if it wasn't for a number of "spoil-sport" factors: inconsistency due to track condition and temperature, tyre condition, length of burnout, engine oil and water temperature, transmission temperature…the list, unfortunately, goes on and the weather station does not know if you shifted late or if the track was a little bumpy after the eighth. This is where the "garbage" comes in, as you should always disregard any run which is not representative of usual performance and the ones when you've had problems.
Even worse, if you have made a few minor changes then your previous data will be only marginally useful to your current prediction, so there is still quite a lot of guesswork involved. In these circumstances, we use our first run as an indicator of how close it is to the weather station prediction and then work from there.
We tune up to obtain best performance - or try to! - then dial-in to what the car should run. We normally dial-in a few minutes before the run, to better be able to take into account other variables like wind direction etc. A strong headwind will set us back about a tenth, for instance.
Eurodragster.com: What is the secret to winning Championships?
Carla Pittau: I do have a view on what it takes, although I am no expert, and I believe it is "Never give up". Work hard, or even harder. If it's broke, go home, fix it, come back and race. If you only have one day to finish your transmission, engine, whatever, finish it in one day. If you find that your transmission is unreliable take a spare one with you. If you don't have a spare make sure you have a rebuild kit and tools. If you haven't brought all this stuff with you, promise yourself that you will next time while you're driving back home to fetch the parts and tools or to swap or rebuild.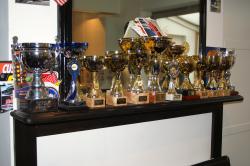 Never take your opponent for granted - a new racer has nothing to prove and everything to gain and can beat you just as easily as you can beat them - but remember that you are running your own race, never mind your opponent - they should only appear at the edges of your consciousness when you need to know where they are in relation to the finish line, your speed and your position.
Be humble about your victories and remember that losing is easier when you think you can't be beaten. I think that trying my best to behave in this way gives me peace of mind, and I find it easier to avoid making mistakes if I have peace of mind.
And finally remember that when you win a race you only win once - when you lose a race you lose it again and again in your mind a million times, and if you have been arrogant when winning, people will make sure you remember losing!
Eurodragster.com: Why do you think Pro ET has grown so big?
Carla Pittau: I hope nobody can accuse me of being objective when talking about Pro ET. My obvious answer is "Because it's the best class in the world"! More seriously though, I think it's a very welcoming class and with a very high feeling of sportsmanship. If you have made an effort and have built a more serious race car when stepping up from Sportsman ET, it's a class that attracts people who like a challenge - not an easy class as it's extremely competitive, but what a huge feeling of achievement when you manage to qualify in a seriously tough field and go rounds. I love the class, and was moved by John Atkinson saying that although he's definitely chasing an eight-second ET from his very rapid Cortina, he wouldn't leave the class because it's so much fun.
Eurodragster.com: Have you ever thought about Super Gas?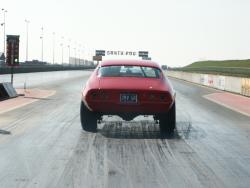 Rick McCann: Not really. I would race in any class if need be, and for this reason we raced in Super Street at Hockenheim a few times as they didn't have any ET classes, but I prefer ET.
Carla Pittau: It's just a personal preference, if I could afford to race in a true heads up class I would, but Super Gas isn't that, or indeed any class with a breakout rule. If I can get my car to run 9.70 or 9.60, that's what I want to run. To me it would seem totally unnatural to want to slow it down to 9.90. There is a lot of skill in doing that and a lot of people have fun racing in the Super classes, it just isn't me.
To be honest, if ET classes were not an option I would make a few more sacrifices (no shoes for the children, that type of thing) and race Super Mod. However my favourite classes are Stock and Super Stock, very popular in the States, and when two Stockers (or Super Stockers) within the same class meet at a race they compete truly heads up, no breakout, first to the finish line wins. And it's so exciting! A good friend of ours who races in Super Stock was seen removing ballast and draining some of the oil to gain those irreplaceable thousandths to win a very close heads up race. Unfortunately by removing the ballast from the front he had a far too high wheelie and lost. C'est la vie...
But I also love the excitement of a staggered start, the bigger the difference in ET the more excitement.
Eurodragster.com: What are your future plans?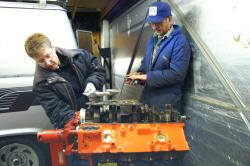 Rick McCann: The Camaro will see further improvements over the coming season, nothing major but whatever we can afford, little by little, to gain better ETs and bigger wheelies.
We will also build another car. I guess you could call it a "Dare to be different" car. The truth is that Carla will not let go of any American car she buys, so we have to work with what we have. So it is the famous Catalina, the first to take her down the strip, for which we are building an engine. We have a lot of work to do though: chassis, axle, transmission, body - we'll be lucky if it's out for testing towards the end of next season.
Eurodragster.com: Who are your racing heroes?
Rick McCann: As Carla said, Super Stock racers like Dan Fletcher, Peter Biondo, Bernie Cunningham, John Calvert, Robert Burgin, good friend Bryan Broaddus (who beat Dan Fletcher on a real heads up race). Others include all the self-made guys, like Bob Glidden and Warren Johnson. It was really cool to walk around the pits at various meetings in the States and see Bob Glidden working on the car himself, tuning the carb with everything in sight, no screens, nothing hidden from view, no high secrecy like the other Pro Stock teams even back then. We just felt awe watching this. We have tons of respect for John Force too, and he's a self-made hero. He kept going at it over the years and never gave up. It was nice to learn from Andy Willsheer when he was hit by fragments of Ashley Force's Top Alcohol Dragster that the whole family are just as great in real life as they appear to be on TV.
Eurodragster.com: In 2006 you offered Tog a drive of your Camaro. What was it like for both of you to be standing outside whilst someone else took your baby down the track?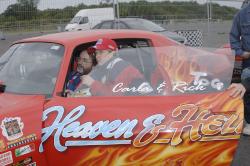 Carla Pittau: We thought the car was dangerous to drive and wanted an expendable driver to test our latest...OK, I'll be serious. It was obviously a bit weird to see the Camaro go down the track and have Rick beside me and not at the wheel. I didn't lose any sleep the night before - I guess I thought Nev Mottershead is no fool and if he let Tog drive then it must be safe! But the real feeling at the start line was of excitement and, to a certain extent, pride. I couldn't tell you exactly why, I guess I was proud of the fact that our baby was liked and that Tog who has seen and driven race cars would be excited about taking her down the track. The good performance of the driver was just the cherry on the cake. It was an emotional moment, yes, but with hope rather than fear, I would say. Hopefully it will be repeated this year, fingers crossed with better weather.
Eurodragster.com: Do you have any sponsors?
Rick McCann: Easy answer, no! We have no time to chase sponsorship. I guess we are too busy running two businesses to earn enough money to go racing. Although you could list two sponsors, come to think of it: MPD (UK Sales) Ltd which is Carla's company, and RamAir Ltd which is my own.
Eurodragster.com: You must have plenty of people whom you would like to thank.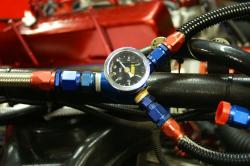 Carla Pittau: In order of appearance? Dave Pollen for teaching us the ropes, Bob and Tracy Doyle for helping out many a time, Peter Lane for the same reason, John Gianoli, Kenny Coleman, Jon Webster, John Calvert, Andy Stroud for the excellent airbrushing...all at Eurodragster.com which if it didn't exist somebody should invent...I hate lists of this kind, I am terrified of missing someone! John Reynolds, Mike Lacey...there are so many people who contribute to your success and share your misadventures, it's unfair not to mention them all.
Eurodragster.com: Thank you very much for your time and we'll see you at Santa Pod at Easter.


Feature ©Eurodragster.com.



---
Heaven and Hell Racing web site
Features and Interviews index
Back to News page
---