Tributes to Jarmo Kuutniemi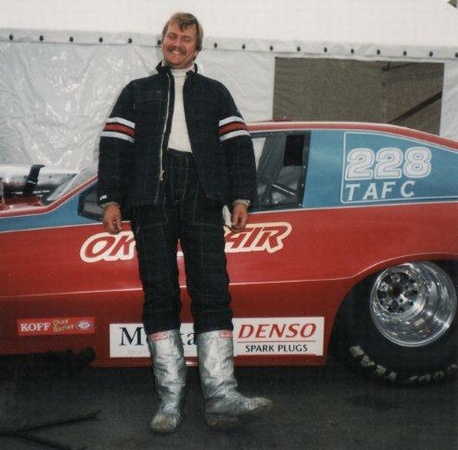 Finnish Top Methanol Funny Car racer Jarmo Kuutniemi died on Thursday 26th July 2012 after a short illness. Simo Patoharju writes:

Jarmo 'Japa' Kuutniemi had a long history in Finnish and European drag racing. Jarmo has always been involved with American cars, first building muscle cars and street racers in his hometown Turku and then later on moving to drag strip. Jarmo ran as early as 1985 to 1987 with the first finnish Pro Comp (now Top Methanol) dragster.

Jarmo got serious on drag strip in 1996 when he bought his first TMFC from Timo Aartomaa. It was later updated with an Oldsmobile Cutlas body from Dan Larsen. He ran this car until 2005 when he bought the ex-Randy Anderson rolling chassis TMFC from Leif Andréasson. After getting the new combination sorted out Jarmo ran 5.79 with this car with a 'home-built' BA5/Whipplecharger combination.

Jarmo bought the Leanders clutch from Ulf and Jörgen after the FIA European Finals in 2009 and had been running it since then. Jörgen and Japa and his team became friends and Jörgen was always there to assist when needed.

In the winter of 2010-2011 Jarmo wanted to move forward again. With the help of Jarmo Pulkkinen he bought a rolling chassis from Jack O'Bannon Racing in California. This new car was really a nice piece and got a lot of attention with the great paint job on it. Jarmo finished third in points in 2011 and the whole team was really proud of this achievement. Japa had his sights set for 2012 season with a new Randy Anderson-built short block and fuel system. He had been suffering from serious back pain for quite some time, and finally was diagnosed with cancer in March this year. Japa wasn't the type of guy to give up easily so he started to plan for 2013 and was prepared to go through all the treatments to get him cured. Unfortunately, despite his upbeat attitude the treatments did not help and doctors told him in early July that the cancer had spread and that there was no cure for it. Japa passed away in his sleep on July 26th.

Finnish ex-Super Comp racer Ari Pietilä bought Japa's old Funny Car earlier this year. Japa was worried about getting everything right for Ari so two weeks ago he was sorting out all the systems for the car. This tells you how Japa really cared about his friends and fellow competitors. Japa's last wish was that after he was gone his team would put his car together with all the new components. The team is already working on this.

Jarmo was always a guy to whom you could go and ask for a spare part or engine component for loan and he never turned anybody down if he just had the part available. He was one of the nicest guys the the pits, always offering his advice if asked. With his long career in TMFC racing he had a lot of information to share. He always had time for a conversation

Japa will be missed by his wife Elisabeth, their sons Joni and Rasmus, and their grandchildren Veera, Senni, Peppiina, Wilma and Arttu, and all numerous friends. When you see long white stripes in the sky it means Japa is doing a (long) burnout up there.


We have received the following tributes to Jarmo. To send your own tribute, E-Mail tributes@eurodragster.com.
The most recently-received tributes are at the top of the page.



---
We were so sorry to hear of the passing of Jarmo. In the short time we have been in the Top Methanol Funny Car class we came to know what a true gentleman and what a nice guy the giant of a man was. He was a true racer, showman and sportsman. We will all miss him and our thoughts go out to his wife, family and friends. RIP Jarmo.

-- All at Turner Motorsport


---
There is so much I would like to say, but I can't put all my feelings into words. The sorrow and the unreal feeling are topmost. Oh if only I would have been allowed to know Japa for a longer time.
I looked at Japa's team for the years and dreamt that that would be something. Perhaps... some day... I also would have something like that...
As I wrote, I knew Japa already for years, but I think we actually talked for the first time about a year ago at the Motopark track. Japa was there for testing his TMFC and I was there to starting my TMD licence with Mad Bomber dragster. Japa helped a lot of us there.
For the whole summer, Japa and his team helped us, and at the same time we became friends. We talked a lot about Funny Cars and in early winter we made a deal that I would buy his old Funny Car.
During the winter our friendship deepened very much. Almost every day we talked on the phone and in the future we planned to run a two-car team and "Then we will do this and then we will do that"... It was like two little kids dreaming... Sometimes we talked for hours, about everything. I could feel from everything that he had a passion for drag racing and Funny Cars. I learned a lot from him, but unfortunately a lot remained unlearned.
Two weeks before he passed away, Japa called me one last time and told me that the treatments did not help and nothing could be done. That was really shocking news. We all believed that he would get well. My tears flowed down and I was in wonde that only a year ago, we talked for the first time and now we are talking about very personal things. Japa said that "I think that we're good friends". Those words I will remember forever...
Rest in peace Japa... We really miss you...

-- Ari Pietilä and the 'Farm team'


---
We were saddened when we heard of the death of Jarmo even though we knew he was sick. The whole TMFC class (and many in other classes) had "Get well soon, Japa" stickers on their cars at the Tierp FIA race in June and we were just waiting for him to return to the race track.
RIP Jarmo, unbelievable that we won't see you around at the races anymore. We will always remember the tight racing and the friendship we had. You will never be forgotten! Condolences to Elisabeth, family and friends.

-- Arvid Grødem on behalf of the Westside Racing Team


---
We would like to give our tribute to Jarmo Kutniemi. I didn't know him personally but I know he was a very friendly gentleman and a great racer and gave great shows at meetings. I would like to give our sympathy to his wife and sons and would like to thank them as they still helped us at the last race we had in Finland in 2012.

-- Monty, Joe, Charlie, Sammy, Remic, Mervin, Vince, Manuel and team, Whippy Malta


---
I had the pleasure of watching Jarmo for many years at the Pod. A truly fantastic competitor and always had time for a word with his fans, a true gent. My thought are with his family. May he RIP.

-- Carl Sim


---
I was truly saddened to hear of the death of Japa Kuutiniemi. As the Top Methanol rep / colour commentator / etc I've known Jarmo and the team since they first joined the class in 2005. His English wasn't much better than my Finnish (and that's terrible) but he was always very friendly and open. There was always a warm welcome in his trailer and I owe him more than a few beers. The phrase 'quiet determination' springs to mind, he was a man who did his racing on the track and was a real gentleman - no silly mind games. In all those years I don't think I ever heard a single word of complaint in any language, he just got on with it and loved every moment. I am really going to miss the big friendly Finnish giant of a man that was Japa Kuutniemi.

-- Dave Alexander


---
Features and Interviews index
Back to News page
---