Jason Phelps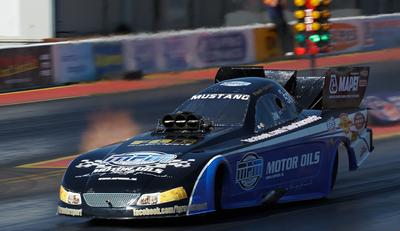 British Drag Racing Hall of Fame members the Phelps family have a long association with UK and European drag racing having been involved with and run Santa Pod Raceway from its opening in 1966 until 1990 as well as running Fibreglass Repairs, a company which built and maintained many of the sport's most legendary race cars.
Having re-started FGR Roy's son Jason became involved with the UK's Shockwave Fuel Funny Car team and has driven the FC on a number of occasions, culminating in a final licencing pass of 5.567/221.43 at the 2011 Bug Jam.
Eurodragster.com spoke with Jason a few days before his appearance at the 2011 Flame and Thunder Show, at which he was scheduled to race against one of Rune Fjeld Motorsports' Top Fuel Dragsters.
Click on any picture for large version
Eurodragster.com: Your background in racing goes back many years, tell us about that.
Jason Phelps: Basically I grew up right in the middle of 1970s and 1980s drag racing. It's a long story but in short my grandfather Bob and my father Roy owned and ran the original FGR which provided a lot of the labour which built Santa Pod Raceway. In 1969 they became the owners of the company which ran the track until 1990. Over those twenty years they built their own cars and imported dozens of cars to help bolster SPR's show and also to promote drag racing across Europe in general.
As a kid I was lucky enough to meet but mostly observe from an unusual perspective some of what are now legends of British, European and American drag racing such as Herridge, Beadle, Miller, Priddle, Snow abd Prudhomme, amongst others. I would sit, listen and watch in awe my heroes from very close quarters and I was very lucky to have been there to see some great moments in drag racing. The one which that will always be there is Beadle v Snow, 6.00 to 6.04, the later winning with a holeshot. Beadle was and still is my absolute hero, he along with Allan and dad's Gladiator are the main reasons for my love of Funny Cars and the reason I will do anything to help the class survive and grow.
I also had an inside understanding of what it takes to run, maintain and promote a drag strip in Europe which is why I count myself fortunate to be able to make my living building race cars and running Funny Cars which is all I ever wanted to do. As for running the track... constantly worrying about the politics that go on within the sport, the weather forecaster ruining your advanced ticket sales, lost five year olds on site and who is going to pick up the bloody rubbish after the weekend, anybody that is willing to take on that job should be applauded. I personally never had the stomach for it.
Eurodragster.com: How did you become involved with the Shockwave team and how did you end up in the seat of the Funny Car?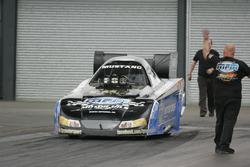 Jason Phelps: I was introduced to Gordon Smith and Dave Bryant by Gary Page, who had arranged one of his drinks and food nights in Rushden prior to the 2008 European Finals in 2008. We got on very well and that weekend I spent some time in their pit whilst they tried to explain to me just how much Funny Cars had changed during my time away from the sport. The next day the car left the line lost traction and ended up hitting the wall.
I had just recently rented a workshop near Santa Pod which I was fitting out as a fabrication shop. Dave came to see me and asked if I would be interested in trying to repair the body of the car which was in a very sorry state. I quoted a stupidly low amount he almost tore my arm off and the deal was done. At the time Shockwave as a team were in a financial tight spot after the crash and whilst they were considering the options they had for the repair of the chassis the costs were starting to get out of hand. At this point Dave came back and asked me if I would also be able to front-end the car. We agreed that he would help me out in the shop and we set about the job. During that winter we became firm friends whilst dealing with the ups and downs which the learning curve brought with it.
At some point Dave had asked me whether I would ever consider having a go at driving the car. I told him that there was no chance and that I thought you would have to be mad to want to.
That season I became involved with the Shockwave team at the track. Dave was now spending more time at what was now FGR as the Funny Car was stored there. I was taking care of the chassis and body maintenance and he was using the shop to keep on top of the mechanical side of things. It worked well and gave the car and team some stability which was reflected in the consistent performances of the race car. This is how it still works today. Over time the subject of driving came up on a number of occasions and having been around the car and starting to get an understanding of how it worked. I decided to take the opportunity as it was after all a once in a lifetime deal.
Eurodragster.com: No-one would say that driving a Funny Car is easy. How did you find getting straight into a state-of-the-art Fuel FC?
Jason Phelps: I have found it tough, but only once have I thought about quitting after what is known in the team as "Notorious run 3". I got just about everything wrong apart from remembering to pull the tap. I hit it with no conviction and pedalled, it was just ugly. As I was getting out of the car I tried to retire, basically telling the team I didn't think I could do it and had had enough. My resignation was not accepted and I was told in no uncertain terms that we were going again. Dave and the crew turned the car round in forty five minutes and I was dragged back to the start line. I put in a nice clean 300 foot pass and that night we all sat down and had a beer. I will always be grateful to the team for doing this; if they hadn't and if I had slept on it that night I would never have got back in the car and not been in the position I am today.
The bottom line is that no-one, not even current Funny Car drivers, can explain to you what it is like inside one of these cars. The best I can come up with is some kind of surreal violence. You are on your own and there is no hiding place and unfortunately just because you really want to become a Funny Car driver doesn't mean you will be able to. I am not a natural by any stretch of the imagination, but now I have managed to get my licence I can get on with trying to become a driver.
Eurodragster.com: What has been the best moment so far and the hairiest moment so far?
Jason Phelps: Getting my licence at Bug Jam this year was cool, but the best time by far was my very first go in the car. I had known for a few months that I was going to drive the car and leading up to the date the anticipation was nerve-wracking. The burnout went well and I got back OK. I sat on the line pulled high side watched the lights run down and hit it. At this point I thought the world was going to end, I couldn't see anything it was all just a blur. I stayed with it for about thirty feet, lifted, thought "Wow!", hit it again another forty feet and off. I rolled through the lights at 63 mph punching the air and whooping like I was Raymond Beadle!
Hairiest? We are blessed in that we have a fantastic crew. I'm confident with the car and it drives like a Cadillac. Someone (no names) did once put the mags in 180° out and it coughed the blower on the stands. It made me jump but hopefully that's the hairiest it ever gets, fingers crossed.
Eurodragster.com: I believe that the appearance at the Flame and Thunder Show will be your first time with someone in the other lane, how do you view that prospect?
Jason Phelps: I just want to put on a good show, not let anybody down and make decent account of myself. I know it's a cliché but I will try not to let the other car put me off and concentrate on my lane. I like modern day Fuel racing: tidy burnout - get back swiftly, body up and down, to the line in one minute fifty-ish - clean and professional car craft is what I'll be looking for.
Hopefully I will get to the other end first but if not chasing a long car down there will be an experience in itself. Also it's a special weekend for me as it will be twenty five years ago at this meeting that I first drove a car on the track, the Stingray in the dark, happy days.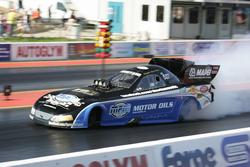 Eurodragster.com: It'll be a Top Fuel Dragster in the other lane, do you fancy a go at one of those?
Jason Phelps: I appreciate Top Fuel as I do Pro Mod, Top Methanol Funny Car, Top Methanol Dragster and all other classes. If we are not racing, I quite often go to sit and watch on the bank with a beer.
I grew up surrounded by Fuellers and Funny Cars but for me personally there is nothing better in all of drag racing than two modern Top Fuel Funny Cars sitting in stage on the high side, it is where it's at. If someone came to me and said would I drive their Fueller then obviously I would say yes. I would love to go four seconds at 300 mph but I would much rather it was in a funny car and anyhow I wouldn't pay for it so it will never happen. The answer is no.
If there were no Funny Cars and the class ceased to exist then there isn't another car class I could see myself in, but an FGR Top Fuel Bike? That's a thought.
Eurodragster.com: What are your future racing plans - Shockwave again or a car of your own?
Jason Phelps: Over the winter we will be finishing the new Shockwave with a view to débuting it at Easter. It's currently about 75% complete. This will leave the current car free, and if finances allow I will drive it, but as of now all our efforts are focused on Gordon's new car.
We want to, but also need to, make a step up to the next level, this is our main objective.
I personally will be more than happy to fill in when required and gain some extra seat time before I begin to drive full time. I'm a patient person and have waited a long time to do this, another season won't hurt. Saying that, if certain things were to fall into place it may well be sooner rather than later. We will see.
If you would like to keep up to date with the car and team's progress please visit www.facebook.com/shockwavefc.
Eurodragster.com: A lot of us oldies remember FGR the first time around but you're back and have quickly built up the company. What services do FGR offer now?
Jason Phelps: FGR was re-born due more to popular demand rather than some master plan. We have gathered together a group of people who are able to take on just about any job related to racing cars. If you add it up there is more than 150 years of experience at our disposal. We are a true one-stop shop. Over the last few years we have had numerous vehicles through our doors including Funny Cars, altereds, dragsters, jets, Top Fuel Bikes, drift and Track Day cars, Junior Dragsters and now Junior Funny Cars. We build quality cages for any car, tinwork, axle and engine builds and re-builds. We are able to work with carbon fibre, fibreglass, 4130, stainless steel, CDS, T45, aluminum or titanium. You can find some of our work at www.facebook.com/fgrmotorsport.
Eurodragster.com: The nostalgia scene is growing quickly in the UK, have FGR got any old vehicles tucked away which might see the light of day again?
Jason Phelps: Let me just say that nostalgia is not really our thing at FGR. If we were to start talking about all of the cars that we have been involved with over the years we would be there for ever and what we are really interested in is new projects rather than treading old ground.
However we do have two of our old cars. About four years ago the Vampire Jet Dragster which Top Gears Richard Hammond crashed appeared on EBay in exactly the same state that he parked it, mud and all. Before it could be sold my dad contacted Colin Fallows and persuaded him to let us have it very cheap to see if we could do anything with it. Although it was made famous by the Top Gear smashing it up as they would a caravan, it is more importantly part of European drag racing's history. It is the one remaining of the sister jets which were built by Allan Herridge, Geoff Bosworth and FGR, and deserved a lot more respect than it was afforded by Richard and co, so we fixed it. It is now wrapped up and tucked away safely ready to be brought out and put on show and given the retirement it is due.
The other car is top secret… sorry.
Eurodragster.com: That's OK, the good thing about secrets is the eventual revelation. You must have a few people to thank for getting you back into the sport?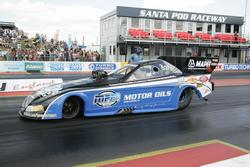 Jason Phelps: Because of my family's involvement in drag racing I have been welcomed back with varying degrees of enthusiasm which in all honesty I have enjoyed. It's as much fun to tweak the noses of those who may hold grudges as it is to meet old friends and make new ones who have no memory of the good/bad old days and have come to drag racing during our absence. The list below is of people who have helped FGR and me without letting the past cloud the present. I would like to say a big thank you to:
Dad and Roz for starting it all; Gordon Smith; Dave Bryant; all of the Shockwave crew old and new; Jamie Willis; Antony Billinton and GMax; Terri-Anne; Geoff Bosworth; Darren Owen; Gary Page; Lawrie Gatehouse; John Spuffard; Keith Bartlett; David Lloyd Jones; Darren Prentice; Darren Galloway; Ian Marshall for signing off my licence twice! Best wishes to Paula and yourself; all the Santa Pod crew who put up with my licensing; Andy Willsheer; Ian Blackett; Julian Hunt; Geoff Martin; Mark Norton; Geof Hauser; Jon and Lesley Wright; Martin Hill; the Turner family; Rene van den Berg and Corrine; Binzi; John Hunt; Clive and Jake Mechaell; Richard and Sam Stevens of MPM for their tireless work; and Mapei UK without whom the Funny Car wouldn't have turned a wheel over the last three years.
Eurodragster.com: Thank you very much indeed for your time Jason. We look forward to seeing you at Santa Pod next week, good luck and stay safe.
---
FGR Motorsport Facebook page
Shockwave Fuel FC Facebook page
Features and Interviews index
Back to News page
---