John Price and Graham Beckwith step down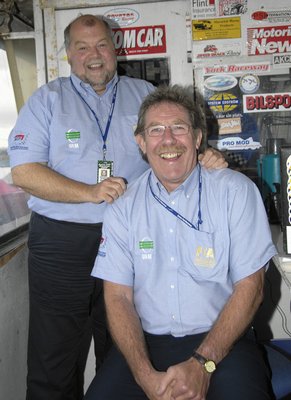 Santa Pod Raceway's long-standing commentators John Price and Graham Beckwith announced their retirements from track announcing after the 2008 FIA European Finals and 2008 UK National Finals respectively. John Price had been commentating since 1981 with two very short breaks, Graham had spent seventeen years beneath the Hemlet of Truth, and the Dynamic Duo were unmistakeably and undeniably the Voices of Santa Pod.
We have received the following tributes to John and Graham. If you would like to send your own tribute, please E-Mail tributes@eurodragster.com.
The most recently-received messages are at the top of the page.



---
When Brian Taylor left the commentary box at Santa Pod I thought it would be impossible to replace him but along came John Price and if anything the master was outmastered (is that a word). Soon joined by Graham a new partnership was formed and the Hinge and Bracket of the drag strip were born. Sorry to see them go but every cloud has a silver lining and Santa Pods loss is the Damn Yankees American Car Club's gain as John will continue to commentate on our events at North Weald airfield. Thanks guys.

-- Gary Hall, Chairman, Damn Yankees ACC


---
Theres not a lot I can say thats not been said already. I have been a spectator at the Pod with my kids for many years, and I can honestly say that we will miss John and Graham in the commentary box. They will be hard to replace and they worked so well together. Drag racing and John and Graham go hand in hand. First we lost the Barn and now J & G. I never ever thought they would retire and thought they would be at Santa Pod forever. We found their commentary fun and educational and they always had time for everybody.
Sorry to see both of you go and thanks for all the great commentary in the sun and rain, good luck in your retirement.

-- Mark Taylor


---
I have read most of the tributes for John Price and Graham Beckwith regarding their retirement from commentating at Santa Pod Raceway, after what seems a lifetime to so many of us. However I wanted to put my own tribute to both of them, as I have been their employer and boss if you like for some twelve years now.
Firstly like all professional people who are good at their job, John and Graham made commentating from the tower on any drag racing, or classes, look very easy. It is anything but easy and something that many people do not fully appreciate. To commentate eight hours a day (oops, first boo boo...sorry boys, eight hours plus and with no overtime), and be able to make each and every commentary informative, interesting and fun, takes a very special skill which both John and Graham have in abundance. So much so that sometimes they did not even realise just how good they can be. In fact often asking or looking for confirmation "Were we good enough?". I think their past history and experience answers that and speaks for itself. They were also the stars of Santa Pod along with the drivers and teams.
I have had the pleasure of working with both them on many projects and both were always the consummate professional and there is no doubt that John Price, as far as televised drag racing goes, was and is the Voice of Drag Racing. Both are going to be a very hard act to follow, that I know better than most.
I know that the spectators and the racers had all come to just accept that John and Graham would always be there able to cover that area of the event with ease and in a total professional manner and that is exactly how I had come to view it too: taken for granted, not in negative way but in a very positive way. Again a sign of true professionals at work.
Many people especially the racers thought that the tenure of John and Graham would never come to an end. I guess it would have seemed quite natural for both of them to just pass away in the tower, while commentating on a major international drag race meeting, or finally have become so old and worn out that a more tna eight hour shift at the microphone would finally finish them off. In fact I myself was hoping that is how their tenure at Santa Pod would end, two old men worked to death in the Tower with me standing over their bodies saying "Boys, you were good today...John, Graham are you OK, what's wrong…get up you've still got two hours to go". I would have liked that very much, say around the year 2020.
But it is the year 2008 and not 2020 and both of you have beaten me to that scenario and the fact remains the same, you will be sorely missed and a very hard act to follow.
As some people know John Price and myself actually do have good friendship and relationship outside of Santa Pod, both of us have young daughters under ten years of age who are also friends, and our two families see each other on a fairly regular basis. Plus John and I get to play with steam trains, both real and model, and if he thinks he is now going to have more time to play with his trains I am going to leave you all with this last thought, which John knows: he will return, just like General MacArthur in WW2, and sooner than you all and he think. Enjoy your very short retirement John, we have a busy time ahead and that goes for him up north too!

-- Keith Bartlett


---
All of us here at Santa Pod Raceway would like to say a big thank you to John and Graham for all the hard work and enthusiasm they have put into drag racing and commentary over the years. Your knowledge and professionalism will be difficult to follow and we wish you both the very best wishes for the future!

-- Everyone at Santa Pod Raceway


---
Well what can one say. John and Graham, may your retirement be long, and thanks for the encouragement you gave all racers. I am off to AC Delco Nats in Vegas, I just wish their commentary was as good as you two. Stay well guys.

-- Trevor, Paul and Chris Flemons, Blacktop Racing


---
European drag racing will never be the same without you guys! It will not be an easy task to replace you! We will miss you even though we are not active in racing any more. Take care and we wish you both well.

-- Viveca and Håkan Averstedt


---
Drag racing is a poorer place for the loss of these two giants of our great sport; your departure will be felt for years to come. Your grasp of situation, the utter professionalism, incredible depth of knowledge, so many years of experience. That perception and understanding of the moment as it happens and relaying that in simple terms that kept everyone on the edge of their seats is now gone.
No words can express the loss of you guys or can even begin to realise the consequences. Your retirements are a stark reminder to us all that we are no longer in our early twenties, time waits for no one. Your time spent entertaining us all has been a bedrock of European drag racing and will never be replaced. Please stay in touch and watch it grow, it's people like yourselves who have helped shape European drag racing and make it what it is today.

-- Paul Marston Racing


---
When I first heard JP calling the races at Santa Pod Raceway I thought "I'd love to have a go at commentary". Little did I know that years later I'd get a a shot at it at Shakespeare County Raceway thanks to Jerry Cookson and I remember vividly bricking it when I was told I'd be riding shotgun at the Super Series races with the man himself, John Price.
John was totally charming and made me feel totally at ease and we were soon bouncing off each other (not the same league as JP and GB though, they were a one off).
One of the many things I've learned from John was to talk to the folks in the stands who were probably at the races for the first time and probably didn't know what they were looking at , thanks John.
Another big deal for me was "Working the other end of the floor" to Graham Beckwith at the 2007 SPRC/APIRA Awards Dinner, another one of those bricking it moments when I was made to feel totally at ease by a consumate professional. Thanks for all you've taught me gents, I'll miss you both and wish you both all the best for the future. Thanks you John, good luck, relax and watch your daughter grow and don't be a stranger, likewise to Graham, all the very best to you and thanks for the memories.

-- Barry Bohannon


---
John. If only I hadn't visited the Street Rod Nationals in 1980... And thanks for the Mini Christmas Shows at Malvern. What rocking events they were. By the way I'm still sticking with all that model railway equipment.
Graham - The Flockton Flyer. Only he could have sold the worst Father Christmas hats in the world at the Mini Christmas Show North at Barnsley by convincing Yorkshire folk that they were a one off bargain. Well - I'll go to the foot of our stairs.

-- Ron and Jen


---
Thanks for the hours of entertainment and laughter you provided for all of us over the last eight years we have been involved in racing. Good luck for the future.

-- Al and Linda Platt, Rainy City Racing


---
I do not know what everybody will do at the Main Event but everybody is looking for Statler and Waldorf, up in there chair and talking for long hours. Always a nice word for everybody and then the humour, that is what we are going to miss. Even when drag racing is a serious business.
Over the Years there were very special moments. For those sweet words (can tell you it helps) a big thanks. Drag racing is a big family and you both are still a big part of it. Hope to see you around the track(s) and take care of yourselves.

-- Monique Koedam


---
It can't get any worse, can it? No racing (thanks to the rain), no barn (thanks to some clowns), and now no commentators to talk about either! Such a huge loss to all of us. Gonna really miss your instantly recocnisable voices and wicked laughs talking away about engines and stuff. Perhaps most memorable for me when John was asking the crowd who had seen Sammy Miller at the Pod before (brought a lump to the throat and a tear to the eye). And of course really funny when John used to whistle the Laurel and Hardy tune to Freddy Fagerströms team on their motorised thingy going up the fire up road! John you must have had serious problems walking after the huge excitement of seeing the Pro Mods coming out (no Viagra needed there)! Anyway guys many thanks for such professional and entertaining commentary over the years, hope we will see/hear you both sometime in the future at the Pod.

-- Tim, Steph and Lee Brister


---
We have to hope that like quite a few famous retirements you'll chose to make some comeback appearances. The sport of drag racing has undoubtedly grown with the effort and support that both of you have given it. From the very start although individually commentating at Santa Pod and York you two shared such enthusiasm you carried us all along and helped us realise our goals. I'd like to thank you both for the support you gave to the UK Super Gas Championship and its sponsors in it's formative years. You helped us shape the future of the sport and grasped new concepts of racing quickly, worked congenially with everyone in Race Control and lifted the crowd beyond excitement. Encouraging, sympathetic, concerned and taking the piss on all the right occasions - the Pod will seem quiet without you.
We've all grown up with each other and no-one likes to quit but Pricey Poos when you said at the Euro's "Don't try this in your Dad's Cortina" we did think it was time for you to go - though we're not sure what young Arkwright's excuse is?

-- Lesley and John Wright


---
I'm a newbie in the Santa Pod tower with only three seasons of adding a li'l bit to the UEM bike sessions at the FIA/UEM events. It almost ended with my overly excited first try out but to have gotten the opportunity to step up them gangly stairs more than once to be handed the Helmet of Truth from legends Price and Beckwith is most definitely the highlight in all drag racing microphone work I've done.
It's been a true pleasure and honor to work with two such genuine professionals and gentlemen as John Price and Graham Beckwith. Many thanks guys, hats off to you.

-- PiPPi


---
Santa Pod will never be the same without you. I'll miss you in the future when I'm sitting on a hopefully sunny bench!

-- Annemieke


---
It is going to take some getting used to without you two behind the mic. You have kept everyone informed whether first time spectator or seasoned veteran with a sublime and calm style that has endeared you to thousands.
We need you to do a Murray Walker and turn up for the odd guest appearance to keep your replacements on their toes...no pressure there then!

-- Mark Exley


---
At least I know I can still at least hear John's famous tone when they put me on hold at US Automotive!

-- Neil Tanser


---
I have been a regular at Santa Pod since 1978. Thank you both so much for your efforts, I'll miss you. Good luck guys, hope you're watching when I get the ex-Sheavills/Shell Top Methanol car back to the strip.

-- Neil Tanser


---
I only can say I never have heard two better talking guys on a radio station or as a race speaker team. I was a real fan of those guys and I want wish them all the best for the future. I hope they have the same fun like I had when they talked to me or to the spectators. I will really miss those guys.

-- Urs Erbacher


---
Good riddance to the both of you! Yes, you two laughing hyenas. Don't you remember? You used to mock me while I was held up by the neck and dangled behind an afterburner, to be roasted by the jet car, gassed to choking point by its thick white fumes, deafened by the Top Fuellers, peppered with stones and rubber from all the Pro and Sportsman cars as they did their burnouts and all I could hear was you laughing at me!
You may have been the most brilliant commentators Santa Pod has ever had, and in a strange way I might miss you, but I hope that you feel ashamed for taking the piss out of an old rubber bird.

-- Charlie the Chicken


---
Somethings naturally go together. Fish and chips, tea and biscuits, Morecambe and Wise, Cannon and Ball etc. etc. You two really know how to get the show going, the natural enthusiasm came across so well, you know so many racers, respective crew, family, it really echoed the family feeling of the drag racing community.
When we had our unfortunate incident a few years ago it was made less painful when you both showed great concern and words of encouragment. Graham, thank you for the neighbourly encouragement and visits (don't be a stranger), John, on my very first time in the new car you made a huge impression on us all by leaving your "post" to come and offer words of encouragement as we sat ready to make our first observed run, quite a moment.
You are both true gents and, in my opinion, genuine legends of our sport. Thank you both so much.

-- Wayne Nicholson, family and crew, Lucky Devil Racing


---
I've regularly attended events at the Pod since 1971, the Priddle v Skilton days. Although I don't remember much of the commentary from before your time, you have become to me the voices of Santa Pod. Let's not forget too John's informative and passionate commentary at the Goodwood Festival of Speed, in explaining the sport to strangers from other forms of motorsport and massively helping to raise the profile of drag racing.
How can it ever be the same again? We'll get used to the new commentators no doubt but you'll sure as hell be a very hard double act to follow! Thanks for everything and best of luck!

-- Andy Kitson


---
It's a sad farewell to a pair of professional commentators, who have entertained thousands of spectators and racers for many years. These guys have been the front line and backbone of the sport for many years, and indeed inspired me to take up drag racing with their comments of "Anyone can get involved". So for me a sad day has dawned...and a massive challenge to whoever picks the baton up. We will miss you guys. "Massive respect"

-- Paul and Sue Spiers


---
"Here he is ladies, Chrissy 'O', the man for the woman who has everything"...In his trademark silky smooth rumbling tone, this was just one of the introductions Pricey gave me over the PA as I came round to burn out at various meetings - whilst Arkwright, scoffing black pudding-on-toast, giggled in the background.
I'm one of a privileged few who can honestly say, it's been an absolute honour to have been publicly humiliated by the pair of you. And what a pair? John and Graham - the only blokes I know who can respectively make Pavarotti sound shite, and look skinny! You'll both be missed...by someone somewhere, I imagine?
No, really, you're a couple of stars, future commentary will never be the same. You both had the great gift of holding the crowd's attention, even when boring things such as rain and oil-downs were in full swing. Your knowledge was second to none and your enthusiasm was inexhaustible. Brilliant.
I can't go on, I'm finding it increasingly difficult to hold back the tears. Goodbye and God bless you both.

-- Chris Orthodoxou


---
I would like to say thanks for all the great work you have done for this great sport of drag racing, you will be missed and will be a hard act to follow!
Hope I will still bump into you both every now and then, at some race or show somewhere.

-- Andy Carter


---
Well, if you gotta go, you gotta go, but we all would rather you didn't. John, Graham, you have been the backbone of our sport for the past twenty odd years and tie the whole mess together every morning that tannoy crackles into life on race day. Informed, enthusiastic, funny, and always very helpful, "Here we go" indeed! I will miss those cheery waves and cheeky sarcasm just as I fire my bike up on the line, always helps my confidence. It feels like the end of another chapter in British drag racing, no barn, no John, no Graham, but I guess things move on. Good luck in your retirements from the tower, please come back regularly to see your extended families, OK? Thanks for everything,

-- Turbo


---
Two of the very best and most entertaining commentators in the whole of motorsport. Many thanks to you both for years of enjoyment. The Pod will never seem the same again.

-- Pete Roberts


---
John and Graham have been without doubt a major part of bringing drag racing to the masses. Commentating for twelve hours a day for three or four days is an amazing feat. You guys have an set the bar so high. You two are so good, and I don't think you realise how good you are. Hopefully you will stay in touch. "I motion that you are both admitted to the Hall of Fame. All those who agree say yes"...Yes, yes, yes, yes. Carried then!

John, you're a fantastic friend and a great mate. Enjoy spending more time with the family, but don't forget your drag racing family. They need you too.

-- Geoff Stilwell and family


---
Thanks for the entertainment you supplied over many years. Whoever is going to follow you guys will have a hard act to follow.

-- Marius van der Zijden


---
We think it's all over, it is now! So long guys and thanks for all the hard work you both put in over all those years, to make everyone feel so special when we raced. Now we will all feel like we have been orphaned when we race in 2009. Good luck and take care.

-- Gary, Dave and Eric, Jones and Friend Racing


---
I have been travelling to the Pod twice a year since the Main Event 2003 and it was and will be a pleasure to watch the incredible racing action at Santa Pod Raceway. This in combination with such a couple of commentators (we liked to compare them with Waldorf and Stadler from The Muppet Show) whose competent information came to our ears. I will miss that.

"Nitro FM will keep you informed, as well as John Price (and Graham Beckwith)...". Taken from a song about Santa Pod...

Thanks for everything, it won't be as it was before.

-- Markus Münch


---
What are we going to do without these two great characters? These guys have enriched the whole drag racing experience over the many years they have been commentating. Their astounding knowledge, expertise, and banter will be something the whole drag racing community will greatly miss.

-- Stu Bradbury


---
Enjoy your retirement lads, do not spend your pension lump sum all at once!

-- Jim Broome


---
Occasionally and endearingly known as Arkwright and Half Price, Graham Beckwith and John Price respectively will be a hard act to follow after all their combined years of service over the SPR microphones. Their combined knowledge of racers and racing coupled with their verbal banter on air was always entertaining but they will never be forgotten with their catchphrases, especially Graham with his wonderful Yorkshire accent and pronunciations of words like "Drakster", "...and in thirt spot" and the "Pot Shop". Keep in touch guys and enjoy your early retirement.

-- Roger Gorringe


---
As I have already told you in person, we are very sad that you are leaving. Santa Pod will not be the same without your voices. You have both commentated our most unforgettable moments at the Pod, even if it was bad (like hitting of the wall in 2003), a record we set, or our Championship win in 2008.
Thanks for everything. Don't forget us. We already miss you, and you know that your name is there in Markus' Santa Pod song...

-- Gittli Koller and Peter Schöfer Racing


---
So you're sodding off are you? No longer will we hear the rich tones of authority on the quarter mile. The booming baritones will no longer ring out at over the hordes of unwashed at the Pod (have you been on the start line lately - I myself am a stranger to Lifebuoy!) keeping us informed as to why the ET classes don't always leave the start line together and how nitro engines may likely more power than the asthmatic four-banger in your Mondeo.
There has been many a time when I've laughed my tits of at the inane verbosity between the pair of you on some aspect of the action on the track and the characters involved. I've marvelled at your ability to keep at it all day and have never envied you when you have been called upon to comment on things when they inevitably occasionally go wrong on the strip.
I've often thought that at a big meet you could almost get any monkey to comment when there are non-stop 200 mph passes (I'm joking really) and plenty of action in the sunshine. But I remember being up at York in the mid 1990s at enjoyable but low key meetings. There would be one man and a three legged Whippet spectating, supping a can of mild with pie, peas, chips and gravy in hand (the man had a bite to eat as well) and the quickest thing on the track was an Allegro with its bonnet off against a scaffold tube slingshot with a supercharged Hillman Minx motor running on meths. I jest of course. But the point is, I remember marvelling at Pricey on his tod, keeping the punters entertained with not a lot to go on. Which I thought was a stiff test and the hallmark of a good commentator.
So go on then. Leave us in the lurch as you sup on Champagne and Pate de fois in the south of France while we get to enjoy the toss up between the dulcet tones of a spotty oik desperately clutching copy of last month's Hot Rod in order to yodel some sense at the punters, or some geriatric cherub with a bubble perm who growled his last at Silverstone in 1973, rambling on about Vanwalls and Stirling Moss. The trouble with the old drag motors is that it ain't easy to comment on, even if you pair showed us otherwise.
It's been great and you will be missed. Best wishes in your future endeavours.

-- Mark Gredzinski


---
It has always been wonderful to travel far and come to Santa Pod and starting building the pit, organising everything and getting ready. Saying hello to all the fellow racers. Then when the PA cracked to life with the two famous voices embracing everyone - we've got the chills - knowing you actually had reached the goal and everything was as it should be, fully enjoying the fact that you once again are doing quality time.

Your voices have been the direct connection to our brains, the soul of the races. Qualifying or eliminations, you made every run important! In every class. And the way you've handled all the running facts in a witty and professional way showed that you loved the sport of drag racing as much as the racers themselves! Therefore we love you.

-- Anders 'Bostic' Envall and Team Blackout Full Size Racing


---
I'm really sorry that we won't be hearing your dulcet tones at the races any more. It was bad enough when Brian Taylor went, and I had only been racing a few years then, but now it seems like you have been there forever! You two will be sadly missed, mistakes, cock-ups and all, it was all part of the fun. Hopefully I will see you soon.

-- Peter Lane


---
Both these guys in my opinion helped spectators like myself enjoy the sport that much more. These guys knew exactly how to raise the excitement with their brand of commentary. How many times have we heard "HERE WE GO", and the adrenalin level went up two fold. Their combination of commentary expertise will be sadly missed. All the best to both guys!

-- David Rose and family


---
To those of us of a certain age, you have been synonymous with the sport since we were young. A good word that, synonymous. Maybe the replacement commentators can explain to us exactly what it means one day? Anyway, to have issued forth with such delicacy, understanding and politeness on our antics in various mounts over the years is commendable in the extreme. And never a single mention of the obvious - one of us being vertically challenged, and the other follically so.
More seriously, producing a commentary on the hoof, as it unfolds, is one measure of professionalism. Another measure, far more difficult to achieve in our view, is to pitch the patter at a level that captures and holds the attention of both the fans AND the racers all in one go, and which can be understood equally well by any newcomers seeing the sport for the first time. That isn't easy, but both you blokes have made it look so for a very long time. And to have done it so seamlessly, personably and knowledgeably when speaking about so many hundreds of cars, bikes and teams all present on the same day is truly outstanding.
When a piece of fabric is torn from the bigger picture, it can be replaced but it can never be the same as it was before. There comes a time when everyone has to move on, so we thank you for your massive contribution over the years, for your professionalism, and for your friendship. We wish you well with whatever you do now.

-- Colin Fallows and Mark Newby


---
A big THANK YOU goes to the two (ex)-voices of Santa Pod Raceway, it is hard to imagine a race day without your comments, so colourful and full of knowledge, both for the first-time visitors and the hardcore fans. I always enjoyed listening to you, either trackside, or being woken up in the tent by the PA , or recently in my living room as you were blasting out of my speakers.
Some of the intended - and sometimes unintended - humorous commentary (and glitches) are legendary now, but it sure is a hard job commentating live for hours (I can testify that). Sometimes I even had the great privilege to come up and join you as a "Guest voice" , and these moments I will never forget. Regards from the German motormouth.

-- Benni Voss


---
John and Graham both going... I don't know what to say, for a lot of us it will be like being suddenly orphaned. John and Graham have been the perfect duo in commentating for so many years, it will be a hard call to fill their oversized shoes. John was a master of conveying excitement and inspiring awe with his booming voice even when remarking on a wheel spinning aborted race and Graham joined in the dialogue with great humour and wit.
It's a sad day when both decide to go missing, although rumour has it that Graham has found gainful employment at a much more prestigious venue, the celebrated, world famous Brainless Raceway Park in Braintree, after being head-hunted by owner/promoter Tracy Doyle.
Good luck in your future endeavours guys, you will be missed by all at the track.

-- Carla Pittau and the Heaven and Hell team


---
Well it's with a hint of sadness really that I write about John and Graham departing. I've become so used to the sound of them, enjoyed their commentary and interviews immensely and believe that what has made this partnership work so well is their great friendship, and this really comes across in their fluid commentary and exemplary team work! I know them both and they really are a couple of great guys...true drag racing men.
I tuned in to Nitro FM over the National Finals weekend and whilst listening to Graham's commentary partner auditioning for the job I realised just how easy Graham makes what it is a very tough job, look easy. That combination of knowledge, experience, competence, concentration (for long days) and a true of love of drag racing makes John and Graham a very hard act to follow! But times move on, and the template has been well and truly nailed for the next generation of Santa Pod commentators!
I wish you both well and look forward to seeing you at the track.

-- Darren West, Power Race Graphics


---


First of all we lost the "Marshmallow mountain", now John and Graham. Take care guys, we will all miss you in the 9.50 Bike pits.

-- Sandra and Fred Furlong


---
I sit here with a tear in my eye to bid farewell to two old friends. They both have followed me through all the classes, me and my old Zephyr have gone through right through to Pro Mod and have encouraged me all the way. It was John who started the "Ragin' Ray" White after one of my many outbursts - at York if I remember. The two voices of Santa Pod, it just won't be the same. Someone's got some big shoes to fill.
I hope we will still see you guys at the track cheering us on. Get those slippers out guys and put your feet up, you deserve it. I don't think I'll be far behind you.

-- Your friend and big mouth Ray White


---


Two of the nicest guys I have met, and two legends of Race Control! Hopefully see you guys soon.

-- Bill Macdermid


---


Another milestone in drag racing going. I and my friends have been going since 1966 and heard a few different commentators they have all been good. Who's taking over, Pinky and Perky!

-- Ken and friends


---
Well what can you say about Smashey and Nicey. I remember John way back from my Ultimate Streetbike days in the late 1980s when john would travel to all the spurious tracks with his colourful commentary and he always had a good thing say about you. One of my best moments was when I was at donnington park with my fuel bike doing demos at the MCN Bike Show for Steve Parrish and co. We had just run the bike and I had multi-time Funny Bike champion Neil Midgley towing me back, while I was at the end of the track waiting for Neil it would appear that Neil had set off a little fast and the scooter wheelied and he lost control and ran over John, knocking him clean over to huge applause from the crowd. John being the ultimate professional picked himself up and was more concerned about Neil and the show than himself. John you're a top guy and thanks for looking after us both on track and with the insurance, the Pod won't be the same without you.
As for Graham whom I like to call dad, I have very good memories not only as part of the great commentary duo at the Pod and when I used to race up at York on my bike but when also I was doing the world records and stunt riding shows. It was Graham's colourful humour that made myself and a lot of other big names look and sound better than we actually were. We had some great laughs too, so from your little lad have a good one dad!
So I wish both of you the very best in whatever you choose to do, and to say you will be sadly missed over the hallowed speakers of Santa Pod Racwway is an understatement.

-- Chris 'Cannon' Hannam


---
Just a line from one old commentator to two others. My visits to Santa Pod over the last few years would not have been the same without your great and informative commentary. The whole show is a lot more complicated than when I was around in the 1970s and you can be proud of how you have provided a crucial link between the spectators and the racers - keeping them informed in a very entertaining way. Those who follow have something to live up to - but I'm sure they will be up to it. Has anyone contacted Ant and Dec?

-- Brian Taylor


---


You were always a pleasure to work with. I popped up to the Tower and said my bit in my usual Lancashire dialect and you always made to feel welcome. You were a big part of my European Championship fight! Fond memories lads. Good luck for your futures.

-- Smax Smith


---
John, Graham, please don't go! It will never be the same again. Apart from your intimate knowledge of drag racing you are thoroughly entertaining. We are amazed at your knowledge of aircraft that pass over and how you entertain when idiots set themselves on fire in the Barn. How you are always cheerful when it rains, the parish notices etc. How you keep everyone interested and speak plain English. You will be missed. Please don't go. You are the Murray Walkers of drag racing, he went on till he was 70. Come on guys, please! But if it really is time to hang your boots up, then a very big thank you for everything you have done for drag racing and a very personal thank you for making my days at Santa Pod so enjoyable, come rain or shine. From Bruce, attending Santa Pod since 1978, now in Dubai and still doing the same. It was nice to see some rain but not that much!

-- Bruce Moult


---
I had the pleasure of working with John through the late 1980s and with both John and Graham in the early 1990's and they are both great guys to work with. Many people are often quick to complain about the announcing but few realise just how much time and research goes into making it work. These two make it seem effortless but I can assure you it is not. You will be both greatly missed by all at the race tracks and the anouncing booth will seem an empty place (without Graham anyway!). Cheers guys for some great times and good luck in the future.

-- Steve Young


---
Can I just say a big thankyou for all your combined efforts throughout the drag racing scene. I had the pleasure of meeting John Price at Santa Pod many times and it was always a pleasure. Both of your commentary voices are very infectious, add to the ambience and magic of a good drag racing meeting, and will be sorely missed. Best wishes for yourselves and families in the future.

-- Pat


---
Features and Interviews index
Back to News page
---