Jon Webster on the Japanese scene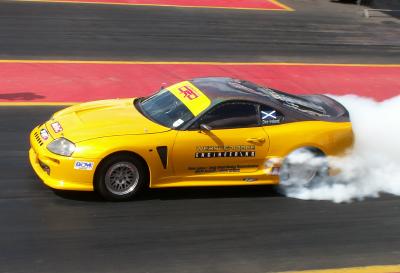 One weekend after the UK National Finals is an event on Santa Pod Raceway's calendar which attracts huge crowds, ground-breaking race machinery, big money race cars and as much press coverage, or more than, the mainstream drag racing Championships. The JapShow Finale is the final round of the HKS Drag Series which is exclusively for Japanese-bodied cars running Japanese engines - not a V8 in sight. While this may seem like a vision of hell for some, Jon Webster of Webster Race Engineering has seen both sides of the fence and is equally at home helping 1,000 bhp six-cylinder cars to run eights as he is doing the same with V8s and superchargers.
Jon has helped to engineer the Toyota Supra of HKS Drag Series Pro class racer Dee Ireland, and Rick Cuthbert of Santa Pod Raceway spoke to Jon shortly before the 2007 JapShow Finale to get his thoughts on the Japanese scene.
Rick Cuthbert: How did you come to be involved in the HKS Drag Series?
Jon Webster: My interest in the Japanese scene started when we asked Santa Pod if we could test at a Japanese event with Ray Comer's Camaro when we first finished it in 2004. We just happened to pit next to Dee Ireland from Calder Motors (Scotland) that day. We exchanged pleasantries then the conversation went on to horsepower levels, his being 1000hp+ and Ray's being 600+. We then went on to prep our respective cars and headed down to the star tline.
Post-run discussions then followed, along the lines of:

Dee: "If you've got 600hp+ and I have 1000hp+ how do you run 9.6 second quarters and I run 10.2 second quarters?"

Me: "The speed comparison to mass of the vehicle reflects the power you are making. Dee -152 mph -1600 kilogrammes, Ray -140 mph -1400 kilogrammes. The elapsed time is a reflection of chassis efficiency, subsequent grip and acceleration rate. So if your chassis is efficient your sixty foot time is faster. Dee - high 1.50 second sixty foot, Ray - high 1.30 second sixty foot."

Dee: "So how do I get the efficiency?"

From that point we got involved with Dee modifying his chassis and driveline and helping him at the track. I recognised from that first meeting that these cars have huge potential on the drag strip because of the relatively easy high horse power at reasonable cost and also the presence of a competitive spirit amongst the racers. We have since attended all the events and have been involved with several cars for the series.   
Rick Cuthbert: What do you think is the most interesting aspect of racing Japanese cars?
Jon Webster: The most interesting aspect of the Japanese cars is the technology in and around the engines; they are so efficient. Horsepower per cubic inch is way beyond your average drag racing V8. A 600 ci V8 with 1000 horsepower is 1.66 hp per cubic inch. A three-litre (183 ci) turbo injected straight six with 1000 horsepower is 5.4 hp per cubic inch.
Don't get me wrong; I'm a big advocate of the American V8 (I've raced the ultimate nitro variety). But the turbo technology being used with the Japanese cars we're now involved with actually prompted me to apply it to my MG small block Ford V8, resulting in 4.2 hp per cubic inch.
Rick Cuthbert: What is the main limitation to the performance of these cars?
Jon Webster: I think it will be a long while before we see the limitations of these cars. The hardware for the engine types is becoming more and more readily available at very reasonable cost. And when you apply this to the drag race style gearboxes, transmissions, clutches and axles you have not only a powerful lightweight drivetrain, but a reliable one. The rules for safety construction pretty much dictate the chassis construction for the performance levels and we already know what's possible in that department.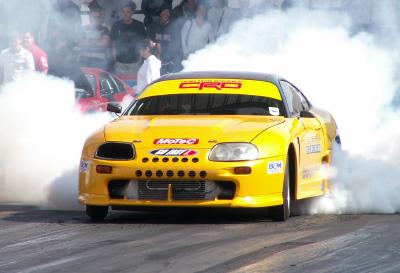 Rick Cuthbert: What are the differences between events like the JapShow and race events such as the UK National Finals?

Jon Webster: The obvious difference between the types of events is the demographics. With drag racing there is a pretty obvious age difference and apparent lifestyle. The other obvious difference at the Japanese events is the large corporate presence. The events are an active market place, and I believe the spectator goes there expecting that.

Rick Cuthbert: What are your expectations for the JapShow weekend for both Dee's car and for the fastest run of the weekend by any competitor?

Jon Webster: Where heads-up racing is concerned, we always go to any event with a game plan to run quicker, that's just the nature of the beast. I expect we will run quicker with Dee's car, and I would like to think it will be in the 8.5s or even 8.4s, I also expect the other quick cars from the last event will turn up expecting to run quicker. I honestly believe that conditions permitting we will see a seven second pass from Steve Whittaker (Toyota Supra, current PB 8.2 seconds), and John Bradshaw (Nissan Skyline, current PB 8.5 seconds) has the potential to go a lot quicker.  

Rick Cuthbert: Why do you think there is reluctance by some drag racers to accept this part of the racing scene?

Jon Webster: By nature drag racers - no...all racers - are very competitive and are generally immersed in their own operation. Many may not be fully aware of what is going on with the Japanese programme. I'm sure that once experienced first hand most will, if nothing else, respect what is going on.

With the money currently being invested in the Japanese scene, and the limited events for their specific competition, we will see them cross over into mainstream drag racing, looking to get more track time and develop their racecraft. But I'm sure in turn they will benefit main stream racing with their diversity and hopefully the corporate presence at their events may translate to ours. 

Rick Cuthbert: Is there any rivalry between yourself and Andy Robinson, builder of John Bradshaw's 8.5-second Nissan Skyline, to run the fastest at the JapShow?

Jon Webster: I'll admit that there is always a healthy rivalry between myself and Andy when it comes to producing competitive race cars, and I believe we both strive to produce the best possible products we can within our clients' budgets. This in turn creates a healthy marketplace, giving potential and current racers confidence of product satisfaction from not only Andy and myself, but other constructors within drag racing.

As for John and Dee, each of us I'm sure will be doing our best to get the best from each respective car.


Feature ©Rick Cuthbert and Eurodragster.com.


---
Dee Ireland's web site
JapShow Finale web site
Webster Race Engineering web site
Features and Interviews index
Back to News page
---