Jussi Puolakka and dAMBEST carburettors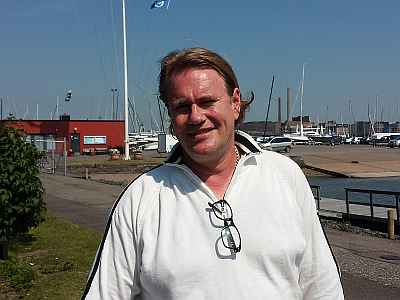 Jussi Puolakka lives in Helsinki, Finland. After racing in Sweden and Finland, and a road accident which robbed him of the use of his left arm, he studied Automotive Engineering at Helsinki University of Applied Sciences. Before, during and since his studies, his main interest and devotion of his time has been to specialize in developing engine technology from the standpoint of reduced friction and to find low friction coating methods for internal combustion engine parts, gears and differentials, bearings, and low friction lubrication. He has done this with the support of DIARC-Technology Inc., an expert in coating technology based in Espoo, Finland.
Jussi is now European dealer for John Satterfield of US fuel delivery technology company dAMBEST Inc. and his six times patented fuel technology, parts and carburettors, whose products are available now to European racers via his firm IRASO AB based in Finland.
Eurodragster.com thanks Dave Riswick of Eurodragster.com sponsor John Woolfe Racing for helping to arrange the interview.
Click on any picture for a large image.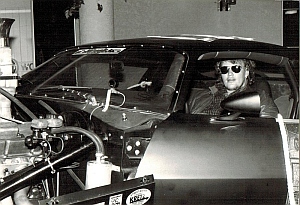 Jussi in 1986 with his street/strip Camaro
Eurodragster.com: What is your background in drag racing?
Jussi Puolakka: In 1976 I started in drag racing and moved to Sweden to work there. I bought a Camaro street legal doorslammer in Sweden in 1986 and then built the engine for it with a tunnel ram intake system. The car is still racing in FHRA in Super Pro ET and has done so since 1999, when it was driven by Lasse Niskavaara in Super Gas, and twice won the Finnish Championship with several runner up positions. One of the championships was the last Finnish Championship in Super Gas in 2009, the last year for Super Gas class in Finland. I bought the car back in 2011 and sold it 2013 to Esa Suokas who is on the FHRA executive committee. With a 481ci BBC and Powerglide, car has run a best of 9.35s / 235 kmh.
Eurodragster.com: Since you stopped racing, what have been your main activities?
Jussi Puolakka: I designed a prototype inlet trumpet and annular venturi for a Dell'orto or Weber carburettors used also in aircooled Volkswagen Type 1 and Type 4 engines. The venturi fits on the carburettor and is next to the throat. I noticed they used this kind of throat and venturi in carburettors used in some Black Magic carburettors for water scooters. It makes the air flow better and fuel mix better to air. John Satterfield has patented his small droplet technology which is more sophisticated than my annular venturi design, with patented metering blocks which are the brain of mixing fuel to air.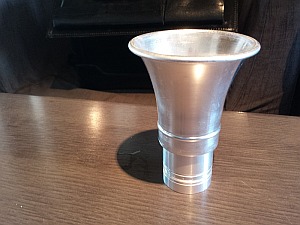 Prototype inlet trumpet for
Dell'orto or Weber carburettors
Eurodragster.com: How did you meet John Satterfield?
Jussi Puolakka: Since 2003 I have followed John Sattefield's products via his company site Dambest.com. In 2010 I ordered first set of Dambest Split Dominators after I had started to build an Auto-Craft 2.7 litre VW Type 1 drag engine. I had found that the split Dominator he produces could be used on big displacement VW aircooled drag race engines. John has worked on CAD drawings to adapt such a carb to replace the Weber IDA, with half a split Dominator on each barrel of a VW engine with the same manifold bolt pattern as the Weber IDA. These Weber IDA replacement carbs with small droplet technology can now be ordered from me.
Eurodragster.com: Who are dAMBEST carburettors?
Jussi Puolakka: dAMBEST is an acronym for Dutchess Automotive Machine Shop in Poughkeepsie, NY which claims to make the best carburettors and parts for them. It is owned by John Satterfield, who has been a racer in NHRA Modified and Competition Eliminator classes from the mid seventies onwards. As he is a consummate engineer he developed a machine for spinning engines without ignition and producing a valve train dyno, which became known as a Spintron.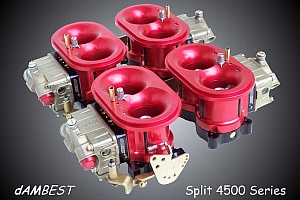 Split Dominator carburettors
For the last thirty years John has carried out a lot of research in combustion engineering looking for ways to make the fuel-burning process more efficient. As a result he has built carburettors using patented technology to suit the needs of the engine and form of racing that a customer is involved with. Applications have included many classes in drag racing where aftermarket carburettors are allowed as well as the NASCAR Sprint Cup, Circle Track, and Dirt Track racing.
I contacted John Satterfield after my own invention and he has been able to supply many parts which I am making available to racers in Europe.
Eurodragster.com: What is the main feature of dAMBEST technology?
Jussi Puolakka: I would say it is the patented small droplet technology. Large droplets of fuel do not promote efficient combustion fall out of the suspension and cling to the inlet manifold, which can cause power imbalances between cylinders. The tiny droplets produced by dAMBEST products have been measured to be 19% more efficient than constant flow fuel injection and a lot more even in distribution between cylinders than normal technology carburetors.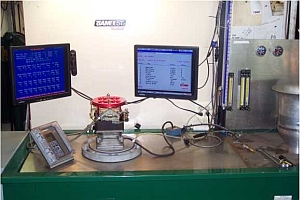 dAMBEST Wet Flow 3000 Test Bench
Eurodragster.com: You also deal with parts for Holley, Demon and Braswell carbs?
Jussi Puolakka: Yes, dAMBEST makes aftermarket carburettors including Dominators and split Dominators and products to fit original carbs of all these makes. Parts such as float bowls or metering blocks can be used with methanol, E85 or racing gas. When John delivers a complete carburettor to a customer he uses a wet flow dynamometer and delivers data to support the fuel curve so the customer can adjust the mixture specifically for the application.
Eurodragster.com: What are the more advanced products you deal with?
Jussi Puolakka: For the Dominator carburettor, to replace the float bowl supplying fuel to the metering block, there are adjustable injection nozzles. After the wet flow of the carb a customer can adjust the ECU to produce a baseline for different fuel curves with a computer. It is a combination of carburettor and electronic fuel injection technology. The injection nozzle system is allowed in Australia Pro Stock and John is working hard to get this system accepted in NASCAR racing. It is still a carburettor but the float bowl is replaced by the nozzles in the metering block controlled by the ECU. The pressure is not as high as in a standard fuel injection system and works with low pressure normal fuel pump rather than a high pressure injection pump. This setup is allowed for any Sportsman classes that allow carburettors including Super Stock, Super Comp and Super Gas. The carburettor body designed using CAD is made out of billet aluminium which makes it very light. I am working hard to make his carb system available to racers in Finland and Europe raising the awareness of the product.
Eurodragster.com: Thanks for your time Jussi, and best of luck with your venture.


Feature ©Simon Groves and Eurodragster.com


---
Boosters
Metering block
Float bowl
Split Dominator with electronic injection
nozzles replacing the float bowl
Jussi and friends working in the snow
Tunnel ram manifold in assembly
Sonny's big block engine
with Dambest carbs
Split Dominator for use
on VW Type 1 engine
damBEST Pro Stock series carbs
---
Jussi's IRASO AB Finland web site
damBEST web site
Features and Interviews index
Back to News page
---