General
Home Page
Add a web site
Jeff Bull Swap Meet
Send a News Item
Site Search by Hauser Racing
2019 FIA/FIM Championships schedule
News, Coverage, Features
Latest News
John Woolfe Racing Event Coverage
OCS Paint Points Standings
Features, Interviews, Tributes
Racer Blogs Lex 01/03
WRE/Nimbus Webcam
LA Racing Parts Links
Racers' web sites
Associations, Clubs
Race calendars
Results, Reports, Info
Pictures, Video
Performance Parts, Merchandise
Sponsors
Tracks, Shows
Information
Timing Data
European and UK Bests
Champions' Champions
Editor's Diary archive


Exclusive Feature on King Racing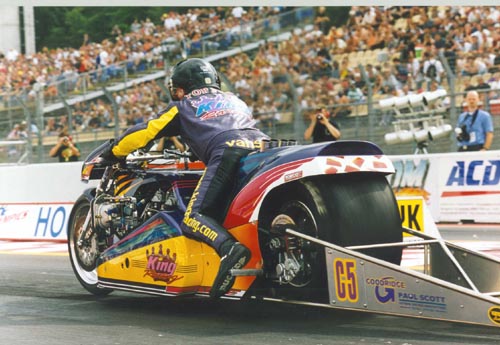 Photo courtesy of Henrik Vormdohre


Welcome to the second of our occasional series of Race Team features. This time the spotlight falls on Ian King and his team, King Racing. Last year was a standout year for the team as Ian rode the King Racing top fuel bike to victory in both the ACU Top Fuel Bike championship in the UK and in the UEM Competition Bike series in Europe, resetting his personal best time and speed numerous times and establishing two new UEM 1/8th mile record's along the way. On top of all this Ian also maintains the most popular motorcycle drag racing website in Europe at www.kingracing.com.

We would like to thank Ian for making the time to take part in this team feature and the professionalism with which he approached it.


Eurodragster: Tell us a little about yourself away from the track?

Ian: I'm 40 Years old, married with two daughters, aged 3 and 6. In terms of interests away from Drag Racing, I still play football a couple of times a week and I'm a Chelsea supporter (despite Dad having played for Tottenham Hotspur, and having lived in Tottenham for a lot of my childhood!). I now live near Cambridge and am a Global Marketing manager for the electronic chemicals division of ICI based in South California. This means I don't have a lot of spare time as I spend every week travelling abroad.


Eurodragster: When did you first go to a drag race?

Ian: I visited on a coach trip with the Boy Scouts when I was about 8 yrs old.


Eurodragster: When did you first take part in a drag race?

Ian: Officially, it would have been an Ultimate Streetbike meeting in 1983, but I had taken my bike to a RWYB before that.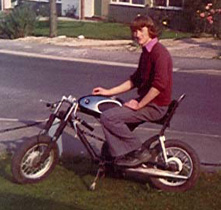 Ian with his first bike

My interest in motorcycles started at an early age when I watched the older girls at the bottom of my road being picked up by their respective boyfriends on a bright yellow Ducati 750SS and a White and red Seeley Framed SOHC 750 Honda. I built my first bike at 12 years of age that featured a 70cc Garelli scooter engine and wheels welded using some car battery and stick contraption into a Raleigh Chopper pushbike with a Suzuki A50 tank and forks (all parts scrounged from the local rubbish dump)! Later in life I became reasonably well known for the features on my `specials' in the mainstream motorcycle magazines. I built road legal machines that were basically Road Race frames from companies such as Harris Performance, and shod them with trick racing brakes, wheels and suspension. They were powered by either tuned normally aspirated engines, nitrous oxide or by my favoured method for killer performance on the street, turbocharged engines. However, being essentially Road Race machines, they had a short wheelbase and little rake, so the steering was very quick. Fundamentally the opposite features you would desire in a Dragrace chassis. This resulted in `interesting' launches.....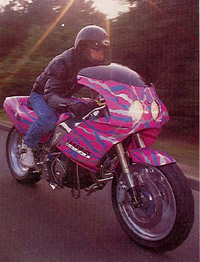 Ian on one of the 'Specials'

Eventually, I succumbed to extending the swinging arm and I was dragged (no pun intended) deeper and deeper into the world of dragbikes. A succession of Suzuki GSXR based Streetbike and Super Streetbike machines followed, but I was watching the Funnybikes of Pip Higham and Alan Nash with great interest. The highlights of my Streetbike career were winning the Irish Dragrace Championship in 1994 on bikes borrowed over the season from Dennis Kelly (Harris Turbo) and Karl Larcombe (Katana Turbo), and winning the Brighton Speed Trials Dolphin Trophy twice.

However, after racing with my streetbikes against such luminaries as Barry Eastman, John Clift, Steve Woollatt, and Paul Rose on their `real' dragbikes in Ireland over a few years, I decided to take the step to slick tyred machines. After watching some low seven second passes by the US rider Dennis Strickland at Prostar events, I settled on an Alky Turbo GSX combination, and placed my order for a chassis with John Clift. After some reasonable success with the bike, my aspirations ultimately moved to Top Fuel. Paul Knapp made me a good offer for the Funnybike at the same time as the fabulous Puma V8 machine coming up for sale as an unfinished project. I bought it, with plans to finish it off and start racing. However, a change in my job meant that I had little spare time on my hands, and after a substantial offer for it coinciding with the offer for sale of the new Brachtvogel brothers machine, I took out a bridging loan and bought the more conventional machine. This enabled me to race in a much shorter time frame than the V8 would have allowed. Unfortunately after I paid Phil and Frank for their machine, and after a deposit was received for the V8, the acquirers business took a dive. As a result, I still have a very expensive trick Puma V8 in my workshops (now for sale again).

In the couple of years that we have been racing the Fuel Bike, we've learnt a lot about the vagaries of such machines. However, we've only scratched the surface in our understanding, and know we have much to learn and progress to make. We do know, at least, some of the limiting factors with our current configuration, and as such have major plans to add to the improvements already made since acquiring the bike. We were extremely encouraged by our unique feat of winning the European, British and Santa Pod championships in the same season, and looked forward to defending our titles in 2002. But the current business climate has been a blow in our endeavours to seek sponsorship for next season, and our 2002 race schedule may reflect this.


Eurodragster: What is your current bike?

Ian: It is a Top Fuel Supercharged Nitro 4 cylinder Puma.


Eurodragster: When did you acquire your current bike?

Ian: In 1999.


Eurodragster: Who built the bike originally?

Ian: Pete Davis of Puma built the chassis, engine and most of the running gear. Frank Brachtvogel put it together originally.


Eurodragster: What is the powerplant and who built it?

Ian: It's a 1327cc Puma 4 cylinder, with a Yamaha 16V configuration cylinder head. I build all the engines myself.


Eurodragster: Approximate BHP?

Ian: 1000.


Eurodragster: What drivetrain does the bike employ?

Ian: It has a multiple stage timed clutch system like the Fuel Cars, with three 10" plates. It transmits the power through a B&J 2 speed box like on some Alky cars, and a massive chain originally designed, I believe, for conveyors.


Eurodragster: What is the bike's race weight?

Ian: About 1050 lbs with rider


Eurodragster: How the bike has developed since you first got it?

Ian: Since we acquired it we have extensively modified the clutch, the fuel system and the way in which they work together. We've improved the performance of the bike whilst refining the bike components.


Eurodragster: Best elapsed time / terminal speed?

Ian: 6.42 secs and 209 mph (336 kph) for the 1/4 mile, 4.216 secs and 179 mph (288 kph) for the 1/8th.


Eurodragster: Who is your current crew?

Ian: Michael Beaumont - Crew Chief, Marc Fossey, Mark King, Roger Forsythe, Nick Pepper.


Eurodragster: What plans do you have for the future?

Ian: Next season will see massive changes - chassis, bodywork, wheels and brakes, magneto, timed fuel system, injector hat, large fuel pump, and most importantly, a billet cylinder head.


Eurodragster: What is your favourite story/moment involving the bike?

Ian: Probably winning the Drag Festival at Mantorp Park this year, setting two new European records for ET and MPH in the process.


Eurodragster: What is your favourite story from the pits?

Ian: I've got so many, most from the days of Ultimate Streetbike. Maybe the time someone blew up the toilets with a homemade bomb at Long Marston (someone needed to!), but the meetings in Ireland were always a source of great craic. We've had to clear horses off the track, a family who decided to picnic right on the finish line because it was a public right of way and they wished to exert their rights (whilst earning a handsome bribe to move away at the same time), the near 45 degree bend on one track at the 1/8th mile, Tinkers who would not move their caravans out of the pits (and who had to be `gently' manhandled outů.), a 10,000 crowd, with only a few paying because there was no boundary fence, the list was endless. All I can say is that the meetings we had in Ireland were the best fun, with the nicest people, ever.


Eurodragster: What do like most about the sport?

Ian: The fact that cars and bikes can race together, the people are so friendly, and the possibility of being world class in the world's second biggest motorsport.


Eurodragster: If you could award a medal to someone in Drag Racing, who would it be and why?

Ian: Pete Davis of Puma Engineering. Why? Because Pete's one man band, situated in Northants, provides the world's fastest and quickest TFB engines in the World. Larry McBride, Tony Lang, BJ - they all rely on his engines. And his engineering expertise as applied to TF bikes is extraordinary. Quite simply, without Pete, Top Fuel Bike would be a mere shadow of what it is today.


Eurodragster: Any people you would like to thank?

Ian: Well, of course my crew and their families, my long suffering wife Debbie and my children Georgina and Alexandra, my sponsors Performance Machine, Vanson Leathers, Goodridge, MRE, Cannon Engineering, Roger Upperton, Royston Signs and Graphics, North Herts Engineering, Rofor Engineering, Image Paintwork, Titanium International, Royal Purple, Murdoch Racing Enterprises, Ian Turburville and Paul Scott.

In addition, I'd like to thank Pete Davis, Brian Johnson, Frank Brachtvogel, Chris Hand, Larry McBride and Mark Hawkins for their invaluable help and advice.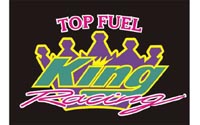 Feature ©Eurodragster.com
---
Feature index
Back to News page
---
Eurodragster.com aims to bring you links to all the best European Drag Racing web sites. To add your site to Eurodragster's listings, simply email links@eurodragster.com with your URL and a little information about your site and we'll do the rest. When you update your site, drop us a line at news@eurodragster.com and we'll feature your site in our "What's New" section.
Eurodragster.com is a non-profit-making organisation run by a small group of Drag Racing enthusiasts for the sole purpose of promoting European Drag Racing. If you can help us to meet the modest cost of hosting this web site by advertising here, please email webmaster@eurodragster.com. We're sure you'll find our rates extremely competitive.