General
Home Page
Add a web site
Jeff Bull Swap Meet
Send a News Item
Site Search by Hauser Racing
2019 FIA/FIM Championships schedule
News, Coverage, Features
Latest News
John Woolfe Racing Event Coverage
OCS Paint Points Standings
Features, Interviews, Tributes
Racer Blogs Lex 01/03
WRE/Nimbus Webcam
LA Racing Parts Links
Racers' web sites
Associations, Clubs
Race calendars
Results, Reports, Info
Pictures, Video
Performance Parts, Merchandise
Sponsors
Tracks, Shows
Information
Timing Data
European and UK Bests
Champions' Champions
Editor's Diary archive


Exclusive Feature on Little Big Racing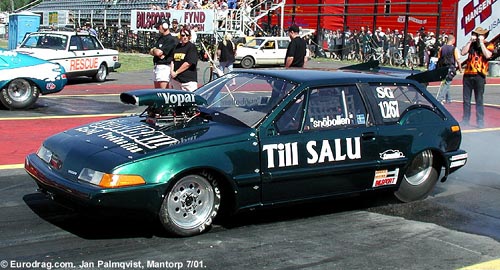 Picture by Tommy Nilsson


For this feature we caught up with Peter Axeldal, the man behind Little Big Racing from Sweden. Peter has been involved in racing in one way or another since the ealy 1970's and in 1995 made the step to team owner by purchasing a junior dragster that driven first by his daughter Linda and then later by his son Conny. 1998 saw the junior sold on and a Super Gas "Vopar" became the teams new car. To stay in touch with Little Big Racing check out their website at http://www.netax.se/vopar.html

Thanks to Peter for taking the time to coplete the feature for us and supplying a great selection of photos for us to use as well.


Eurodragster: Tell us a little about yourself away from the track?

Peter: I was born 1954 and have been married to Monica since 1980. We have three children Linda born 1980, Conny born 1982 and Glenn born 1992. We moved into a small house with a large garden "in the countryside" south of Stockholm this year, one of the reasons was to have space for the bus and race car at home (It has been nearly impossible to get a parking space for the bus or a garage for the race car in the Stockholm region so we are pretty happy to have both the race car and the bus "at home").

I started my own business the same year we started with Jr-dragracing, in 1994, installing telephone and computer networks.

I became a Grandpa(!) when Conny´s girlfriend gave birth to a boy in January this year. (So if my youngest son Glenn is to race Junior dragster for eight years starting this year and the rules are changed so kids in Sweden can start racing at eight years of age instead of ten, then it´s perfect timing for Conny´s boy Jonas to start driving when Glenn moves on!)
Other interest than dragracing? Well, that would be beer!


Eurodragster: When did you first go to a drag race?

Peter: As soon as I could! I was "bitten by the bug" already at seven years of age (1961). I saw a picture of a Top Fuel dragster in a magazine and cut it out and kept it as a sacred thing…

When I was a bit older I read about drag racing in motor magazines and thought that it was the coolest thing on earth. Unfortunately I missed the "First GO" at Anderstorp 1968, but got to Mantorp Park in 1972 (Got my drivers licence and a car that year and haven't missed a single major race there since…).


Eurodragster: When did you first take part in a drag race?

Peter: At Mantorp Park 1976 as a "pit marshal" for a classed called Street Altered. I continued to work on races and organisation of races around the country until 1994 when Junior Dragster turned up. In 1995 I took delivery of the first junior dragster to be built in Sweden and Little Big Racing was born. It didn't take long before my whole family went nuts about drag racing!

For the first year the car was driven by my daughter Linda in the stock class, then in 1996 a methanol motor was purchased from Clements racing in the USA and this took the car to Sweden's first 10 second pass from a junior dragster, a 10.81/59.03mph (94.99kph) pass.

A new chrome-moly chassis was delivered in mid April 1997, with the season opening in May! The chassis was placed in the living room and was assembled there! The new car was named "POLTERGEIST". Another methanol-engine, complete with a POLAR clutch and mount was purchased from Ron Pope in the US and that engine gave us the first 9 second run for a junior In Scandinavia! Linda was again behind the wheel during 1997 with her brother Conny taking over for the 1998 season. The whole Jnr Dragster operation was sold after the 1998 season and became the first Jnr Dragster in the UK with Paul Lindley-Allen at the wheel.
A new adventure, a Volvo 480 Super Gas racer was purchased in December 1998. The car runs Big Block Mopar power so it got the name VOPAR!


Eurodragster: What is your current car?

Peter: A Volvo 480 ES -87 we are running in Super Gas.


Eurodragster: When did you acquire your current car?

Peter: In December 1998 from Kenth "Elake Bertil" Petterson who had bought the car from the builders and converted the drive train to Mopar. (Smart guy, Kenth *grin*)


Eurodragster: Who built the car originally?

Peter: The "Southers Comfort Racing" (Sic!). The team around Per-Ola Söder are very talented guys!
They raced "Vopar" in Super Comp for two years and won the championship both years they raced her. Pictures from that time can be seen at: http://www.dragracing.nu/scr/galleri/480.htm


Eurodragster: What is the powerplant and who built it?

Peter: When we bought the car from Kenth there was a 446 cubic inch Chrysler in the car, but we killed that engine at the last race of the 1999 season. We asked teamowner/crewchief of Samantha Racing, Mikael Sjökvist, to build us a new engine for the 2000 season. It is a Chrysler 400" block with the 440 crank stroked and grinded to fit Eagle H-beam BBC connecting rods and BBC 502" pistons. The outcome of that was 483 Cui. Chrysler HP stage VI aluminium heads, ported and flowed and a Samantha Racing sheet metal intake with two Holley 830 AD carbs.


Eurodragster: Approximate BHP?

Peter: Somewhere between 650-700 Bhp. (The computer says 683 bhp, so I guess it´s in that area.)


Eurodragster: What drivetrain does the car employ?

Peter: Chrysler 727 three speed with a Turbo Action Cheetah manual valve body and transbrake, JW eight-inch converter with approx 4200 rpm stall speed and a Mark Williams 9 inch rear axel with 4,57 Richmond gear and 14x32x14 Hoosier slicks


Eurodragster: What is the car's race weight?

Peter: Just over 1000 Kg (2205 pounds) without driver.


Eurodragster: How the car has developed since you first got it?

Peter: It hasn´t been necessary to do much on the car, it´s a "State of the art" race car and has worked just fine, just some modifications to fit the new driver. When we built the new engine we also tried to lose some weight from the car. So a lot of things were taken off or changed to a lighter version and also a new A-arm front suspension was built.


Eurodragster: Best elapsed time / terminal speed?

Peter: Best ET is 9.26 seconds and those numbers came up at the Piteå track during 2000 when I told Linda to get off the throttle about 100 meters before the line because we were breaking out on every run!

The runs before that were in the 9.3 region. After some thinking we worked out why. We had the RPM limiter set on 7400 RPM and that kicked in about 300 meters and with Linda off the throttle we didn´t "disturb" the engine and the rolling as much as with full throttle....
(We had bought an electronic throttle stop, but not installed it...!)
Best speed is 236 Kph (147 mph).


Eurodragster: Who is your current crew?

Peter: Myself, my wife Monica and youngest son Glenn.
Engine builder and adviser Mikael Sjökvist.
Mechanics Jan Sund and Mikael Olsson
During 2001 I had great help from Janne "Snowball" Palmqvist (Who drove the car in Linda´s absence) And Lennart Johansson.


Eurodragster: What plans do you have for the future?

Peter: Linda was "drafted" to drive Samantha Racing´s Comp Dodge Daytona in 2001, so the car is for sale! Anyone interested in the car can check it out at: http://www.netax.se/vopar.html
Plans are to "start all over again", with my youngest son Glenn who will be ten years old this year, in Junior Dragster.


Eurodragster: What is your favourite story/moment involving the car?

Peter: The best thing was in 1999 when Linda got a perfect, 9.900 run at Sko-Uno Drag Festival and was #1 qualifier. The run itself looked like disaster with the car jumping and sliding due to lost traction, but when the numbers came up it felt like we won the event!
Another great moment was the same year at the last race for the season. Linda held the eleventh spot in the series and we were eager to at least get in the "top ten". After the first qualifier Friday Linda came in to the pits with an engine sounding very "sick" but running.

We checked it over and found that a crack in the block between two cylinders had poured water into one cylinder and as you all know, you can´t compress liquid, something has to give and something did; we bent valves, broke the connecting rod and the piston in that cylinder!
We were devastated at first but after a while Janne "Snowball" Palmquist said, "The big end of the connecting rod is still intact. Lets go racing with the seven pistons left!" I thought "Snowball" had lost his mind at first. But why not try, the block was already destroyed and we really wanted to go for the points! So we ground the crack in the cylinder and patched it with chemical metal to keep the water inside and then closed that cylinder from the camshaft. We did one test-run on Saturday with the seven-piston engine and that gave a 10.5 second run so it seemed to work.

First elimination round: Our opponent redlit! We won!

So we went to the next round and the car still mustered a 10.5 second run but that was the end, we lost and ended up still in eleventh place in the championship, but we had tried and we gained some points and we didn´t blow the engine into pieces! Janne said before the first run "If it does a wheelie we can call it Seven-Up! If it does a 11 second run we can call it Seven Eleven"


Eurodragster: What is your favourite story from the pits?

Peter: As everyone who has attended a race knows, there is at least one good story from every race! The problem here is the limited space and that I can´t "hang out" people involved, but we have had a lot of fun in the pits, even during rainouts...


Eurodragster: What do like most about the sport?

Peter: Just about everything!
The competition, the noise, sorry, The art of noise, the colourful vehicles and people, then when the mechanical things work out as planned, winning rounds and all the rest!

And another thing, hearing the people you brought to a race for their first time, jumping and shouting, "WHEN IS THE NEXT RACE!?", on Sunday afternoon. (Especially since you had to "drag them by the hair" to get them to attend! - "Straight on and over in a few of seconds? Sounds boring…")
It is very hard to describe in a few words... As said before:
If you need to ask, you wouldn't understand if I told you.


Eurodragster: If you could award a medal to someone in Drag Racing, who would it be and why?

Peter: All the people working their butts off to get dragracing going! ALL of them. The hard working crew at, before and after the races, the race teams with the owners struggling to get proper financing, the hard working mechanics and of course the sponsors who believe in our fine sport!

If you took anybody of the people above away, there wouldn´t be any dragracing!

And of course the people who hand us instant race reports and news from the tracks and other news via internet! How did we ever survive the time then it only was magazines..?


Eurodragster: Any people you would like to thank?

Peter: Of course the sponsors we have had through the years and the people who has helped us with Vopar: Per-Olof "Poffen" Forsberg, Janne "Snowball" Palmqvist, Mikael "Samantha" Sjökvist and Bosse Ragnebro.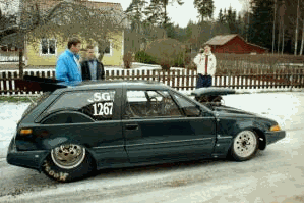 Feature ©Eurodragster.com
---
Feature index
Back to News page
---
Eurodragster.com aims to bring you links to all the best European Drag Racing web sites. To add your site to Eurodragster's listings, simply email links@eurodragster.com with your URL and a little information about your site and we'll do the rest. When you update your site, drop us a line at news@eurodragster.com and we'll feature your site in our "What's New" section.
Eurodragster.com is a non-profit-making organisation run by a small group of Drag Racing enthusiasts for the sole purpose of promoting European Drag Racing. If you can help us to meet the modest cost of hosting this web site by advertising here, please email webmaster@eurodragster.com. We're sure you'll find our rates extremely competitive.