Tributes to Malcolm Olley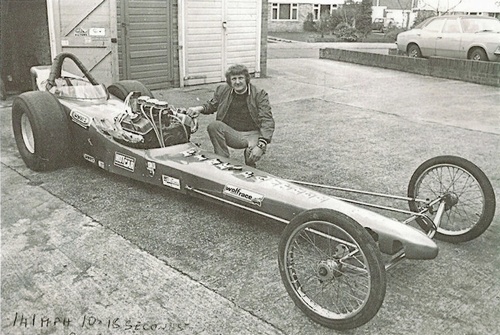 UK racer and British Land Speed Record contender Malcolm Olley passed away on Tuesday 19th March 2013.
Malcolm's racing career included a slingshot and a Jet Dragster which was a regular show-stopper at National Drag Racing Club events in the late 1970s and early 1980s. One abiding memory of the Jet Dragster is NDRC marshals kneeling alongside the mobile (literally) staging beams at Blackbushe to protect them from the jet blast. Malcolm's cars all carried the Pink Panther name.
We have received the following tributes to Malcolm. To send your own tribute, E-Mail tributes@eurodragster.com.
The most recently-received tributes are at the top of the page.



---
We are very sorry to hear of the sad passing of Malcolm Olley, a great British pioneer and innovator.  We never had the privilege of meeting him, but have spoken about him so many times over the years, as he was the owner and driver of our car between approximately '72 and '75, running low tens at over 140 mph (it was one in a line of his Pink Panther cars).   We have great admiration and respect for his pioneering jet car exploits and his attempts on a Land Speed Record. We will keep his memory alive in our car and will be dedicating our next race to him. 
Deepest condolences to Junior and Antony and all of his family. Race in peace, Malcolm.

-- Chris and Claire


---
I first met Malcolm when I was about eight years old when he came to my house to see my dad in a big American stationwagon, he was larger than life. My uncle (Malcolm's brother in law) took me to see the old slingshot at his house and I remember being scared of just looking. When he switched on the fuel pump I ran out of the garage at the age of eight thinking it was going to hurt me.
I caught up with Malcolm at my cousin Jane's wedding about twenty years later, I made a beeline for Malcolm and spent the evening talking with him and his wife Monica about drag racing. It was the end of the wedding reception in a flash, the night was so interesting. I had the fortunate chance to go to his house and have a look in his garage at the jet car as well as some other jet engines and his plans soon after the wedding.
Rest in peace Malcolm, you certainly inspired me to keep on loving this great sport.

-- Tim and Diane Cooper


---
I would like to send my sincere condolences to Malcolm's family. I was pleased to have known Malcolm in the earlier good old years and remember our time together as a crazy and enjoyable period in my life. I don't think I have been more sideways on a public road since? A master at the wheel. Thanks mate.

-- Glen Read


---
First drag race meet I went to was at Blackbushe Airport back in 1978 or 79.  Only a Sunday meet those days, but they sure did pack it in to that one day.  The first meet I went to had all the top names of the day (that weren't officially tied to Pod) like Dennis Priddle, Graham Hawes, Alan Ritmeister, and so on.  Even among the bikes there were names like John Hobbs, and the other heroes of the day.  Fine... then out comes this huge great thing painted white, with a jet engine in it.  Wowwwwwwww, never forgot that first time I see that thing take off down the old strip there.  See it many times since, and even spoke with Malcolm one time at Long Marston (today's Shakespeare County Raceway).  Real nice guy, and a very interesting talk about the machine, and his LSR challenge at Pendine Sands.
Sadly... all we have left are the memories... the stories, and photos, of the man, and his interesting machine.  Malcolm, may you Race In Peace.

-- Doug McDiarmid


---
I had the privilege of helping Malcolm with his Jet Dragsters in the 1980s.  He was a larger than life character who lived life to the full and would go out of his way to help anyone with a problem.  An old friend who will be missed but never forgotten.  My sincere condolences to his family.

-- Derek Parks


---
I met Junior's dad a few years back, after I had sold Junior my Jet Pickup. It was very enjoyable talking with his Dad about racing and jet cars, and getting to see his Jet Dragster. My condolences  go out to the family.

-- Michael Pond


---
Very sad to hear that Malcolm has passed away. Malcolm was a early pioneer with jet cars in the UK running speeds of 170 mph he thrilled us all with his bravery and  mastery of jet engines. Malcolm passed his expertise on to his son Tim who is developing a jet truck called Dakota Thunder. I had the privilege of helping Tim some years ago when I was in better shape. So, the legend lives on through his son Jr Olley. Condolences to family and friends at this sad time.

-- Stu Bradbury


---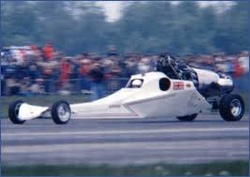 What sad news. A great chap. He gave me one of the abiding images for the Gauloises film I made back in 1978 (Man it's better than sex) made at Snetterton when we were filming at the end of the strip and his main 'chute failed. The cameraman ran away across the field! The cockpit filled the frame. The reserve parachute saved the day! A staple of NDRC meets of the time I will remember his unflagging enthusiasm even when asked by Wiggy to run in the rain yet again. Cheers Malcolm.

-- Team Scoop


---
Sad to hear of Malcolm Olley's passing. His jet dragster was a first in Europe and a regular feature at NDRC events for many years. Sad to say that time is catching up with many of our sport's pioneers. But he will be remembered as someone who made a difference.

-- Brian Taylor


---
Features and Interviews index
Back to News page
---