Marshall Dickson Racing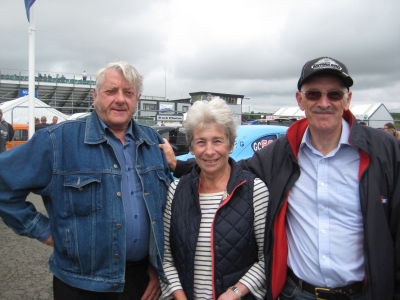 John Dickson with Roger Marshall built one of the first Ford Anglia E93A-based Competition Altered which they ran between 1968 and 1976. They also worked alongside John's brother Tony who imported and ran the UK's first Pro Stock car. John had a parallel role as a writer of race reports for many of the motorsport press titles current in the early 1970s. John's wife Carol-Ann also got involved in maintaining Santa Pod Raceway. Later, their names became synonymous with Marshall Dickson Performance, the speed parts business run not by them, but by John's late brother Tony between 1979 and his death in 2002. Roger and John remain great friends after nearly sixty years, despite living 150 miles apart.
The following interview with Simon took place during Dragstalgia 2014. Eurodragster.com thanks Dave Riswick of Eurodragster.com sponsor John Woolfe Racing for helping to arrange the interview and John Dickson for supplying archive photos and material.
Click on any picture for a large image.
Eurodragster.com: How did you get into Drag Racing back in the 1960s?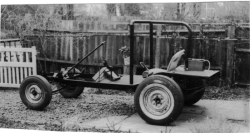 Chassis for car on drive of garage rented from two old ladies at £1 per month.
John Dickson: We went to RAF Debden in September 1963 where Mickey Thompson and Dante Duce in Mooneyes ran and it was an RAC event. We went up with a friend and when we got there we found, like a lot of others, that admission was by invitation only and we weren't allowed in. So we blagged our way in like another five thousand did. We were kept miles from the strip and it was earth-shattering stuff. They had both been to the Brighton Speed Trial a short time before. Mickey Thompson had done a deal with the US Air Force to bring the car over but the deal didn't include taking it back so it was left here and it was adapted into Commuter.
We went to Blackbushe and after the Pod opened in 1966 we went as spectators including the visit of the American Commando Drag Race Team in 1967. We saw Al Eckstrand's Lawman Anglia and a beautiful Corvette with Lawman on them and EJ Potter's bike. Between 1967 and 1968 we got the idea that we could do this and bought an Anglia for £4. It was a running vehicle when we bought it.
Roger Marshall: We sold the engine, gearbox and rear axle for a profit and that was the only time in history we ever did make a profit.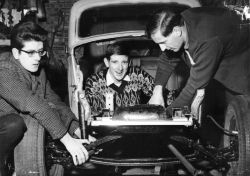 Roger, John and Tony working on the front end.
We had an Oldsmobile 394ci engine which was a big strong lump and cheap and didn't know at the time that a Chevy was the one to go for. We wanted a big V8 and that was the only one available. We had it balanced and cleaned up, and had a mild cam and a B&M turbo hydro stick four-speed, the same box which Cadillacs and Rolls Royces used. It had a fluid coupling rather than a torque convertor. We were very keen on the idea of an auto box because they seemed reliable and they took a bit of the shock load out of the transmission. A lot of the cars had a modified manual Jaguar boxes bolted on to a Chevy and they were big strong things...
You've got enough to think about without changing gear.
John Dickson: We would win races because we didn't miss a shift. We were half a second slower in the first year but it hung together and didn't let us down.
We hired a garage down the road from two little old ladies.
Roger Marshall: It was a single garage and had a little workshop packed with pieces, and us, and the car and did most of the work there ourselves. There were a few things we had to pass to others such as the exhaust system which was eight straight pipes which was done by a very old guy with plenty of experience called Mr Hall who worked at Hans Motors. After we got it back he told us he had to make them with the car on the trailer. When we got it back they didn't fit - so we spent a few hours filing and hammering getting them to fit.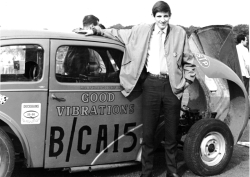 John Dickson with the newly-completed car in 1968
We had to take the body off the chassis with a hammer and chisel which we used to remove the rivets and got one of the first angle grinders. When we worked on the car in the evening we would roll the car out lift the body off put in the drive and roll the car back into the garage and put the body on again for storage.
Eurodragster.com: The chassis was original E93A and you had a roll bar made?
John Dickson: Hans made the roll bar for us. It was basically a standard chassis we didn't even box it in. We did some boxing in of it around the steering but we didn't know what stress points were so we welded it where we thought it looked as if it needed to be stronger.
The back axle was on leaf springs at first then was bolted in.
Roger Marshall: John or Tony said "We need some traction bars" so we got some 1.5" diameter so that we could adjust them and my father had them made at the Sunday Times newspaper and brought them home on the train and they nearly killed him as they weighed about fifty pounds.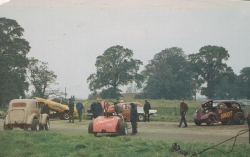 In the pits in September 1968 with Gold Rush, Invader, Shutdown and The Bandit
John Dickson: It took us about a year to get it back together and out there. The first paint job was red with a gold stripe around.
We had it repainted by Phil Ritchie. We were tinkering about with the cars one day outside our house and he drove past in his E Type, saw what we had on the drive and stopped for a chat and we got to know him. He painted cars for a living and lived in Robertsbridge near us as we were in West Wickham.
We ran it like that for two and a half years and the best time was 12.2/110 before the rebuild.
About this time Tony had a 1958 Plymouth with fins as a tow car then he sold it and bought a 1964 Pontiac GTO. That was still a tow car but he started racing it. It would run fourteens at about one hundred miles an hour and he was quite successful in the Street class. We ran both cars between us and left the Anglia in the shed at SPR and rented some space from Ernie Braddick. Carol Ann was painting the fences and we did work at weekends as volunteers.
Tony then decided he wanted to import something from the States to run as Pro Stock.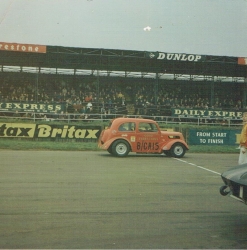 A demo appearance at Silverstone.
Eurodragster.com: Pro Stock was recent in the US then?
John Dickson: There was a certain amount of dissent and he thought Street classes should be highly modified but you had to be able to buy them from a showroom. People would try to run in Street classes with such cars as a Chevy-powered Escort and you couldn't buy one of them. We were sort of instrumental in getting the rules clarified so it was the same basic engine you could buy with the car. He bought Money Hungry from someone in the US with a Small Block which he took out. He bought a big block which you could get with a Camaro and bolted it in with all the ancillaries. It turned up two days before the Easter meet in 1972. We worked all night wiring it up, putting an exhaust on it on the front drive outside where we lived at the time, finished about 4:00 am, had a cup of tea and jumped in the tow car. We came up and it ran 11.9 at its first race. It got quicker and quicker and then was off the track for a year or so while he rebuilt it and narrowed the axle and cut in new huge wheel arches so he could get the slicks under them. He got a 427 ci motor which was a much better engine. In the meantime we decided we would rebuild Good Vibrations although I paid for the bulk of that and we designed a tube chassis for it which was quite something then.
Roger Marshall: Roy Phelps helped. We built it, cut all the tubes and took them all down to Fibre Glass Repairs at Shortlands (now FGR Motorsport). He welded it all up and he eventually charged us £35 for the work which I thought was rather reasonable. He helped us out then. In the early days Roy and his father started Santa Pod and wanted to improve the attendance and the number of cars that ran. So they did very well in helping people out and we rebuilt the car from there, rebuilt the engine, we got a stroker crank, aluminium rods and injection. We brought it out and ran it at SPR two or three times. There was some improvement but not much.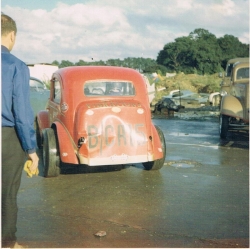 A wet meeting at SPR in 1968 resulted in a top end spin and light damage.
John Dickson: We could never get the thing to run smoothly, the injection was always too rich or something. We had one meeting at Silverstone at which it actually ran pretty well, I did an 11.2 at 119 mph. That was its best ever run which wasn't bad. It should have been into the low tens by our standards but it wasn't. One day a rod let go and that was the end of that.
Roger Marshall: I can remember that day. John was due to drive, we used to take it in turns. We were in the fire-up road getting ready and the engine was just on tick-over. I said to John, "I don't like the sound of that, there's something wrong with that engine, it doesn't sound right". John said "Oh, that'll be alright" and the next minute, bang! That was it.
John Dickson: It was at the marshalling area at the beginning of the fire-up road near the finish line.
Roger Marshall: It was a good job it was just on tick-over because I think there would have been a few bullets flying around!
John Dickson: It comprehensively destroyed the engine, it smashed the block and ruined the crank. I don't think we ever took it apart.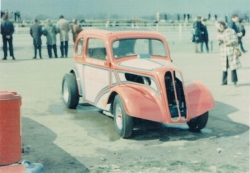 Good Vibrations repainted for 1970.
Roger Marshall: We just took the engine out just looked at it and laughed.
John Dickson: It was turned into a boat anchor I think.
Eurodragster.com: What happened to the chassis and body?
John Dickson: They got sold to a racer called Tony Merry who had previously crashed a similar car in 1974. He and Robin Tallis put his engine and gearbox into the chassis of Good Vibrations and the body got repainted. The car was run for the remainder of the 1970s being driven by Tony Merry and was sold to Pete Goddard in 1979.
As far as me and Roger racing that was the end of it but Tony went on racing for two or three yrs after that, after Money Hungry was rebuilt. He was NDRC Champion twice running. Gary Goggin was generally a tenth or two quicker but until the two Chrysler Heavies came in he was the quickest and Tony the second. At its best there were about eight cars that were all competitive. It was a good couple of seasons, when they all ran it was right up there with Funny Cars and Top Fuel, very exciting with the burnouts. I think it is fair to say they put on a great show at the time, most of them were running under 10.5 seconds and up to 130 mph. All being well, Gary was a tenth quicker because he had some aluminium heads and better breathing, he had more money than anyone else at that time.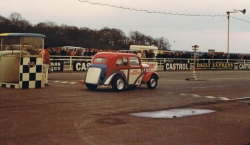 Launch at Santa Pod Raceway in 1970.
The Chrysler Heavies were a game changer because they had Lenco gearboxes which weren't street parts and Tony got very disillusioned with that and we stopped in 1976.
Eurodragster.com: Did you crew for Tony in his time as a Pro Stock racer?
John Dickson: Yes, all three of us were lifelong friends and we worked at the track together. Roger and I were slightly apprehensive at the amount of money tied up in Tony's car if we had made a mistake. When we built the engine we had one circlip left over...
Roger Marshall: That was one of the things that persuaded me to come out of it. All the time we were racing Good Vibrations it was fun. Yes, there were hardships but it was basically fun and we got on well and had a laugh. But on the day we were rebuilding Tony's engine we each had a specific job to do. One of the jobs that John had was to put the piston ring circlips in the pistons. When we put the engine together Tony or you turned round and said "What's that circlip?". And we realised that one of the pistons hadn't got two circlips in it. And it certainly brought home the potential results of any errors, it had got to the stage it wasn't fun, it was aggravation. And the money side of it which became more Tony than us, was getting to the stage where the fun had gone for me and gradually I filtered away from it.
Eurodragster.com: Going professional or semi professional at drag racing is very hard.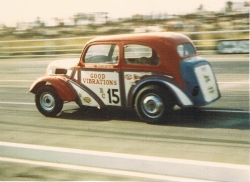 Accelerating hard at SPR
John Dickson: It couldn't have gone on. Tony had a good job and good money and lived at home unmarried and could afford it up to a point. But when all these multifarious expenses came he didn't have that sort of finance and he pulled out.
Eurodragster.com: You had also been a drag racing journalist as well during the early 1970s?
John Dickson: I was Press Officer of the BDR&HRA and I subsequently took on the job of writing for Custom Car in 1972 and also did regular pieces for Autosport, Auto, Fast Car and Drag Racing News until the end of 1976 season for both BDR&HRA and NDRC race meetings. I sat in the car at the end of a meeting with a typewriter and, then after typing the report, drove it to Fleet Street where Autosport was published to make their deadline.
Along with running Good Vibrations, this was my main occupation for two years and the modest income from it was just enough to maintain my bachelor existence at the time.
Eurodragster.com: What happened to Tony after you had both quit the sport?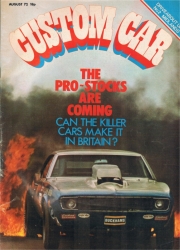 Tony Dickson's Money Hungry in the first year of Pro Stock
John Dickson: The car stayed in the garage for two or three years until our mother died in 1980. Tony and I used to import most of our speed equipment and we started selling it to racers out of our boot and that's how Marshall Dickson Racing turned into Marshall Dickson Performance. Tony bought a facility down at Wrotham in Kent and imported American car spares, some cars but mainly parts. He sold Money Hungry partly to finance buying the property on an industrial estate and from then to when he died that was his living. He was always buying cars, he had sixteen or seventeen cars when he died and they were all examples of muscle cars, GTOs, Firebirds – but no Fords – and they were all going to be restored.
They were left to various people to be restored. I don't think he sold a car after he got the GTO, if it went wrong it just went into the garage.
Roger Marshall and I had no financial connection with Marshall Dickson Performance. We had separated amicably and the name was known as that. He never advertised apart from one or two club papers but he made a reasonable living. He died cash poor and asset rich because he had loads of cars and a big building. A friend Mike Smith bought Money Hungry and ran it at nostalgia meets and I actually ran it up here a couple of times in 2006 and 2007. It's still around although Mike sold it, and it looks pretty good for a car that old.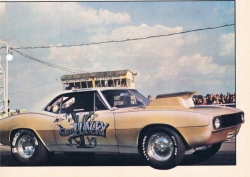 A repainted Money Hungry in 1974

Sometime in the late 1980s he got to know a friend at Wrotham called John Gorbould and they decided to build a car for road racing and bought a 1973 Camaro to do Historic Saloon Car racing and that was to be known as Money Hungry Too. That had been in building for ten or eleven years before Tony died in 2002. He left it to John Gorbould who at the time couldn't afford the time or money to complete it so it was sold; then five years ago it came back on the market never having been finished. And John bought it back, and we and a couple of friends built it and it was ready to race November of 2013 but John sadly died in December. It never turned a wheel in anger, however it was a very nice piece of work and now been sold and will hopefully appear in a classic saloon road-racing series next year. I had been involved to an extent and spent a day a week on it for two or three years helping him and he did a very nice piece of work on it. It had a similar paint job to Money Hungry as a vinyl wrap. It's road-legal as well and has a good strong 454 Chevy in it.

After selling the racing operation, we still went to the drags until family life intervened. I still enjoy going to spectate. In my career, I had trained in electronics, however after racing I became a financial adviser with Pearl Assurance and remained there for twenty seven years before I retired in 2001. Tony worked in insurance as well on Marine and Aviation underwriting until he left in 1979 or 1980 to set up Marshall Dickson Performance.

Eurodragster.com: Thanks for your time John and Roger, and best of luck in the future!




Feature ©Simon Groves and Eurodragster.com


---
Gallery: click on any thumbnail for a large image.
---
Article by John Dickson on British Drag Racing in 1973
Features and Interviews index
Back to News page
---