Interview: Melanie Troxel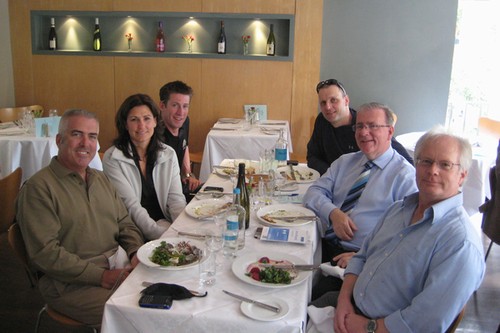 Melanie Troxel has been one of the US's top drag racing stars since turning professional in 2000 with a Top Fuel Dragster. She became an event runner-up in her first year and won the AAA Road to the Future award that year. Her most successful year to date is 2006 when she had a record string of five straight final-round showings to start a season, starting with a win at the Winternationals in Pomona. That year Melanie was named the Women's Sports Foundation's 2006 Sportswoman of the Year by the Billie Jean King Foundation and being nominated for two ESPY awards (Driver of The Year and Female Athlete of the Year). Out of twenty final rounds Melanie has won seven NHRA event titles. Her best times and speeds in a Top Fuel Dragster were 4.458/332.51, in a Funny Car over 1000 feet 4.047/309.98, and in an NHRA-legal Pro Mod 5.829/247.32.
Eurodragster.com interviewed Melanie over lunch the day before the 2010 FIA European Finals. Left to right above are Rob Geiger (PR), Melanie, Mark Savage (Crew), Al Billes (Tuner), Simon of Eurodragster.com and Robin Jackson (MSA Pro Modified Championship PR).
Eurodragster.com: How did you get into drag racing?
Melanie Troxel: I come from a racing family and grew up with the sport. Both my parents raced and I used to race my mother's doorslammer before I started racing dragsters. My Dad, who died ten years ago, raced alcohol dragsters, winning the NHRA Championship in 1988, and my mum was an airplane mechanic so both of my parents taught me about mechanical things. Nowadays I leave the mechanics' issues to the team so that I can concentrate on driving.
Eurodragster.com: What types of car have you raced?
Melanie Troxel:I had a Super Comp license and then attended the Frank Hawley School where I got licensed for alcohol Funny Cars and dragsters. I raced alcohol dragsters for four years ending by becoming runner-up in the NHRA Federal Mogul Drag Racing series with Darien and Meadows in 1999. Then in 2000 I was selected by Don Schumacher to drive the Exide Batteries Top Fuel Dragster. I switched to Funny Cars with Roger Burgess and Mike Ashley in 2008 and in 2009 Roger Burgess asked me to join his R2B2 Pro Mod team.
Eurodragster.com: What were your expectations of European Drag Racing and has the experience lived up to the expectation?
Melanie Troxel: I didn't have any expectations to be honest. I have been here before and came with an open mind and therefore can't say. I am very pleased with the experience, have had great fun. There is a camaraderie between other teams and meeting them has been most enjoyable. However drag racing is drag racing. It is always about getting a consistent handle on track conditions which comes down to the same thing whereever you are.
Eurodragster.com: What do you think about the sport in Europe compared with the US?
Melanie Troxel: The sport is in a healthy state in Europe. It may be a few years behind the US based on the current technology and equipment but the enthusiasm is just as good if not better. This is so refreshing. Racing is enjoyable and less corporate as there are less sponsors. This is as racing was in the US a few years ago. Now it is different. One issue is the delay in getting parts here which can be frustrating for racers. But the performances are only about a tenth different.
One great thing about the sport is the better access to the teams compared with other forms of motorsport.
Eurodragster.com: What do you like doing outside the sport?
Melanie Troxel: I enjoyed sight-seeing in Heidelberg after the Hockenheim race. My mother and grandmother came over and we stayed for about five days. My grandmother has several cousins in the area and the historic sights were interesting. I also plan to do some sightseeing tomorrow before going to Santa Pod.
I have also done sky-diving and my mother and grandmother have both done this before so it's a bit of a family tradition. In fact my mother and I went on the same sky-dive together. I'm a bit of a thrill seeker so I took my team on some rides in Las Vegas. I want to introduce them to base-jumping eventually!
Eurodragster.com: Do you race solely in the NHRA Full Throttle and Get Screened America Series?
Melanie Troxel: I have also raced in NHRA Unleased, an experimental race held at Indianapolis to promote heads-up doorslammer racing. I ran the R2B2 Camaro and did well, although the track was only prepared for Sportsman racing and was very hot. The idea of NHRA Unleashed is a great opportunity to support grass roots racing, however a lot of the other Pro Mod teams were struggling.
Eurodragster.com: Would you like to go back to quarter mile Funny Car racing rather than one thousand feet?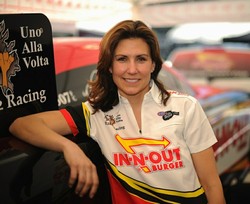 Melanie Troxel: Until this season's Championships are done, the NHRA have suspended testing on the new restricted engine with 413cu in and single magneto and fuel pump that is necessary for full quarter mile racing again. I grew up in the sport and look back as something of a purist. The sport for me is two cars racing the whole of the quarter mile. That goes back to its roots.
However, where safety issues are involved, I don't know if I have a better solution and so would rather race as hard as we can to a thousand feet. Even at that distance we are now doing 310 mph, so to achieve 300mph to the quarter mile (the NHRA's stated objective) they are going to have to slow the cars down an awful lot. There are truly no easy options. What we have to do is to fight the issue of short tracks.
Eurodragster.com: What are the prospects of the Worldwide Pro Mod Association and its Championship?
Melanie Troxel: My team boss and Pro Mod racer Roger Burgess is determined to make it happen. There will be an event somewhere each year with a play-off style format and a single World Champion crowned. It is looking very likely to happen in 2011.
Eurodragster.com: Will we be able to see Roger Burgess race in Europe?
Melanie Troxel: Roger would love to race over here but has a very hectic schedule with a large commitment to business and also family matters - his son has just got married and the wedding reception is taking place in Atlanta this coming weekend.
Eurodragster.com: What of the R2B2 Camaro - will it stay in Europe?
Melanie Troxel: We will have to take it back to the USA as it was brought over under a customs bond to avoid paying duties on it. So whilst we have to airfreight it back home, we are working on a way that we can bring it back, we'll just have to see.
Eurodragster.com: So will we be seeing you racing in the FIA Championship in 2011?
Melanie Troxel: That's something we are working on. We have to look at the calendar and see which dates are possible with the NHRA Championship schedule.
Eurodragster.com: Thanks for your time Melanie, and good luck at the European Finals.
---
Melanie Troxel's web site
Melanie's Blog on nhra.com
R2B2 Racing web site
Features and Interviews index
Back to News page
---