Click on any picture for a larger image.
The Ford Modified 100e Challenge had its first year in 2019, after founder Scott Collin suggested to Sean 'Pop' Doyle it would be worth having a Facebook Group for these cars. Rounds were held at the Fast Show, Nostalgia Nationals, Dragstalgia, the Retro Show, and Hot Rod Drags. 32 cars registered and there was a huge amount enthusiasm by both organisers and racers to get the class up and running.
The category encourages banter and mutual help, two qualities which are key to drag racing. The continued availability of cars and a history of big engined 100e's in the sport has encouraged new entrants. Many racers have the fabrication skills necessary to make successful new builds.
For 2020 many new cars are joining the category which includes new builds over the winter. Five rounds were planned for Nostalgia Nationals. Retro Show, Ford Show, Mopar Euro Nationals and Hot Rod Drags. Although the season won't be as planned, 2021 will be even better as more cars are completed.
There will be ET brackets of 15.99 to 14.00 seconds, 13.99 to 12.00 seconds, 11.99 to 10.00 seconds and quicker than 10.00 seconds. Competitors may end up moving between classes as they progress. The notes below are of a selection of established and new cars and the Modified 100e Challenge will be well worth following when racing gets back under way.
Thanks to Kieran, organiser Scott Collin and the 100e racers for supplying information about their race cars for this feature.
Info about the challenge from Scott Collin (Founder)
I formed the group in February 2019 with the help of Sean Doyle; we soon had plenty of members and it was decided to form a 100e Challenge for 2019. This race season inspired many new enthusiasts and there are plenty of new builds behind the scene ranging from Zetec Turbos to Twin Turbo Hemis, each with their own personal goals to join in the action. Come 2021 Santa Pod will get to see a good number of fresh and quick cars. Tom Harris and I will be bringing both of the ex-Paula Atkin cars back and hope to get them down on the start line together with Paula flag in hand!
---
Racer: Neil Alexander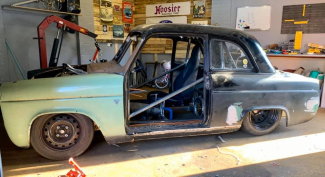 Neil Alexander
Engine: 5.3L LS Turbo
Transmission: 4L80e with an 8.8" Axle
Best ET: Not ran yet
Other Info: Home Built Chassis. Goals – Build it, race it, don't break it!






---
Racer: Stephen Brown

Stephen Brown
Mk1Kieran photo
Engine: National Hot Rod Spec Vauxhall Red Top, Dry Sumped, 45s, Edwards Motorsport Stainless Manifold & System, Link ECU, ASD Radiator.
Transmission: Samsonas 5 Speed Sequential Gearbox, Paddle Clutch, Custom Prop to a Six Link Narrowed Atlas Axle with Gripper LSD
Best ET: 12.70 at 106 mph
Next plans: To get it on slicks and try and squeeze an 11 out of it!
Other info: Painted in BMW Yas Marinas Blue, all steel panels, Compomotive Turbo split rims on Toyo Tyres.
The car wasn't built for the ¼ mile, more of a road car so I could cruise around with my son Ryan and his Mk2 Fiesta. I had done the drag racing scene 30 years ago but then Ryan started to get interested in it and I wanted to be with him and the grandkids so here I am again! I travel 370 miles to the Pod with the family meeting lots of old friends and making new ones too.

---
Racer: Sharon Carver

Sharon Carver
Mk1Kieran photo
Engine: 302ci Ford V8 with a 70 shot of Nitrous
Transmission: Ford C4, 9" Rear Axle with a 4.11 diff.
Best ET: 12.36 at 105 MPH
Next Plans: This winter we changed the rear tubs to fit in 28" tall tyres to help the gearing at the top end and given it a makeover with the paint, bodywork and freshened up the inside. When funds allow we have a fully forged 347 stroker engine to complete and install.
Other Info: 'Jezabel' as she is now known was bought as a complete surprise for me by Paul my husband. I had no idea I wanted to drive a drag car after being a huge fan for years! I am loving every minute of it and have definitely got the bug!!
---
Racer: Scott Collin
Engine: Blown Injected 350ci Chevy V8
Transmission: TH350, Narrowed Mopar Rear
Best ET: 10.98 at 124 mph.
Next Plans: I am currently rebuilding Paula Atkins 7 second 100e to run in 2021. It will be running a Big Block Chevy with Twin GT45 Turbos, Chargecooler w/ Ice Tank, 2 Speed Powerglide and 9" Rear. The future goal with this car is to run back into the Mid 7s.
| | |
| --- | --- |
| Scott Collin | Paula Atkin (1990s) |
---
Racer: Julian 'Jools' Davison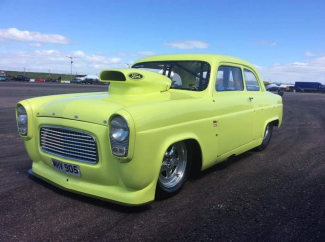 Julian 'Jools' Davison
Engine: Rover V8
Transmission: JW Glide with 9" Rear Axle
Best ET: 9.08 at 150 mph
Other Info: Chris Isaacs 7.50 Chassis, Strange Engineering Struts, Rack & Rear Suspension. Weighs 2000lbs with driver. Chasing 8s!







---
Racer: Stuart Flitton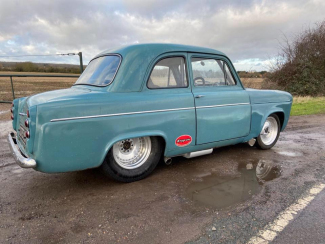 Stuart Flitton
Engine: 383ci Chevy
Transmission: 2 Speed Glide & 9" Rear Axle
Best ET: No Times Set! Fresh build for this year.












---
Racer: James Ford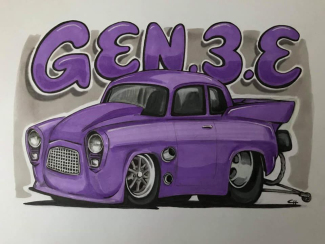 James Ford
Engine: 426ci SRT8 Hermi with Twin GT45 Turbos
Transmission: 2 Speed Powerglide, Ford 9" 40 Spline Rear End
Best ET: No Time Set. Aiming for 7s.
Other Info: Bill Murfin CDS Full Tube Chassis.










---
Racer: Tom Harris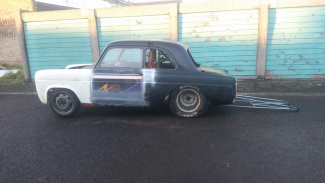 Tom Harris


Engine – Pro Charged Big Block Mopar

Other Info – Ex-Paula Atkins First Rover V8 Challenge car currently having a complete makeover with a full tube chassis, 9" rear engine and hoping for 9s.









---
Racer: Mark Haswell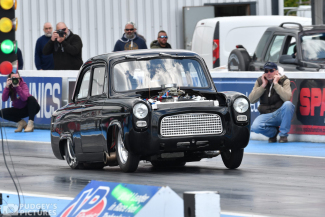 Mark Haswell
Callum Pudge photo
Engine: 700HP World Products Pump Gas Crate Motor
Transmission: Hughes Transmission 2 Speed Powerglide
Best ET: 9.61 at 139 mph on Slicks, 9.72 at 138mph on treads. All from soft-ish footbrake launches as there is not transbrake fitted at the moment. This was on it's first ever time out on track at the Modified 100e Challenge Round 2 in May 2019.
Next Plans: To fit the 2000hp rated Dedenbear transbraked powerglide built by Andy Frost, a bigger cam, head work, possible intake manifold & carb change, longer chromoly wheelie bars, better MSD & Fuel system and possibly a small aluminium rear wing for the boot lid. My plans are to have a true 100% street driven car that will run 8's N/A regularly and once everything is sorted, settled & tuned I will be adding a 2 stage nitrous system to it.
Other info: I bought my 100e in 2007 as a bare tube chassis originally built by Geoff Owen of Owen Engineering. It had passed through a few owners who never did much to it & it stayed pretty much as a bare chassis. It was originally built for a 302SBF motor with a small tyre rear end but I wanted a much bigger power plant for it! I basically chopped most of the chassis up & remade it at home to house a 572cu.in big block chevy motor with powerglide transmission & a Strange built 9" rear axle, all fabricated & fitted at home by me. It runs 15"x12" Weld Prostars at the rear, 15"x4" Weld Prostars at the front, Leda converted Capri struts & narrowed at home Escort MK2 steering rack.
Bodywork is all steel with no fibreglass anywhere on the car.
---
Racer: Paul Lorne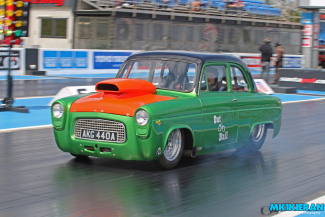 Paul Lorne
Mk1Kieran photo
Engine: 400ci Ford (6.6L)
Transmission: C6 Auto
Best ET: 12.06 at 110 MPH
Next Plans – The car is having a complete rebuild as we speak with a reconditioned C6, Upgraded Axle from a 28 spline Limited Slip 2.75 gears to a 31 spline spool with strange shafts and 3.75 gears. Bottom end is being refreshed with a Comp Cam and head rework plus a 250 shot nitrous system now fitted. The car is now on slicks rather than treads and it's had 6st of weight taken out.
Other Info: The car will still be a family car so everyone can enjoy a bit of racing!

---
Racer: Karl Reardon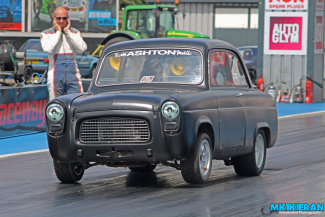 Karl Reardon
Mk1Kieran photo
Engine: Ford 2.1 Pinto built by Joe & Colin Ashton
Transmission: Quaife 4 Speed H-Pattern Box
Best ET: 12.90 at 105 mph with a 1.78 60ft
Next Plans: To experiment a bit more with the engine to see what we can get out of it and replace the weak links in the drivetrain and rear axle so we can give it a bit more off the line!
Other Info: The car was bought as a shell and built on a tight budget over 2-3 years. The first time out it ran a 13.5 followed by a 13.3 and then a 13.0 at 102mph. The car has only done around 20 full passes over 3 years so myself and the car still have lots of learning to do!


---
Racer: Tom Semper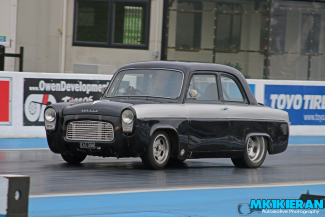 Tom Semper
Mk1Kieran photo
Engine: 2.0 Ford Zetec with a C1 Procharger
Transmission: BorgWarner T5 & Atlas Rear Axle
Best ET: 12.8 at 113 mph
Next plans: We'll see what it'll run now I'm making around 4psi of boost and get it to launch rather than just fall on its face on the line! If it's not enough I'll strap a big turbo to it!
Other Info : I got the car when I was 15 as a bog standard car, changed to a 1300 crossflow and a 4 speed, ran it once at Shakey and decided to chuck a 1800rs Zetec in it. Added an Eaton M45 Blower on it then rebuilt the lot for the current set up.


---
Racer: Nigel Taylor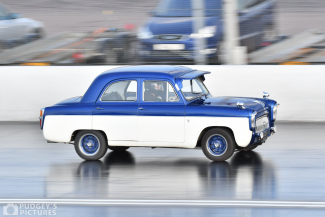 Nigel Taylor
Callum Pudge photo
Engine: Ford 2.9i Cologne V6
Transmission: 4 Speed Auto
Best ET/Speed: 15.84 at 85 mph
Next plan: To hand it over to my drag racing enthusiast son; Kenzie Taylor.
Other info: It's not the fastest in the class but I covered 5000 miles in it last year which included 26 runs down the strip. I drive it there and back every time (230 mile round trip). It does 26MPG and I drive it daily!





---
Racer: Stu Thomas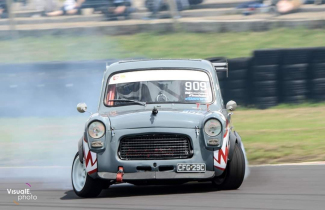 Stu Thomas
VisualE Photo
Engine: Turbocharged 2.0L Pinto. Not been dyno'd yet but made 300hp in my old car with a smaller turbo.
Transmission: Straight Cut Type 9 Gearbox and a Volvo 940 Rear Axle
Best ET: No Time Set.
Next Plans: Finish Building It! Hopefully I can get one clean pass without grenading anything!
Other Info: Ex-Rusty's Drift Car. Well known at Pod but not for going straight!





---
Racer: Steve Watson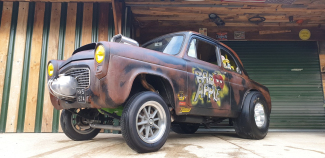 Steve Watson
Engine: Mild Ford 302ci with a 471 Supercharger.
Transmission – T5 Manual Box, 9" Rear on Ladder Bars
Best ET – 13.3 at 101 MPH
Next Plans – Made a few changes for this year including new paint by Zero3 Customs, Big Slicks, Mini Tubbed, Electric Line lock and AFR Gauge. Hoping for low 12s.
Other Info – 1962 Gasser, Boxed framed, 8 point cage with frame connectors, drop tube front on leaf springs fabricated by Valley Gas.
---
Racer: Robert White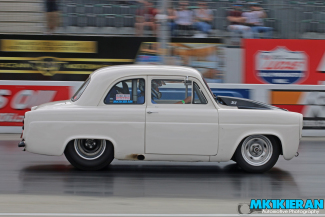 Robert White
Mk1Kieran photo
Engine: 383ci SBC built to run Nitrous but running N/A at the moment.
Transmission: TH350 Box with Manual/Auto Valve running a low stall converter.
Best ET: 11.63 at 118 MPH
Next Plans: To rebuild the gearbox, check the engine internals before introducing a 2 Stage Nitrous Set Up & Possibly a new chassis if funds allow to aim to run in Street Eliminator.
Other Info: Winner of the 2019 Modified 100e Challenge scooping the Tony Welch Memorial Trophy. Tony was the previous owner of the car who passed away in 2017 before I purchased the car from his family. Since then I have steadily gone through the car improving things to take the car from a 12 to an 11 second car. The car was originally built by Ron Richardson as a Pro Street car in the early 2000s for his Son, the engine was rebuilt by well-known local hot rodder Paul Snook just before I purchased it in 2017. I still drive the car to local shows & events.
---
Racer: Garth Wong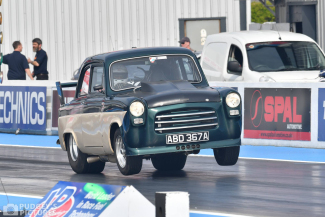 Garth Wong
Callum Pudge photo
Engine – Supercharged Chevy LS
Transmission – TH350, 9" Rear

---

We thank Kieran who has kindly sourced the material used in this feature.

Modified 100e Facebook Group
Kieran's Modified 100e drag racing compilation video (Youtube)
Features and Interviews index
Back to News page
---