MrD Raceway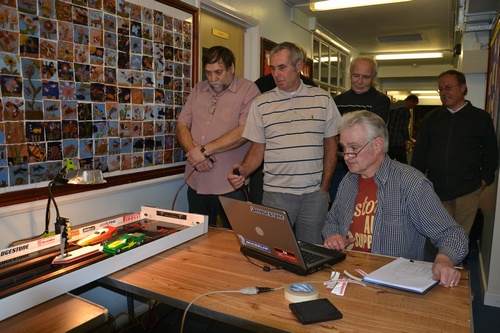 Slot drag racing started in the UK not that long after the full-sized sport. Over the years it has not been unusual to find a slot drag strip at racing and custom shows, for example the Humberstone Drag Racing Club and Surrey Street Rodder tracks at the Custom Car and Brighton Shows and the Hull Street Freaks track at the Doncaster Custom Car Show.
The latest slot drag strips to operate in the UK are MrC and MrD Raceways which hold events in Kent and Essex respectively. In January 2012 Eurodragster.com attended a meeting of MrD Raceway Slot Drag Racing Club and spoke to its founder and builder Steven Dudley (seated, above).
Click on any picture for large version. Additional pictures below interview
Eurodragster.com: How and when was your Club formed?
Steven Dudley: After attending the MrC Raceway (Medway Rod and Classic Club) Slot Drag Racing and various slot car swap meets and shows since 2006 I decided that I didn't want to rely on just one track and the sporadic shows etc. In 2009 Jon Sutherland, the MrC organiser and track owner, offered me some polycarbonate roof sheeting which he had going spare in 2009 - this is what the MrC Raceway is made of. I accepted his offer and brought it home with a view to building my own track.
A couple of guys from my Hot Rod Club the Rebel Rousers expressed an interest in Slot Drags and, following the completion of the track early in 2010, we set about trying to find a venue long enough to house the track. In September we located a school hall, the caretaker of which turned out to be a new member of our Hot Rod Club.
To try to promote the track the informal Club was formed and planned to meet every month during the winter season. Peter and June Johnson, a profoundly deaf couple who have both been slot drag fans for some years, offered to build me a web site for the Club which is proving very popular. All we need now is for more people to get involved
Eurodragster.com: Who built the track?
Steven Dudley: I built most of the track myself over a period of a year and a half. I took it slowly as I'd just been made redundant from my job and money was tight. The polycarbonate sheet which Jon had given me was a good start. This was cut and trimmed into eight two-metre lengths. In December 2009 all the joints and fixing had been completed and the guys from Rebel Rousers Hot Rod Club met up and we routed the slots in the sheets. This had to be done in one hit, to ensure that the slots were dead straight. I then sourced some very long lengths of copper tape and applied it to the slots for the power pick up. This was backed up with feeder wires routed through each section underneath. The track is powered by a twelve volt, 88 amp/hr van battery with a three amp trickle charger.
With the eight sections finished, I then came to the conclusion that the shutdown area wasn't long enough and set about producing another two-metre section. I tested the track at a school hall in Chelmsford without any timing system, as I didn't want to go to all the expense of buying the TrackMate system if the track wasn't good enough. Well, to say we were gobsmacked would be an understatement, the track worked really well: so well that we were having trouble stopping the cars!
Whilst I was building the track I was putting money away in readiness to buy the timing system. I ordered the system in February 2011 and set about fitting the Christmas tree to a detachable bracket for easy removal. Holes for the eight sensors were drilled through the track and the wiring adapted for my layout. I sourced some DJ's turntable lights to operate the sensors.
After finishing the track in February 2011, the first proper race meeting was held at the MrC venue in Kent on 8th May and the track worked very well and proved to be very fast.
Eurodragster.com: What is the scale length of the track?
Steven Dudley: The track is a 1/24th thousand feet. It is sixty feet long in total and would need to be about another thirteen feet long to make a scale quarter mile. The starting area is twenty inches and the powered section of the track between the start and finish lines is forty two feet. The shutdown area is just under sixteen feet long and really isn't long enough; those in the know recommend at least twenty five feet. I have plans to extend the shutdown area with another two-metre length of polycarbonate when I get a minute!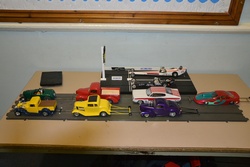 Eurodragster.com: How many people and how many race cars do you get at a typical meeting?
Steven Dudley: At the MrC events in Kent we usually have around twenty to twenty five people. The MrD club in Chelmsford is obviously in its infancy at the moment, although saying that attendance has been in the twenties for both events so far, which I'm pleased with. At present we do not run any formal classes or hold official type race meetings, we run on a Run What You Brung basis. I do hold a couple of sixteen-car eliminators during the evening and we try to match our cars to our opponent. Most racers have at least four cars, my son Matt and I have thirty between us.
Matt and I, along with my friend Paul and his son Ryan, do go to race in Europe where there are around eight classes based on the motor type. The full European construction and racing rules will be appearing on our web site soon. In Europe, qualifying is completed by having one run in both lanes with the quickest ET counting. A conventional drag racing sixteen- or thirty-two car ladder is then used. For bracket racing we use the reaction time to set qualifying, with the best being number one qualifier and so on. In Europe for Bracket, Pure Stock and Super 16D a Sportsman Tree is used. For Group 12, Group 20, Top Fuel, MM/PS and Open/Strap a Pro tree is used. For racing at MrD events we use a Sportsman Tree.
Eurodragster.com: Do you hold a formal Championship?
Steven Dudley: In 2010, we held a UK Championship at Haynes Motor Museum, during a model and slot car festival. Unfortunately the meeting clashed with several other events and due to the location was not very popular. It was decided not to try again until the sport gained a bit more popularity but the results of the Haynes meeting were as follow:

1/24th Open Bracket

1st Place: Ryan Avis (200 points)
2nd Place: Steven Dudley (70 points)
3rd Place: Paul Avis (55 points)

1/24th Parma/Pure Stock

1st Place: Matt Dudley (200 points)
2nd Place: Ryan Avis (90 points)
3rd Place: Steven Dudley (55 points)

1/32nd Open Bracket

1st Place: James Mackay (155 points)
2nd Place: Matt Dudley (100 points)
3rd Place: Ryan Avis (55 points)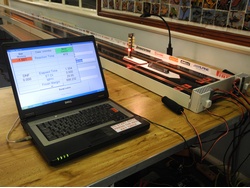 Eurodragster.com: How does the timing system work?
Steven Dudley: The timing system is supplied by TrackMate, who I believe are the only company who supply timing systems specifically for slot drag racing. Roundy-round slot car racing systems can be adapted for drag racing but are nowhere near as accurate. The system works on Infra red sensors, which require a light source above them, or you can get guide flag sensors which sit in the slot and work on movement. These are linked to a box of tricks which operates the Tree and feeds the data to the computer. Not being a computer or electronics whizz I'm not too sure how!
Eurodragster.com: What are your track records?
Steven Dudley: At present the track record for the scale 1000 feet is 57.18 mph and the best recorded ET is 0.702 seconds.
Eurodragster.com: What do you need to build a competitive car - how much should you expect to spend?
Steven Dudley: A decent chassis from JDS or WRP is a good starting point. These are available in kit form and are soldered together on a jig. There are lots of fantastic replica wheels and tyres available from JDS, ProTrack and Speed Secrets. Body-wise you have a lot of choice. Some people prefer hard bodies which can be adapted from any 1/24th plastic kit, resin, or lexan poly. Motors obviously play a big part in performance along with aerodynamics.
To build a competitive car for bracket or RWYB you're probably looking at £50. If anybody is interested then give me a shout and Iíll be more than willing to help out.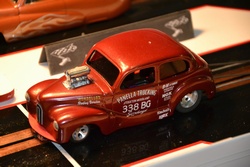 Eurodragster.com: Can you buy turn-key cars - or is that frowned upon?
Steven Dudley: Yes you can, and this is how I suggest anybody wanting to try slot drags starts. Parma PSE in the States offer Ready To Run race cars for a very good price. They are available on EBay and from Yours Truly for between £30 and £40, which is what you'd pay for a decent Scalextric car. Buying a turn-key car is not frowned upon at all and lots of the guys at MrD have these cars.
Eurodragster.com: What is the motor of choice?
Steven Dudley: Motors are the point where this hobby can start to get expensive. There are basically five different motor types. The 16D and Super 16D are based on a D can (housing) and the Group 12 and 20 on a C can. A standard 16D drag race motor will cost approximately £10 and these come standard in RTR cars. A Super 16D can be built for around £25. A Group 12 or Group 20 motor will cost anything from £25 to around £75. Strap / Open / Group 7 / Group 27 motors can cost upwards of £100. The expensive motors will only come into play when you get hooked and want to go faster or if you fancy racing in a European Championship.
Eurodragster.com: Which venues do you use?
Steven Dudley: The venue in Kent, MrC, is the Sturdee Social Club at Hoo. The Social Club and hall are used by the members of the Medway Rod and Classic Club for their meetings. Food and drink are available. The Cathedral School in Chelmsford will I think will be a temporary venue for the MrD Club until a more suitable hall can be found. The school's hall is not quite long enough, although we do get a good hire rate and it is local for all the MrD and Rebel Rousers Club members.
Eurodragster.com: Do you have any sponsors, or is there anyone you would like to thank?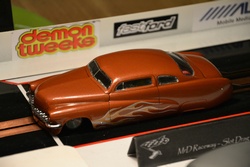 Steven Dudley: I would like to thank Jon Sutherland and all the people at MrC slot drags for getting me started; all the members of the Rebel Rousers Hot Rod Club, who helped with the construction of the track and now support it; Mike Tolley for supporting our effort to promote the hobby - unfortunately for me he is back in New Zealand; and Peter and June Johnson for their support and help providing the web site.
I would also like to thank a few individuals who are very supportive of my aim: Paul and Ryan Avis; Dragrap (Robin); Vaughan Andrews; Tony Mills; Alex Swan; Mark Bubb; all my family; and anyone Iíve missed.
Eurodragster.com: If anyone is interested in getting involved then whom should they contact?
Steven Dudley: You can contact me via the web site at slotdragracing.weebly.com or E-Mail me at steven.dudley2@btopenworld.com.
---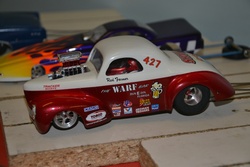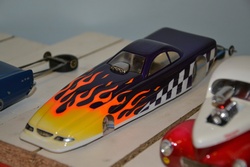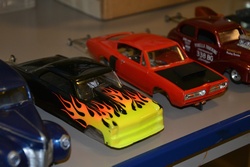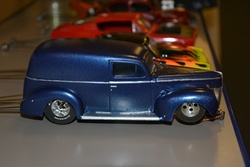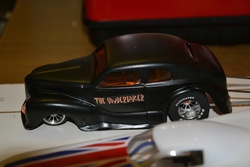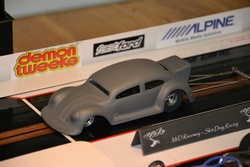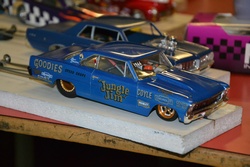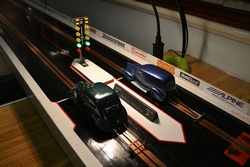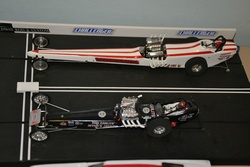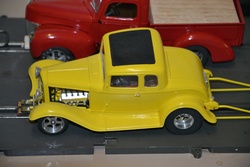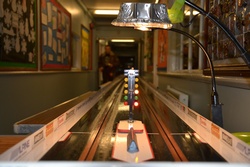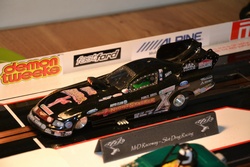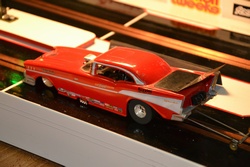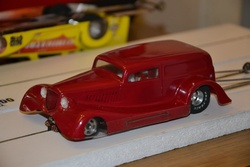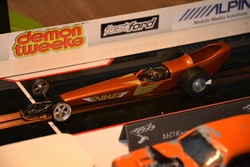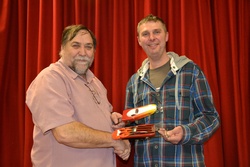 ---
Complete gallery from MrD Raceway
MrD Raceway web site
Features and Interviews index
Back to News page
---