Nuthin' Fancy Racing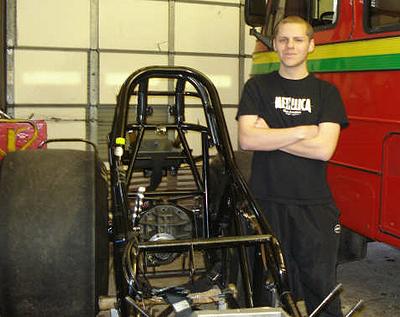 Blown-alcohol altered racer Joe Bond has drag racing in his blood. He attended his first drag race at Blackbushe in 1986 at the age of two weeks, and grew up watching and then helping dad Doug Bond who spent several years ended up in Top Methanol Dragster sponsored by Shell.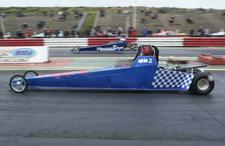 Joe spent five years racing in Junior Dragster class, starting at the age of twelve when he was one of the first ten racers in the UK to get a Junior Dragster license. After three years in Junior Stock, in which he won the APIRA Championship in 2000, Joe stepped up to Junior Modified and was runner-up in the UK National Championship in 2002 and 2003. In June 2006 at the age of eighteen Joe made his début in the Nostalgia Fuel Altered Association racing the Nuthin' Fancy blown-alcohol Topolino altered.
Kirstie paid Joe a visit at the Bond family's workshop in February 2008 to see how preparations were progressing for the new season.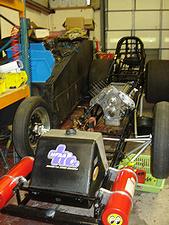 I asked Joe why he decided to join the NFAA having previously run in Junior Dragster. "When we sold the Top Methanol Dragster dragster we had quite a few parts laying around", he said. "We did think of a Super Comp car or something like that but then that winter Lawrie Gatehouse announced the formation of the Nostalgia Fuel Altered Association. We saw a rolling chassis for sale in the States, purchased it in July 2005, and it arrived that October. After a few alterations to bring it up to altered spec and a few long nights it made its début at the 2006 SPRC Summernationals". Quite a quick turnaround if you ask me!
Before the interview Joe said that he had lost a lot of weight. I didn't realise how much but he was not joking when he said he would need a new firesuit! The firesuit was sourced very soon after the interview and at time of writing Joe was hoping that it would arrive in time for the Easter Thunderball.
As you can see from the pictures Joe had a long way to go to get the altered ready and in case you had not noticed there is no body! "The body is currently at J + W Automotive having a re-spray for the 2008 season", Joe explained. Eagle-eyed viewers will recognise Joe's injector and crash helmet from a spy picture submitted to Eurodragster.com in January 2008.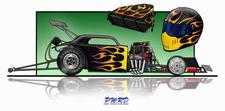 These will match the body as can be seen from a rendering designed by Pete Waters of Peter Walters Race Design click on picture for large version). "The injector hat and my helmet will match the body Joe has kindly given us a copy of the render designed by Pete Walters of Pete Walters Race Design. Pete's dad Richard will apply the new design to the body. I asked if the familiar "Joe" normally spelt out on the butterflies will remain, but Joe is not too sure so we will have to wait until Easter to find out.
Joe has just replaced his old 426 ci Keith Black hemi with a 484 ci engine. "The change was for reliability and hopefully to get us into the sixes", said Joe. "The old engine will be used as a spare should the need arise". I could see the engine in bits all around the workshop waiting to be put together. "On the bench are some new heads and sitting over there we have a new blower", said Joe. Joe has a super crew and they are confident the car will be ready in time.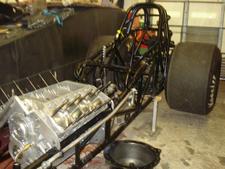 Joe hopes to attend all rounds of the 2008 NFAA calendar, six events in total. I asked about the Nostalgia Nationals at Shakespeare County Raceway and wondered why it was not an NFAA round. "There are two events, one being the Nostalgia Nationals, which are very close together and the turn around time is very tight", Joe explained. "I am keen to attend the Nostalgia Nationals regardless if parts and time permit. The Supercharged Outlaws are attending so it should be good to race at the same meeting."
I asked if Joe would like to go to Europe. "Definitely Europe!", he said. "Hockenheim would be fantastic as they love big burnouts and the class is something totally different to what they are used to". I have to agree that if the whole NFAA class were to make the trip I'm sure it would be a fabulous occasion. Joe is no stranger to Europe, however, as when I asked him his earliest memory he replied "Going to Holland – Zandvoort in particular in the early nineties. There is a famous photograph of me helping dad work on the engine!". If anyone has a copy of this photograph then they know the Eurodragster.com address to send it in to.
I asked Joe who were his drag racing heroes. "Gary Page definitely", he said. "I was so pleased that he was able to drive Chaos even if it was for one meeting. Another driver I hold in high regard is John Spuffard. I've grown up watching him drive Fuel Funny Cars, and he loaned me a firesuit for the Summernationals at short notice."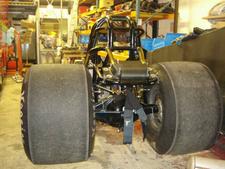 Factors such as Personal Bests are taken into consideration when racing other competitors. "My usual racing pair-ups are Dave Grabham and Neil Townson", said Joe. "Occasionally I will get to race Tony Betts or Jim Usher. Joe recalled one race which he would like to revisit from last year. "At the Springspeed Festival in May I was up against Jim Usher and I crossed lanes, so a re-match is something I really want do this year". Although that race is certainly one never to forget, Joe told me that me his most memorable race was against Neil Townson at the Hot Rod Drags last year. "Neil and his team are all such great people and to be paired against them on their return to the class was pretty cool."
Joe is positive that he will be staying in the NFAA for some time yet. "I would love to get into the sixes and maybe in a few years go down the nitro route". I asked where he sees himself in a few years time (at which point we ask Joe's mother to sit down). "In a Fuel Funny Car would be awesome!", he said.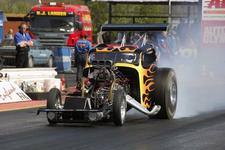 Joe hopes to make the pre-Easter Thunderball test weekend if all goes well. His operation is entirely self-funded but he has several parties to thank. "I'd like to thank the student loan company mostly!", he said. Joe was also keen to mention class sponsors Andy Robinson Race Cars, Hoosier, Stroud Safety, Lucas Oil Products and Aeroquip Performance Motorsport Products. He also wished to thank a number of people who have made everything possible. "Of course I'd like to thank my Mum, Dad and family for their support and also the crew which consists of Martyn Hannis, Craig Hannis and Lawrence Osborne. Thanks also to Lawrie and Judith Gatehouse for starting up and running the NFAA, Pete Walters at PWRD and Richard Walters at J+W Automotive for the re-spray of the car, injector hat and helmet."


Feature ©Eurodragster.com.


---
Nuthin' Fancy Racing web site
Nostalgia Fuel Altered Association web site
Features and Interviews index
---