Paige Wheeler's Las Vegas diary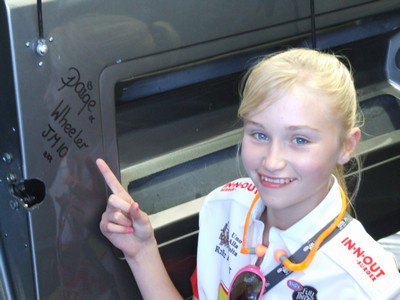 Click on any picture for large version
UK Junior Dragster racer Paige Wheeler struck up a friendship with US Pro Modified and Fuel FC racer Melanie Troxel at the 2010 FIA European Finals at Santa Pod Raceway. Melanie subsequently extended an invitation to Paige and family to be her guest in the R2B2 pit at the NHRA Las Vegas Nationals. This is Paige's diary of her time in Las Vegas.
Wednesday 27th October – Vegas Here We Come!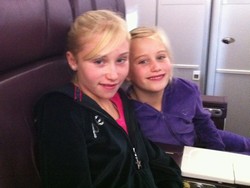 I had an early start, left the house at 7 am to get to Heathrow Airport for our flight at 11 am. Dad, Mum, Sister Belle, Nan, Geof, Wayne and I boarded our flight to LAX airport in Los Angeles. After 11½ hours of watching movies, playing games, eating and drinking we got to LAX. We took a short journey to Alamo to pick up our hire car and then it was the long six hour drive through the desert to get to Las Vegas. As we approached Las Vegas I could see a sea of fairy lights which grew larger and larger the nearer we got. It looked like daytime as we drove to our hotel because there were so many lights lighting up the streets. After a whole day of travelling it was straight to bed for me. There is a lot planned for the six days so no doubt this is going to be a busy time.
Thursday 28th October – First Day in Las Vegas
After an early start we went to meet Melanie Troxel's PR Company Owner, Rob Geiger. Rob has been helping us a lot and is one of the friendliest people I have ever met. Soon after meeting him and having a chat my Mum, Sister, Nan and I decided to go shopping while my Dad, Geof, Rob and Wayne went to the track.
We went shopping in Caesars Palace, The Fashion Show Mall and The Venetian. At first glimpse of Caesars Palace I thought that it was going to be a really posh place. After a few minutes of walking round, it started to look more and more posh. As we got further through the mall, it got lighter and I saw an amazing fountain! This shopping mall was truly brilliant, with the roof being painted like the sky with white fluffy clouds and some fantastic fountains that were very unique. We went into a few shops but my favourite was Victoria's Secret, where I got some perfume.
A few hours later we headed over a 16 lane road on a walkway to The Fashion Show Mall; this one was an ordinary mall with lots of shops. This is where I had my hair curled and bought some hair straighteners. This was a good high street type shopping mall.
After we went to all of the shops in The Fashion Show Mall we went over the road on another walkway to The Venetian. We didn't get to see many shops and we didn't spend a lot of time inside but we saw some gondolas! They take you all around the mall on a tour; however we didn't have enough time to go on them. The mall also had painted clouds on the roof and it had a lady dressed as a statue and she moved when you took a picture with her. This was a well presented mall with lots to see and do.
Overall I think that my favourite was Caesars Palace because it had shows going on with the fountains and it was a beautiful mall! But very expensive!
We were picked up from the Venetian and taken back to the Stratosphere Hotel where we are staying. It was a quick change into my Firesuit and picked up my Hero Cards to meet with Melanie Troxel, Rob Geiger and the rest of his team to go to a driver signing session, the NHRA Fan Fest at the Fremont Experience, Freemont Street which is the old Las Vegas Boulevard. It is now covered over with a huge light display along the whole of the street. We got dropped off outside and walked through a massive crowd of fans that were waiting to meet their favourite drivers.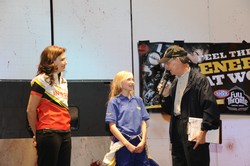 I was ushered through to the back of the stage where Melanie and I waited with the other drivers; there were about 20 from various classes. I got very nervous but Melanie and Geof Hauser, my Crew Chief and owner of Hauser Race Cars, calmed me down. We were called on stage class by class, I went on stage with Melanie and the rest of the Funny Car drivers as I was the only Junior Drag Racer there. After introducing myself and speaking to Bob Frey, the guy who was hosting the evening, we sat down at a long table and waited for the gate to be opened, I sat between Melanie Troxel and TJ Zizzo who is a Top Fuel driver.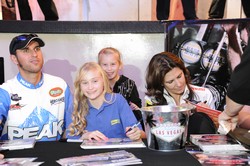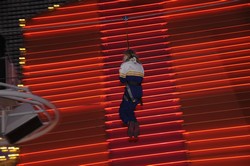 For an hour I signed a lot of different things such as: my hero cards, a boot, t-shirts, hats, a box and a flag! After that fantastic time Melanie and I wanted to go down a zip wire that went along the full length of Fremont Street over the fans and top of the signing table, but we didn't know if we would have time to because Melanie had to jump off of the Stratosphere Hotel for charity with a few race friends. We decided to quickly run to the zip wire and had a go! It was so fun, Melanie thought of it as a warm up for the 108 storey jump afterwards...

We get to our car and TJ Zizzo is sitting in the car for a lift back to our hotel. So we had a good chat with TJ on the way back.

I think that today was a fantastic day! It's one for the memory box!

Thursday 28th October – Melanie's Just Jumped

Melanie Troxel has just done her jump! She looked fantastic doing it. I can't believe that she wasn't nervous before the jump...I would have been. The more I think about her and a few racers doing it, it makes me want to do it more! The only bad thing is I'm too young to do it (you have got to be 14 with parent's permission). Well I'll have to do it on my 14th Birthday! Don't worry I have already asked!!!

Friday 29th October – First Day at The Strip, Las Vegas Motor Speedway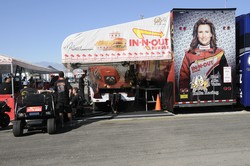 With another early start Dad, Geof, Wayne and I headed to The Strip at Las Vegas Motor Speedway to have a look at some of the cars and to watch some racing while my Sister, Nan and Mum went shopping at The Las Vegas Premium Outlets.
When I first got to The Strip I couldn't believe what I was seeing because it was so big and the setups in the pits were really good, the strip looked amazing. The amount of cars in the Top Fuel Funny Car class was unreal, there were about 14 and in Europe we normal get to only see about 2. I also couldn't believe how fast the Top Fuel dragsters where going, the top speed was 325 mph and they were all covering a 1000ft in 3 seconds and there were 24 of them. Wow!
It was a great first day at the track, with having treatment like a V.I.P. at Melanie's In-N-Out Burger hospitality area! I also met Roger Burgess, owner of R2B2 racing and owner of Melanie's Pro Mod and Funny Car amongst other cars including Roger's own Pro Mod. Roger is a really nice guy who made us all feel very welcome.
Saturday 30th October – 2nd Day At The Strip
You wouldn't believe that we had yet another really early morning (I am really tired after a really late night), we had to get up extra early because we wanted to get some good grandstand tickets that you can only get on the day! We arrived at the track at 8:30 am to a busy track day. We went to see my friend TJ Zizzo, Top Fuel driver, and had our picture taken with him and then I got to sit inside his Top Fuel Dragster! Then we went straight to Melanie's hospitality to see how everyone was.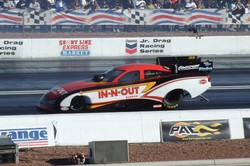 Soon after, Melanie went down to the start line in her In-N-Out Burger Pro Mod Car, we was cheering her on all the way down the track. After all of her Pro Mod crew's hard work Melanie became No.1 qualifier and stayed No.1 throughout the day with her times getting faster and faster. Every time she went down the track I still couldn't believe that a girl was driving that car. It was so amazing watching her, trying to learn her every move. Melanie also drives a Top Fuel Funny Car and her first qualifying session was really good, Melanie became 9th qualifier by covering 1000 feet in 4.13 seconds at 306 mph.
My highlight of the day was when I got invited to sit in the tow car with Melanie and her crew when Melanie did a run in her Top Fuel Funny Car! There was a lot of downtime because of an oil spillage and a crash, so Melanie took me to see some of my favourite drivers; Tony Schumacher, Larry Dixon and Ashley Force Hood. She also took me to her Pro Mod pits to get one of her jackets for me because it got so cold so quickly once the sun had set.
Once the oil and crash was cleaned up and the track was ready Melanie took me to the start line to watch some Top Fuel Dragsters go down. Unfortunately some of them leaked oil all over the track so we had more down time. Luckily Melanie had one more thing she wanted to do, which was to go to the stands and say "Hi" to everyone and apologise for all of the downtime, that soon led to her signing a load of things: hats, t-shirts and hero cards. Half an hour later we headed back to the fire-up lane, where teams were getting ready. When we were walking back we met a lovely dog who was talented, she could do lots of fantastic tricks.
This day was very unique and fun! I wonder how many 12 year olds get to experience this?!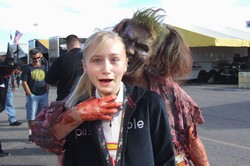 Sunday 31st October – Halloween!
I can't believe that today is Halloween, the only bad thing is that I don't have a Halloween costume! Yet another early morning for the Alamo team...I'm really tired again.
We watched loads of racing today and saw some fantastic runs, with a record breaking pass by Tony Schumacher at 325 mph! Go US Army!
Melanie Troxel stayed No. 1 qualifier (she got knocked down 1 place but then regained her place as No. 1 in the same run) and stayed No. 9 in Top Fuel Funny Car. Another great thing that happened that day was when Melanie asked me "Would you like to come down in the tow car again with the Pro Mod Car or the Funny Car?". I said with the Pro Mod because I had already been in with the Funny Car, I wanted to see what it was like with the Pro Mod. It was another great experience in the tow car. Before the final round of eliminations Melanie asked me to sign her car as a token of good luck as she had done the same for me when I went on to win the FIA European Final. I signed my name on her Pro Mod Car door! That day Melanie came 2nd! Go Melanie!
I also went around the pits and got signatures and Halloween sweets from the drivers. I also met a really scary lady dressed as a zombie and I had my picture taken with her, she worked at Circus Circus Hotel as a Zombie during their Halloween period. I think that the best place to go for sweets was TJ Zizzo's pits because he gave us tricks and treats – sweets and a spark plug, and he was the only driver dressed up – he was dressed as a werewolf! Howl!
Monday 1st October – Testing Day
Our last day at the track and last full day here in Las Vegas L
This morning we got up at a reasonable time and we had a lovely big breakfast! After our filling buffet breakfast we headed straight for the track to go see Melanie test her Top Fuel Funny Car. On her first run my little sister, Belle, had the opportunity to do the same thing I did – go in the tow car with Melanie. On that run they were trying to find out why the tyres had been spinning so badly so she didn't go full speed after the tree lights and then stopped on the track where Belle and crew team went to rescue her.
Later on that day I asked Melanie if I could take a picture of me and her crew so I could remember the times spent with them! She said "Of course". So Belle, Melanie, Crew Team and I got ready for our photo together. After the photo Melanie asked me and Belle if we would like to sit inside her Top Fuel Funny Car! Belle had the first go of sitting in it and she said it was cool, then it was my go.... it was so cool sitting in there; it was unreal being able to sit inside such a fast mean machine. Then unexpectedly Melanie asked if I would like them to put the body down on the chassis so I could get out of the escape hatch on the roof of the car! So I did exactly that and it felt amazing with the body down, you see the car in a totally different way! Getting out of the escape hatch was really good! Another fantastic experience.
It was finally time to say goodbye to Melanie and her team. I didn't want to say bye and go. I wanted to stay for longer.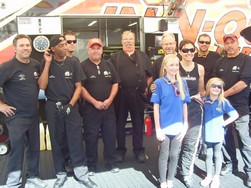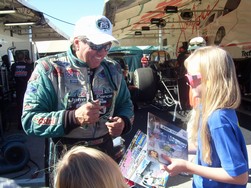 Towards the end of our time at the track I met Ashley Force Hood, John Force, Erica Enders and Robert Hight. I also got a hat that John Force wore inside the winners circle the night before after the winning the event in his Top Fuel Funny Car! He had worn a white one first and then changed to a beige hat so myself and Belle had one each, we got them signed by John Force and Ashley Force Hood.

We left the track early afternoon so we thought we should have a look at some of the hotels, we went to: New York, New York – we went on the roller coaster ride, The MGM Grand – to see the lion enclosure, The Bellagio – to see the music/water display. And finally to top the night off Geof and Wayne jumped off of the Stratosphere Hotel. It was great watching them!

I can't believe how much can happen in a day! I was so tired.

Overall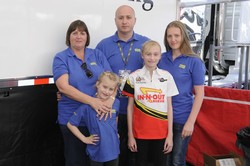 This was a fantastic, possibly once in a lifetime opportunity for me to go and experience drag racing with a special team of people. I had a wonderful time with Melanie and am grateful for all the time she spent with me. I have learned a lot from Melanie just by watching her and sharing experiences, she is very professional at her job and also takes the time to talk to her fans who obviously adore her. Melanie has asked me to keep in touch so she can follow my progress as I continue with my Junior Drag Racing.
While I was there I also met some of the most famous drivers in drag racing history! Such as Ashley Force Hood, John Force, TJ Zizzo, Tim Wilkinson, Roger Burgess, Tony Schumacher, Larry Dixon, Robert Hight and Erica Enders .
I had a fantastic time at Las Vegas and next year I would really like to go back. Maybe next year I'll have a go at the rides at some of the other hotels on the Las Vegas Boulevard.
Last but not least, I would like say a very special thank you to the following people and companies for their support, without their support my trip of a lifetime would not have been possible: Rob Geiger at Geiger Media, Roger Burgess and Travis Rice at R2B2 Racing, Alamo Rent A Car, Virgin Atlantic Airways, Las Vegas Motor Speedway, NHRA, The Stratosphere Casino Hotel and Tower, Robin Jackson, Santa Pod Raceway, Tom Fredrickson and Tom Bognor at Lucas Oil Inc, Andy Willsheer, Roger Gorringe and Andy Rogers (Tog) at Eurodragster.com, Mum and Dad, and Melanie Troxel and the In-N-Out Burger Team.
Paige x


---
Paige Wheeler's web site
Alaso Rent-A-Car web site
Features and Interviews index
Back to News page
---