Part 5 – 1994-95: Falling out and regrouping
1994: Track troubles
At the start of 1994 Tony Rose, first UK Pro Mod racer in the sixes, was hopeful of gaining the title from Alan Packman who was 1992 and 1993 champion. The 613ci engine in his Jerry Bickel-built Oldsmobile Cutlass had been completely rebuilt by Rob Loaring of I.C.E. Automotive aided by Kev Perkins; the electrical gremlins that he had experienced in 1993 were traced to a faulty nitrous arming switch, meaning a power output of 1600hp once fixed. A spare engine of 605ci had also been acquired by Tony over the winter, with rear end chassis updates by Jon Webster.
However two issues lay in Tony's way. The first was straightforward competition, Alan Packman, with an updated chassis in his Swedish built Ford Scorpio, added a huge 700ci Ford Shotgun engine from John Kaase Racing Engines in the US, and stated his quest - to be the quickest Ford-engined Pro Mod on the planet.

Tony Rose 1994
Brad Beechem photo


Al Packman 1994
Adam Gredzinski photo, Jerry Cookson collection
The second issue was more deep-seated and potentially a threat to the class's existence. Agreement with the track promoters at Santa Pod Raceway and Avon Park Raceway had not been able to be concluded by the start of the season. The Pro Modified Racers Association had asked for an increase in prize money after four years of no increase. Even the prize fund being asked for was only a fraction of what was required to fully fund a car's running costs. The PMRA decided to pause the negotiations with Santa Pod Raceway and concentrate on concluding a deal with Brian Burrows and Brett Hawksbee of Goodguys UK, the main APR promoters.
In the end the result was that with the input of Keith Bartlett, then the promoter of the European Top Fuel Association, and operating as Real Racing Management, the PMRA signed a four race series with Goodguys UK, whilst keeping the door open to a deal with Bo Meftah, the then owner of Santa Pod Leisure Ltd and promoter of SPR.
A parallel was made between Pro Modified, with car bodies from Europe and Japan as well as the US, and the British Touring Car Championship which had reached new heights of popularity with regular BBC TV broadcasts, together with an increase in sponsorship exposure. However mainstream TV exposure of UK Drag Racing, despite the efforts of the sports' promoters, was never to the same extent than that afforded to the BTCC.
The cars in 1994 showed signs of expansion in numbers, however in reality several were new builds that wouldn't see the light of day until later seasons. As well as the 1993 front runners Alan Packman and Tony Rose, Dave Warne returned with his US-built Mean as Hell Pontiac Trans Am, Dave Mingay with his 548ci Hellraiser Vauxhall Calibra built by Jon Webster, and Mick Cheley with his similar but smaller (500ci) engined Calibra built by Geof Hauser.
The main interest in new cars surrounded the '67 Camaro of Gordon Appleton, built by Andy Robinson Race Cars and featuring a 665ci Pontiac headed Eagle race engine, a specially prepared body moulded from glass fibre Kevlar, sectioned to give a lower roof line, with a huge rear deck spoiler. Completion and paintwork meant the car didn't appear until August. Bert Englefield's Toyota, not seen since 1990, received a 600ci engine with Big Chief heads, with chassis and bodywork mods also making its reappearance in August.

Gordon Appleton's Final Demand, built by Andy Robinson
Paul Duxbury photo, Jerry Cookson collection


Bert Englefield's rebuilt Toyota Supra
Paul Duxbury photo, Jerry Cookson collection
Nick Cavey's Nissan 300ZX, under construction at Jon Webster Performance & Construction, used a body from the same mould as Tony Bett's contemporary Funny Car and a 706ci Oldsmobile engine, but would see the light of day in 1995.
---
11th-12th June, Powerfest, Avon Park Raceway
Avon Park Raceway had received a further series of improvements with larger pit areas, and relocated grandstands, a new clubhouse and VIP area to complement the relaid track surface from 1990. Banking was laid to reduce noise for local residents.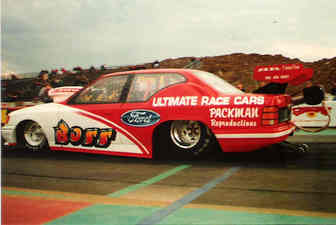 Alan Packman swept the board at the first event
Jerry Cookson collection
Qualifying
Alan Packman (Ford Scorpio 596ci) 6.997/203
Tony Rose (Oldsmobile Cutlass 613ci) 7.014/202
Dave Warne (B&H Autokraft/Warne Racing Pontiac Trans Am 632ci) 7.13/202
Dave Mingay (Hellraiser III Vauxhall Calibra) 7.1/200
Mick Cheley (Vauxhall Calibra 498ci) NTR
This was the first time that the top four cars had 200mph terminals, after the testing by Alan, Tony and Dave Mingay two weeks prior at the VW Dream Weekend 28th-29th May. Nevertheless, handling issues were becoming a feature with Alan considering wishbone modifications, Tony spinning the tyres in first and experiencing tyre shake further down the track, and Dave Mingay admitting there was more work to do in the first half of the track, after fitting new 16in slicks. Dave Warne's Trans Am, with Top Alcohol sized tyres, displayed a penchant for wheelies and he planned some new wheelie bars. Meanwhile Mick Cheley's Calibra had a broken rear axle flange and had to make temporary repairs overnight.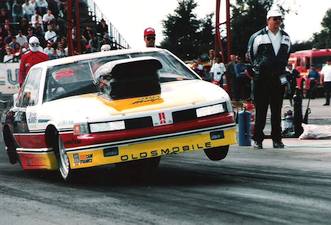 Tony Rose, on performance parity with Alan Packman at this event
Adam Gredzinski photo, Jerry Cookson collection
Eliminations
Round one
Byes for Alan Packman 6.995/205, Dave Warne 7.65, Tony Rose 8.06
Dave Mingay 7.11/199.01 def. Mick Cheley 10.36
Semi Finals
Alan Packman 7.00/205.30 def. Dave Mingay 7.12/196
Tony Rose 6.99/200 def. Dave Warne
Final
Alan Packman 7.01/201.68 def. Tony Rose
After Tony Rose suffered tyre shake in round one, Alan Packman ran a new European speed record of 205.30 on his bye run.
Dave Mingay suffered a carburettor fire on starting his engined in his round one match against Mick Cheley, who waited patiently for Dave's crew to extinguish it and for him to burn out and pull into stage.
With only five cars present nevertheless six 6-second passes were accomplished with twelve laps over 200mph.
---
23d-24th July, Goodguys Shootout #5, Euro Invasion, Avon Park Raceway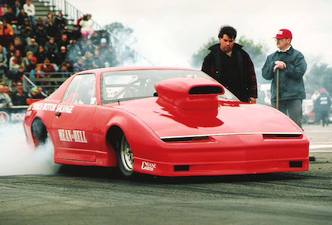 Dave Warne qualified #1 in his final year of competition
Jerry Cookson collection
Seven cars took part in this round, with Dave Warne sporting a new pair of wheelie bars made by Jon Webster, taking the no.1 spot. Alan Packman was suffering drivetrain problems that slowed him in qualifying.
Qualifying
Dave Warne 7.11/197
Tony Rose 7.13/198
Dave Mingay 7.17/195
Alan Packman 7.38/158
Mick Cheley 7.59/176
Glen Dumont (Chevy Camaro) 9.03/156
Neil Taylor (Chevy Camaro) 10.05/138
Eliminations
Round one
Dave Warne 7.20/195 (bye)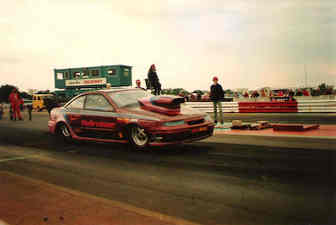 Dave Mingay's Hellraiser III
Jerry Cookson collection


Tony Rose 7.43/184 def. Neil Taylor, broke on line
Dave Mingay 7.11/193 def. Glen Dumont
Alan Packman (broke) def. Mick Cheley 7.81, DQ red light

Semi Finals

Alan Packman 7.39/188 def. Dave Warne 9.87
Tony Rose 7.00 def. Dave Mingay

Final

Tony Rose 7.08/168 def. Alan Packman (no-show, broke)

Although Tony Rose suffered tyre shake in round one, he cured this by the semi final. Alan Packman suffered a propshaft failure in round one, Mick Cheley throwing away a potential victory on a red light. Alan managed to replace the propshaft and defeat Dave Warne who suffered a nitrous malfunction to reach the final. With a track curfew of 5pm approaching, the final was run as a wheels-up solo for Tony as Alan was unready.

You can see Pro Modified action from this event, videoed by Keith Taylor of First Image Video at these five links: link 1 link 2 link 3 link 4 link 5 (video footage posted to Youtube by Nick Pettitt).
---
28th-29th August, Summer Nationals/Volksfest, Avon Park Raceway

Tony Rose wrapped up the Championship
Brad Beechem photo


Gordon Appleton's The Final Demand made its debut
Paul Duxbury photo, Jerry Cookson collection
This was the debut event for Gordon Appleton's The Final Demand Camaro, built by Andy Robinson in the largest field of the season. Running a 7.457/186.75 at his first event was an undeniably impressive start to his PM career. Gordon had learned his race craft in Super Gas and transitioned smoothly to driving his new Lenco-equipped Pro Mod.
Tony Rose took the event win, wrapping up the championship for him.
No results are available for this event.
---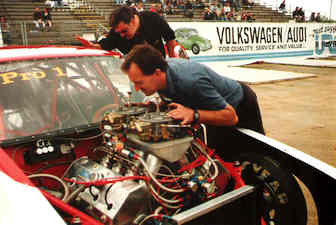 Alan Packman with Clive Bond looking on
Jerry Cookson collection
Testing times
Testing took place by Alan Packman at the Bulldog Bash 11th-13th August 1994. The John Kaase prepared 700ci Ford engine car made five short shakedown passes, each using different variables of power and chassis tune-ups dialled in by Alan's crew chief Clive Bond of Ultimate Race Cars. The use of a single stage of nitrous for the final run of the day produced the quickest Pro Mod time seen in England, 6.869/200.58, the eighth mile incremental being 4.466.
At the Santa Pod Raceway World Finals in September, Alan was due to match race Colin Taylor's Ford Thunderbird, however mechanical woes in the first race forced Colin to trailer the T-Bird. Alan proceeded to put on a show with half track burnouts, and running 6.93/203, 6.87/205 and 6.81/204 to take the track record and whet SPR fans' appetite to get the Pro Mods back in 1995.
---
8th-9th October Goodguys Night of Fire, Avon Park Raceway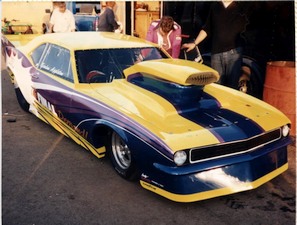 This was Gordon Appleton's first PM win
Nick Pettitt photo
Alan Packman ran at this event, although not within the Pro Mod ranks. Other regular runners were joined by Super Pro ET racer Jerry Clayton whose ex-Andy Robinson Sierra Sapphire ran a best for him of 7.99/161 but succumbed to breakage.
Qualifying
Dave Warne 7.51/190
Jerry Clayton 7.99/161
Dave Mingay
Mick Cheley
Also qualified: Gordon Appleton, Glen Dumont, Bert Englefield.
Dave Mingay suffered a couple of melted pistons in qualifying, whilst Mick Cheley had a blown gearbox resulting from hard launches. The first round ended up as a round of three byes for Dave Warne, Gordon Appleton and Bert Englefield, and a defeat of Jerry Clayton by Glen Dumont.
Eliminations
Semi finals
Gordon Appleton 7.45/178 def. Dave Warne
Glen Dumont 7.90/178 def. Bert Englefield
Final
Gordon Appleton 7.56/186 def. Glen Dumont 8.13/172
This was Gordon Appleton's first Pro Mod event win. Dave Warne had transmission woes during his semi final race against Gordon, who then outran Glen Dumont.
You can see Pro Modified action from this event, videoed by Keith Taylor of First Image Video at these four links: link 1 link 2 link 3 link 4 (video footage posted to Youtube by Nick Pettitt).
---
Championship
The 1994 championship went to Tony Rose. But he was less than comfortable in the high-spending class, and returned to Super Gas in 1995 with his Oldsmobile Cutlass before retiring from the sport. Dave Warne would also be missing in 1995 as he retired to concentrate more on his business activities. Alan Packman quit the class towards the end of 1994. During his four years Alan had won two championships and set records, but also suffered from the political wranglings within the class. He resigned from the PMRA committee and was expected to restrict his running to demo events only in 1995, after successful outings in 1994 and a desire to get away from the championship battle which he stated tied his hands performance-wise. However by the Easter Thunderball in April Alan had returned to the fold at SPR…
---
1995: Regrouping
Gordon Appleton was at the last meeting in 1994 at the wheel of his The Final Demand Camaro and was running good numbers from the start thanks to the input of Andy Robinson Racecars. With Bert Englefield returning to the fold in August 1994, Glen Dumont getting down into the sevens and new cars from Neil Taylor (Chevy Lumina) and Nick Cavey (Nissan 300ZX) , competitor numbers were expected to increase in 1995.

Gordon Appleton vs Neil Taylor at Summer Nationals
Nick Pettitt capture


Nick Cavey
Jerry Cookson collection
Dave Mingay and Mick Cheley were still racing almost a decade after the class's formation. Dave had raced his Calibra in the four previous seasons but big changes were afoot for 1995. He reunited with Rob Loaring of I.C.E. Automotive and the car was rebuilt with a new rear wing, 34.5 inch slicks - and the 1990-91 championship winning 613ci Pontiac engine of Tim Cook which had reportedly been sitting in a corner at I.C.E. Automotive's Southend premises ever since Tim had quit at the end of 1992. There was also a new paint scheme.
Rob Loaring writes: "Dave Mingay and I had worked for a meeting here and there developing his Hellraiser Calibra and during the latter part of '94 we made an agreement to team up for the following two seasons. I'd classify Dave as a full member of Pro Modifieds 'Piranha Club'. There were three reasons to take a race car to the track, 1) Win events, 2) Set records and 3) Win championships, everything else was toothpaste. Dave had been pounding away since 1988. By 1995 you could probably describe it as intense, properly intense. As a racer, if you can function in that environment you could never feel more alive, if you're a little sensitive, it can crush you."
Jerry Clayton started the season, but was not able to finish it following a crash in June. Steve Hall was planning on rebuilding his Mustang which crashed at Santa Pod in 1993, installing a Big Block Chevy of 555cu in, Steve Large Engineering back halfing the car with a new four link, rear axle and new rear tubs to accommodate 16" tyres, however the car didn't appear again. Various other woes kept the numbers down to three at the first meeting of the year.
The race calendar was more promising. The class had obtained seven dates, at the four main meetings at Santa Pod Raceway and three at Avon Park Raceway.
---
15th-17th April Easter Thunderball, Santa Pod Raceway
Rain put an end to the proceedings before any of the eliminations could be finished. Three cars were entered. Alan Packman had revised carburetion for more fuel flow and ran a best of 7.02/192. Gordon Appleton was still running just one nitrous stage on his 665ci engine and went 7.51/181. Mick Cheley's Calibra had a 509ci engine and Powerglide, and he managed a 8.56/161 feathering the throttle.
---
27th-29th May Main Event, Santa Pod Raceway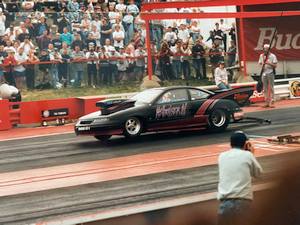 Event winner Dave Mingay
John Hilsden photo
The field at the Main Event was 10 cars, the largest entry to date. This included Henri Joosten's Quaker State '55 Chevy 'shoebox', the car campaigned in 1991-2 by double champion Tim Cook. Alan Packman had his door blow off in a Saturday qualifying run but was able to repair it for eliminations, albeit less sign writing.
Qualifying
Alan Packman 7.016/199.18
Dave Mingay 7.140/187.47
Gordon Appleton 7.589/177.26
Bert Englefield 7.774/181.61
Nick Cavey 7.893/158.33
Henri Joosten 7.932/162.80
Mick Cheley 8.005/170.35
Neil Taylor 8.010/166.183
Jerry Clayton 8.015/164.78
Colin Taylor 8.331/160.53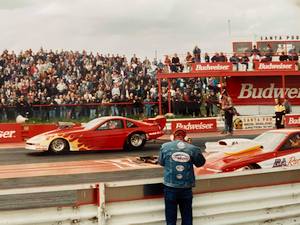 Nick Cavey got a round win when Gordon Appleton broke
John Hilsden photo
Eliminations
Round one
Alan Packman 7.029/198.25 def. Neil Taylor 7.537/179.97
Nick Cavey 11.55 def. Bert Englefield, broke (staged)
Dave Mingay 7.141/191.78 def. Mick Cheley 7.707/174.38
Gordon Appleton 7.663 def. Henri Joosten 10.21
Semi finals
Alan Packman 7.043/196.57 def. Nick Cavey 8.707/116.58
Dave Mingay 7.106/191.87 def. Gordon Appleton 7.70
Final
Dave Mingay (RT 0.591) 8.986/137.58 def. Alan Packman (RT 0.614) 9.058/169.54 DQ (crossed outer line)
The times in the final indicated a pedalfest, with Dave Mingay recovering first after both cars had got out of shape on their launch, Alan Packman crossing the outer line to get DQ'd. Rob Loaring wrote: "Dave and Alan met in the final, Alan's Hemi was hurt and what followed was the most extraordinary 'pedal fest' I've witnessed either before or since, the race just went on for ever."
You can see video of Pro Mod at this event filmed by Sky Sports at this link (round 1 and semi finals) and this link (finals) (video footage posted to Youtube by Deano Johns).
---
10th-11th June Goodguys Shootout #6, Avon Park Raceway
The second round of the Custom Car Pro Modified series featured a 6 car turnout which was unfortunately reduced to 5 when Jerry Clayton destroyed his Ford Sierra in a top end crash. As he went through the speed traps at 157, the car suddenly went hard right and bounced end-over-end. Jerry sustained broken bones, spending six weeks recovering in hospital.
In the first round, Dave Mingay had a bye run in his Calibra but still set the fastest and quickest times for the meeting with 7.31/190. Gordon Appleton then drove past Nick Cavey's Nissan. Neil Taylor then ran a slow 8.27 to beat Bert Englefield's Toyota. Rain prevented any more rounds being run, and the rounds were held over to the Goodguys Shootout #7 in July.
---
1st-2nd July Cannonball, Santa Pod Raceway
Dave Mingay had, with input from crew chief and engine builder Rob Loaring, made a number of test hits and, after the Goodguys Shootout #6, had a workshop engine rebuild. Dave ran a best of 7.07 but was pipped by Alan Packman in qualifying.
In the first round of Pro Modified number one qualifier (7.066/197.51) Alan Packman, running a wedge engine he allegedly found covered in dust at the back of his workshop rather than the Shotgun Hemi, beat Neil Taylor 7.109/197.52 to 7.763/178.88.
Number two qualifier Dave Mingay took a 7.16/189 win over a 7.72/166 from Nick Cavey. Bert Englefield had qualified at three and won his first round against Henri Joosten 7.52/185 to 7.87/167. Gordon Appleton also made it through with a 7.20/187 win over an 11.70 from Mick Cheley
You can see video of Pro Mod at this event filmed by Sky Sports at this link (round 1) (video footage posted to Youtube by Nick Pettitt).
---
22nd-23rd July Goodguys Shootout #7, Avon Park Raceway
The semi final of Shootout #6 was run in qualifying between Dave Mingay and Gordon Appleton, with Dave's 7.06/193 defeating Gordon's 7.23. However for some reason the final between Dave Mingay and Neil Taylor needed to be held over to the NSRA Hot Rod Drags in September. Glen Dumont made his first appearance of the year and reached the final.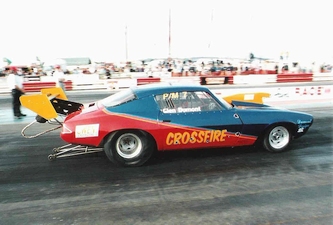 Glen Dumont
Paul Duxbury photo, Jerry Cookson collection
Qualifying
Dave Mingay 7.06/193
Alan Packman 7.10
Gordon Appleton 7.23
Bert Englefield 7.30
Neil Taylor 7.43/190
Nick Cavey 7.66
Glen Dumont 8.92/146
Mick Cheley 9.29/98
Eliminations
Round one
Dave Mingay 7.02/194 def. Mick Cheley 7.74/180
Bert Englefield 7.30/182 def. Neil Taylor 8.22/122
Nick Cavey 7.52/194 def. Gordon Appleton 7.20 (DQ red)
Glen Dumont 7.82/173 def. Alan Packman 7.01 (DQ red)
Semi finals
Glen Dumont 7.91/166 def. Nick Cavey 7.82/173
Dave Mingay 7.04/190 def. Bert Englefield 7.32/185
Final
Dave Mingay 7.05/186 def. Glen Dumont 11.40 (DQ red)
In the semi final, there was drama as Bert Englefield suffered a wiring explosion in his Supra which took out his line lock and nitrous purge, the issues causing him to have a slow RT of 1.104 to Dave Mingay's 0.505.
The final had a staging drama when Glen Dumont unintentionally overstaged, the two beams for staging being set closer together in his lane than the left lane. The startline crew tried to motion Glen back from his overstaged position but were then obliged to run the lights with Dave having staged, causing Glen to get a red light.
---
26th-28th August Summer Nationals, Santa Pod Raceway
Nine cars made up the Pro Mod field with Alan Packman leading the way with a number 1 qualifying time of 6.93, the only six second runner of the weekend. Dave Mingay qualified at number 2 with a 7.11 and ran 7.06 to take the first round after Mick Cheley dropped out. Gordon Appleton ran a new personal best of 7.09 in the first round to defeat a 7.19 from Neil Taylor. Gordon Appleton's luck ran out however in the semis when his 7.30 was no match for a 7.00 from Mingay. Packman had a solo to the final when Phil Englefiled failed to show. Mingay took the final win with a 7.07/197 to Packmans 7.12/199.
Final
Dave Mingay 7.07/197 def. Alan Packman 7.12/199
You can see video of Pro Mod at this event filmed by Sky Sports at this link (round 1), this link (semi finals) and this link (final) (video footage posted to Youtube by Nick Pettitt).
---
8th-9th September NSRA Hot Rod Drags, Avon Park Raceway
This round included the final of the Shootout #6 race in the second session of qualifying when Dave Mingay faced off against Neil Taylor in his pink Chevy Lumina. These two were running well and the result was a holeshot win for Dave at 7.05/202 (0.078 RT) to Neil's 7.03/200 (0.286 RT).
In the final session, Dave made his first run in the sixes with a 6.98/204 to go no.1. Not included in the order was Alan Packman who was not in the PMRA ranks at this event, however running a 7.009/203 demo pass.
You can see video footage of qualifying from this event filmed by Nick Pettitt at this Youtube link.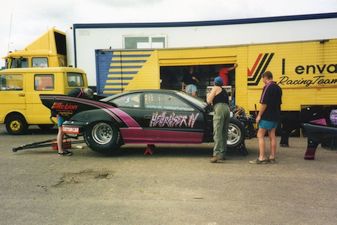 Dave Mingay in the pits in 1995
Rick Swaine photo
Qualifying
Dave Mingay 6.98/204
Neil Taylor 7.03/200
Gordon Appleton 7.05/NSR
Nick Cavey 7.13/206
Bert Englefield 7.15/194
Mick Cheley 8.47/163
Eliminations
Round one
Dave Mingay 7.009/202 bye
Neil Taylor 7.22/195
Gordon Appleton 7.13/197 def. Mick Cheley 8.56/161
Nick Cavey 7.20/192 def. Bert Englefield 7.16/191.
At that point the rains came which meant the round went uncompleted, with 500 points awarded to each driver.
---
16th-17th September World Finals, Santa Pod Raceway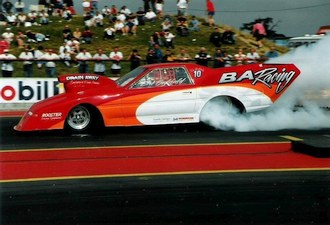 Bert Englefield at Santa Pod
Dick Parnham photo
The race was rained off on Friday, most of Saturday and Sunday until mid afternoon. Only one round of qualifying was able to be held, on Saturday evening at around 8pm. Alan Packman revelled in the conditions to record a six in the dark, misty conditions with a track check occurring after each pass.
Qualifying
Alan Packman 6.926/200.69
Neil Taylor 7.183/195.01
Gordon Appleton 7.259/199.99
Dave Pollen 8.275/162.73
Dave Mingay 8.607/175.72
Bert Englefield 10.498/142.99
Nick Cavey 10.899/93.3
Mick Cheley 10.911/125.28
Colin Taylor No time (broke on track)
On Sunday the race was called mid afternoon just before the Pro Mods were due to run, but the Championship winner was clear.
---
Championship
Dave Mingay, with four wins, won his first championship in the class that he had competed in since its inception, with Alan Packman runner up and Gordon Appleton third in his first full year of racing.
The points table looked like this:
Dave Mingay 3000
Alan Packman 2325
Gordon Appleton 1825
Nick Cavey 1500
Bert Englefield 1275
Mick Cheley 1200
Neil Taylor ; 1000
Glen Dumont 950
---
Car focus: Nick Cavey
New to the class in 1995, Nick Cavey had never run quicker than 10 seconds in previous seasons. His all-new 115 inch wheelbase Nissan 300ZX was state of the art at the time and built by Jon Webster. It had a Scott Shafiroff-built 706ci Oldsmobile engine with two stage nitrous bought from US racer Tim McAmis (similar to one which he had run a 6.6s/210 with), billet two-disc AFT clutch and a four speed Lenco. Similar set-ups had previously been hungry for pistons but extensive dyno testing and track time by Tim provided some comfort in that area.

Nick Cavey's engine showing dry sump system and nitrous installation
Custom Car photo


Nick Cavey's Nissan 300ZX body, aerodynamic for the time
Custom Car photo

Nick's Nissan was built to the very limit of the rule book utilising the maximum wheelbase and engine setback. By 1995, the class employed a series of weight breaks taking into account engine size, type, the fuel used, and fixed a minimum 'race weight' for the car. Nick's car had to weigh a minimum of 2500lb after a pass, some 200lb heavier than a smaller 540ci-engined car. Rules on wing size were also in place and the Nissan took as much advantage of those as possible.

Nick Cavey burning out at Avon Park Raceway 1995
Paul Duxbury photo, Jerry Cookson collection


Nick Cavey launching at Santa Pod Raceway 1995
Paul Duxbury photo, Jerry Cookson collection

1995 was a shakedown year for Nick's new Nissan and the car ran well at the Hot Rod Drags with bests of 7.13/206. However the car's performance became inconsistent, and eventually became the basis for the '62 Vette of Nigel, and more recently, Jordan Payne. Nigel said "We ran the Nissan body in Super Pro ET when we first bought the car and later changed it to the Corvette body for Super Modified in 2002. The Nissan body was left at Dale's place when he made the Corvette body. There is very little of the original chassis under the Vette as it has been heavily modified/replaced over the years to suit Comp."
---
Next time...
In part 6 we look at 1996 and 1997, more championship events at Santa Pod and at Avon Park, Super Slam, the forerunner of the Super Series.
---