Racing with Uncle Sam
A comparison between US and UK Sportsman racing by Paul Marston. Pictures by Tony Morris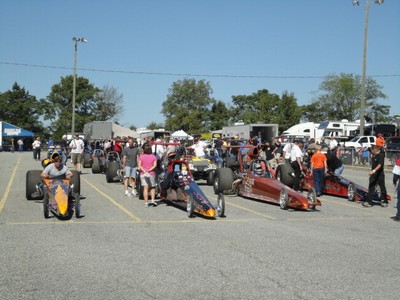 As many readers will know, Eurodragster.com sponsor Paul Marston is no stranger to racing in the NHRA. When Paul went on his latest US racing visit in the autumn of 2010 Eurodragster.com asked him to give us an insight into the differences between Sportsman racing in the USA and in the UK.
Click on any picture for large version
NHRA Divisional events may be similar to UK National Events number-wise, both numbering around seven, but how the events are run has evolved quite differently. Firstly the distances covered by the racers to attend these events are vast: out-of-Division racers can commonly travel 1000+ miles, and the sacrifices made by the racers to make the show are great.
As a typical example, I was crewing with ex-pat Tony Morris and Charlie Boyd who run Super Comp and Top Dragster respectively. The weekend prior to this race Charlie had had a camshaft problem at the track; on Monday he pulled the motor and ordered a new camshaft, which was a special order item, through World Champion Comp racer Glen Treadwell. Glen had to pull some strings to have Comp Cams make it in time and Charlie collected it from Glen's shop on the Thursday morning. After working all day Thursday reassembling and fitting the 440 ci SB2 motor back in his dragster, Charlie, Tony and I set off at 10:00 pm from Brevard Cylinder Head on Merritt Island, Florida, for Silver Dollar Raceway in Reynolds, Georgia. Prior to that Tony and I had to shop for all the provisions - you have to take everything you need food- and drink-wise. More on that one later. Charlie drove all through the night with just one fuel stop and we arrived at 6:00 am...and this is considered a local race!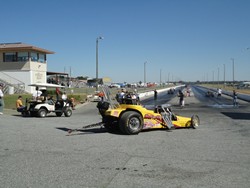 The gate at Silver Dollar Raceway stays open all night, and everyone pays to get in. As crew it cost me $60.00 for the weekend, whilst it cost Charlie and Tony $60 plus $160 for their Tech cards (i.e. entry fee). You then follow a sleepy member of the Silver Dollar staff on a quad who shows you where you are to pit. Three hours' sleep then up at 9:00 am - it's a late start on Fridays, 11:00 am at a Lucas Oil Divisional event. Tony and Charlie filled in their Tech cards which were the entry forms for the event; there is no pre-entry at Divisional events, you just show up and pay $160.00. You have to spend thirty minutes filling in the Tech card with your race car details, all the SFI serial numbers etc. You get the picture.
Once this is done you go to get tecched. The NHRA Lucas Oil Divisional safety staff tech the car. This is a simple check that all the safety equipment on the race car is up to date, that your licence is current, and that your race suit and helmet etc are in good condition. You are then issued with your run ticket.
They do not scrutineer the race cars as is done in the UK. The reasoning is simple: it's your car and it's your responsibility to make sure that your car is safe. They will never know your car as well as you do, and after all it's your ass in it!
As it was a Lucas Oil event the NHRA pretty much ran the show and the Silver Dollar track crew helped. The NHRA definitely have a no-nonsense attitude towards the racers and the racers know it, like the police over here you do not mess with them.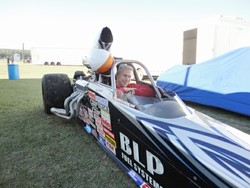 To compete you have to have a current NHRA licence. If you run slower than 10.00 (Super Street) you can apply for one on the internet - I still have mine. It's a lot more complex to obtain a licence to go faster than 10.00 in the States. I am one of the few people to have had a Super Pro dragster licence: six perfect full passes at Gainesville back in 2004 got me that, witnessed by the Track Manager plus I had to be proposed by a racer and seconded by another. By doing so they were taking on the responsibility of making sure that I behaved myself because I got in any kind of trouble they would be held jointly responsible.
Having not raced in Super Pro in the US for four years, my licence has now lapsed; in NHRA you lose it if you do not compete every other year. I would have to re-licence, and in any case it only ever allowed me to drive a dragster as that's what I licenced in. If I wanted to cross over to a doorslammer I would have to do three perfect full passes for cross-licencing. Did I mention that you also would have to have a full medical every two years? For a non-American resident his is a tricky one. I personally obtained a dispensation so that I could take my medical in England. This speeds up the timeframe a little, although once you have been licenced you still cannot compete until you have posted your physical and signed-off licence to the NHRA in California to be issued an official licence and wait for them to post it back. Got that?
At Silver Dollar Raceway there were around five hundred entries competing Super Street, Super Gas, Super Comp, Stock, Super Stock, Top Sportsman, Top Dragster, Comp, Top Alcohol Funny Car and Top Alcohol Dragster. There were no bike classes at all nor Super Pro ET and Pro ET. Top Sportsman (2003) and Top Dragster (2007) are both relatively new additions.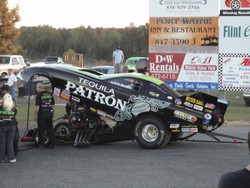 Silver Dollar Raceway is set a little way out of Reynolds, Georgia. It's a lovely race track on the edge of a forest, big open pit area with everyone parking on the grass off the roads which designate the pit area. This is the usual set-up for tracks all over America, which is fine until it rains then it gets real messy and muddy. Facility-wise, again typical of American tracks, there are only the basics! Seriously there is one restroom each, one burger shack with barely drinkable coffee, a small souvenir shop and that's it, unlike in England where at Santa Pod you can eat differently every night from the catering area. The people who work at Silver Dollar are really friendly and very welcoming. You are really made to feel special by the staff because they appreciate you coming. The lack of facilities is why Tony and I had to do all the shopping and it explains why you see the huge Toters (read truck-based motorhomes) and motorhomes. If you need it you have to bring it. There are some people who still travel with a Dually and trailer and stay in the local hotels in town, but they are really the exception rather than the rule nowadays.
Track-wise, the Dollar can be tricky to read. I have been going there for six years now and it still catches racers out. The early morning mist has a lot of moisture and the atmospherics can play havoc with dialling-in. Surface-wise, it's totally different to what we have in England, it even feels different when you walk it. The traction was awesome at this event and changed very very little throughout the weekend. It is concrete up to the eighth mile which I guess is a major factor.
Kicking off with Super Street bang on 11:00 am the event ran like a military operation. There were no pit marshals, the classes are called by the announcer over the radio and PA system. With much bigger staging lanes at American tracks - at the Dollar there are eight lanes each a hundred yards long - it's a pretty smooth process. You must not be late and you must not disrespect the staging lane marshals: no one does, you do what you are told. On each timed run a staging lane marshal clips your run card for that session so that they know that you made the call and to ensure that you can only run once. With so many cars in each class it's a simple yet effective system.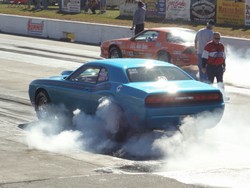 The day went quickly enough with three timed runs. Let me explain timed runs. There is no qualifying in any of the Super classes and there are no points for qualifying, just round wins. This is of course completely different to how we race. With the NHRA the first round is done on random pairing and the elimination ladder for the second round is decided on your winning time in first round. Also, no matter how big the class everyone makes the first round. There is no thirty two-car cut-off as we sometimes have in England with Super Pro ET and Pro ET.
The racers themselves were deadly on the tree. If you did not put .00 or .01 on the Tree you were almost certainly going home. This I put down to the consistency of the surface and the sheer amount of racing opportunities that the racers have. Practice makes perfect and an average Sportsman racer in the US makes between two hundred and fifty and three hundred passes a year without pushing it. See my point?
Comparing the Super classes to the UK, I always think that it's a fair comparison to say that we are around ten years behind the USA development-wise. This is definitely not a bad thing as some of the choices they have made and the paths that they have gone down have led to unique problems. Super Street is easily the most fun; their rules make it a class where all the old Super Gas cars go to retire so it's got some great race cars. It's their entry-level class and has some unique rules. Weight-wise you have to be minimum 2800 lbs so no Brogie or Corvette roadsters. This makes it a real level field so if you can win here you have earned it. With terminal speeds up to 140 mph, they are no slouches.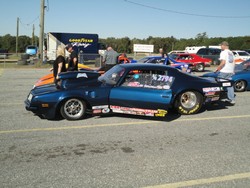 NHRA Super Gas has a developing speed problem. With low minimum weight and no engine size restriction, the terminal speed envelope has really been pushed to the maximum: it's in the 155-160 mph range, with some much higher. At this kind of speed you have to be careful how you drive the finish line, and take care if it's windy. Why so fast? Because there is a perceived advantage to having more speed than your opponent at the stripe and every little helps. The throttle stops have also become very complicated; it's very common to see racers use two completely separate systems. With so much power and speed you need these to accurately dial them into a 9.90. You do still get conventional doorslammers but the class is dominated more and more by the fibreglass roadsters. There are probably now at least ten different roadster body styles to choose from, all the way up to the new Camaro.
Super Comp as a class is devoid of doorslammers. You do get the occasional doorslammer or four-link altered but it's almost exclusively a dragster class, again with two throttle stops and terminal speeds up to 180 mph. Compared to Super Comp in the UK, where doorslammers still dominate, this is a stark contrast. Personally I doubt that you will see Super Comp go down this path in the UK, for many reasons which will take too long to explain!
I always feel sorry for the guys who race in Stock, Super Stock and Comp. At every event two racers from each class are randomly picked and have to tear down their motors to have them checked out by the Tech guys to make sure that they are within the strict rules. Any racer who sets a new class record always has to tear down after the run, it's the rules.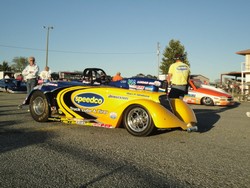 With first round for Super Comp and Super Gas on Saturday afternoon, the first round losers were on their way home within an hour of being put on the trailer, and in most cases it was a long tow home.
Sunday morning started at 8:00 am with a service in the grandstand with Racers for Christ Division 2 Chaplain Tom Ratliff, who is a racer himself. It was a well-attended - remember America is a deeply-religious country - and good-natured service which was popular with the racing community. Another contrast was the fact that by and large Americans do not drink any alcohol. They drink gallons of sweet tea, which I personally cannot stand but they love it!
Eliminations started at 9:00 am. The staging lanes were full, ready to go, then everything stopped. Tom led everyone on the property in prayer over the PA system and track radio, wishing everyone a safe and successful event, then the National Anthem was sung by a special guest. This was all taken very seriously and adhered to by everyone. The very moment the last note was sung, the engines started up and we were racing!
Racing with Uncle Sam is different to racing in the UK. Having done both, I very enjoy racing in the USA as you can learn so much. The racers are so friendly and it's the people like Tony Morris who keep me coming back year after year. This reminds me of a moment which Tony and I shared during a long drive home from the race track. We were just talking about drag racing, the sacrifices you have to make and the challenges you have to overcome. I asked Tony "What keeps you going, drag racing over here is really hard work?". His answer was the same as mine: "I have no idea!". We both were laughing so hard that we nearly crashed the car...
---
Tony Morris Racing web site
Features and Interviews index
Back to News page
---