General
Home Page
Add a web site
Jeff Bull Swap Meet
Send a News Item
Site Search by Hauser Racing
2019 FIA/FIM Championships schedule
News, Coverage, Features
Latest News
John Woolfe Racing Event Coverage
OCS Paint Points Standings
Features, Interviews, Tributes
Racer Blogs Lex 01/03
WRE/Nimbus Webcam
LA Racing Parts Links
Racers' web sites
Associations, Clubs
Race calendars
Results, Reports, Info
Pictures, Video
Performance Parts, Merchandise
Sponsors
Tracks, Shows
Information
Timing Data
European and UK Bests
Champions' Champions
Editor's Diary archive



More racing with Uncle Sam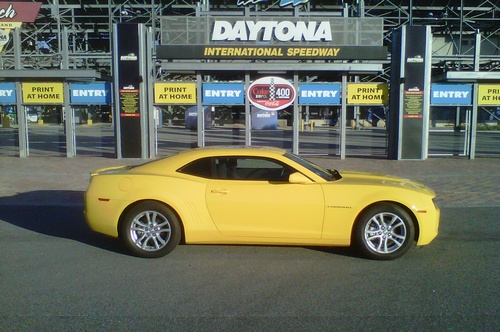 Click on any picture for large version
Travelling alone has its advantages and disadvantages, for example you have to carry all your own excess luggage home yourself! Which incidentally cost $340.00 this time, last time $120.00 – well I guess the airlines need the money! The main reason for travelling so late this time, November-December, with all the NHRA Divisional action now finished for the 2012 season was to attend the PRI show. It's something everyone says you should attend and I am glad that I did as 2012 is its last year in Orlando, at the Orange County Convention Center, next year will find it back in Indy where at this time of year the weather is comparable with England or maybe worse! The PRI or Performance Racing Industry Show is the biggest gathering of performance parts manufacturers anywhere on the planet. Every manufacturer you could think of was there and yes it did take two days solid to get round. There were some great people, including a lot of technical staff, to meet you could ask all of those technical and product questions that you always wanted to. Yes there were some cool cars and eye candy as you would expect, but it was information which I personally wanted.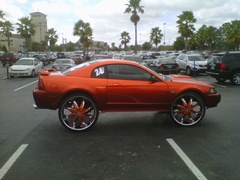 It was a great opportunity to catch up with old friends and companies with whom I have built some great relationships over the years. For example JW Performance Transmissions' John Winters Senior and Junior, Tracey Winters and Eric Secaur, plus all the other great people at JW's. Prior to PRI I visited the JW Performance facility and was treated to a tour which is always an honour. I am now just about up to speed on fully understanding how a torque converter and automatic transmission works. With the innovative new products JW's have in the pipeline, like a full aftermarket TH400 case which they are currently developing and proudly displayed for the first time at PRI, it is exciting times at JW Performance Transmissions for sure.
Bo Laws Products had a very nice stand at PRI and were attracting a lot of attention with some of their new carburettors and innovative parts and accessories. Catching up with my great mate Tony 'Chunky' Morris, the American branch of Paul Marston Racing, was very enjoyable especially as for the second year BLP were holding their Carb Shootout prior to the PRI Show at their facility in downtown Orlando, in which Tony was very involved. At this event all the very best carburettor manufacturers bring their trickest products to try to win the title. The competition is held over four days and two motors are used on the engine BLP dyno. The conditions are strictly monitored so that the results are very fair and accurate. To my knowledge this is a unique event and was a lot of fun, as well as a lot of work for the guys at BLP. With the likes of Holley, Quick Fuel, Braswell, Demon, Book, etc it really was a Who's Who of What's What. If you want to know who won then you had better check out their Facebook page which you can access via their web site at www.blp.com. After the competition BLP had their Open House, where everyone is invited to have a real good look around to see what it takes to be an industry leader and innovator in Nascar, Cup and drag race carburettor applications. Added to that a southern style BBQ which really is second to none, the food was traditional Deep South and just superb. A huge thank you to everyone at BLP for their hospitality and for making some of the finest carburettors in the world: all of my cars, and Jeff Bull's for that matter, run on BLP carbs – enough said.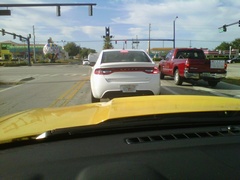 Although the Lucas Oil Divisional Championships were done and dusted, there was quite a lot of winter series stuff that the various drag strips put on which I had not seen before, so I was looking forward to some new events. After landing at Orlando on a Thursday night I visited Orlando Speedworld for the last ever Nite of Fire event, crewing for Tony Morris who was invited by Mark Whitener to drive his SBC-powered dragster. Tony went three rounds, with some new improvements to the dragster and Tony in the seat the big cube Small Block four-link Miller dragster ran its best ever time. The car count overall was good and the Jet Dragster show at night was its usual spectacular OTT self and really pulled in the crowds. For me, it was a great opportunity to catch up with the likes of Super Street Racer Scott Fyfield, Super Gas ace Big Mike Ruff, Super Comp's Mike Statsky and many others. The future of this famous drag strip is up in the air at the moment as current owner Carl Weisinger is retiring and playing his cards close to his chest about who will be buying him out. This is typical Carl and hopefully the facility will have a new owner in place who will look at developing the facility back to its former glory.
Wednesday night saw me for the first time at Showtime drag strip, formerly Sunshine drag strip, an eighth-mile IHRA facility in St Petersburg for grudge match and bracket racing, both for money. This track too has a new owner who also runs the adjacent oval track which by all accounts is packed out with rednecks every weekend. With the new owner not being too experienced in drag racing the track is currently going through a transition period which will hopefully see it pick up on car count although the 100 or so cars in attendance were having fun with some runs as quick as a 4.28 off of the trailer in Outlaw Pro Mod. The track surface cannot have been all that bad. Imade some new friends there too, after all drag racing is a universal language.
Thanksgiving was also the first day of the Turkey Rod Run at Daytona, another event I had never been to before so early Thursday morning I was on I-75 heading for the track. The event is a highlight on the rodding calendar, a must-attend event, taking place on the infield of the Daytona Super Speedway. It is a real monster, filling the substantial infield virtually completely. By the time I had finished my feet were worn out, having spent the best part of eight hours wandering about. The Swap Meet is massive, then there is the For Sale Car Corral and the Car Show, plus just about every kind of BBQ'd food you could think of. All in all a great day out. I wish we something similar at Christmas!!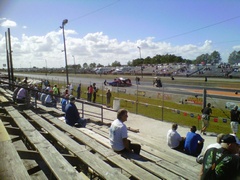 On Saturday I was at Bradenton for the Big Bracket Bash where I spectated on Friday. Again a good healthy car count, Bradenton is always well attended and with some big money up for grabs there were some touring Sportsman professionals in attendance. On Thursday I was at Stingray drag strip, formerly Lakeland drag strip, for a TnT and the Big Cash Bracket race. Saturday and the long trip down to West Palm Beech drag strip, an IHRA facility which was formerly Moroso drag strip, crewing for Charlie Boyd in Super Pro Dragster for the Citrus Nationals. West Palm is a fantastic facility, allegedly completely made over with Al Anabi money, so the construction was a no expense spared project. The Citrus is a very long-established race and had again a great car count which classwise went all the way up to Pro Mod with Sweden's own Adam Flamholic competing. Adam unfortunately had the toughest first round opponent with both cars in the threes over the eighth. Adam came out on the losing side the winner's 3.94 played Adam's 3.98 despite a holeshot the 98 was just not enough. No one else ran in the threes in Pro Mod eliminations so it was a tough loss. Vic Ferra proprietor of Brevard Cylinder Head, Port Canaveral was also competing in his state of the art Top Dragster, running an all-ally BBC in his Miller Dragster. Vic and I go way back, in fact it's one of Vic's engines which powered the PMR Chevy Monza this year. I also saw Charlie Owens and his son Robert; some years back I drove for Charlie in his Pontiac Ventura (read Chevy Nova) in Super Street at the NHRA Florida Nationals. It was great to catch up with them again.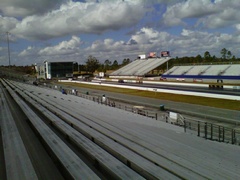 On 1st December I was at Florida's flagship NHRA facility Gainesville Raceway crewing for Charlie Boyd again in Super Pro or Box (full driver enhancement electronics allowed). The event was the National Open or the strangely named Turkey Trots Nationals. Again the car count was good, probably around 300, you can earn NHRA grade points here to allow you preferred entry for the Gatornationals. Charlie had been at Gainesville Raceway since Thursday, testing Thursday and competing on Friday. I only arrived Saturday on account of being at the PRI Show Thursday and Friday. After leaving there at 3:30 pm I drove 160 miles straight to Stingray drag strip Saturday night, again more about that later!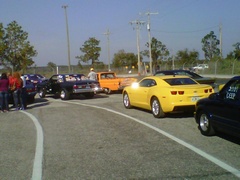 On 2nd December I was back at Bradenton for the Snowbirds, this event has been going forever and attracted a monster field of competitors. All the quick classes were oversubscribed, Pro Mod, Outlaw 10.5, Outlaw 632, Radial 275, not to mention all the dragster classes. It was eliminations day so I got to watch the whole show in eighty-degree sunshine. Other Brits in attendance were Brian and Julie Pateman, Andy, Kate and Luke Robinson, even Phil Evans was there, all enjoying some excellent racing in the winter Florida sunshine. Personally from my perspective a perfect way to end a very memorable and enjoyable trip.
I also managed to once again scare myself witless with the meanest rollercoasters in Florida at Busch Gardens, all five of them! Yes I did feel ill after doing them all in three hours. Having time to meet up with Pro Mod PT Cruiser driver Larry Nadeau was also time very well spent. Larry and I have been friends for a long time now and so spending the day with Larry and his brother in law was great fun. They both have a great sense of humour, so time with them always passes too fast.
America has changed since my last visit in 2009. It has lost a little of its individualism, yes the global market has got to Uncle Sam too. Since Democrat President Obama first came to power the price of fuel has gone from $1.87 to $3.87 a US gallon, this in a country so big and so reliant on the car has had a noticeable effect. In Florida there are now a lot more Japanese jelly mould cars on the road than ever before simply because they will do 20-30 mpg and you can buy one new from around $12,000. Just do the math, in a year with the money you save you can pay for the car and be $5000 in profit! The penalty for the American dream is pricing itself out of the market! So the staple form of transport for a red-blooded American, the pick-up truck, has become quite scarce, there are still plenty of American cars around but a lot more are either American versions of Japanese cars or just rebadged Japanese like the Chevy Cruze. Even the clothes in Super Target are the same as here, the Cherokee own brand is as we have in England. Walmart own Asda here in England as well. On a positive note however the car counts entered at race events seemed to have stabilised, with not so many shiny new cars being débuted every year as they used to be but people holding on the their rides for a little longer, but still racing which is the most important part.
In November/December, most of America experiences weather not that different to our own, in a lot of states much worse: America is a country of extremes and the weather is one of them. If you want warm winter weather you head south and a lot of people do just that. Drag racing thrives in Florida where they can literally race all year round. A lot of professional Sportsman racers, retirees, racers with spare vacation time and the rich, descend upon Florida, where the skies are sunny and the drag strips are open.
I must confess that I was not entirely sure that I could enter any races, I do still have a current NHRA licence but did not bring it with me due to the NHRA season being done for 2012. I had no specific plans to race and a lot of the tracks in Florida are IHRA, independent or Outlaw anyway. When I attended Bradenton Motorsports Park I noticed that there were a number of street cars competing in the No Box class at the Big Bracket Turkey Bash which ran Friday through Saturday. I have competed at Bradenton before driving Tony Morris' BLP Dragster at the big money five-day Best of Both Worlds Bracket Race back in 2006. The track has a good reputation for being very flat and very fast. I really like Bradenton, it's one of my favourites, the track owners are good people.
Now No Box means that the car in which you compete is not allowed any start line electronics, i.e. no delay box or crosstalk delay box and no throttle stop. A delay or crosstalk box refers to a system that enables a driver on a Sportsman tree to leave off of either his top bulb on the three ambers or with crosstalk initiated, leave off of his opponent's first amber bulb. Leaving means releasing your transbrake button and having a means of electronically delaying its release, so you let go on the first amber but the car does not launch till the tree is green, so it makes it a reaction, much like on a Pro Tree instead of an anticipation as it is on a Sportsman Tree. This is perceived to be easier, more accurate and consistent. In plain language No Box is exactly the same rules as we over in England run in Sportsman, Pro ET or Super Pro. Performance wise, in No Box, I would be competing against cars from Sportsman up to Pro ET performance wise. Like most bracket racing nowadays, in Florida it is eighth mile racing only which is actually harder to win than quarter mile on account of the race being shorter, so you have less time to make a decision and to do anything tactic-wise. It's also considered safer as there is less difference in closing speeds.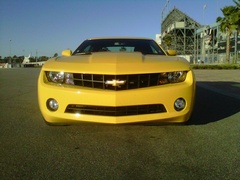 I was there Friday purely to spectate and to hook up with any of my friends who were racing there. When I showed up they asked me why I was spectating and not racing? So I enquired at the Tech Card office and the lady explained that if I was only competing with a street car then I did not need anything - no IHRA License, no crash helmet and no racesuit, this being due to the car being so slow. All I needed to do was to purchase and fill in a Tech Card (i.e. entry form). Now I should point out that at nearly all bracket racing events in the States, well all those I have ever attended anyway, you simply just show up at the race, there never is any pre entry, so for me to just show up and race was no different to anybody else who races here. Friday's race had already started so if I wanted to come back I could enter Saturday's race. Entry was $30, for that I got two time trial runs as you are not qualifying, it's random pairing every round until it's down to a manageable number, say the last sixteen or less cars, then it's laddered based either on last run ET or Reaction Time. There was also a first round buy back for $15, so if you lost first round you ccould buy back into competition for that second chance.
Instead of a leisurely drive to West Palm Beach International Raceway on Saturday morning I awoke at 5:00 am and was on the road by 6:30 to watch the sunrise in a cloudless sky headed back to Bradenton on interstate I-4. I had a large hazelnut coffee and a Krispy Kreme doughnut from the local 7-11 gas station then stopped off at Wendy's for a breakfast biscuit around 8:30. 120 miles later I arrived at Bradenton. Bradenton is like most typical drag strips in Florida in that the Desoto Oval race track is right next door and it's about ten miles out of town. I bought my tech card and after filling it out found myself some pit space just behind the commentary tower side grandstand, at the entrance to the staging lanes. The Turkey Bracket Bash was a busy event so even though there were pits either side of the track my choices for pit space was limited, but this was perfect. I unloaded my trusty fold-up push bike which I always leave in the States nowadays for transport around the pits (you would wear yourself out real fast having to walk everywhere) then bought a Geddex Dial–In marker from a vendor whom I know real well and put my NHRA competition number, 803, on my car. The number 8 signified that I was from Division 8, outside the of the United States. The 3 was my ranking in the Division. I also wrote DEEP on the driver's side window to signify to the tower that I intended to deep stage. I was ready!
This really was a no-pressure event for me, I was just here to have fun and experience how it all worked. Bradenton has twelve staging lanes, six a side, and at around 11:30 they called No Box to lanes five and six for our first time trial. Cars came from everywhere and by the time I joined there were already forty cars in line. The car I was driving was a 2012 Camaro V6 300 HP automatic in bright yellow – yep, you were not losing my transformers Bumble Bee in any car park!
Having never driven eighth mile, nor this car on a drag strip, before I figured as it's a street car drive it as one. So I drove around the water, took it up to the line in drive and let it do its thing, which it did. No wheelspin just drove off of the line and changed gear automatically just going up into third gear as it crossed the finish line. I stopped off at the ET shack on the return road and was handed my ET slip. I ran 10.12/74 with a 0.002 Reaction Time with which I was naturally very pleased. The Christmas Tree had LED bulbs so you saw them quicker, even in the bright Florida sunshine. The next time trial was at 3:20 pm and I ran 9.845/76.76 with a 0.026 Reaction Time.
No Box was called to the lanes for eliminations just before 5:00. The track owners personally worked their way through all the racers lined up in the staging lanes, shaking the hand of every competitor, thanking them for coming to their track and wishing them luck, saying that they really appreciate them coming. It may seem corny, but it was a nice gesture that the racers seemed to appreciate and they did not have to do it. Then prior to starting eliminations, the whole place stopped and the Racers for Christ Chaplain, who races in Super Gas with a Corvette Roadster, asked everyone to join him and said a prayer over the track PA, blessed everyone and asked the Lord to protect us all and keep us safe. Then the National Anthem was played and we were off and running!
First round, I lined up to face a Chevy pick-up dialled 11.20, I dialled 10.10, so he left first. I must say that I was feeling pretty confident with two quite respectable Reaction Times. First round and my reaction was abysmal, a 0.15 and I never caught him. His Reaction Time advantage meant it was an unwinnable race with the ET he ran, which I would fully expect. You have to bear in mind that the racers here are real good, over here you can attend up to four races in one weekend, so the level of competition is very high. Now just pause for a moment and think about that compared to in the UK – in England you would have to wait three months to race four times. This is the shark tank and if you make any mistake you will be eaten! I bought back in at a cost of $15, the guy who beat me in round one was running around like a dog with two dicks but I expected that. I did not fully understand why my light had been so bad, I personally felt I hit it pretty good, but what's done is done. The throttle response did not help, all new cars have fly by wire throttles which do not give much feedback.
Come round two and I lined up, hit the same spot on the tree and on came the red light! So my day was done and I lost. I did still practice and took the stripe by a small margin but it meant nothing. When I collected my ET slip I had gone -0.009 red. Now to cut a light in a slow-reacting car I was deep-staging which I mentioned earlier. This involves staging then once both cars have all the pre and stage lights on you then go in a little deeper and knock off the top bulbs in your lane. This is perfectly legal so long as you write DEEP on the side window of your car facing the tower so that the timekeepers can see it. So I was pretty sure that I was staged consistently, the Reaction Time mystery would have to remain so – 'til next time! I mention this because when you have been racing for a while, you do develop a sense of knowing if you are early or late before the tree finishes counting down. I was pretty sure I hit it the same in both rounds but the timing ticket was telling a different story, so I knew something was up but did not know what. Yet!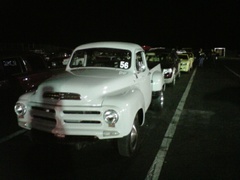 I did not have long to wait to get back on a drag strip, in fact only till the following Thursday when I visited yet another very famous but older drag strip not far from Orlando, out west on I-4 towards Tampa. It used to be called Lakeland and in the past was frequented by the likes of Don Garlits. Under recent new ownership it is now known as Stingray drag strip and has been lovingly restored by Ozzy Moya, a local businessman who owns the Horsepower Sales chain of speedshops and his team. They have the backing of a lot of local racers who want a decent place to race and appreciate what Ozzy has done. The Thursday Test and Tune night opened at 6:15 pm and was well attended with a car count of around 100, which considering it was nearly December was not bad at all. It was a track with a strong import flavour, half the attendees are Hispanic as was the track owner. I was there to have some fun and try some different settings on the Bumble Bee just to see what she could potentially run. My Bradenton sixty foot time was a slow 2.59 seconds and I felt there was room for improvement, I just needed to work out what needed to be left switched on and what off. With Traction Control, three different Sports settings, plus the option of manual or two different automatic shift settings, there was a lot to try.
After quite a few passes, again driving around the water box and just accelerating off the start line, I did manage to get a 9.49/76.81 with a 2.28 sixty foot. I really enjoyed the simplicity of eighth mile racing and the track surface was real nice as were the people, very friendly. On returning to my hotel and reviewing the runs, I could only deduce that with most modern cars being fly by wire throttle nowadays, it may not be possible to run a consistent ET as neither the sixty foot nor the ET were consistent. I also noticed that the Reaction Time was also all over the place, but I kind of dismissed that as I was working on ET not RT. Anyway it was only meant to be for fun and I certainly had that, with ETs three tenths faster, that was what I was looking for.
Fast forward to 1st December and I was crewing for Charlie Boyd at Gainesville, home of the Gatornationals. I drove up early Saturday morning, again an early start as Gainesville is at the northern end of Florida, quite near Georgia, a fair distance by English standards but quite close by American! Charlie had been there since Thursday, but I attended the PRI Show Thursday and Friday so could not make it until Saturday. Charlie was competing in Super Pro and was due on track at 10:00 sharp. I arrived around 9:15 am, but Charlie had everything under control. Like a lot of Florida racers Charlie has no pit crew and has everything geared around that, so my help was an added bonus but not essential. Charlie drives a 2008 Miller four-link Dragster with a 461 ci Small Block Chevy with Nascar SB2 heads on gasoline, which it runs 7.30s at 170+ mph over the quarter. The weather was beautiful, high 70s, great drag racing weather. Gainesville is a massive facility so the fold-up pit bike sure came in handy.
Charlie progressed well to the fourth round before he was taken out. Charlie currently has a problem in that his car, it will either go 0.00 on the tree or will go 0.03. In England 0.03 Reaction Time in Super Pro is real good and will win you most races. But in the States if you go 0.03 you will be going home! By 2:45 pm, with my help, Charlie was loaded up ready to go, leaving at 3:00 after saying his goodbyes. Once a racer is out he leaves, his day is done, or he is off to another evening race. This time, having spent virtually the entire month of November at West Palm Beech, Immockalee, South Georgia and now Gainesville, Charlie was going home, a few hours' tow back to Merritt Island, Port Canaveral. With no reason to leave I left at 3:30, the pit area had cleared out real fast as the racing was virtually done. I punched the hotel into the Sat Nav and it said ETA 6.:5 pm. I initially thought I would be at Gainesville til much later, thinking they would have a second race for the evening, and had no evening plans. So I thought "Hey they have a Bracket Race at Stingray tonight, let's go there". The sat nav told me ETA 6:45 so I figured that if it was plain sailing on the Interstate I might just get there for one time trial run then straight into eliminations, so off I went. I stopped off briefly at Taco Bell for a Double XL Steak Nachos, as I had not eaten all day, then back on the road.
I arrived at Stingray at 6:45 eventually realised that the long queue was for the Mud Bog Arena and that I needed the left lane. I signed the waiver, I bought my tech card with my admission at the pay booth, drove straight up to Tech, by the ET shack. Got tech'd in, and just got into the staging lanes before they closed. Again I was running in No Box, they were running No Box, Box, TnT, bikes and Pro TNT. Stingray is an eighth mile track and has eight staging lanes. Its layout is similar to Santa Pod, with all the pits on one side of the track. On the other side of the track behind the bleachers is the Mud Bog Arena, which was jam packed full of rednecks with huge 4x4 trucks which went at it all night. They build huge fires, cook BBQ and generally raise hell! The fires made it a bit of a surreal backdrop for a drag race, but hey this was America. Same rules as Bradenton in No Box, you are running against cars up to the performance of say Pro ET, down to 6.00 ET on the eighth.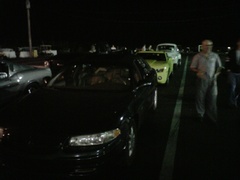 When we were called to the lanes I hung back a little just to see what the competition would be. To my surprise a few of the racers were the same who handed me my ass on a plate at Bradenton! It was good to see some familiar faces, and while we were waiting for everyone to get in lane and the track grooming to be finished we were chatting and it soon became clear to me that the problem that I was encountering with the Bumble Bee, inconsistent ETs, were common with most fly by wire modern cars and caused erratic RTs as well. So facing first round, I kind of realised that this might be an early bath once again! As at Bradenton the whole place stopped, a prayer was said over the PA system and the National Anthem played just prior to eliminations. This was even more eerie with the accompanying background noise of drunken whoopin' and hollerin' complimented by the thunder of big V8s negotiating the mud bog while we all stood in silence. The rednecks were oblivious to the drag racing, in a whole world of their own. God Bless America! This time of year, it got dark at around 5:30 so the whole deal was a night race, making the ten-foot flames from the Mud Bog fires look even higher!
Well first round, random pairing as before I was lined up next to a real nice old guy called Oliver with a 7.33 dialed Fox Mustang. He readily confessed that this was his first time on a drag strip in twenty years. His wife had encouraged him to buy the car and have some fun. It did cross my mind that perhaps she had him very well insured and was looking for an early payout! My take on that was "There is a God! I actually have a chance here!". So I dialled a 9.51, which is what I had run in my one and only time trial run, drove around the water box whilst Oliver performed his burnout. Lined up straight go full stage, waited until Oliver was fully in stage, started bumping into deep and the tree ran! I did my best to cut some kind of light and off I went. I got down there, and Oliver caught me, drove round me, and cut in to run a very nice 0.02 over his dial. Meanwhile I held it to the wood, just lifted when Oliver got around me, and went 9.51. Having said lots of naughty words on the way back, I stopped off at the control tower and bought back in, reminding them that I did have Deep written on my window and that I would appreciate it if they waited til I was in Deep before they ran the tree.
In the second round and I lined up against a stripped-out Chevy S-10 pick-up with a nice looking Small Block Chevy for power which dialled 9.56. I dialled a 9.53 as I ran a 9.51 last round. I turned mine green, this time as we got to the stripe I kept it to the wood all the way as I thought I had cut a pretty decent light. My win light came on so I was pretty happy with that. When I stopped at the ET shack to collect my winning ticket I saw it was a double break-out and he had just taken too much stripe. I ran a 9.492, the pick-up ran a 9.516 on a 9.56 dial. The pick-up driver was Monty and he was a great guy who had won this event the previous weekend so was surprised that his car had broken out by so much, even at all! I can tell you I was ready for that one! The idea of losing four straight (including Bradenton the previous weekend) was not something I relished, now at least I had one under my belt, alleluia! All was not lost.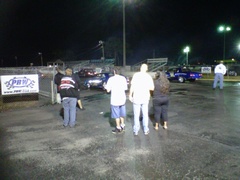 In the third round I faced a big late model Ford F250 pick-up truck which dialled much slower than me, 10.53, so I got to leave last as I dialled 9.49. I figured the track would be better, let's keep it tight. He was the biggest guy I have ever seen in a drag race, he never attempted to get out of the truck, I suspected if he got out of the truck he would not be capable of getting back in! This time I just got into deep stage, they ran the tree and off I went in chase mode. As soon as I launched I saw that he went red so that's another one to me, I kept it to the wood and it went 9.523 on my 9.49 dial-in, not ideal but a win's a win. He was -0.002 red!
So now it was the fourth round and I was up against a black Fox-bodied Mustang which was running a lot faster than me. I dialled a 9.52 and he was 6.26. I left, making sure it was green, mainly on account of still bumping into deep stage when the Tree ran again. That said, I figured he had a better chance of being red on account of being faster. I was just at sixty feet and his day was done, my win light shone, I ran the BumbleBee flat out and it went 9.562 along with a 0.17 light, so you could say that was my lucky round.
Back in the staging lanes, talking to some of the other racers who were now spectating, it became more obvious that this kind of erratic performance on the start line and RT and ET consistency were common problems with modern cars. It was also explained to me that reason why I was having such a problem deep staging with the Tree is because it was fully Autostart equipped. The autostart countdown was around four seconds and started automatically as soon as both cars were fully staged. This made deep staging a real hit and miss affair. But I had made a decision right at the start not to change any of my routine, for bracket racing this is key, so for better or worse I would stick to that plan. If I did change anything, it could bite me and make things worse, so stick to what you know.
Now we were down to five cars and I got a Supercharged Thunderbird dialling 7.80. I dialled 9.58 and turned it green as I left, being chased this time, making sure I got in nice and quick so I could try to deep stage which I once again did not manage properly. Off I went, we got near the finish line and realised he was not going to make it so I tightened it up, took the stripe, and my win light came on. This time I got a pretty decent (by UK standards) Reaction Time, 0.050 and took a 0.016 stripe. Down to three cars and the semi-finals. By now you were just driving straight back to the staging lanes after collecting your timing ticket at the ET shack. I asked the marshal whom I would face, as the bye was decided by Reaction Time, so with a 0.05 last round I figured it would not be me. Well both the other two remaining competitors had already has bye runs in previous rounds so I had a bye into the final! I ran it out and it went 9.495/75.63, so I was set for the final.
I decided on a 9.50 dial and waited for my opponent JB to cool down. I asked him how long he needed, I was not going anywhere till he was ready. JB had another Mustang, this time equipped with a 351 Windsor for power, with a 6.91 dial. He asked Ozzie the track owner/promoter what the deal was with prize money. I had not even thought about the prize money as I was too busy racing; with only around fifteen to twenty minutes between rounds there was not time for anything else. As is traditional in the USA, JB and I agreed to split the prize money right down the middle prior to the final, a share the wealth deal which helps all racers to come back to fight another day. Come the final I knew I needed to be good, but this time I came up -0.03 red as I knew I had to take a shot at the tree this time. JB was 0.04 green and ran 0.01 over his dial, just padding a little to make sure it was green. So to see the Bumble Bee run a 9.58 on my 9.50 dial meant that my fate was sealed by the car's ET as much as my red light. But all in all not a bad night's work, at 11:00 we were standing in the winners' circle having our pictures taken and had $375.00 each to show for our efforts.
To say I was proud of the result would be an understatement. To go seven rounds of competition against such an experienced group of racers is an experience I will never forget. The camaraderie of drag racers from anywhere in the world is special and I was welcomed and treated as one of their own. The Track owner Ozzie was a great great guy who remembered me from the Thursday TnT and to actually now own a Stingray Trophy and a coveted Money Winner Sticker means a lot to me. I really enjoyed my time there and look forward to the next time I can race in the States. Stingray drag strip is well worth a visit if you are in Florida, it's a lively place, you will have a great time, and experience some close bracket racing on a great eighth mile track.
---
Features and Interviews index
Back to News page
---