Three Retiring Heroes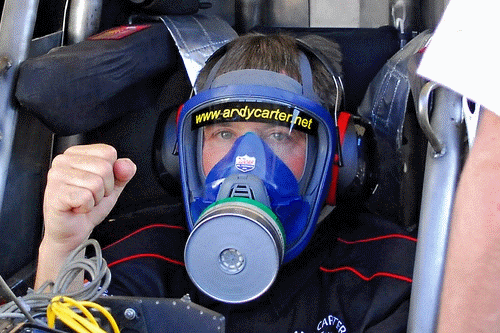 Andy Carter (Top Fuel Dragster), Roel Koedam (Supertwin) and Dave Wilson (Top Methanol Dragster) announced their retirements at the end of the 2011 season. Each had long and successful careers in various classes with European and National Championships and records to their names.
Eurodragster.com spoke with Andy, Roel and Dave just before the 2011 FIA European Finals. We asked the three racers the same ten questions to see how their answers compared.
Eurodragster.com: What was your first competitive event – which class, when, where and how did you do?
Andy Carter: My first race was in National Hot Rods in a 1500 cc full race Mini at Bovingdon Raceway in 1977. Starts are graded in National Hot Rods and I had zero points, so started right at the front and I won. Beginners luck I think.
Roel Koedam: A 250 cc sprint in Oden in Holland in 1986. I ran 10.5 seconds over the eighth mile.
Dave Wilson: Radlett in 1977, and it pee'd with rain. I drove the car round the back roads in the rain. Then I went off to Long Marston for an MDRA over an eighth. All I can remember is that I left before the Tree activated. No-one explained to me how it worked! First competitive event was probably at Blackbushe but I don't remember when that was or what happened.
Eurodragster.com: Have you a rough idea how many events you have contested in all those years?
Roel Koedam: About 150.
Dave Wilson: We tried to work it out and I figure 250. We did a lot more races in the old days than we do now.
Andy Carter: I'm sorry no idea at all, but the classes / types of events I have competed in are National Hot Rods, Mini Stox, National Bangers, some Karting in 100 National, Run What You Brung, various Street classes, Super Gas, Outlaw Anglia and sixteen years in Top Fuel Dragster.
Eurodragster.com: Of all the cars or bikes you have raced, do you have a favorite?
Dave Wilson: The Krypton dragster we built, because we built it and because it's still as good as the day it was built. We started it running 7.0s, and finished it running six flat.
Andy Carter: Definitely the Minis in National Hot Rods, the buzz of racing a full race Mini on slicks on shale round a quarter mile mile oval in a staduim (such as Wimbledon, Arlington, Yarmouth etc) was fantastic. Evening meetings under the lights were even better - add another twenty nine Mk 1 and Mk 2 Escorts and a few more Minis and you got a race!
Roel Koedam: The four cylinder Top Fuel Bike.
Eurodragster.com: Competitors have come and gone, was there any one competitor whom you think was the toughest to race?
Andy Carter: That's a difficult one and again there've been lots of different competitors in different classes. Drag racing-wise I remember Danny Cockerill in Outlaw Anglia as someone I also thought was a tough man and one tough competitor.
Roel Koedam: All of them, and especially the ones who finished in front of me.
Dave Wilson: Gerry Andrews, because the Stones always pulled something out of the bag. He was pretty sharp on the lights. Krister Johansson was really tough in those days too but as I say the Stones always pulled something out of the bag.
Eurodragster.com: When did you decide to retire, and what made you decide to retire?
Roel Koedam: After the doctor told me it would be a good idea
Dave Wilson: Early this year. I thought it was getting too much like hard work and I also thought I was old and getting past it - but I'm not so sure any more! Maybe I'm too self-critical.
Andy Carter: Sunday 28th August this year. I think Sarah and I will remember that day for a long time. I had not been enjoying racing for at least a year and the logistics of Top Fuel and trying to support Albert with his Karting had become a real nightmare. I just thought I'm not enjoying all this, or happy, so something has to change.
Eurodragster.com: How did your team take it when you told them?
Dave Wilson: They didn't believe me and they still don't! There's a long line of people in that position.
Andy Carter: The team members I told took it very well and understood.
Roel Koedam: What can you say after a medical advice.
Eurodragster.com: You've had a long and successful career with many highlights but what are you most proud of?
Andy Carter: I know that in every sort of race car I've driven I've always given it 100%, so I'm proud of it all.
Roel Koedam: That I am still competitive.
Dave Wilson: I'm torn between two. One is collecting a trophy and displaying the car at the FIA Gala in Monaco. It's so impressive that you feel you're doing it on behalf of the family, team, sponsors and the sport and that you are representing the sport. Displaying the car made it better. And the fact that we won it again the next year. We ran the car up to then with three of us tuning it, we'd discuss it and then I'd decide. At the end of the day we knew that with three tuning someone had to make a decision. The next year we didn't have Andy Bissett and so David and I called it. You can be lucky once but not every time. I'm quite proud of that.
Eurodragster.com: Will we still see you at the track?
Roel Koedam: As a visitor.
Dave Wilson: The car is for sale or for rent, so anything is possible including me coming back in it! If I were to win the Championship I might go back to Silverline and they might surprise me! Whether I drove it or someone else is another matter. I haven't stopped liking it, that's not the problem.
Andy Carter: Not at the moment, but I have a great relationship with David Lloyd Jones, Darren Prentice, Caroline Day and most people at Santa Pod Raceway and I got a very nice phone call from David wishing me well. I made it clear to David that If I could help in any way with promoting Santa Pod and drag racing I would always do my best to help.
Eurodragster.com: How would you like to be remembered?
Dave Wilson: As someone who wasn't really Grumpy!
Andy Carter: For me racing is all about winning, so I would like to be remembered as a tough and hard competitor.
Roel Koedam: Cool Roel.
Eurodragster.com: Is there any chance at all that you might change your mind about retiring?
Andy Carter: Not at this moment, but never say never.
Roel Koedam: Only if the Andersens pay me to drive their car!
Dave Wilson: Never say never!
---
Carter Motorsport
Zodiac Racing
Dave Wilson Racing
Features and Interviews index
Back to News page
---