Rex Sluggett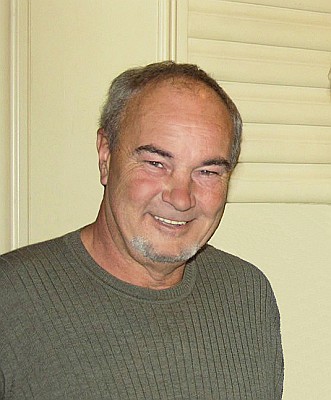 Rex Sluggett grew up in Cornwall and at the age of nineteen built one of Britain's first dragsters, the Duke of Cornwall, which had a blown 331ci Hemi engine. After a demonstration run at a self-organised event at RAF Winkleigh, Rex took the Duke of Cornwall to Santa Pod in 1966 and met Dennis Priddle. With the support of Rex's mother Lilian, Rex and Dennis built Tudor Rose, a Top Dragster modelled on Don Prudhomme's The Hawaiian powered by a Keith Black late model Hemi engine. Tudor Rose ran in 1968 and in its twenty three trips down the track that year ran best numbers of 8.28/182.82. The team broke up in spring of 1969 before a successor car was able to be completed and Rex decided to move to work in the US, where he lives today.
The following interview with Simon took place in March 2014 at Redondo Beach, California. Eurodragster.com thanks Dave Riswick of Eurodragster.com sponsor John Woolfe Racing for helping to arrange the interview and for supplying prints of archive photographs.
Click on any picture for a large image.
Rex in the Duke of Cornwall outsude Cann & Medland
Eurodragster.com: What were your experiences in building owning and running Duke of Cornwall and Tudor Rose?
Rex Sluggett: I come from Bridgerule in Devon, and started out in Bude. There was a BMC car dealer in Bude called Cann and Medland and I had a friend there called Tim Lyle. He was a mechanic who helped me out. The project got transferred to Holsworthy which was OK because they had bigger workshops there. We wanted to build a dragster and got a 327cu in Chevy and started to build a mild steel chassis in Holsworthy. We later acquired a 331cu in Chrysler long block to continue the build. The 331 cu in needed a bit of oomph so after reading some magazines I decided it needed a 6/71 supercharger.
Eurodragster.com: How much mechanical training had you had by this stage?
Rex Sluggett: I was winging it. The only way you could get that kind of supercharger in England was through Sydney Allard. He was an agent for Moon Racing Parts based in Santa Fe Springs, California. Allard struck up a relationship with Dean Moon, and they got on well. I talked to Sydney Allard and he was worried about whether I was able to pay. I got the supercharger and then paid him. Then I needed a Hilborn injector to go with it. With those parts in hand, we took the heads to a person who ported cylinder heads for club racing Minis. They came back looking good. When the blower arrived it had a Potvin mount which went on the front of the crankshaft, same as the Allard Chrysler dragster and not like I had seen in the magazines.
I was pretty green engineering-wise so I thought we would make the best of it and stuck the blower on the front. Tim Lyle and I got all the parts and we assembled it in Holsworthy. We got it together and took it out to Winkleigh, a local airstrip, to try it out. The only part of the dragster which didn't work in its initial firing up was the butterfly steering. We forgot to put the retaining nut on and when I pressed the accelerator and the car took off, the steering wheel came off in my hands. I got it to a safe stop.
Winkleigh was an old disused WW2 aerodrome with long runways. We tested the car and it would always veer to the right. It took a long time to work out, but it turned that without cross pieces on the chassis between the engine and rear axle the torque would steer the car to the right. After we welded two cross tubes on the bottom of the chassis, it worked. I then got into promoting a drag race locally.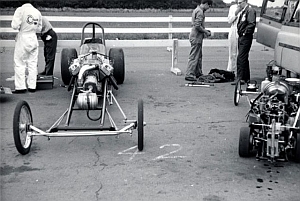 Rex fired it up at SPR in 1966 but the engine was damaged
when a ring picked up in one of the bores
I had never organised any event promotion in my life so I decided to have a demonstration of how the car would run. I put an advertisement in the Western Morning News: Dragster demonstration at Winkleigh Aerodrome Sunday afternoon, £1 per person entrance. Just in case, I went down to Okehampton and rented two policemen for the afternoon, £6 or £7 apiece. We also invited the local motor club to run up and down the track with their Minis to keep spectators occupied. Sunday came along and it turned out that the two-line advertisement in the Western Morning News was picked up by Westward Television. The police estimated that 10,000-12,000 people turned up and jammed the roads for miles around.
Eurodragster.com: Try doing that these days; youíd have to do a lot to get that size crowd now.
Rex Sluggett: I was always good at getting things off the ground.
At the dragster demonstration we had to reverse the charging from £1 a person to £1 per car. We had nowhere to put the cash apart from our jacket and trouser pockets. We ran our dragsters up and down the track. They didnít run good, not the rip-roaring success I had hoped for. Next the RAC said "You canít do that, itís our jurisdiction". I said "Iíve already done it" to which all they could say was "Well promise not to do it again". I did. That was the end of that.
Tim did a stellar job putting it all together however there wasnít enough sophistication to impress the spectators. Tim moved away, changed his name from his adoptive Tim Lyle to Nicolas Cole, married Jeannie and worked for the Ford Motor Company in Glasgow and later ran a sports adventure business and moved to a farmhouse in France in retirement.
After that excursion I took the car to Santa Pod once in 1966 and met Dennis Priddle who was crewing for Tony Gane who had a Rudge-powered dragster. Tony Gane was a rather good engineer who worked with Dennis Priddle at Westland Aircraft.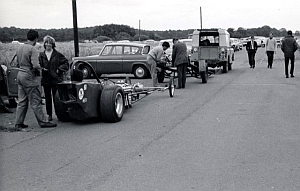 This was the Duke of Cornwall's sole appearance at SPR.
Dennis was interested in helping me because Tim Lyle couldnít afford the time to perfect the car as he was working for Ford at the time.
The next car was Tudor Rose 1 which was built in Dennis Priddleís garage in Somerset.
Eurodragster.com: Tudor Rose - you decided it was time for a new car?
Rex Sluggett: Duke of Cornwall was mild steel, Tudor Rose 1 was T40 which was the UK equivalent of Chrome Moly. T40 doesnít have quite the same flexibility of Chrome Moly but it was close. T40 was brazed by Dennis in his single-car garage. We took a piece of 4 x 10 x 16ft lumber which was the keel in effect, and strapped everything together and then brazed the whole chassis then annealed (slowly cooled) it and it came out straight.
Eurodragster.com: You acquired a good engine for Tudor Rose?
Rex Sluggett: I acquired a late model Hemi KB engine by going to California at the start of 1967 to have a look around. I had bought an air mask from Bill Simpson (who was tickled pink at sending products to England) and in the packing was an advertisement for KB Racing engines. Those were the days you couldnít take money out of the country so I overpaid KB for a long block so extra money was waiting for me in LA.
I bought a ticket from BOAC, flew to New York and had a $99 Greyhound bus ticket (I had seen the advertisement See America for $99). I arrived in New York JFK.
I left the airport and went downtown New York. I had lots of pounds but no dollars. On Monday the bank gave me lots of dollars so I rushed back to the Greyhound terminal but the bus had gone. So now I had lots of dollars but no luggage! To top it off there was the worst snow storm in thirty years that year and Chicago got cut off.
So I moved from the Greyhound station over to the Rocky Island Railroad Station in Chicago to take a train west and hooked up with some guys playing cards, a Canadian and a couple of Americans and we all got a room in the Conrad Hilton. Next day I got a train out to Kansas City and from there I took the El Capitan railway across the Southern States, through Arizona and into LA.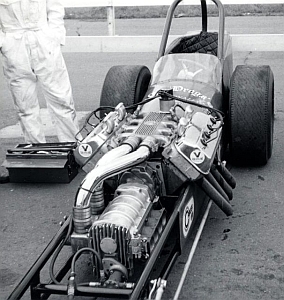 The Dodge Hemi had a Crower cam kit, Vertex
magneto and Potvin-GMC blower set-up with
sidemounted Hilborn injection
Eurodragster.com: Why didnít you fly direct from London to LA?
Rex Sluggett: Too easy. I thought "If Iím going to California, I might as well see a bit of America along the way". I did! Taking the train across the US was a great experience. When I arrived at Union Station in LA, I walked over to the Greyhound Bus station on Alameda and 7th and collected my suitcase sitting right there in Lost and Found. With luggage in hand I caught another Greyhound bus from downtown LA to Huntingdon Park and walked the two miles to Southgate, the KB shop on Atlantic Boulevard and my extra money was sitting right there. I now had luggage and money and stayed in the Cosy Motel on Imperial Avenue about three blocks from Blackís shop. I stayed with Danny Rini of Kingston, Ontario (Canada). He and his brother Jim ran a AA/FD out of Ontario and did the upstate New York races and at Sanair in Montreal. After I stayed in California for a while it was difficult to think about going back to the UK.
Eurodragster.com: Did you help any of the teams in Southern California?
Rex Sluggett: Yes, it was initially with Paul Gommi. He was quite an innovative fellow, I did the Bakersfield meet with him and Mr Ed (Ed Wills from Fresno, California) who ran a steel crusher up near Bakersfield. His cars always went under the name of Mr Ed. Paul Gommi was the first racer to come up with a high wing at the back Ė everybody thought he was nuts. Another thing he invented was to cross drill the engine main caps. They looked at him as if he was crazy but he was a bright guy. He went on to build hot rods and went into publishing.
Eurodragster.com: So you went to various meetings?
Rex Sluggett: I went to Lions, Orange County, Irwindale, all the old favourites. I used to be there with Mickey Thompson who I knew well and his wife Trudi, thatís where they lived and sadly they got killedin Bradbury, California. Mickey was a great innovator, he had his own slicks, made parts for racers so he was very smart and was the first to come up with putting motorsports into a big indoor arena where there was a place for everyone to sit. It was a big-time money-spinner. He also loved to gamble in Las Vegas. Mickey also was great friends with Holly Hedrich, an ex-Navy man and racer who was Vice President of Keith Black Racing Engines at that time.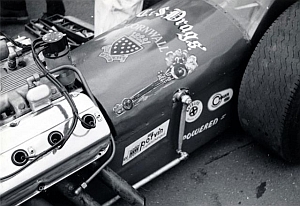 American Racing Mags had Goodyear Cheater slicks fitted
Eurodragster.com: When was the first time you came into contact with Keith Black?
Rex Sluggett: The first time was in 1967. I came to California for the Winternationals and to meet Keith Black and Holly Hedrich. They were chuffed about it because in the mid to late 1960s having a Brit around was a bit of a novelty. Even coming across by train and bus, people would come up to you to speak to you. Itís not like that now but it was unique back then.
From his old shop on Atlantic Boulevard from 1959, KB originally had a box truck which supplied the gas stations with belts and hoses for repairing cars, consumables. Thatís how he started his business, and then out the back he used to build engines. Keithís dad Joe was originally a missionary in Hawaii and a very religious man. All the teams had to watch their language when he was around. Although Joe was a good age, in his eighties then, he still ran the office for Keith.
Keith had built the new facility in South Gate off the Long Beach Freeway and they had our long block on display at their open house because now they were 'going international'. But that delayed getting it to England. We also needed to put it in the chassis in Yeovil to get the right measurements to build the engine mounts. We eventually got it, a bit late, but in the meantime I also got friendly with Bill Simpson. He was very kind and we became very good friends.
I realised that what I should have done. For the same money I spent on a Keith Black long block, I could have bought a car complete from one of Bill Simpsonís friends who ran at Lions and they would have trained me how to run the car complete with trailer and all spares for the same money. Thatís all in hindsight, would have, could have, should have.
Eurodragster.com: Sometimes people have bought cars that werenít quite what was advertised.
Rex Sluggett: Now itís different. Back then it would have been OK because Simpson would have made sure it was OK. Then you had to have somebody over here that was in the know and on your side.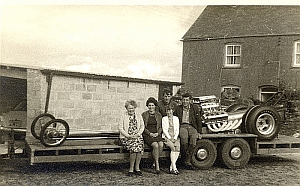 Rex's family including mother Lilian (pictured left)
with Tudor Rose
When you were trying to do US sport in Europe in those days it was challenging. Just to get headers bent for example, you could do what McLaren do and go up to Liverpool to someone with a two-inch pipe bender to create intricate exhaust pipes but it costs plenty to use their equipment. What Dennis did was pretty cool, build a big bonfire, filled the tubes with sand, heat the pipes until they became red hot and bent them around a mandrel. Otherwise if you left them straight like the Duke of Cornwall they would melt the asphalt. These are the learning things between the practicalities.
Eurodragster.com: You match raced with Tony Densham in Commuter in 1968 and the records were tumbling. You also went to Sweden. What was that like?
Rex Sluggett: What a lovely country, meatballs and all. That was a great trip. We were met by members of the Swedish Hot Rod Association at Anderstorp. It was my first foray into business dealings and got a wake-up call when I received the start money in Scottish twenty pound notes. That was new for a farming boy from Cornwall but it was OK.
It was a hell of a lot of fun over there. Clive Skilton was another racer. He took his car and I put Tudor Rose on the same boat from Hull to Gothenberg. We both were travelling to Anderstorp to do a demonstration match race. Skilton and his crew Kevin Clarke, Michael Burt and Bill Weichelt were there as well as our crew. At dinner time on the boat we were all having beers on our way to Sweden. The captain came to sit at our round table. We were drinking pretty good, quite a formal occasion at the start but it deteriorated...
All in all it was a great weekend. It was the weekend when Sweden changed their driving laws from left side to right side on Sunday at 10:00 am so I got physically to drive left side of the road and then the right side. We drew a pretty good crowd at Anderstorp. I started off driving the car, I usually drove it as I had put the money into it and that was my reward. I remember pulling the car back and others pushed it and the rear slick caught the heel of my foot and twisted my ankle. I couldnít hold the clutch down so Dennis had to drive it for the rest of the event.
Apart from that incident I was primary driver and would let Dennis have a go from time to time. I think Dennis was more afraid than me at that stage.
We made the Swedish newspapers and the Start and Speed magazine.
Another lesson learned was the car went quicker because we had to turn it around faster. Running the engine hot was causing the car to go quicker. After Sweden I got a bit disenchanted with running it. We found Tudor Rose 1 was not long enough and we then produced a longer version for Tudor Rose 2 which was displayed in Croydon at the Fairfield Halls for a British Hot Rod Association speed show.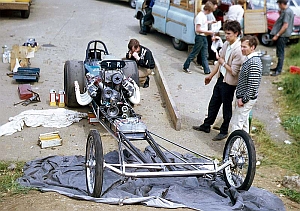 Tudor Rose in 1968
After that was the time that Dennis and I parted company. The main issue was over money. Having funded it to get it to that stage I had to put more money into it and it was cash expense for me rather than equity, that was the big difference. I felt that I didnít want to fund any more and it got a bit spiteful. We met with John Woolfe at his home in Knightsbridge. The deal was he would own half of Tudor Rose in exchange for a new cam and lifters from Ed Iskenderian. For me, to relinquish the controlling share in the car after such a large personal investment I didnít feel comfortable with the deal. So I walked away and shipped the engine back to California. That was the end of Tudor Rose 2.
Eurodragster.com: After the end of Tudor Rose 2 the engine was freighted back to Keith Black?
Rex Sluggett: I put it in a crate, shipped it back to Blackís shop and we reconfigured it and it ended up in a drag boat. It was a 438cu in. In hindsight, itís an awful shame I didnít haggle more over the John Woolfe proposal.
Eurodragster.com: How did you meet Dave Riswick?
Rex Sluggett: It was only after Tudor Rose 2 was built that Dennis got friendly with Dave who later introduced me to John Woolfe. I wish Dave Riswick had been more involved at that stage and he could have been a referee between Dennis and I. However we went our own ways.
Eurodragster.com: Was that the end of your time with British Drag Racing?
Rex Sluggett: I was done and I went back to California in 1969.
Eurodragster.com: How did you find working with Keith Black?
Rex Sluggett: Keith and his wife Jane and son Ken were involved. I mainly worked with Bobby Sykes who was the Chief Mechanic at Keith's shop. When Sykes started out he overhauled and dynoed Offenhausers. His brother Tommy Sykes worked in Parts which was fine with me because it was work. I got to meet the drag racers, Prudhomme, McEwan, Willy Borsch and all the others who were customers.
Eurodragster.com: What was the range of things that Bill Simpson sold?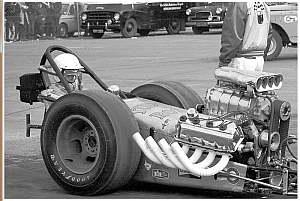 Rex in Tudor Rose
Rex Sluggett: His original products were the face masks, gloves and aluminium fire suit. He manufactured them here in Torrance and he had someone working with him who eventually went into competition with him. Bill was an interesting guy. He wanted to build shoes so I would buy racing shoes from shops in England and he would take them apart to get the patterns. He remarried to an Argentinian lady and moved his factory from Torrance to South Carolina because labour was cheaper when compared with California costs and he was closer to his NASCAR customers.
He was a nice guy. We had a street race in Long Beach and he was teaching celebrities how to drive on the circuit. Then a movie star crashed and sued him so after that he backed out of that area. I knew him in the early years and in fact got him his first car. I introduced him to Frank Williams when Bill came to England for the first time. Bill couldnít believe that at that time the UK had dual carriageways with no central barriers and you could drive easily into the path of oncoming traffic. It freaked him out! He bought a BT21 steel cranked Formula 3 car from Frank Williams and raced it for a while when he got it back to California.
Eurodragster.com: What was your citizenship status at that stage?
Rex Sluggett: I came to California in 1969 and got my green card in 1973. I was on a visitor visa until then. I knew people here, had relationships here. I was working at dealerships as a mechanic except in order to get properly employed you needed a social security number and I didnít have one. So I went down to the Department of Immigration and Naturalisation, 300 North Los Angeles St, got the forms, filled them out and sent them in. Two things about American immigration. Youíve got to prove that you will contribute to society and not be a burden on society. In other words if you donít work you donít eat. As well as working for Keith Black and Bill Simpson I worked at Cragar Wheels and a VW dealership. I was getting around and decided I wanted to get a green card.
I admitted I was working at a dealership on a visitorís visa, so the Department of Immigration and Naturalisation took me to court and accused me of working at Wolverton VW in El Monte on a visitorís visa. They said they were going to deport me and I had thirty days to voluntarily leave the country, failing which I would be deported. When they deport you they send you back to your country of origin and send the bill to the UK Government who has to put up the air ticket money. They also clip off the top corner of your passport which tells all the countries youíre a visa seeker and itís harder to get an entry visa.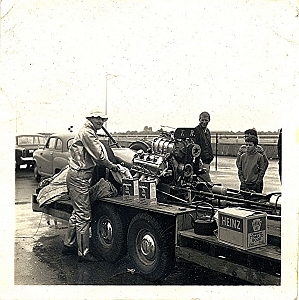 Tudor Rose with Dennis at SPR
The local dealership helped me to prove I wasnít taking work away from a unemployed US citizen. It was the same time that Mazda started in the US with rotary powered cars. Clive Skilton had a NSU dealership so I had some rotary experience because I had training. With that experience I was a rotary mechanic so I wasnít displacing any unemployed American citizen.
To get a green card I had to go through the bureaucracy at state and federal level, the latter of which included checks on criminality including anywhere I had lived for more than six months, including letters from Scotland Yard, Royal Canadian Mounted Police FBI and Sûreté that I was not a criminal as well as health checks. A local congressman helped me through some of the immigration process. By that stage my visitorís visa had run out so I had to leave. I had saved parts to build a VW Type 1 engine and drove my Beetle from LA to Detroit cross country with no money and fixed every broken car along the way which paid for gas.
I got to Detroit, through the Alexander Tunnel, to the gate at the border, handed my deportation papers in and I was leaving to go across the bridge to Canada. The Canadian Border Guards said "Youíre a visa seeker, you canít come into Canada without a US$3,000 bond and an exit airline ticket". So I went back across the bridge to the US side, phoned a friend from California wired me $1,000 which I got in single dollar bills, waited for a shift change so there were different guards on the Canadian side. As I crossed the St Lawrence River, half way across I thought "Iíve just got kicked out of the US and if I canít enter Canada, Iím out of countries".
This time I got a warm welcome to Canada, drove to London, Ontario and wired the money back to California. I stayed in Canada for forty five days, got my exit airline ticket, went to England for forty five days, went back to Canada, then my paperwork had come through the American Embassy in Toronto and I went there and the ambassador at the American Embassy in Toronto swore me in. She welcomed me and shook my hand. Then I went back to the Thousand Islands Bridge in upstate New York, gave them the three inch thick folder of papers, and they created the Green Card at the guard gate, gave it to me, pushed the button, opened the barrier and then I drove back to California and went back to work. I did all of that in four months.
Eurodragster.com: Four months of bureaucracy and travelling.
Rex Sluggett: They did photographs with side-on shots and ear prints too!
I worked as a mechanic around various VW dealerships in LA as I had my credentials after training in London on VWs. After that I did heavy duty repairs and then went back to Mazda as a service manager. Then a guy called me and recruited me to work on extended warranty administration, to talk to customers and dealers that were making claims. My job was to ascertain the cause of the mechanical failures as a Claims Adjuster. Later I became Claims Manager and Vice President of Operations, Underwriting and Claims. That was my transition to the insurance industry. I was there for a long time, I survived five Presidents and three Chairmen of the Board.
With the size comes greater financial risk. It was tough to get paid for example. I had an inspection business for the warranty business and that was nationwide so we could get investigations done all over the US. I had to pay my agents up front and wait for the claim to be processed before I got my money. After a while the agents and insurance companies would go round you. There would be different lawyers in different states. In the end I went into a business where you got paid up front.
After some buyouts I got out of the business, was a bit fed up with the car business and wanted to do something different so I bought a bar in Manhattan Beach and ran that for eight years. The two best days of my life were the day I bought it and the day I sold it. It was an all cash business and a whole different world.
I then got my general contractorsí licence for building and remodelling properties and did that for several years, where I found that not always does the husbandís cheque book match the wifeís vision. I enjoy the construction industry as a hobby.
My current business made something out of nothing, touching up chips on car bodywork which we do at new car dealers. We fix about four hundred cars a month in the greater LA area. I love the pioneering enterprise spirit, you get competition as people spot it and copy it. Itís human nature, it is what it is...
Eurodragster.com: Thanks for your time Rex, and best of luck in the future!


Feature ©Simon Groves and Eurodragster.com


---
Start & Speed magazine from 1968
Tudor Rose launches
Tudor Rose depicted at Anderstorp
by Start & Speed
Rex Sluggett and Dennis Priddle at work
Tudor Rose awaiting refuelling
Front cover of Drag Racing & Hot Rod news (links to article on car)
---
Features and Interviews index
Back to News page
---